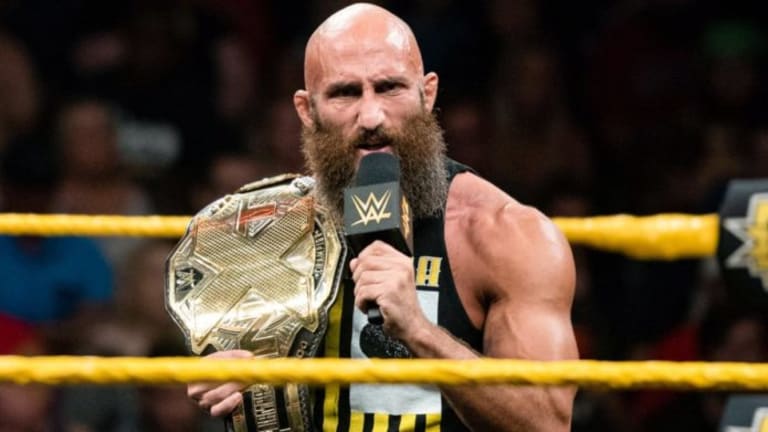 Ask WNW- NXT On Television, Talent Overload, Braun Winning A Championship, Ciampa Relinquishing NXT Championship
Do you see WWE bringing NXT as a third brand for television, then creating another brand show for the WWE Network? 
Never say never, but I sure hope not. Three hours of Raw, two hours of Smackdown, and one hour of NXT. That's already five hours of WWE programming, and I think that is more than enough. Let's not forget about Main Event, NXT UK and 205 Live. Equally all that together, and that equal to too much WWE programming for my liking. There were reports of FOX wanting NXT to be featured on their broadcast, and I can totally see that happening next year. Not everyone has the WWE network and it gives great exposure to the talent being built down in NXT. I see possibly some switching and shuffling going on with the Network, but adding another brand would not be one of them. 
Is the WWE talent roster over-saturated that the creative team has no plans for most? 
I think it's safe to say, or at least it has been for the most part, within some exceptions, that every professional wrestler wants to wind up WWE. Years ago, WWE built from their territories and overlooked most of the talent on the independent scene. Fast forward some years later, and we had the likes of CM Punk, Daniel Bryan, and more to break down the quote unquote "barrier" to open the eyes of WWE enough to venture out into the world of the independent scene. People that make a names for themselves outside of the WWE machine, names like Kenny Omega and The Young Bucks, just to name a few. With that being said, WWE has always had their spring cleaning to keep their roster size to a comfortable number. Since the rise of the independent scene booming these past few years and the rise of All Elite Wrestling, WWE seems to keep on the signing as much talent as they can just so these talented stars can't go anywhere else. Once they're stuck in the WWE contract, they have other obligations other than that company. On the creative standpoint, I think they should look out for the smallest details in every story, whether it be in the main event or the undercard. I understand that there is only so much room at the top, but these guys and girls can't be held down, and that's what ultimately happens due to the overload of talent and signings. WWE wants no competition, and this seems to be there way of them making sure that happens. 
When will Braun Strowman get his chance to be a WWE Champion?
I don't think it would be a stretch to say that Strowman has been lost in the shuffle on Monday Night Raw. He has gone from being an absolutely dominant force on Raw battling and being a legitimate threat to Brock Lesnar in the Universal Title picture, all the way to down destroying cars and in what seems to be a WrestleMania feud with a guy from Saturday Night Live. Braun has hit the glass ceiling, but that's as far as he has gotten in my opinion. The glass has not been broken yet. They key word is yet. Do I believe Strowman will win the big one? Absolutely. Do I think creatively he has the chance to? Possibly. And that's due to the overload of talent. I'll be honest, I'm tired of seeing Corbin vs Strowman. I think once the Shakeup comes back after WrestleMania, if Braun goes to Smackdown, he will get his chance to shine. 
Will WWE strip Tomasso Ciampa of his NXT Championship? 
If you have not heard yet, over this past week, Tomasso Ciampa had underwent successful neck surgery. The big question is if he will have to relinquish his championship or not. It's so unfortunate for any talent to be injured, especially during a great run that Ciampa has had. Not many people can say they are a heel magnet, but my gosh Ciampa is an example of what a real heel looks and acts like. The time table of his injury? There is no telling as of this writing. I will say that he did post on his Twitter a picture of his NXT Championship bandage up with himself holding it, and a crutch in the background. That right there might be a sign of something good, but there is no telling at this point.