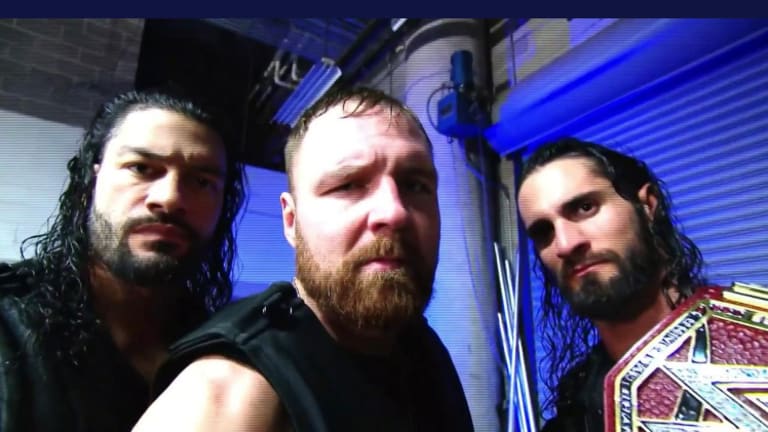 Ask WNW: CM Punk Back In The Ring, What's Next For Ambrose? Dustin Rhodes In AEW, Brand Split Ending?
What are your thoughts on CM Punk returning to the ring under a mask and going under the radar? 
For those who missed it, it appeared that CM Punk did indeed return to the ring (Not WWE), at an independent show over the weekend in Wisconsin. Punk ran interference towards the end of the match, face covered with a mask, and wore a sweatshirt, gloves and pants. He was covered head to toe. Silas Young, who has been friends with Punk back in there days in ROH, has a promotion 'MKE Wrestling' and it's based out in the state of Wisconsin. Punk, who currently resides in Wisconsin, said that he would return to the ring if he was in a 'ninja' outfit wrestling one of his buddies. Young went on later to say that a 'Punk' interrupted the show as well. Putting all the pieces to the puzzle, I have no other belief that Punk was the one behind the mask and delivered a GTS. If that's what he wants to do and makes him happy, then I say it's awesome.
What's next for Dean Ambrose?  
This situation has gone back and forth since WWE announced months ago that Dean Ambrose would not be resigning with the company. At first, I thought it was a swerve, but now that they did a sendoff for Ambrose and the Shield, I'm not so sure anymore. Reports have gone out that he is AEW bound, while others have said that he could be retiring. I don't believe either. I see it as a situation where he is burnt out and needs a nice break. I'm sure Ambrose will be back with the company. I mean, when was the last time WWE did a send off for a superstar that was leaving the company? I can't think of anything. I see him taking a break to rest up from all the years and hard work he has put into the business, then coming back to WWE and getting the push he truly deserves. Only Dean Ambrose knows what he's going to do, we are just along for the ride. 
What do you think about AEW repeating a Dustin vs Cody match since we have already seen one in WWE? 
If my memories serves correct, but in WWE, we saw a Goldust and Stardust match and not a Dustin Rhodes vs Cody Rhodes. The two deserved a real feud with a great story they have the chance to tell in AEW. Not only that, but Dustin can go and gets better as he gets older. He was never pushed like he should have, and was kept around the mid-card as Goldust. The Goldust character is phenomenal and I love it, don't get me wrong, but we all have a chance to see Dustin Rhodes as himself, getting the spot light he rightfully deserves. There's no better matchup then to have him face his brother, Cody. When they announced it Saturday, it automatically felt like a must see match at Double or Nothing and it's the match I'm most excited to see. It's main event worthy. 
With the winner takes all for both the Raw and Smackdown Live Women's Championship, the men's championships are set to follow. So is the brand split coming to an end? 
If the brand split was coming to an end, we would not have had a Superstar ShakeUp last week on Raw and Smackdown Live. The reason why we saw the winner take all Match was due to WWE wanting this main event match to be one of the biggest in the company history. We had three of the biggest stars in Becky, Ronda and Charlotte, with both of the women's titles. Why wouldn't they have winner take all? I don't see WWE ending the brand split anytime soon and especially when it comes to them merging the men's titles. In Becky Lynch's situation, she will be pulling double duty, going back and forth to both brands, defending both championships.