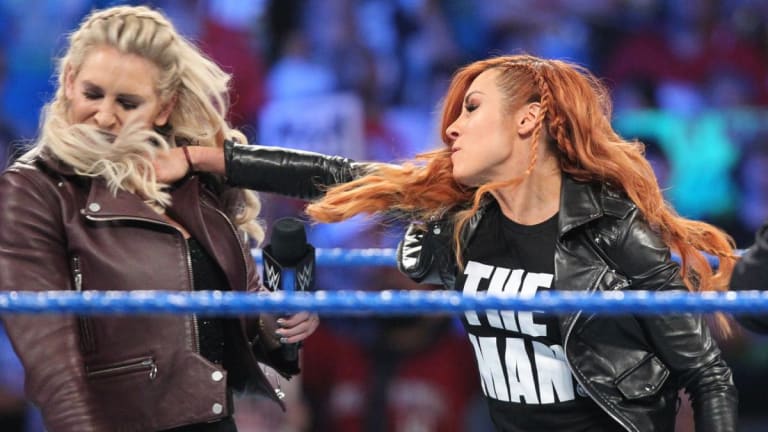 Ask WNW: Will The Usos Lose Because of Jimmy, Charlotte Over Becky at WrestleMania, NXT Call-ups after WrestleMania, Too Many PPVs on the Road to WrestleMania?
Will Jimmy Usos arrest affect his championship match this Sunday?
It's hard to tell for sure if the arrest will have any bearing on the Smackdown Tag Team Championship match this Sunday. I would say likely, no, it won't have any affect. To start, we don't even know if the Usos were scheduled to win Sunday. Now, however, if they do lose, people are going to say it was because of the arrest. Most of the time in situations like these WWE just turns their head. Last year Jey Uso was arrested for a DUI and many thought he'd be put in the doghouse. The Usos didn't even lose the next Smackdown. WWE tends to let wrestler's personal lives be personal, for the most part. WWE even issued a statement saying as much. "Jonathan Fatu is responsible for his own personal actions." Was the official statement from WWE.  IN the end, I don't think it'll have much, if any, affect on his Tag Team Championship match on Sunday. 
I'm really mad they swapped out Becky Lynch for Charlotte at WrestleMania! Even if it ends up being a Triple Threat I still think it's BS. Why did they add her?
This is exactly what WWE wants, fans to be fired up about Charlotte being in the match. It adds emotional commitment to the storyline. Rest assured, Becky Lynch WILL be in the championship match against Ronda Rousey.  The only question is will Charlotte also be in that match or is it going to be one on one. There have been leaked images online advertising Becky Lynch vs. Charlotte Flair at Fastlane. The rumors going around on how this will play out have one of two stipulations for this match. 
1) If Becky wins she's inserted into the Championship match at WrestleMania
2) If Becky wins she REPLACES Charlotte in the Championship match at WrestleMania.
Why was this done? For a few reasons. First, they are doing it to build towards WrestleMania. They're giving Becky the anti-establishment underdog gimmick and honestly it suits her well. There are talks that the Raw Women's Championship match may CLOSE WrestleMania aka the true Main Event match.  I honestly think that Becky vs. Ronda is worthy of that in itself because Becky is the best thing going in the company right now and Ronda is a living legend.  However, WWE may have felt in order to "justify" the women closing WrestleMania that they needed to add Charlotte who has been at the top of the women's division for years now.  As far as we've heard here at WNW the match was always intended to be a triple threat match. An idea I heard pitched was to make the triple threat match an Elimination style match. Honestly, I believe that'd be the perfect match to solidify Becky as the absolute top of the Women's Division AND send the crowd home incredibly satisfied.
With WWE calling up six NXT superstars around the Royal Rumble will there still be the traditional post-WrestleMania call-ups as well?
As far as I've heard there are still plans to call up a few NXT works after WrestleMania.  Remember, WWE is doing a Superstar Shakeup not the Raw and Smackdown immediately following WrestleMania but the week after.  My guess is we may get one or two wrestlers called up to Raw/SD immediately following WrestleMania and then another handful brought up in the Superstar Shakeup. On a personal note, I dislike the "Shakeup" over a legitimate Draft/Lottery system. The Shakeup just feels very shuffled and anti-climatic as opposed to doing a Draft or an event where, throughout the night superstars are switched and announced. It's not like the results wouldn't be the EXACT SAME since it's all written by the writers.
Do you feel like there are too many PPVs now between The Royal Rumble and WrestleMania? I feel like two PPVs are too many.
I will say I agree with you that two PPV events feels like too many. I like it better when there is only one event separating The Royal Rumble and WrestleMania. It feels like there should only be one stop on the Road to WrestleMania. The problem is that the Royal Rumble starts to set up WrestleMania rivalries. If there is ONE PPV they can use it to put some curve balls out there and continue the build towards Mania. When there are TWO PPVs you have to slow things down so that each one gets it's own attention and feels separate from the build towards Mania. For example, no offense to Ruby Riott, but does anyone really expect her to win the Women's championship this Sunday? Not really, no. There should be one PPV and it allows for any last minute changes needed (aka switching the champion if need be) or be used to enhance the WrestleMania matches (ie add stipulations or wrestlers to matches).  
If you have questions you'd like answered in Ask WNW be sure to comment them below or on our Facebook Post or email them to AskWNW@WrestlingNewsWorld.com