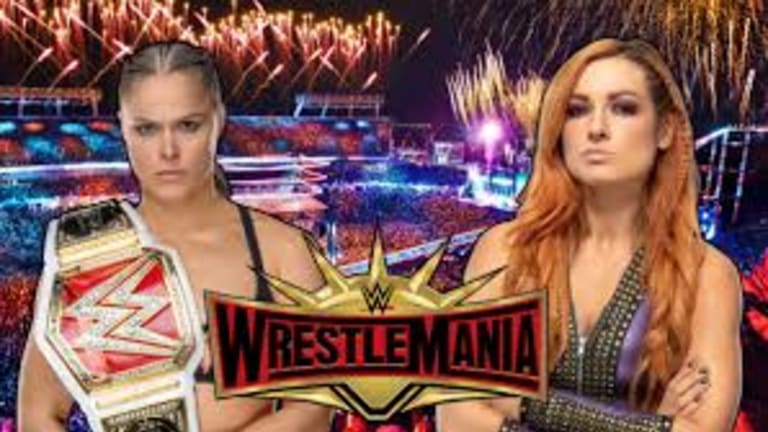 Ask WNW: Should The Women Main Event WrestleMania, Will Balor Go to 205 Live, Will Ambrose Head to AEW, Who Would The Best Names to Go from WWE to AEW
Will Becky Lynch and Ronda Rousey main event WrestleMania?
I've heard people talking about this being an option and while I can't confirm anything officially, I'd be all for it. Currently, Becky Lynch is the hottest thing in WWE and certainly the most over talent they have. Ronda Rousey is still new to the squared circle, but she has a ton of talent especially when it comes to her ring work. Not to mention Ronda has some of the best name value in the company. Putting these two on last not only seems like the smart choice, it seems like a safe bet. WWE has been talking about a Women's Division match main eventing WrestleMania for a few years now and this seems like the perfect opportunity. I can't think of a better way to close the show than Becky Lynch capturing her first Raw Women's Division Championship, having gone from the Kickoff Show at WrestleMania to winning the championship in the first ever Women's WrestleMania Main Event. Talk about a Cinderella story!
Is Finn Balor going to 205 Live after WrestleMania?
There have been rumors circulating that Finn Balor might be moved to 205 Live after WrestleMania. This isn't something I can confirm or deny, but I'd be very, very surprised to see him moved off a television brand (Raw/Smackdown) and onto a WWE Network brand (NXT, 205 Live). While Finn does qualify for the weight limit, being under 205 pounds, he is seen as a bigger name than the brand needs. WWE is currently using 205 Live as almost a secondary NXT brand. The show is branded as a cruiserweight show, and it is, but it's also used to see who gets over and who would work on the main roster. This is what happened with Mustafa Ali, Lince Dorado, and Gran Metalik. Technically, Kalisto could be considered part of that list, too, but he had previously been on the main roster. If WWE decides that they want to re-vamp the show then Finn would certainly be a welcome addition to the roster, however the way it's currently being used it is more likely that Finn will stay on Raw or Smackdown.
Do you think Dean Ambrose is going to head to AEW, it seems like a lot of WWE talent are thinking about heading there?
If Dean truly is leaving WWE in the coming months, then AEW would be a great place for him to go. I'm sure they'd welcome him with open arms and Dean would surely become one of their top draws. It all depends on what Dean would be looking for after his WWE departure. Is he looking for Monday? Is he looking for creative control? Does he want to move on from pro wrestling as a whole? These are all questions that would play into where he ends up. I can't say he wouldn't want to go to New Japan Pro Wrestling, but it's likely that as a married man he wouldn't want to be so far away from Renee, but I can't say he wouldn't. All that said it's also possible, I would even say very possible, that WWE is working us and Dean leaving is a work. It's unlike WWE to announce a talent is leaving so far out without doing as much as they possibly can before said talent leaves. I'm not saying it's not possible that Dean offered a firm "no" and WWE accepted it, I just see it as unlikely.
If you could have any three wrestlers go from WWE to AEW to help legitimize them who would you choose?
This is a tough question because there are so many factors to consider. They'll need name value because AEW is newer, but they also did get a good deal of name value in Chris Jericho. They'll also need to be younger, too, because you don't want a wrestler who might retire in the next 5 years or so. If ANY Superstar was up for grabs I'd say John Cena, Seth Rollins, and either Becky Lynch or Charlotte Flair to head up their Women's Division. Cena provides the massive name value in AND out of the ring, it would get picked up on all the news sources, and he could help guide a lot of the guys towards greatness. Rollins is an absolute work horse and has high name value with the fans. Finally, Becky or Charlotte would both provide great name value and quality ring work to cement that AEW's Women's division isn't messing around. Obviously, there are a TON of names that I think would work well in AEW, Daniel Bryan, AJ Styles, Samoa Joe, Dean Ambrose, Finn Balor, Rusev, Shinsuke Nakamura, Alexa Bliss, Zack Ryder, Ember Moon, The Revival I could go on and on. That's not even including NXT talent. However, I will say it's important for AEW to not make the same mistakes TNA and WCW made which is letting WWE talent walk in and immediately run the show or be the focus. Use talent to enhance your company not define it.
If you have questions you'd like answered in Ask WNW be sure to comment them below or in our Facebook Post or email them to AskWNW@WrestlingNewsWorld.com