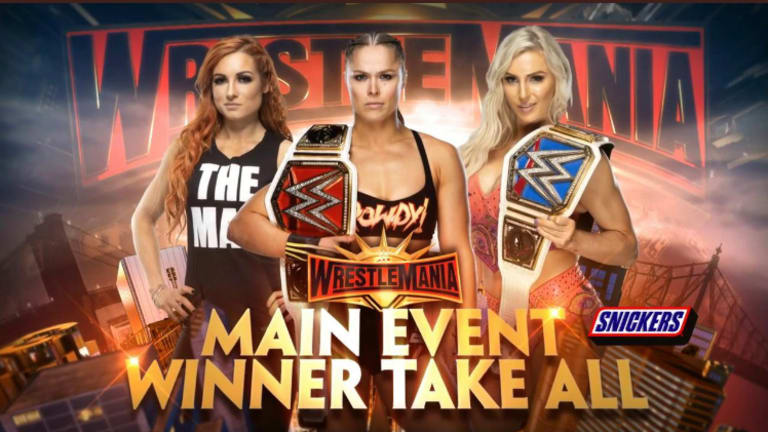 Ask WNW: WrestleMania Card Bad? Winner Takes All, What Will Open Mania, Which Champion Is Likely To Retain?
Do you think this year's WrestleMania has the worst card that WWE has had in years prior of the show? 
Out of all of the years that WrestleMania has been aired, I say in full confidence that this year's card for Mania 35 is strong. Take a look at the top matches. The Triple Threat Match involving Ronda Rousey, Becky Lynch and Charlotte Flair. Winner takes all (both the Raw Women's Championship and Smackdown Live Women's Championship). Then we have Brock and Seth Rollins, Daniel Bryan and Kofi, Reigns and McItyre, and the list keeps on going. Take into account that this is the first year in a long time that we won't be seeing John Cena and The Undertaker (not advertised but still could show). This year will definitely be one to remember, and for the good. I'm excited for WrestleMania, especially with the roster that we have today. The expectations are high and I'm sure the show will deliver as so. 
With the Women's Triple Threat Match for the Raw and Smackdown Women's Championship, being billed as 'Winner Takes All', will we see a unification of both championships together? 
If WWE didn't already kick the Smackdown Live Women's Division down as it is with Charlotte winning the championship last week. This would be a terrible route to go moving forward. The women on Smackdown already got nixed when they lost their opportunity to face off against Asuka at Mania. One champion for both brands leave little to no room for any performer to get a chance to shine. Hopefully we can get a clear winner, but whoever wins, will relinquish one championship or lose it soon after to give the other women in the division to shine instead of being buried. We already saw a unification happen in 2014, and WWE quickly made the split happen a few years later. There's only so much room at the top, and limiting championships make it that much harder for talent to grab the brass rings. 
What match will open for WrestleMania this year? 
If WWE wants to start off strong, which I'm sure they will, I would go with Samoa Joe and Rey Mysterio, as the two have the chance to have the best match of the night. Joe has the intensity and Rey has the speed. The two will put on a clinic for sure. They could go with Miz vs Shane, as the two have told a great story thus far, and the stipulation of the Falls Count Anywhere will just raise the stakes for the 'anything can happen'. I'm betting on either one of those to open the show, starting the night off on the right foot. 
Out of the top championship matches, which champion is likely to retain? 
This is such a tough question, but the most likely to retain their championship would be Brock Lesnar. He's going to be heading next month to Saudi Arabia for WWE's event, and I expect the betting offs are in his favor to win. I see a Kofi Kingston win for the WWE Championship and Becky to send the crowd home happy with her raising both the Raw and Smackdown Live Women Championships above her head to close out the show. Now, I would love to see Rollins capture the Universal Championship, as he would bring prestige to the title because it has been lacking it since Lesnar barely shows up on television. Time will tell with this one. A happy ending for all three (Rollings, Kingston and Lynch), to be crowned new champions, but I doubt they will go that route. In reality, I see Lesnar walking in and out of Mania with gold with him.