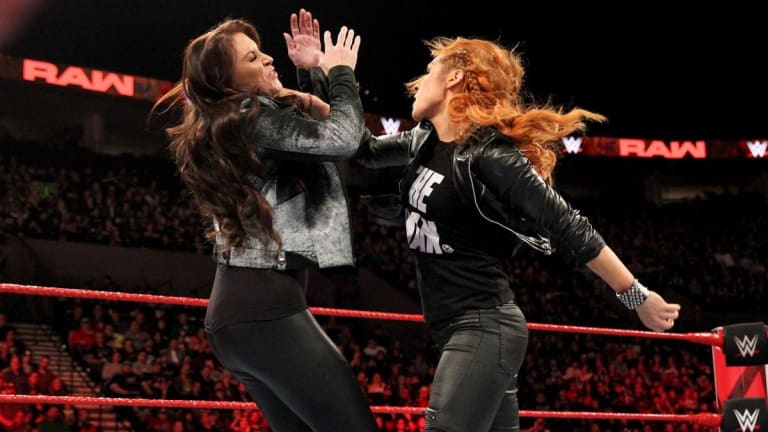 The Raw Report Card (02.04.19)
Our own Ben Bekavac grades Raw in the Raw Report Card!
Stephanie and Becky Lynch In-Ring segment: A+
Reasoning: There was definitely a Stone Cold Steve Austin/Vince McMahon vibe to this segment. Becky being suspended for not letting the doctors check her leg likely means that Charlotte will be added to the match making it a triple threat match. I love the way this was booked and hopefully, we will see more Becky Lynch and Stephanie confrontations. 
Ronda Rousey and Becky Lynch backstage segment: A+
Reasoning: Ronda killed her backstage segment, silencing her critics. Becky Lynch is really selling her injury really well, otherwise, the exchange they had would have ended differently rather than Ronda just saying her peace and walking away. My favorite line was "You put everything in jeopardy by socking Stephanie out there" .... we are hopefully seeing more of this next week.
Ronda Rousey vs Riot Squad: B+
Reasoning: I thought it made Ronda look stronger and showcased her in-ring skills well. I'm predicting she'll face Ruby at the Elimination Chamber PPV in a squash match. We'll see if Becky makes her return then or if she'll have anything to do with this possible short term feud.
The Revival won a Four Corners Tag Team Match to earn a Raw Tag Team Title opportunity against Bobby Roode & Chad Gable: C-
Reasoning: I felt this match went a bit longer then it should of. Personally, I wanted to see Heavy Machinery win this but The Revival coming away with the win made more sense. 
Zack Ryder Backstage Segment: D-
Reasoning: This segment didn't really make any sense to me because they misspelled Ryder's name he's a loser now, too.... yeah that's a pass from me.
Drew McIntyre and Baron Corbin confronted Kurt Angle: D-
Reasoning: This felt more of a way to push Baron Corbin and Drew down our throats again. This felt like the Dudley's when they wanted to retire and got interrupted and had a match that night. What was going to happen was very predictable. 
The Boss 'N' Hug Connection def. Alicia Fox & Nikki Cross to qualify for the WWE Women's Tag Team Championship Elimination Chamber Match: C+
Reasoning: I think the match was more of a showcase for Nikki Cross. Bayley picked up a win her and Sasha move on we'll see how this storyline progresses.
Jeff Jarret Vs Elias: B+
Reasoning: This match had a great nostalgic feel to it. Not only that but Double JJ still has what it takes to put on a match. That said Road Dogg and Jeff, after the match, was one of the best moments of 2019. On top of that Elias is still the man.
Lio Rush vs Finn Bálor: B
Reasoning: Shocked this was a competitive match! Blew me away for what I thought was gonna end in a DQ. Finn wrestling Lio might be the WWE testing the 205 division for him? There are whispers that WWE has thought about it. Or it could be Vince trolling us. 
Alexa Bliss Moment of Bliss segment: B+
Reasoning: This segment was made by Dean Ambrose and his great mic work against EC3, I genuinely enjoyed this entire segment even Nia Jax!
Dean Ambrose vs EC3: B+
Reasoning: I didn't think this match was gonna happen but honestly it was a pleasant surprise I'm glad we got to see EC3 against Dean, even if it was a quick match. This has great potential for an EC3/Ambrose feud down the road. It also looks like the WWE is pushing Dean to be a face again! I approve! 
Kurt Angle and Braun Strowman vs Drew Mcintyre and Baron Corbin: B+
Reasoning: This match was a pleasant surprise as well! Kurt looked surprisingly good in the ring considering he hasn't been working many matches. It worked well!
Total grade for the show: C+
Reasoning: I'm giving this Monday Night Raw a huge break. The two things I wanted to see was how they handle the Becky Lynch and Stephanie McMahon angle. It ended up working perfectly and we can't say that about many things going on in the WWE right now. They are making Ronda look stronger ahead of her WrestleMania main event match at WrestleMania. I love that they aren't just killing time before Becky returns, but putting her into a short rivalry with Ruby. Now the downside of Raw. There's too much talent to be putting 50-year-olds in the ring when you have a surplus of talented people now. I'm not against it happening but using an episode of Raw to showcase Jeff Jarrett AND Kurt Angle on the road to WrestleMania almost killed the show for me. Moving forward, I have a few questions on what will happen. What's next for Braun? When will we see Seth Rollins return? No John Cena as of now, who will they get to step up in his absence? I think the road to WrestleMania will be better than it has been in the past if they play it right.