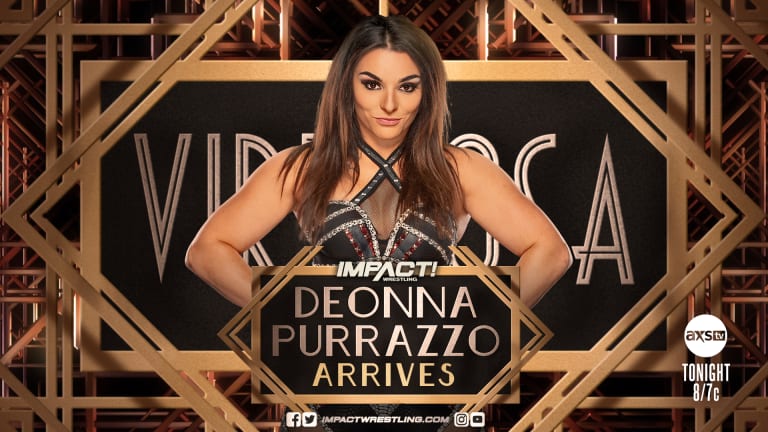 IMPACT Wrestling LIVE Coverage and Results(6/9/20)
Results:
Jordynne Grace vs Taya Valykire(Knockouts Championship)
Winner: Jordynne Grace via Sleeper Hold
Micheal Elgin vs Sami Callihan vs Ken Shamrock 
Winner: Micheal Elgin via Elgin Bomb
Tasha Steelz vs Susie 
Winner: Tasha Steelz via Cutter
Deonna Purazzo Debut
Deonna is coming for the Knockouts Championship. She attacked Jordynne Grace post match.
Johnny Swinger and Chris Bey vs Willie Mack and Cousin Jake 
Winners: Willie Mack & Cousin Jake Via Stunner
Live Coverage:
The opens with Don Callis and Scott D'More talking about what to do with the IMPACT World Championship.
Micheal Elgin vs Sami Callihan vs Ken Shamrock:
Elgin makes his way to the ring and Shamrock runs down looking for revenge as he slides into the ring Elgin is there to meet him. Sami Callihan appears out of nowhere and the bell rings. 
Elgin and Shamrock are focused on each other while Sami lays back in the corner. Elgin takes down Ken and he rolls out of the ring. Sami then kicks Elgin in the face and sends Elgin to the floor. Sami follows but gets caught and slams him on the apron. Ken comes back and dives over the top rope taking out both Sami and Elgin.
 Ken throws Elgin back in the ring but he fights back and hits a dropkick from the top rope. Elgin continues the onslaught and doubles over Ken leading to multiple clubs to the back. Shamrock counters with an armdrag then Sami slides in and both Shamrock and Callihan eat a double clothesline. Elgin then focuses on Sami hitting a suplex for a two count. Elgin stalks Sami and picks him up knocking him down with a forearm. Elgin then sends Sami into the corner and hits a hammer throw into the other corner. Sami then fights back with a chop to the chest and shots to the head. Both guys are slugging each other back and forth with Elgin getting the advantage with a knee. Sami looks for an irish whip as Shamrock comes back into the ring and both Sami and Ken take out Elgin. Sami and Ken turn on each other with Sami getting the advantage taking out the knee leading to a two count broken up by Elgin. Sami then hits a big forearm to Elgin and they go back and forth. Sami comes off the ropes and hits a pump kick leading to two standing switches with Elgin hitting a German suplex. Shamrock comes bsck and breaks up the pin locking in the ankle lock for a second as Elgin rolls through. Shamrock is able to regain the advantage and locks on the ankle lock again with Elgin grabbing the turnbuckle but Shamrock drags him back to the center and Elgin tears off the turnbuckle. Sami breaks it up but Shamrock locks it in on Sami now. Sami rolls through and sends Ken into the exposed turnbuckle back first. Elgin gains the advantage and hits the Elgin bomb on Ken for the win.
We get a backstage interview with Jordynne Grace and she is asked how she feels defending her title after being away for six weeks. Grace says she has gone stir crazy from sitting at home for six weeks. She says she is more than ready for Taya tonight.
We come back and see The Rascalz bsckstage talking about what happen last week and how they are tired about being #1 contender and coming up short. Wentz was talking about being a double number contender. Trey shows up and he only cares about who jumped him. The North showed up and announced they will get their 18th shot at the titles next week. Ethan tells Trey to watch his back. 
Tasha Steelz vs Susie:
The bell rings and here we go. Tasha trash talks Susie and goes for the clothesline but Susie ducks it and locks in a sideheadlock pushing Tasha into the corner then hitting a running bulldog. Tasha slides to the outside and Susie looks for a dive but gets caught by Tasha. Steelz sends her into the corner then hits a running move leading to a neckbreaker for a two count. Tasha then hits multiple jabs leading to a forearm. Susie comes back and rolls up Tasha for a two count leading to a clothesline from Tasha. Tasha then drags Susie's face on the ropes but Susie comes back with a thezpress. Susie is pushed into the corner and Tasha looks for a running move but Susie lifts her onto the apron Tasha comes back into the ring and eats a palmstrike for a two count.
Keira Hogan gets up on the apron to distracts Susie leading to Tasha hitting a cutter for the win. 
After the match we were supposed to be getting a backstage interview with Ace but he is making us wait. He finally shows up and is asked about what he thinks on the world title situation. Ace says he won the tournament so he should be champion. Moose shows up and says that Ace's title opportunity is at Slammiversary and he will be challenging him for the TNA title not the IMPACT title. Hernandez shows up and challenges Moose to a match for next week.
We come back and get the Slammiversary promo again from last week.
We see Kiera and Tasha backstage after Tasha's match saying that the Knockouts are on notice. They bump into Havok and Neveah. Neveah challenges them to a match but Keira and Tasha says they are off the clock.
IMPACT Flashback Moment of the Week:
Mike Bennett challenges Earl Hebner to a match since he was the only active TNA Hall of Famer on the roster at the time.
We see Rohit Raju confront Rhino for hitting him with the gore last week. Rohit says he should be taking him under the ring and treating him like a tag team partner. Rhino says he already has a tag team partner and he has kids. Rohit then attacks Rhino. 
We come back to the show and see Taya Valykire looking for John E. Bravo.
Johnny Swinger & Chris Bey vs Willie Mack & Cousin Jake:
The bell rings and here we go. Bey and Mack start off the match. Mack moves forward but Bey tags out to Swinger. Swinger doubles him over with a kick to the stomach and sends Mack into the corner. Swinger then stands over him snd gloats. Willie counters and throws Swinger into the ropes and takes him down. Mack tags in Jake keeping the advantage leading to a tag from Willie. Mack then hits a standing switch as Swinger sends him into the ropes leading to Swinger choking Mack then tags in Bey. Bey sends Mack into the corner and begins to lay in with the chops. Bey tags in Swinger leading to Mack fighting back and taking down Swinger and tagging in Jake for the hot tag taking out both Swinger and Bey. Jake looks to hit a running move but Swinger pulls Bey out of the way allowing Jake to crash and burn. We come back and Swinger is in control with Jake on the mat. Swinger tags in Bey attacking thr ankle of Jake. Bey then draps Jake on the ropes and distracts the referee allowing Swinger to choke Jake on the ropes. Jake is able to fight back and get in a few dhots hefore Bey hits an enziguri and tagging in Swinger. Swinger lays in the shots to the midsection as Bey gets in a shot leading to a two count. Jake is able to fight back and take down both guys. Jake gives Willie the hot tag who tags out both guys and ducks a moonsault and hits a standing moonsault on both guys for a two count.
 Jake takes out Bey sending him to the outside. Jake makes sure Bey stays on the floor as Swinger looks for a swinging neckbreaker. Willie counters and hits the stunner for the win. After the match we get a post match beatdown from Swinger and Bey leading to Cody Deaner returning and making the save and all three clear the ring.
We now see Bravo and Rosemary at the bar. Taya Valykire shows up and is wondering what Bravo is doing and should be helping her with her return match against Jordynne Grace. Rosemary claims she left them high and dry but Taya says she was following the quarantine rules and she is a rule follower. Rosemary says she has something for her and Taya thinks she is joing her.
State of the IMPACT World Championship:
Scott D'More comes out and is trying to talk about the state of the title but he is interrupted by Ace Austin.
 Ace Austin thinks that Scott is out here to crown him the world champion leading to Michael Elgin coming out to the ring. Elgin says that Ace is speaking out of turn. Elgin says Ace has two choices and they are either to get out of the ring or fight him. He says that not Ace or anyone in the back can handle him. Eddie Edwards returns and says that Elgin has short term memory and says he has beaten Elgin. Eddie says you don't get handed a title in IMPACT you have to fight for it. Scott D'More announces that at Slammiversary it will be Tessa Blanchard defending the title against Ace Austin, Eddie Edwards, Michael Elgin, and Trey. All four guys square off.
We come back and get a backstage interview with Deonna Purazzo but she is not in her locker room and the interviewer will continue looking for her.
Cancel Culture comes out to the ring as RVD and Katie Forbes are back. Joseph P. Ryan welcomes Jacob Crist to the group. Ryan basically states that if you use words that hurt then you will get hurt.
Crazzy Steve vs Jocab Crist:
Jacob takes it right to Steve as the bell rings but Steve comes vack and takes down Crist for a one count. Steve continues the onslaught leading to a snapmare and twist the ears of Crist. Steve sends Crist into the corner and locks in the tarantula but Crist fights back and goes after the arm of Steve. 
Crist locks on a working hold who hits a dropkick on Steve and locks in an arm submission but Steve gets to the ropes. Crist hits an atomic drop but Steve holds onto the ropes. Crist then kicks Steve leading to Steve fighting back and both guys are down. Joseph distracts the referee with his iPad and Jacob Crist is able to pick up the win.
We come back and see the Slammiversary promo again.
Jordynne Grace vs Taya Valykire(Knockouts Championship): 
Taya Valykire makes her way to the ring with Rosemary and John E. Bravo for this title match. 
Jordynne Grace makes her way to the ring. The bell rings and here we go. Jordynne charges Taya who slides outside of the ring. Grace then hits a dive taking out Rosemary, Bravo, and Taya.
 We come and Jordynne is control clubbing the back of Taya. Jordynne continues the onslaught stomping on the back of Taya leading to a suplex for a one count. Grace continues to attack the back of Taya and sends her into the corner the lighting her up with a chop. Jordynne sends her into another corner leading to anothet chop. Taya then turns things around and chokes Grace. Grace fights back and takes down Taya then hits a belly to belly for a two count. Jordynne then hits a forearm and Taya slides to the outside. Jordynne follows and continues the attack. Taya slides back in and Grace gets caught on the way in with a running knee. Taya climbs to the top but Grace meets her there. Grace knocks down Taya and sends her crashing into the floor as Bravo and Rosemary check on her.
We come back and Jordynne Grace is in control with a forearm to Taya leading to a side slam sending Taya to the floor. Grace follows her to the floor but eats an elbow from Taya. Taya then sends her into the steel and throws her back into the ring and begins to talk trash. Taya stalks Jordynne and chokes her on the ropes. Taya then hits a knee to Grace and chokes her with her boot in the corner. Taya then gets a running start and hits a meteora to Grace in the corner for a two count. Taya continues the onslaught and locks in a sideheadlock but Jordynne fights back only to be taken back down. Taya throws her into the corner and hits a clubbing blow to the back. Taya then sets up Jordynne on the top and joins her looking for a superplex but Grace counters and looks for a powerbomb but Taya holds on. Grace is able to hit the powerbomb and both Knockouts are down. 
Both ladies get back to their feet and Grace hits a powerslam leading to Taya hitting a blow leading to another slam and back and forth they go. Jordynne gets the advantage and sends Taya into the corner leading to a running knee into the corner followed by a Vader Bomb for a two count. Jordynne is looking for a Grace Driver but Taya lays in three elbows to stop Jordynne. Taya is able to hit a spear for a two count. Taya then focuses on the legs of Grace but Jordynne counters. Taya is able to comeback and looks for her finisher but Jordynne escapes and locks in a sleepr hold and brings Taya to the mat. Bravo and Rosemary are flirting with each other. Grace is able to make Taya tap out from the sleeper hold to retain her title. After the match Deonna Purazzo makes her way to the ring to confront Jordynne Grace. Purazzo then locks in the Fujiwara Armbar on Jordynne and makes a statement saying she wants the Knockouts Championship.
After the show we see Elgin taking to someone on the phone and saying yes sir. He also says that Canadians are team players.
Synergy Pro Wrestling is back! On Saturday, July 11th, Synergy and Wrestling News World join forces to present "For The First Responders", a live pro-wrestling supercard to benefit America's first responders.

WNW & Synergy will donate proceeds from this event to worthy first responders' non-profits.

Synergy is delivering a massive card for the occasion! Alex Zayne & Blake Christian continue their incredible rivalry at Synergy with a 30 Minute Iron Man main event! There's also 2 qualifiers for the 2020 Garden State Invitational. JD Drake takes on Tony Deppen, and Jordan Oliver goes one-on-one with LSG.

For The First Responders will stream live on FITE.tv on 7/11 at 7 pm EST.

While you're here at Wrestling News World, why not become one of our Premium Members for exclusive backstage news? You can even start off with a 30 day free trial!