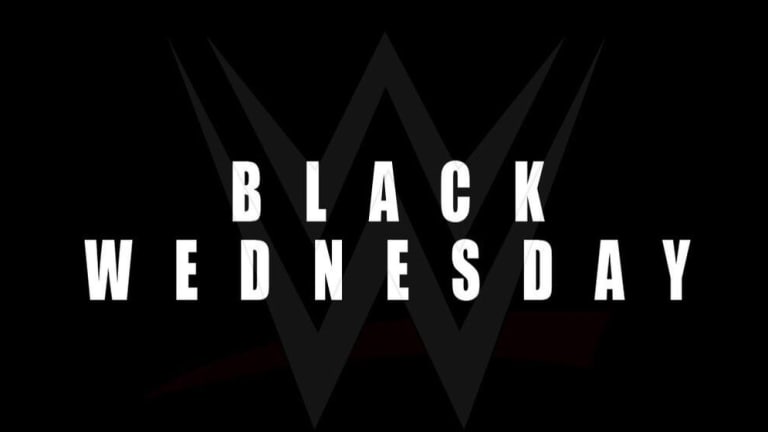 WWE's Black Wednesday: The Exodus That Affected Pro Wrestling
It's been exactly one year since the infamous moment when the WWE let go or furloughed more than a dozen of their wrestlers and employees in early 2020 at the beginning of the Coronavirus Pandemic within the United States. 
The result led to numerous careers being changed, a mixed reception from the wrestling community and undoubtedly the biggest mass exodus in all of professional wrestling history, but why did it happen and what were the affects that came out of this decision?
Well today, I'll be exploring the incident known to wrestling fans simply as "Black Wednesday". 
The Return Of The XFL
Before we can talk about the incident in it's entirety, we must look the events that ultimately paved the way for the mass firing and to do that, we first have to go back to February of 2017. 
Around this time, ESPN released a 30 for 30 documentary titled 'This Was the XFL' which chronicles the idea of Vince McMahon and Dick Ebersol (an executive for NBC and friend of McMahon) to create a football league that would compete with the NFL.
The result was the XFL which was a joint venture by the WWE and NBC to create a football league with the hopes of being able to attract football fans following football season as well as being competition for the NFL, instead the whole thing wounded up being one of Vince McMahon's biggest flops and costed both him and NBC each 35 million dollars.
In the documentary, Vince jokingly considers reviving the XFL but many didn't know that Vince would make good on that promise. In late 2017 reports came out Vince was not only serious about bring the league back but he also sold million of dollars in WWE's stock to create Alpha Entertainment which would be used to manage the new revived XFL and to distance itself from the day-to-day operations of the WWE.
Long story short, the XFL officially began it's season on February 8th 2020 (a day after that year's Super Bowl) and much like the original XFL, the ratings were good at first with 3.1 million watching only to see that number drop considerably as the league went on but that was just the beginning of the problems that would affect the XFL.
By March of that same year, the league would suspend all games going forward due to the arrival of the Covid-19 pandemic into the United States and about a month or so later reports of stars being terminated and all operations coming to an end started to come out as the league would end up filing chapter 11 bankruptcy.
As a result, the XFL would be up for sale with the hope that someone would be able to buy the assets in order to pay off the debt; The person who ended up by it was nothing other than Dwayne "The Rock" Johnson, who along with a host of other partners bought the rights to the XFL for a reported 15 million dollars and rumors that the league would be back in action in 2022.
But while the Coronavirus may of halted the progression of the XFL for now, the virus itself wasn't finished messing around with other sports related events.
Wrestlemania Weekend
On April 5th, WWE was set to have one of it's biggest events Wrestlemania 36 from the Raymond James Stadium in Tampa Florida but not before a number of other wrestling themed events we set to take place a day or two before 'Wrestlemania Weekend' as this is usually the time when wrestling fans from around the world come out to watch not only Mania but also the other wrestling shows that happen previously making the whole thing a really big deal. 
2020's Wrestlemania Weekend saw a line up of events like NXT Takeover: Tampa Bay, that year's WWE Hall of Fame Induction, WrestleCon, A TNA Wrestling Retro show called "TNA: There's No Place Home" and so many other amazing things that were set to take place, unfortunately the previously mentioned Covid-19 pandemic forced many states to shut down leaving many of these shows cancelled due to travel restrictions and without fans in attendance some of these events could not be able to pay off their stars among other issues.
While the WWE would move Wrestlemania 36 to their Performance Center located in Orlando, they did so with no crowds and even broke up the mania card into a two night event making it the first time something like this has ever happened before.
Pro Wrestling's Pandemic Era
To say that Covid-19 changed any all future plans for professional wrestling in 2020 would be a big understatement, as travel bans that were invoked and the possibility of catching this virus was high; The pandemic basically managed to crippled the sport of professional wrestling.
By far the worse to be hurt by this pandemic was the number of independent wrestling promotions in and out of the U.S., as there ability to run shows or pay their talent and staff rely mainly on the money they make hosting events in front of crowds but now that shows are being cancelled and fans were not attending shows, there simply wasn't any places for wrestlers (free agent or otherwise) to work unless if they could travel to certain promotions who were still open for business.
While some companies like NJPW would cancel future events due to COVID-19 concerns, others like Ring Of Honor and the NWA would temporarily shut down operations until further notice, however some of those wrestler's would see their contract run out thus making them free agents.
This would lead to many wrestlers having to sell their merch like crazy (if they didn't already) and having to use Patreon, Twitch or Only Fans accounts in order to make money if they hadn't already be laid from their jobs outside of the wrestling business...In other words, it was a really tough time for every one.
Some promotions like Impact Wrestling and AEW would continue to run shows albeit with either no fans, using piped in crowd noises, using other wrestlers and staff as crowd members or taking other precautions before letting a certain number of fans into the building.
As the WWE proceed to run more of their shows in the performance center, they would eventually try a new method that would allow fans to appear on TV by using a virtual set and staging area that showed multiple fans on the screen at the same time to which the WWE would call 'The Thunderdome'.
But now we reached the main topic of this article, so with that all said let's discuss the event known as 'Black Wednesday'.
We Wish You The Best In Your Future Endeavors
April 15th 2020, that is the date that changed so much for a large number of people in the WWE; It was on this day that more than a dozen WWE wrestlers, backstage employees and a referee were called by management or other officials in the company that they were being let go or that they were being furloughed (aka a temporary leave).
The announcement of WWE wrestlers being released is nothing new to fans as the company has had a habit of 'spring cleaning' their roster every year, however the amount of releases and furloughs that occurred on that early Wednesday afternoon stunned many due to the fact that this was happened not only during a pandemic were the amount of jobs were shrinking but the announcements kept coming minute after minute in real time which shocked everyone as they didn't who would be next to go.  
Perhaps a prime example of just how 'real' the affect of Black Wednesday were was a video uploaded to Drake Maverick's Twitter account where the former Rockstar Spud could be seen heartbroken and misty eyed over the realization that his been let go from the WWE despite being in a tournament to crown a new cruiserweight champion ...truly some saddening stuff.
Fortunately for Maverick he would be able to compete in the tournament and even though he lost the finals, Triple H would come out at the end and give him a new contract thus reinstating him back onto the roster although many fans had a issue with the whole situation with many claiming it to be a work by the WWE but that's a story for another day. 
The list of names who were released or furloughed is long and tedious but here as just a few of those names who got affected by this mass exodus courtesy of the WWE:
Heath
Lio Rush
Mike and Maria Kanellis Bennett
Deonna Purrazzo
Rusev/Miro
No Way Jose
Eric Young
Primo and Epico
EC3
Curt Hawkins
Davari
Serena Deeb
Sarah Stock/Sarita
Karl Anderson and Luke Gallows
Erick Rowan
Zack Ryder
Kurt Angle
Mike Chioda
IRS
Taynara Conti
And Many More...
The results of these departures or suspensions happening some quickly and all at once left fans and some in the media divided due to the timing of these releases happening just a month following the XFL shutdown fiasco but also during a pandemic when jobs are beginning to dry up meaning that many of these wrestlers wouldn't be able to prove for themselves never mind their families.
Many also criticized the WWE for the fact that their decision to release so many wrestlers left them saving 4 million dollars, bare in mind the company had reserves in the bank that were an estimated half a billion dollars plus the company ended up making more money by the end of the year despite the whole pandemic and the no crowds thing, so it's safe to say that the WWE wasn't suffering too much financially from the whole issue.
The Era Of Free Agents 
There's a saying that goes "Your Loss Is My Gain" and in the case of Impact Wrestling in the summer of 2020, that couldn't of been anymore truthful.
In the final moments of the June 9th 2020 edition of Impact, the company showed an after credit video package which shows an unknown black hooded figure sitting in a chair with some alcohol and watching a pseudo news report that explains that a number of WWE superstars were let go before showing some of their images on the screen before revealing that this was the first promo for the Impact's up-and-coming Slammiversary pay per view which got the wrestling world talking as everyone wonder who would appear for this event.
When the time came for the event, some of those names were revealed to be Heath, The Good Brothers, EC3, and a handful of other names who had appeared for the company just weeks earlier.
Not to be outdone but All Elite Wrestling would also sign a large number of wrestlers both let go by the WWE and other promotions like Sting, Ricky Starks, Serena Deeb, Eddie Kingston, Matt Sydal and more.
As you can imagine this allowed both companies to increase the size of their roster but it also kept many of these wrestlers employed during a very troubling time.
The Aftermath
In the end, the Covid-19 Pandemic continues on (as of the writing of this article) but things are beginning to slowly turn around with many promotions like the NWA, ROH and some indie companies resuming operations with many of them taking precautions to secure the safety of fans and wrestlers alike.
Many of these wrestlers didn't sign with a new company right off the bat, in fact many of them who bounce around a few promotions before settling down and winning championship gold.
Names like Miro and Taynara Conti would eventually make their way to All Elite Wrestling while names like Scott Dawson and Dash Wilder would win the AEW Tag Team Titles, plus Serena Deeb would go on to step back in the ring and even became the NWA Women's Champion. 
Mike Bennett would return to Ring of Honor in November of 2020 to save his friend, Matt Tavern but Mike's wife, Maria would soon join her husband in ROH when she returned in December of that same year.
Ethan Carter the Third aka EC3 who spend a couple of months in the Impact Wrestling where he feuded with Moose until Bound For Glory, from there EC3 would appear for Ring of Honor on the October 19th 2020 episode before he officially signed with the promotion on February 25th 2021. 
As for Impact Wrestling, names like Deonna Purrazzo and The Good Brothers would win championship gold before the end of the year while countless other free agents signed with the promotion but for more on that I'll posted a link to an article I wrote about that months ago.
Top 10 Free Agent Wrestlers To Sign With Impact In 2020 - WWE Wrestling News World
The WWE as I previously mentioned would continue on with business as usual and even signed up some new names to their promotion, but with WWE's habit of signing and letting wrestlers go on a whim could we see something like this again...Who knows?    
If you enjoyed this article, be sure to follow me on Twitter @hakeemfullerton and for more wrestling related content, be sure to follow, Wrestling New World on Twitter @wnwnews.