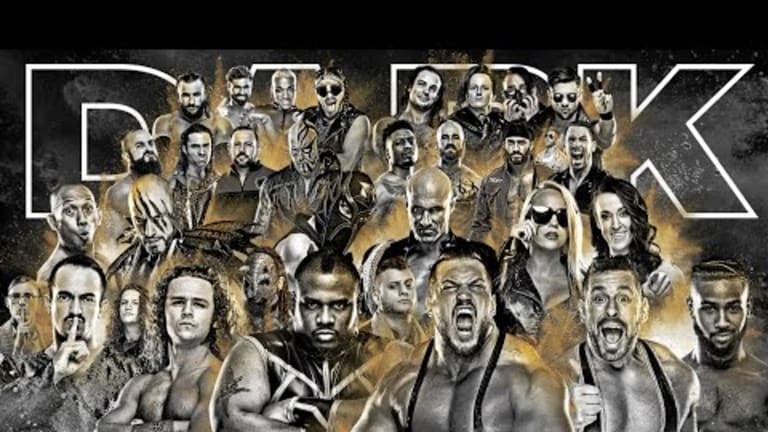 AEW Dark Coverage for 5/26/20
What's on tap for tonight?
As we begin this episode of AEW Dark, Taz tells Excalibur in a pre-taped video that he is not going to discuss his association with Brian Cage, who won the Casino Ladder Match at Double or Nothing last Saturday. 
John Silver and Alex Reynolds of the Dark Order is in our first match as they face The Natural Nightmares, who are accompanied to the ring by Brandi. Taz seems to be a bit more heelish in his commentary. Silver and Reynolds puts on their mask and here we go. The NN get the double Russian leg sweep on Reynolds and then hip tosses him. Tag to QT who clotheslines him and then splashes him. Suddenly from the stands we see Allie (not in Bunny gear) apparently eating a green apple, which startles QT and then he leaves to stare at her. The distraction allows Reynolds to get a flying elbow from the outside and then he brings QT back inside to allow Silver to get some stomps in. Allie still working the apple. Silver denies the tag and whips him into the enemy corner, where QT tries to fight out of a double team. Silver gets a two count. Knees to the chest by Silver but QT isn't selling it. Shoulder capture suplex by QT and he gets the hot tag to Dustin who clears house with elbow smashes and the patented Rhodes uppercut. Scoop powerslam to Silver. Canadian Destroyer by Dustin, tag to QT for the cutter and the win. Allie blows QT a kiss as she walks away. [**] Decent tag team match, but the storyline with Allie will be the more interesting development.
Michael Nakazawa vs. Brandon Cutler is next. Side headlock by Cutler into a wrist control. Nakazawa pulls out the oil and the ref throws it away. Nakazawa gets a schoolboy for two. Crucifix for two. Inside cradle by Nakazawa for two. Cutler with the top rope elbow strike. Russian elbow sweep by Cutler and then hits the flying elbow. Only gets a two count. Nakazawa to the ropes and spears Cutler. Roundhouse kick by Cutler gets a two count. Suplex attempt by Cutler is fought off by Nakazawa but comes back in for a suplex. Two count ensues. In the corner Cutler lays the right hands but Nakazawa reverses with a series of chops and the two trades chops. Elbow whip into the corner by Nakazawa. He eats the boot by Cutler on a charge. Cutler hits the cannonball from the top rope, but only gets a two count. Torture rack carry by Cutler and he dumps Nakazawa to the outside. He walks back in and tells the ref to count him out. Up top to the ropes and he splashes Nakazawa on the ramp! They fight outside and the ref begins the count. Nakazawa throws Cutler to the rack and runs in to beat the 10 count. Afterwards, the Librarians come out to taunt Cutler, with Avalon calling him the worst wrestler in AEW. Cutler says that he will get his first win before Avalon does. [*] Despite the earlier foolishness, Cutler actually showed some potential in this loss. Other than that it was a match with nothing special. 
Cutler heads to the commentary booth to discuss his gripes. 
Peter Avalon vs. Jungle Boy is next. JB rolls to Avalon and gets a wristlock. Avalon reverses and punches Jungle Boy. Side headlock takedown by Jungle Boy into a waistlock. Step up enzuguri into a missle drop kick to Avalon, who crawls to the outside. He chooses to walk away but walks right into Luchasaurus. Jungle Boy goes outside where they exchange slaps and Leva Bates comes in to call a peace summit, but Avalon throws him into the rack and back into the ring. Suplex by Avalon gets a two count. Punches in the corner, but he misses a charge for a series of two counts by Jungle Boy. Leg lariat by Avalon into a headlock scissors. Kicks to the back of Jungle Boy by Avalon. He begins jawing with the dinosaur and Jungle Boy reacts with punches of his own. Avalon fights it off and goes for the top rope moonsault but misses! Elbow strikes by Jungle Boy who turns it into a suplex. Pump kick by Avalon. Jungle Boy goes to the top rope DDT but only gets a two count. Inside cradle by Avalon for a two count. Flatliner by Avalon only gets a two count. Bates goes to hand Avalon a book and Jungle Boy rolls him up. She's almost picked up by Luchasaurus and Marko kisses her! Whip into the ropes by Jungle Boy and he gets Avalon in the SFG for the tap out! [**] Pretty good showing by Avalon but Jungle Boy was impressive as well. 
Next up is Serpentico vs. Christopher Daniels. They go into a series of headlocks and Serpentico gets a wristlock. Daniels with a headlock. Whip into the ropes and Daniels brings him down with hip toss. Serpentico gets the knee smash. Avoids the charge but Daniels hits him with a high knee strike. Side suplex by Daniels. Charge into the corner by Serpentico. Over the top stomp by Serpentico into a series of chops. Daniels takes the whip into the ropes into a knee smash and backbreaker. Takedown throw into the BME for the three count. [*] It was a match. 
John Skyler & Brady Pierce vs. Sonny Kiss and Joey Janela. Sonny starts off with Skyler and they go into the corner where he elbows Skyler and hits the spin kick. Wristlock by Sonny, who tags JJ for the top rope arm smash. Elbow smash to Skyler and as he goes to the ropes, Pierce hits him with the rear back knee strike. Janela recovers to tag Kiss who gets a springboard elbow. Skyler whips him into the ropes and he tags Janela, who throws him into the ropes where he tags Pierce. Pierce gets some mounting punches, tags in Skyler and they do the double team mule kick. Skyler goes for the moonsault and misses. Janela gets the hot tag to Kiss who gets a dropkick, spinning elbow and boots Pierce. Hurricanranna gets a two count. Skyler comes in and goes for a charging elbow but goes over the top rope. Janela with the mid rope suicida. Pierce gets an enzirugi. Janela to the top rope with the legdrop and gets the three count. [**] Nice combination of moves from Kiss/Janela highlights this match. 
Tony Donati & Faboo Andre vs. Jimmy Havoc and Kip Sabian is next. The British duo quickly begin beating up on the unsuspecting tag team before the bell rings. As it finally does Havoc wears out Andre with forward fists. Chops to Andre as he tags Sabian who stomps him in the corner. Havoc bites Andre on the head as he's tagged in as well. While the ref is distracted, Penelope Ford kicks Andre in the face as he stumbles outside. Tag to Sabian and they get a double team knee to shin kick combo. Sabian and Andre in the ring and Kip fists him. Tag to Havoc who distracts Andre long enough for Kip to give him a rear head kick. Andre fights back and gets the tag to Donati, who charges into Havoc and delivers forearm smashes to Kip. Northern Lights Suplex for two. Double arm suplex to Sabian for two. Kip gets a slingshot suplex and then tags in Havoc who hits the C4, tag to Kip for the top rope double stomp and then the Deliverer for the three count. [***] Kip and Havoc are quickly becoming a dangerous combination in AEW's tag team ranks. Being on Dark has improved their ring work. 
Mr. Grim vs. Wardlow. Grim is making his AEW debut. MJF accompanies Wardlow to the ring. Wardlow quickly picks up Grim while MJF stands on the apron and tweets. Kicks to the head of Grim and he is choked into the corner. Stomps to Grim's chest while MJF talks smack. Grim tries to fight back but Wardlow puts a stop to that with an uppercut smash. Misses the charge into the corner and Grim elbows him. Wardlow reverses it and throws him to the ground. Off come the straps, F10 attempt is missed. Grim charges and Wardlow reverses it into a shoulder smash. He takes Grim up top and drops him down with a knee smash. Ref stops the match and Wardlow wins. Afterwards, MJF tells Wardlow to pick him up and deliver the F10. [*] Nice knowing you Grim. 
Lee Johnson vs. Colt Cabana. Colt, being ever the gentleman, holds the ropes for Dasha. They lock up and Johnson gets the wristlock. Reversal by Colt and he mule kicks Johnson. He misses the charge and gets the leg roll up for two. Wristlock by Colt, who turns it into an abdominal stretch. Crucifix roll up gets two. Johnson fights back with punches but is rolled up for two. Lee tries to chop him but Colt reverses for chops of his own. Dropkick by Lee but he misses the flying elbow. Colt takes advantage and gets the reverse Boston Crab for the submission. [**] Colt had his usual arsenal in a decent match. 
Kilynn King vs. Penelope Ford. Ford is accompanied by her fiancee Kip Sabian, who embrace their relationship. The ladies lock up and King gets a wristlock into a side headlock. Ford fights it off with an elbow smash but King goes into the ropes and punches Penelope. Suplex by King for a one count. She goes to the ropes but Kip grabs her foot. Penelope jumps on her with a knee smash. Stomps in the corner by Ford and a leg lock on the ropes. Suplex by Penelope for a two count. Elbow smashes by Penelope to the back of King. Stomps to King and they go into the corner. Charge by Penelope is stopped by King's elbows. Top rope dropkick by King! Elbow charge missed and Penelope withe the springboard cutter for the win. Afterwards, Kip comes in to present the ring. [**] Ford recovers nicely with the win, showing a nice array of moves. 
Shawn Dean and Alan Angels vs. Best Friends is the last match of the evening. The #1 Contenders for the tag team title are accompanied by Orange Cassidy. Taylor and Dean start first, where they exchange leapfrogs. Tag to Trent who gets an elbow smash while OC chills on the ropes. Tag to Angels who forces Trent into the corner. Tag to Dean where he leg whips Trent and then goes to Angels who gets a two count. Dean comes back in and gets off some knee smashes. DDT by Trent, who tosses a leaping Angles. Tag to Chuck who powerslams Angels. Kick to Angels and he hits a plancha to Dean. Back in the ring Angels tries a headscissors but Chuck catches him and throws him to the ground. The Best Friends hug, hits the Strong Zero, and they get the three count. [**] Nothing special here.