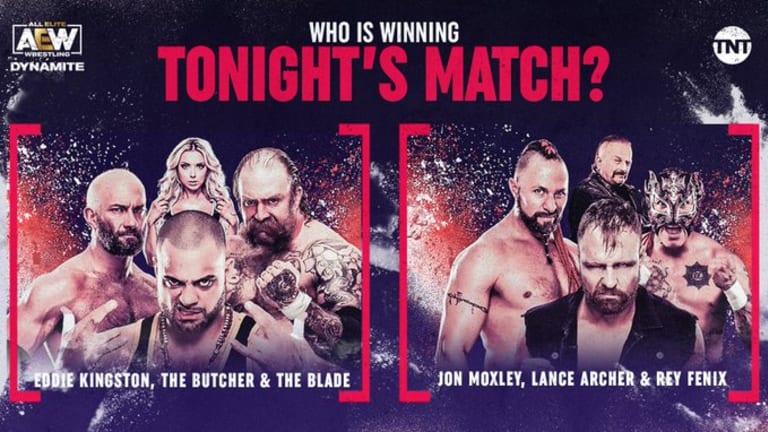 AEW Dynamite Live Coverage (2/17/21)
Hello and good evening I'm Justin "Juice" Lucciano and I will be covering AEW Dynamite tonight! I usually cover WWE specifically RAW and SmackDown so I am excited to switch it up this week! I watch AEW every week so don't worry I know what is happening! Update the page every five minutes or so maybe less and I'll be working down so new stuff on the bottom. I'll put time stamps in occasionally to make it easy to get to points as well. 
There is a lot going on tonight, between the AEW Tag Team Championship Match between the Champions the Young Bucks and Santana and Ortiz of the Inner Circle and Riho versus Serena Deeb in another Women's Championship Contender Eliminator Tournament Match. There is also a ton more in store! Fair warning ahead of time when Adam "Hangman" Page appears I will sing his praises and be very biased in favor of him because he's my AEW favorite. 
Speaking of Hangman the first wrestler to enter the ring and kick us off is the Cowboy himself and he is about to do some Cowboy Shit! Big Money Matt Hardy joins him in tag team action to kick us off. Hopefully we get an explanation of what the contract Hangman switched with Hardy's says.
Hardy and Hangman face The Hybrid 2 in tag team action. Hangman is just too quick, powerful and awesome for Angelic and Jack Evans. Good thing too because Hardy is letting the cowboy do all the work.
As I say that Hardy tags in right as Hangman is about to use his Buckshot Lariat finisher. Hardy gets the pin for his team despite Hangman carrying the team on his back like Greg Jennings!
Now it is time for us to learn what was said in the contract of Hangman. Duval the Jacksonville Jaguars mascot  is the one carrying out the papers.
Matt Hardy versus Hangman at Revolution and if Hangman wins he gets all of Hardy's earnings from the first quarter of 2021! Hardy asks for Hangman to put up the same and the Cowboy accepts. 

Duval attacks and it is Isiah Kassidy and now Hardy pays the Hybrid 2 as well! They are all attacking Hangman noooooo! Wait Dark Order to the rescue never thought I would say that. 
I get AEW has to spread the women's tournament matches on AEW and on YouTube on Monday to make things fit but I wish they would split it a bit more evenly so we could see more women's matches on television, but at least we are getting the tournament.
8:25 ET
Now for the return of the first AEW Women's Champion Riho who faces Serena Deeb the NWA Women's Champion. Which one of these fierce competitors will move?
Also Riho weighing only 98 pounds is just crazy, how does she not get hurt more often? 
Deeb is really working on the left leg on Riho and Riho has also been damaging the left leg of Deeb so this might develop into a hop match.
619 from Riho and now for another top rope move and there is a foot stomp to the back of Deeb! Back to the top rope and Cross Body! Near pin but Deeb powers out.
8:38 ET
Power Bomb to Stretch Muffler by Deeb on Riho, Riho turns it into a quick roll-up! Some back and forth heated action!
A great match by these two and Riho the former champion moves on in the tournament to face Thunder Rosa in the next round!
Now for a Shaquille O'Neal and Jade Cargill video package ahead of their match in two weeks on Dynamite against Red Velvet and Cody! Should be an interesting match.
Everyone bring out your glasses of orange juice it is time for Orange Cassidy!
Orange Cassidy now faces Luther of Chaos Project in singles action but neither are alone. Serpentico joins Luther and Chuck Taylor with his buddy OC.
OC squashes Luther to display dominance! No attack by Miro, Kip and Penelope though interesting. 
Team Taz are without Ricky Starks and Powerhouse Hobbs according to Taz because of the snow making travel difficult across the country. Taz acknowledges this and calls out Sting who comes out with his iconic bat.
Old man Sting attacking Cage is bold but very dumb. Power Bomb to the Icon! This segment was a lot shorter than I was expecting to be honest.
Title match time who do you got? The champs The Young Bucks or Santana and Ortiz.
Eddie Kingston with another great promo and Allie or The Bunny with the great facial expressions to add to the promo. Kingston is a gifted talker and it's great to have him on Dynamite. Allie I like her as a manager but I would love to see her in the women's division as a real threat and contender for the AEW Women's Championship.
Kenny Omega reading to the children about the Young Bucks and giving back to the kids what a great champion! Nakazawa being with Don Callis and Omega is cool have not seen him on television for a while.
The champion only had time for one sentence though wow what a busy man! Mox never read to children!
Oh now the childen are beating up Nakazawa I guess everyone can do that then!
9:03 ET
Ok now it's actually Tag Team Championship Match time!
This is off topic but just realized now Jim Ross called Omega WWE Champion oh JR lay off the whiskey while doing commentary.
Santana with a beautiful Avalanche Falcon Arrow from the top rope! What a great move. Santana and Ortiz won't win but I would be happy if they did. They are great and personally I like them a lot more than the Bucks!
Bucks win but the celebration is short lived! Jericho, MJF their Revolution challengers and the rest of the Inner Circle attack!
Also Gallows and Anderson going to help slowly and after the attack was over was hilarious.
Cody and Brandi's child's gender is now revealed and it is a girl! Congrats Mr. and Mrs. Rhodes!
FTR now return after suspension to face Mike and Matt Sydal. 
I am shocked this is not a squash. I was expecting FTR to dominate! Sydals fought well but ultimately they lost. Good television debut for Mike Sydal though.
FTR is not done though they stole the doctors medical kit and are about to use medical tape to cut the hair of Mike. 
Lights are out and Luchasaurus is shown but as a silhouette and without his mask. Lights are back and there is Jurassic Express and Luchasaurus has a new mask! Jurassic Express handles the pair and they are back and the feud continues!
 9:40 ET
Time for a Mox promo ahead of the six-man tag main event. A lot of the same from Mox just talking tough, saying how he is going to beat everyone up and how everyone else is a son of a bitch. I know it sounds like I hate Mox but I don't he is great I just have not been a fan of his promos since they all feel the exact same to me.
Now for the match and Rey Fenix has a new mask and it is fire in my opinion.
Everyone is getting a chance to show off in this match and you got to love it!
Death stare between Kingston and Mox in their corners both clamoring for a tag. They both get them and now the rivals face! Bulldog Choke by Mox on Kingston does he have the win no its broken by The Blade.
After the other four men get taken off away from the ring by the brawling we have Kingston and Mox alone and Mox delivers the Paradigm Shift and gets the win.
Gallows and Anderson of the Good Brothers attack though and grab the former champion and now the current AEW Champion Kenny Omega comes out. Omega versus Mox at Revolution for the title in an Exploding Barbwire Deathmatch! I don't know what that means but sounds awesome! Mox tries to fight back and headbutts the champion but still gets beaten after the outburst.
Thanks for watching with me guys I had fun covering AEW Dynamite tonight! Follow me on twitter @juicecannon1 and follow Wrestling News World as well @wnwnews