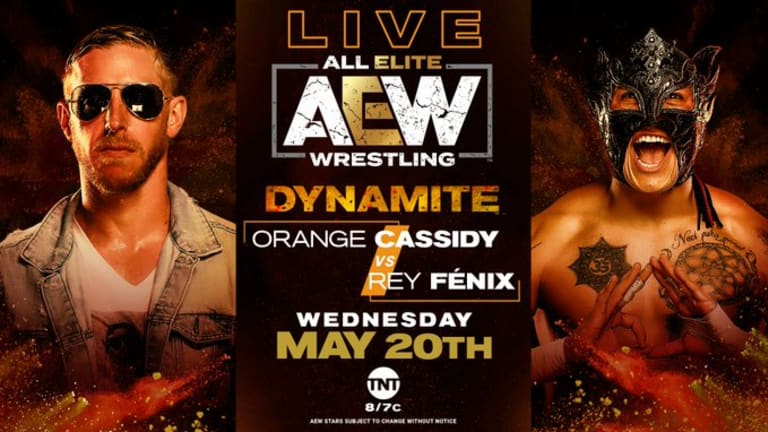 LIVE Coverage of AEW Dynamite for 5/20/20
The final stop before Double or Nothing
We start off with a video package of the rivalry between the Elite and Inner Circle in preparation for their Stadium Stampede match at Double or Nothing. Speaking of the Inner Circle, they pull up in a stretch limo and are interviewed by Alex Marvez. They have something in store for the Elite after the senseless destruction of Vanguard1 last week. Ortiz steals a trinket from Marvez's jacket. I'd have to say that's Marvez's best work in AEW.
Good Ol' JR, Tony Schiavone and Excalibur are on the commentary booth and here we go! Everyone in the crowd is wearing masks but sitting six feet apart. 
We start off with AEW World Champion Jon Moxley as he takes on 10 of the Dark Order. Dasha Gonzalez is doing the ring announcements. As the Dark Order enters the ring Brodie Lee hands the belt to Silver and grabs the mic to address the viewers at home. The Gunn Club calls him a thief as he tells 10 to take a knee like Kaepernick. The Exalted One says that he is no god but a man who comes in possession of a very special piece. He compares the differences of the Dark Order from before and now. He says that he has to win on Saturday in order to pay off the loyalty of his minions. They depart as Mox makes his appearance from the outside of Daily's Place. Quickly he hits the high knee on 10 and a German Suplex to the middle of the ring. Slam to the ground and he taunts 10 as he stomps a mudhole. 10 hits him from behind and kicks Moxley to the outside. From the outside he throws Moxley into the railing and slams him onto the apron. Throw into the ring where Moxley misses a clothesline and 10 hits the Ace Crusher. Mounting punches by 10 and gets a one count. Charge into the corner and 10 eats a Moxley elbow and chops. Spinebuster by 10. Fireman's carry but Moxley kicks him in the gut, hits the Paradigm Shift but doesn't pin him. Instead, he picks him up and hits the reverse Neutralizer piledriver. He's calling out Brodie Lee and then one more Paradigm Shift for the three count. [**] I think that this would have been a perfect time for a Moxley squash but 10 got a little more offense than the should have.
After the match Moxley brings in a couple of chairs and asks Dasha for a microphone. He places the chair on between his arms and says on the mic that he doesn't know Lee's motivations but warns that he has 10 seconds to come out or he's going to break 10's arm. Lee says that he meant business, but Mox makes it personal. The Exalted One says that during this time it's all about sacrifices and he leaves with the rest of the Dark Order. Moxley follows through on his promise and smashes the chair on 10's arm as he walks out. 
Reminder that at 10pm on Friday night TNT will have a Double or Nothing special countdown show. 
Here comes MJF with Wardlow as we go to commercial break. 
Back from break as Marko Stunt enters, fresh off of last night's win over Jason Cade on AEW Dark. As the bell rings we get "Marko" chants. Great of JR to talk about the tragic passing of Shad Gaspard. Slam by MJF and he goes to the top rope to pose. Marko's punches means nothing as MJF bearhugs him. Marko tries to hit the sunset flip but he's picked up and tossed by an MJF Northern Lights Suplex. Flair strut into the corner and he rakes the eyes, telling Marko to stop hitting himself. He stops to laugh at the diminutive opponent and then picks him up, only to get slapped by Marko. Inside out clothesline by MJF and he mounts some punches as he addresses Jungle Boy, his opponent for Saturday. While MJF's back is turned Wardlow chokes him. Airplane spin by MJF and he puts Marko on the top rope. Suplex attempt is fought off and Marko hits the hurricanrana and then follows up with missle dropkicks. Charge into the corner is countered by a jumping knee strike by Marko. Another charge by MJF and he baseball slides out of the ring, only to get a kick by Marko who throws him into the steel steps. Suicida attempt is blocked by MJF, who hits the Shoulder breaker and the Salt of the Earth (Fujiarmi Armbar) for the submission. [**] It was a great display of MJF's talent but nothing more than an extended squash.
After the match MJF gets the mic and asks Wardlow for the ring who knocks out Marko as the Jurassic Express comes out to help their friend as the heels escape. 
We get a video package of the feud between Cody and Lance Archer as they prepare for Saturday's TNT Championship title match. Jake Roberts heads to the ring as we go to break. 
We're back as Arn Anderson enters the ring and Tony is in the middle of what will be the equivalent of the Middle East Peace Talks. Jake says that this is almost surreal to be sitting across each other, despite they never fought. He says that he's glad that Arn didn't bring his dog and pony show. Jake touts the talents of Lance, saying that Cody even sacrificed his own brother so he could avoid Archer. No more excuses and no more hiding, and Lance is going to rip his heart out. He asks Arn about his whereabouts the past few months. Arn says that he almost believed him and says that he and Jake are credible. But he sees the evil permeating. Jake says he's been to hell and back so one more trip with Arn wouldn't hurt. Arn says he would love to but decorum and brings up Iron Mike Tyson about his arrival on Saturday. Tyson has talked with Tony Khan and has free range during the match. He asks Jake if he would throw the snake on Tyson. Jake says that Lance has first shot at Tyson because he could do it. Jake says that he wishes that Brandi brought the belt because he wants another shot at her again. Arn retorts with the reasons Cody wants to win the belt because he has to win. Not because he's a Rhodes son or brother, but he's the person who has turned the industry upside down. Arn has one more bit of good news: because Jake is doing DDP's yoga he wants him real limber when he kicks his behind. Jake turns over the table and the refs come out to separate the legends. Great promo that made you anticipate the bout on Saturday.
They begin to put over the Casino Ladder Match, with the 9th participant still a mystery. A video package is shown of Darby Allin, who is playing cards with some people dressed in black hoods, but their faces are cut outs of those opponents he'll be facing Saturday. Great way of putting over the match in such short notice. 
Back from break and we get a video package from PAC. He and Pentagon Jr. put over Ray Fenix as he takes on Orange Cassidy. OC has won his last two matches. He sends his Best Friends companions to the back and out of nowhere Fenix misses the same kick he hit last week! OC avoids the kicks, puts his hands in the pockets and ducks the charges of Fenix. Ray is frustrated and goes to the outside. Freshly Squeezed calls Fenix to come back inside and misses the clothesline, only for OC to get the crucifix for a two count. A rollup is countered into a double curbstomp by Fenix. OC with a rollup for a two count. Fenix with the knife edge chop and a leaping legdrop for a one count. Armbar by Fenix is countered into a half nelson. Whip into the corner and Fenix throws OC to the outside. He goes out there and begins to hit him with chops. Fenix stalls for time and misses the chops but kicks OC in the gut and throws him back in the ring. Stomps to the gut by Fenix and he kicks OC outside. Throws him back inside as we're back from the break. OC begins to fight back but eats a yakuza kick. Suddenly he's firing back with shots of his own and a top rope suicida. He throws Fenix back in the ring, crossbody doesn't cover but does hit the tilt-a-whirl DDT. Gets a two count. OC goes to the top rope but eats an uppercut from a charging Fenix. He's tossed to the ground as OC hits the diving DDT. Only gets a two count. He slams Fenix's head into the corner and tries for a suplex. OC puts his hands in his pockets but Fenix powerbombs him to the ground for a two count. Charge into the corner by Fenix and tries the muscle buster but OC rolls him up for a near two count. He comes Kip Sabian with a ladder and sits on top of hit saying he's only scouting. It distracts the referee long enough to allow Fenix to lowblow OC and get the cutter for the win. [***] This was Orange Cassidy's best match in AEW. Great combination of near falls and exciting pace kept me interested the entire time. Fenix can bring the best out of anybody. 
Afterwards the participants for Saturday's Casino Ladder match (SCU, Colt Cabana and Kip/Jimmy Havoc) begin to brawl, with Best Friends launching Orange Cassidy on their opponents with the tired everybody-standing-in-the-same-place plancha spot. 
Time for the women's tag team match as the Galaxy's greatest alien Kris Statlander come out and boops her fellow faces. She is joined by Shida. Their opponents are Dr. Baker and Nyla Rose, complete with the kendo stick she used on Shida last week. Rose tries to attack Shida with it and there's a pull apart as the faces jump the Women's champion. Baker eats a charging kick but high tails it out of there. The bell rings and Kris dropkicks Rose. Pounce by Rose and Kris flies halfway across the ring. Stomps by the champ and she mocks Kris by giving her the boop. Powerslam by Rose, followed by the legdrop. She goes to tag Britt and Baker refuses to go in, saying she's doing alright by herself. Splash by Rose and then the neck stretch. Backbreaker by Rose and then an elongated suplex for the two count. Baker refuses to tag in and tries to explain herself but Rose isn't hearing it as she begins to choke the doctor. Reluctantly, Baker goes in and is immediately rolled up for a two count. Stomps to Kris' head and she throws her into Rose. Baker holds on to Kris' head and eats an enzurigi. Shida gets the hot tag and throws Baker into Rose in the corner. High knee strike by the #1 contender. Another running knee to Baker on the ring apron. Suplex by Shida gets a two count. Tag to Kris and they lay into her with a double team splash. Rose comes in and they toss her into Baker. Kris picks her up and throws her down with the scoop slam, but Rose breaks it up. Baker tags her and Rose tries to splash Kris, but she picks up Rose and slams her. Tag to Shida who hits the running knee strike, but only gets a two count. Rose suplexes her but they begin to exchange shots. Charge by Shida but in the meantime Rose is getting her knee checked out. Bridge by Rose but Shida kicks out at two. Beast bomb by Rose and she gets the three count! [***] A little surprise by the result, especially after Baker went out, but it made the champion look strong by winning against the odds. AEW needs more of this from their women's matches. 
After the match she gets out a table and puts Shida on it. Rose goes up top and is distracted by Kris long enough for Shida to get up top and suplex Rose into the table! 
Marvez is back with Moxley backstage and the champion talks about the consequences of actions. He says that Brodie Lee is going to sleep and will lose the match and any power he thinks he has. 
Shawn Spears apparently has his own SSN. He breaks the news that Dustin Rhodes is finally retired. He talks about how Dustin didn't have a problem swallowing tough pills 12 years ago and then says that he is surprised that he doesn't have a match at Double or Nothing. He then decides to challenge Dustin but he's on display at the local museum. Interesting way to present his character and keep him in the spotlight. 
Someone has some quick booking powers at the museum because it is an official match between Dustin and Spears for Saturday night. During the Buy-In it's going to be Private Party vs. Best Friends in a #1 Contender match for the tag team titles. 
Next week on Dynamite there will be a battle royal to determine who will face the newly inaugurated TNT Champion. 
Our main event of the night is Sammy Guevara vs. Matt Hardy. No lockup here at Guevara begins to charge at Damascus with elbows. Hardy throws Guevara into the corner and takes him outside to rub his face into the post. He throws Guevara into the railing and completely breaks it in half as chants of 'Delete' permeate through Daily's Place. Back in the ring he kicks Guevara and tries for a Twist of Fate but Sammy gets a nice counter and reverses it with kicks of his own. Matt blocks the springboard cutter and drops the Spanish God to the ground for the two count. Blackout attempt by Hardy is reversed into a Hurricanrana. Guevara takes flight with the plancha as we go to break. 
Back from break and Guevara tries a flip splash but Hardy fights him off and slams his head repeatedly into the corner. Running clothesline by Hardy and then hits the Side Effect for two. Spin kick to the gut by Sammy and he slams him to the ground for two. Quick Twist of Fate by Hardy but Sammy rolls out of the ring. He rolls him back in and gets only a two count. Twist of Fate is countered with some knee strikes and then a savaut kick by Guevara for a two count. Up top, Sammy misses the Shooting Star Press and Hardy hits the Twist of Fate but Sammy kicks out of it at two! Hardy shows some color as he boots Sammy in the leg and then takes his boots off only to bit his feet. Hey man, if you got a fetish save it for backstage. Running knee strike by Guevara gets a two count. He hits the top rope springboard counter and Hardy kicks out at two. Guevara takes flight once again for the Shooting Star Press but Hardy cradles it for two. Twist of Fate gets the three count. [***] A much better match than it had any right to be. Both guys showed great counters and we saw the viciousness of Hardy that was needed based on his thirst for revenge. 
After the match Hardy gets the chair but the rest of the Inner Circle is on the screen and they have Kenny Omega tied up at the goal post of TIAA Bank Field, they splash water on him and are about to hit him with Jericho's bat until the Young Bucks show up and attack them in the end zone. Hardy runs out there and joins the fracas. They keep fighting in the field until someone is running up the area and it's HANGMAN! He begins to clean house until the Inner Circle retreats. Page decides to walk away while the other members of the Elite stay in the stadium. A great way to close out the show and sell the Stadium Stampede match for Saturday night. 
FINAL GRADE: 8.5 AEW did a fantastic job of making you want to buy the PPV, and credit to giving the Women's match some time and the return of Hangman plus his walking away adds even more intrigue to the match against the Inner Circle.