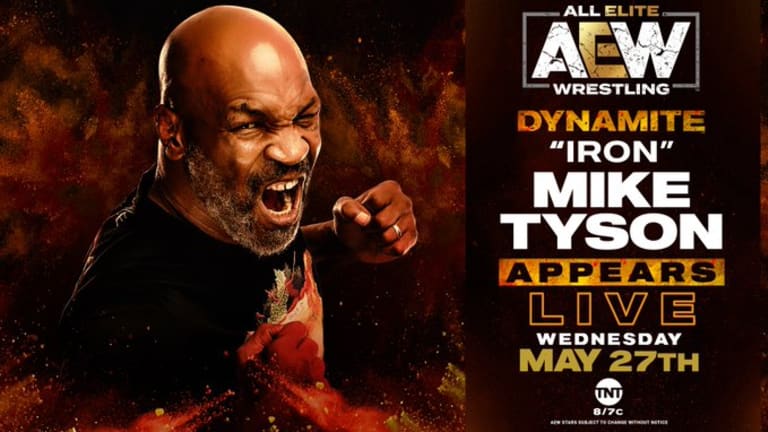 AEW Dynamite LIVE Coverage for 5/27/20
The first Dynamite after Double or Nothing
We start off with a video recap of all of the action from Saturday night's PPV, including Brian Cage's debut and the the title changes. 
The Inner Circle are gathered together where Jericho says that they are still reeling, despite having to get rid of their 'Stadium Stampede Champion' t-shirts. Santana reveals that they have a truck full of them, much to Le Champion's dismay. 
JR, Excalibur and Tony Schiavone discuss the lineup for tonight, including a match between SCU and Havoc/Sabian, with the winner to face the tag champs for the title next week. 
First match of the night is Private Party teaming up with Joey Janela in six-man tag team action as they will face the Young Bucks w/Matt Hardy. Damascus is discussing their plans with the rest of the Elite when Hangman Page decides to head to the hotel to drink, with Kenny Omega following him in tow. The Bucks ask Hardy to decide which version he's coming out as. He decides on Mattitude as his persona before entering the ring. 
Kassidy and Matt Jackson start off and Nick quickly comes in to legdrop Issac. Tag to Janela who is dropped by Nick. Tag to Hardy for the Whisper in the Wind. Janela tags in Mark Quen. Whip into the ropes where Nick gets the shoulder block and boot to the face. Cutter by Quen and the tag to Kaasidy. Hurricanrana by Quen followed up by Janela with the DVD. He takes Nick inside for the two count. Tag to Quen who elbows Nick and gets the abdominal stretch. Nick gets a shin kick but avoids the Silly String to kick both members of Private Party. He goes to kick Janela but he hits the Blade instead, who double team the younger Jackson while the ref is distracted. Nick hits the facebuster on Janela and Quen misses the outside splash. Tag to Hardy who clotheslines Kassidy and backdrops him. Slap by Hardy and Kassidy responds with the quick kick. Bulldog countered by Hardy and he drops Quen as well. Side Effect to Janela. He piles them up and hits the moonsault for two. Tag to Matt who tries to go to the ropes but Janela cheap shots him in the back. Nick comes in but eats a drop kick. Matt takes Janela outside and the Young Bucks get the double superkick. Top rope plancha by Private Party and Quen is hurt. Kassidy goes in and gets a top rope bulldog. He puts Hardy to the top rope but eats a superkick by Matt Jackson. Elbow by Hardy, then More Bang for Your Buck for the three count! [***] A lot of tag team combos and fluid action, but the injury to Quen hurt the flow of the match. 
Afterwards the Butcher and Blade (wearing all white gear) attack the Young Bucks once Hardy helps Quen to the back. We see a black truck, AND IT'S THE REVOLT!!! They go to the Young Bucks and quickly attack the Butcher and Blade! FTR to the heels and they allow the Young Bucks to superkick Blade. The tag teams face off before the Revolt walks off. [****] Automatically the tag team division has went up a notch. 
We see the AEW World Champion Jon Moxley, fresh off his win vs. Brodie Lee on Saturday night. He heads for the commentary booth and asks JR for some fuel. The champ discusses his future opponent (at Fyter Fest) Brian Cage as he gets ready to come to the ring for his Dynamite debut. Cage is accompanied by Taz. Cage jumps his opponent Lee Johnson in the corner and lays him out with some tosses. We see QT Marshall attached to Allie in the crowd. Suplex by Cage, which brings a smile to the Human Suplex Machine. Cage gets Johnson up and hits a powerbomb, then the Drill Claw for the academic three count. [**] Squash City, population: Lee Johnson.
Afterwards Taz cuts a promo directly addressing the champion, saying that at Fyter Fest that he better bring the fire, grit and heart against his pupil. He says for the champ to survive, if he lets him. Moxley stares down his opponent. 
Back to action and we have Dr. Britt Baker, who is accompanied by Rebel as she is in a wheelchair. Tony introduces her as Britt gives us Rule #3 of being a Role Model: Don't hurt the Role Model. She discusses her injury, saying it was not an accident, but a conspiracy. She takes us to the screen, saying that this was in the works since AEW started. She is friends with the top TNT executives, and without her there is no Women's Division. She tears down Kris Statlander, Shida and Nyla Rose. She tells Rebel to get another board which outlines the entire plot to eliminate her, with Referee Aubrey Edwards as the brains behind the conspiracy. Each injury Britt has suffered, Aubrey was in the facility. She puts everyone on notice that because they tried to take her out, the joke's on them, and announces that she will be back at All Out. Great promo which could lead to some interesting stories upon her return. 
Alex Marvez is with Chris Jericho, where he discusses the Pep Rally. Suddenly, Orange Cassidy walks in and moves back out of the scene. Jericho says he's got something for him later. 
Back in the ring, Christi Jaynes is already front and center doing the samba as she faces the new Women's Champion Hikaru Shida. A lot of 'Holy Shida' chants already from the crowd as she takes Jaynes into the ropes. Rollout by Jaynes and she Sambas and mocks the champ. Kick to the chest of Shida before she fights her off with some forearm blasts. Jaynes reverses and gets a top rope arm drag. Pull to Shida's hair and the champ returns the favor by flinging her into the ropes. Running Knee Strike and she takes the Brazilian from Texas to the outside. Another knee lift to the head. Scoop slam into a backbreaker. Camel Clutch by Shida until she breaks. Suplex gets a two count. She goes up top until Jaynes gets the step up enzuguri. She takes off her gauntlet and goes up top. Sunset flip into a head kick gets a two count. Jaynes goes for a moonsault but nobody home. Running knee strike by Shida gets two. Falcon Arrow (SHE DONE THE DEAL!) gets the three count. [**1/2] Impressive first match for the champ, and Jaynes demonstrated promise. 
Picture in picture during the commercial break we see the tag champs drinking in the hotel. 
We're back with a recap from the TNT Championship title match from Double or Nothing. Cody, accompanied by Arn Anderson, comes out to be interviewed by Schiavone. Brandi still trying to stop QT from talking to Allie in the crowd. Cody says that Tony Khan wanted to recruit the best wrestlers in the world, and says that despite not being the first, second, or third call, he says that his story is not one of nepotism, but it was one of grit and work. He will outrun you and outwork you. If you are someone critical of him bell to bell, then judge him on what he does next. It is official in this moment and will have an open challenge each week. For those watching at home, we are still in the pandemic, but he thanks the fans for blowing the projections of buying the PPV. He says to follow us because this is where the fun begins. As usual, Cody cuts the best promos and put over the title. 
Time for tag team action as Kip Sabian/Jimmy Havoc get ready to face SCU. The British duo attack while SCU are getting out of their ring gear. Kazarian clotheslines Kip and tags in Scorpio Sky. Backbreaker for a two count. Tag to Kazarian who leg lariats Kip for a two count. Deep arm drag by Kazarian. Tag to Havoc who gets a wristlock until Scorpio jumps in and is tagged. Two count by Sky, and he tags in Kazarian. Havoc goes for a charge but a drop toehold by Kazarian. Takes Havoc to the corner and lays some shots. Whip into the corner and Kip hits Kazarian with a kick. Roll up by Havoc for two. Shots to the face by Havoc, who tags in Sabian. Double team and Kip gets a two count. Wristlock by Kip and he tags Havoc. Catapult into an eye poke, Havoc gets a two count. Tooth grab and he tags in Kip. Forearm smash by Kip and a whip into the ropes for a takedown and one count. Kick to the head by Kip until Kazarian fights back. Tag to Havoc who gets a headlock takedown as we go to commercial break. 
Back from break and Kip has Kazarian in a headlock. They show a double team kick that occurred during the break. Havoc's tagged in and he's working the neck of Kazarian with forearm hits. Kazarian rolls out of a charge and gets the hot tag to Scorpio Sky, who gives Kip the Belly to Belly and a running knee strike to Kip for a Dragon Sleeper. Havoc interferes. Tag to Havoc but eats a boot by Sky. Death Valley driver by Havoc and the tag to Kip with the double stomp for a two count. Kip tags Havoc who gets the swinging DDT from Kaz, tag by Sky and Kaz gets the cutter but Kip breaks it up. Tag to Sky and they get the SCU-later until Penelope Ford interferes. Havoc and Kip get the Michinoku Driver combo to get the win and a shot at the tag titles next week. [***] Great tag team action and as we stated in our AEW Dark recap, Havoc and Kip have been one of the best tag teams during the pandemic. They deserve this opportunity. 
MJF talks about how he didn't have to come from another promotion to get his shine. He says that despite his perfect record he has not gotten a title shot. He figured that he can get it in the Battle Royal, especially with Wardlow watching his side. Wardlow says, "But..." and MJF interrupts. He walks away and Wardlow looks upset. 
We have most of the competitors already in the ring, including Billy Gunn as well as Orange Cassidy, who is blindsided by Proud n' Powerful. MJF is perched on the top rope, protected by Wardlow. Here is how they were eliminated: Luther eliminated by Luchasaurus, Sonny Kiss eliminated by Wardlow, Colt Cabana eliminated by Gunn, as he goes out he is offered a 'Join the Dark Order' flier, Brandon Cutler and Avalon eliminate each other, Christopher Daniels eliminated by Marko Stunt, Stunt eliminated by Wardlow, Gunn and Luchasaurs eliminated by MJF and Wardlow, suddenly Orange Cassidy comes back in the ring and is pushed down by MJF. He clocks Wardlow with the ring and is eliminated by Jungle Boy. Jungle Boy and Orange Cassidy eliminate Wardlow! So it's down to Freshly Squeezed and Jungle Boy. They are exchanging flying fists. As Jungle Boy goes for a head scissors, Orange ducks. Jungle Boy grabs the ropes and throws out Cassidy! Next week it will be Cody vs. Jungle Boy for the TNT Championship. [***1/2] Great Battle Royal and they had the right guy win. 
We see the Inner Circle has their own version of the Jacksonville Jaguars cheerleaders and band as we go to break.
Back and it's time for the Inner Circle Pep Rally. We see Vickie Guerrero who announces the arrival of the Inner Circle. There is a table in the ring with a host of party favors. Jericho gets on the mic and says that they are going to rise again. They throw out the shirts, but the crowd throws them back into the ring. Sammy gets them to calm down and says that he got them some participation trophies. Santana got gifts of his own for the Inner Circle, including some discount Tims for Hager and a photo of Marc Anthony. Jericho gives Guevara a roller, and some headphones for Ortiz. Hager had a hand written poem called "Happiness by Jake Hager." Walt Whitman, eat your heart out! Sammy asks Jericho what he wants, and he says he wants Mike Tyson for what he did to him back in January 2010. He wants Tyson's head on a platter. Sammy says he doesn't have that but he has a bit of the bubbly and a cheese platter. It's empty and he wonders who took it. Here comes Tyson with his entourage, including Peter Belfort. Jericho confronts Tyson about what happened 10 years ago. Jericho demands an apology. He pushes Tyson and they go at it. The AEW locker room clears out to separate them. [DUD] This was a poor idea all around by AEW which reeked of late-WCW antics. Is having Tyson-Jericho a bad idea? Not at all. They're around the same age and could actually put on an entertaining contest if done correctly. However, the way they went about it was all wrong. Tyson overacted, the segment was as flat as a pancake, and worse of all, they just promoted the heart of their story to an incident that happened AT AEW'S COMPETITION! They just told the casual fan to go watch WWE to figure out why Jericho's so upset. This could have been done so much better. 
Overall: 7 Despite my feelings on the end of the show, Dynamite was a good episode. We got the arrival of the Revolt, the Britt segment was good, and Jungle Boy established himself as the #1 contender to the TNT title in what will be a very entertaining match next week. Watch everything until the last segment.