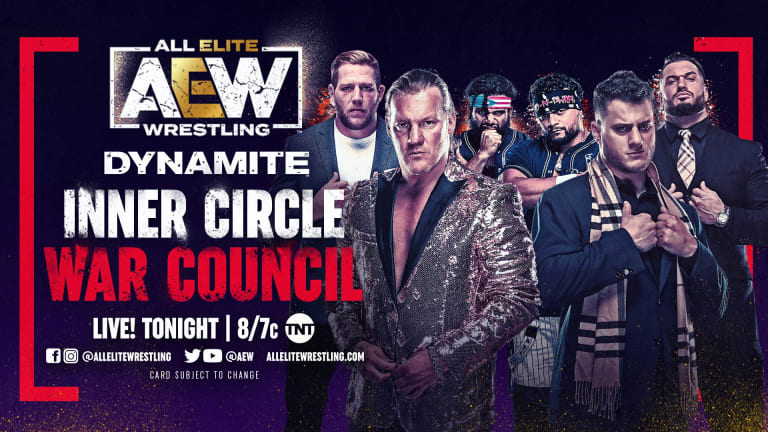 AEW Dynamite Recap & Analysis 3/10
Tonight we're having the recap from Revolution! Where will the promotion go from here?
Justin Roberts is in the ring and we get started with our first match...
They lock up to dueling chants as Jackson gets the lockup into an armbar. He flips over Fenix but he returns the favor as SCU looks on. Jackson boots Fenix in the gut but the luchador flips on the ropes and gets an inverted arm drag. He puts on the breaks and avoids the flip. He hits a hurricanrana through the middle rope. Back in the ring, elevated elbow by Fenix. A senton from the top rope onto Jackson! He takes Jackson back inside the ring for a one count. Chops to the chest of Jackson in the corner by Fenix. They go up top and Jackson hits the powerbomb for a two count. Matt hits the over the top rope senton for two. Hammerlock to the back of Fenix by Matt. Jackson continues to work the back with stomps. Chops by Fenix to Matt's chest, but Matt reverses the wheelbarrow into a one count. SCU continues to look on, and according to Tony Schiavone they will take on the winner of Death Triangle/Young Bucks for the title. Fenix breaks up the sharpshooter. He takes Matt into the corner and hits a beautiful spin kick to the chest of Jackson. He grabs his back and Jackson continues to work it. He goes for a charge and Fenix hits the cutter. They exchange punches and elbows. Fenix hits the back of Jackson and hits a corkscrew drop for a two count. Fenix is favoring his back as he goes to the ropes. Matt misses the kick and Fenix misses the top rope kick. Destroyer by Jackson! He takes Fenix to the outside and hits another one! He gets in before the ten count. Jackson gets the elbow drop for two. Boston Crab by Jackson but Fenix grabs the ropes, much to Jackson's dismay. He goes for another sharpshooter but Fenix kicks him away. He goes to dropkick Matt but hit Nick instead. PAC stands over Nick, making Matt get to the outside and superkicks PAC. He goes back in and they exchange slaps. German Suplex is turned into a super kick but Fenix no sells and counters with an enzuguri! Fenix gets him up...MUSCLE BUSTER. Fenix gets the three count. [***] Had too many spots and lack of selling for my taste, but dang if I wasn't entertained. That's why I gave it the extra star. They just whet my appetite for the eventual tag team showdown. 
Eddie Kingston is sitting with a knocked out Jon Moxley near a fireplace. Kingston said that he had a flashback to a time when he was in jail and was full of anxiety on Sunday night. Moxley takes off his shades and throws some at Omega, saying that Impact had something to do with it. 
Cody Rhodes (w/pyro) vs. Seth Gargis. 
Before the match Cody gives his belt to a fan. Match starts, and Cody gets a wristlock followed by a powerslam. He slaps on the figure four and Gargis taps. [1/2] SQUASH CITY.
After the match, Tony comes in and asks about the shoulder. The EVP says forget all that and before he begins to speak, PENTA grabs the mic and has an interpreter. Long story short, he challenges Cody to a match. Rhodes goes into the stands and they go at it with people breaking it up. 
We go...to the arcade? The Best Friends challenge Miro and Kip to one more match, and if they lose Chuck Taylor will be his butler.
Sting puts over Darby and how the TNT Champion put his body on the line. Before he says another word, Lance Archer comes out and says that he is still the face of the Revolution. He apologizes to Sting and leaves with Jake Roberts. Sting ends the interview and says he will be back soon.
Dasha is with QT Marshall and Lee Johnson. QT says his emotions got to him but he's in a better place now.
Page cuts a pre-taped promo saying that he's going to make his mark in AEW. Match starts and quickly Page takes him down but Johnson hits a dropkick. Clothesline by Page and as he charges in the corner Johnson hits him with a shoulder block; Page takes him down as we go for our first picture in picture of the night. 
We're back and apparently there's a basketball game going on because the sounds are colliding on my television. During the match, Page is kicking Johnson off of the top rope and he rolls outside. Lee goes for QT's hand and his mentor doesn't touch it. Page takes him back in and hits the Ego's Edge (Modified Razor's Edge) and gets the win. [*] The audio issues really brought it down and hurt the televised debut of Page. Dustin Rhodes comes in and runs him off as he is beating down Lee. QT walks away though. 
Alex Marvez is with Adam Page, and the Hangman is spending Matt Hardy's first quarter endings on six bottles of whiskey, Dwight Yoakam on vinyl, and a new lawnmower. The Dark Order hops on and they ride off. 
Tony is out and he was supposed to introduce Christian Cage, but instead, here come the sweepers! It leads to the AEW World Champion Kenny Omega and his entourage of the Good Brothers along with Don Callis to come out. Callis says that we're not going to hear from Cage because they call the shots. He praises Omega and hands him the mic. They make fun of the explosion not heard around the world at Revolution. Callis says that they took away what the fans wanted, and that was Moxley winning the belt. Omega grabs the mic and says that he embarrassed Moxley by leaving him in the middle of the ring. 
Eddie Kingston walks into the ring and Callis recalls their history in Impact, including firing him for screwing it up. Chants of Eddie from the crowd as Callis offers him the chance to leave, including a countdown. They mock what happened and Omega steps to Kingston. Eddie decks Omega and gets beat down by the Good Brothers but Moxley comes out to help. Christian Cage comes out and points at Omega. They meet in the ring and the champion offers his hand but Cage refuses. Omega tries to cheapshot him but Cage goes for the Unprettier, only for Callis to pull Omega away. Cage picks up the title belt before putting it down. 
Maki was singing, while everyone else was battling. Shida comes to break it up and eats a microphone to the head for her troubles. Maki asks who is the cutest in the world while she punches Shida in the corner. She gives Shida the middle finger and the champ tosses her around. We go picture in picture. 
We're back and Ryo Mizunami cannonballs into Britt Baker. Shida covers for two. Maki hits a headbutt but Ryo attacks. Rosa comes in with the dropkick and gets her hands on Baker. Elbows in the corner. Rosa goes up top for the Cancun Tornado while everyone stands there waiting. Vicki tries to grab Rosa's boot and it allows Maki to hit a tornado DDT for two. Vicki comes up to interfere but Rosa breaks it up. Reba tries to hit her with the crutch but Rosa dropkicks her and hits the Thunder Driver on Maki for the win. [*1/2] The commercial break hurt what looked like a solid match.
Afterwards Baker gets the Lockjaw on Rosa while Ryo and Shida were being held down by the other heels. 
Private Party is with Matt Hardy. He says that he needs more money so he's going to add someone to the group, and it's Butcher & Blade. They will team up for an eight man match on Elevation, and then they will go after the Dark Order. 
Bell rings and Sky fakes as if he's charging. They bump fists and then lock up. Darby gets a side headlock and then an arm lock. He rolls up Sky for one and the challenger rolls into the corner. They grapple and roll around the ring. Sky goes outside and Darby fakes a suicida. They go back in and Allin is favoring his leg. Backbreaker by Sky as we go picture in picture. 
We're back and Sky has Darby in the abdominal stretch. During the break they show the attack into the sternum by the challenger. Surprise roll up by Darby for two. Darby holds on for dear life and reverses into a stunner for two. Destroyer by Darby gets two. Sky works the waistlock and tries for Three Amigos but Darby grabs the fingers. Sky suplexes him into the corner. Darby goes for a mid rope suicida but Sky hits the cutter. They go into the ring and they get a two count. Brainbuster by Sky gets two. Darby kicks him down and tries for the Coffin Drop Elbow but Sky counters into a counter. He goes for the TKO but Darby rolls him up for the three count. [***1/2] A solid technical bout with great counters and they told a story in the ring. 
After the match Scorpio Sky gets the grapevine hook onto Darby's leg and the refs come to break it up. He looks at his hands and smiles. 
Le Champion says that despite the group's fall backs lately, they are regrouping. He's about to introduce a new member, but MJF says that it's not about adding people, but letting someone go. Before he says anything else, Sammy Guevara comes out. Jericho says that he didn't want to see him. Guevara says that he has something Chris had something to see, and Jericho says that he's dead to him. They go to the screen and it's Guevara putting in a camera to the locker room. MJF is seen telling the team that it's time for new leadership. MJF tells the others to get him, and they turn towards MJF. Jericho says that they talk to each other every day and is going to take him out of the Inner Circle. MJF says that he didn't mean to take over the group. He's forming his own...
And it's FTR, Wardlow and Shawn Spears!!! They attack and beat down the Inner Circle. Wardlow powerbombs Jericho into the bottom. We fade to black.
FINAL ANALYSIS: 8. The first and the last match of the evening were great contests, with a lot of lull in the middle. However, if I dinged Revolution because of its ending, I have to praise AEW for this. They pull off swerves in a good way, and this was an amazing finish. Now they have a new main event heel straight out of the Four Horsemen playbook, and where it goes from here is anyone's guess.