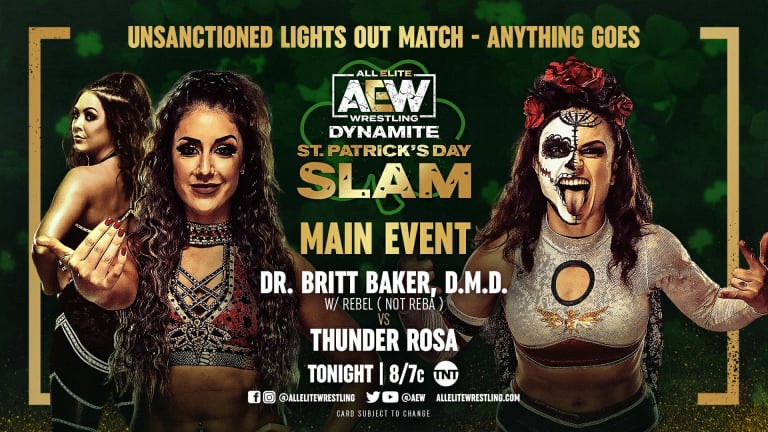 St. Patrick's Day Slam Report 3/17/21
Before we start, our thoughts and prayers to those families who lost loved ones in the senseless and tragic domestic terrorist attack in Atlanta last night.
#StopAsianHate
It's Wednesday night, you know what that means...
The scene is green within Daily's Place, and we see a video of MJF's new group coming out of a private jet and into a limo. We'll hear from them later.
Penta El Zero Miedo vs. Cody Rhodes
We get a video introduction with Penta and Alex his interpreter saying how they're going to send Cody into an early maternity leave. Rhodes is sporting a green shirt with his logo. Immediately Penta flips over the ropes with a senton and attacks Cody. He kicks Cody in the rear end as they enter the ring. More kicks as they go to the outside. Cody chops Penta and throws him into the barricade. They get back in and exchange slaps. Penta poses and heads back to the corner with more slaps. The EVP no sells and drops Penta with a front face suplex. Slingblade by Penta gets two. He breaks up Cody's attempt at the Crossroads and hits a backstabber for one. Penta goes outside and gets a piece of the barricade. He puts on a leprechaun hat and kicks Cody in the leg some more. Pump kick by Cody. They go back inside as Penta elbows him. They go up top and Cody hits a hurricanrana. Penta rolls outside and kicks Cody who is now on the apron. He continues to work the injured shoulder with stomps. Kick to the gut by Cody and he's fighting through the pain. Headlock by Cody and he throws Penta through the ropes. Disaster kick off the middle turnbuckle. Suicida off the middle rope. They go back in and Rhodes hits the Cody cutter for two. Vertebreaker by Cody! Penta kicks out at two and slaps Cody, but he takes Penta's leg and slams it on the ring post. He takes Penta back in but the luchador gets the lock on the injured shoulder. Cody gets a sunset flip and pins him for three. [***] Great opener, which AEW has mastered on Dynamite. Not as many spots as I expected, thus the extra star. 
Afterwards Penta attacks the injured shoulder and the rest of the Nightmare Family comes out. Penta retreats and sees QT Marshall who comes out a little late.
Alex Marvez talks to the Young Bucks about facing Death Triangle and Don Callis comes out with a 'No Leg Slap While Laughing' t-shirt. Callis says he wants him to see the Young Bucks of Japan and says they are no longer the same team. Callis says they need to look in the mirror and ask if they're the team. 
Jade Cargill vs. Dani Jordyn
Jade looks down on her opponent and poses. They lock up and Jordyn with a waist lock but eats a boot! She hits a vicious German Suplex and then hits a Glam Slam for the quick win. [*]
After the match she approaches Red Velvet and gets smacked. The ref separates them. 
MJF's New Group comes out to address last week's actions
Tully Blanchard has the mic as everyone is dressed in sharp suits. He says that last week they stood in the ring with the Inner Circle and got decimated. Years ago he was with the greatest group ever, and he's going to finish his career with the greatest group ever. MJF comes out a loud set of boos, not sure if they're piped in. He says that he had to take a back seat to Chris Jericho for six months. The goal was to end the Inner Circle and build a faction even stronger.  He introduces them all and calls them the Pinnacle. They will go after the Inner Circle's position in AEW, starting first with their locker room. 
 Matt Hardy, Private Party, Butcher & Blade vs. Bear County/Jurassic Express
Marko and Hardy start off and as Matt picks him up, Jungle Boy drop kicks him down. It becomes a pier six brawl and they toss Marko onto the team on the outside. Luchasaurus questions how Bear Country threw Marko and it allows the heels to come in and take advantage as we go picture in picture. 
We're back and Luchasaurus is cleaning house with kicks and chops. He tosses Private Party around and then German Suplexes Blade. Marko comes in and kicks Butcher before leaving. Luchasaurus tags in Bronso}n who hits the Exploder Suplex on Isaiah. Jurassic Express and Bear County starts arguing, allowing Butcher and Blade to take advantage. Kassidy with the pump kick and he tags in Marq Quen. He fights them off before Hardy knocks him down. Gin and Juice. Tag to Hardy who hits the Twist of Fate for the win. [*] Not an enjoyable match at all. I loathe multi person matches but the one thing that did come out of it was the tension between Jurassic Express and Bear Country.
Jon Moxley and Eddie Kingston give a pre-taped promo. Moxley says he's not feeling good but is ready to take out the Good Brothers. Kingston quotes 50 Cent and 2Pac, saying they're looking forward to the challenge. 
Dasha Gonzalez speaks with Christian Cage
She asked the question everyone wants to know: Why AEW? Cage says that no matter the situation, that he makes wrestlers level up. He's not a workhorse, he's THE workhorse. Cage says he doesn't want to take anyone's spot but one, the AEW World Champion. He says that he needs to prove himself and will do so. He's in AEW to cement his legacy and to do three words: Out.Work.Everyone
Good Brothers vs. Jon Moxley/Eddie Kingston
The Brothers jump Kingston coming out of the entrance, and Moxley, sporting a shoulder wrap from the match two weeks ago, attacks from the rear. They go to the barricade and the Good Brothers keep fighting on as the ref tries to get them into the ring. Magic Killer on Moxley. They throw Eddie in the ring as the bell rings and Anderson is wailing on Kingston. He tags Gallows who continues the work in the corner as they gouge his eyes. Moxley just lays there like a slug, selling the finisher. Eventually he gets back up but Gallows knocks him down. We go picture in picture. 
We're back and Gallows throws Kingston into the corner butThe Good Brothers Eddie shoulder tackles him. He's too disoriented to tag but Anderson interrupts. Exploder suplex by Kingston and the hot tag to Moxley who clotheslines Anderson. Release German Suplex by Moxley and he punches Gallows in the corner. Stomps to Anderson followed by the clothesline. Piledriver! Gallows breaks it up at two. Suicida by Moxley on the outside. Spinebuster by Anderson gets two as Moxley goes back in. Good Brothers with the kick to the head of Moxley and then a drop on Kingston. Moxley kicks out at two. Magic Killer attempt is broken up. Anderson is rolled up by Moxley for the three count. [**1/2]
After the match Callis and Omega (w/chair) comes out and he sits down. Kingston pushes him off and the heels triple team him. Magic Killer! They're about to Pillmanize the leg and they do so with a knee drop to the chair exposed knee of Kingston. They're about to do the same thing to Moxley's neck but the Young Bucks come in. The Good Brothers call for a Too Sweet but the Jackson brothers aren't feeling it. Moxley chases them off with the chair. 
Tony tries to complete an interview with Sting
Darby Allin comes out and says that he's only defended the TNT Title three times because he's dealing with Team Taz. He wants to be a fighting champion and starts by paying homage to Brodie by sending an open challenge to the Dark Order. Lance Archer comes out and says he will get his shot at the title. Jake Roberts says that the winds are changing as they leave. Team Taz comes out and Brian Cage grabs the mic. He says that he has something to say, but it's to Sting. He respects him after the street fight and says that Ricky Starks is wrong, Sting is the Icon. They start arguing as they go to the back.
Scorpio Sky does a video that he is no longer going to be a nice guy. If he has to hurt people to do it, let it be.
Rey Fenix vs. Angelico
Hip toss Fenix and they lock up. Fenix gets a headlock and rolls him up for two. Boot by Angelico and he drops it into the side of Fenix. He locks in the submission as we go picture in picture. We come back and Fenix hits the thrust kick into the cutter spike onto the floor for two. Fenix looks like he's favoring his leg. Angelico kicks him down and hits the Navarro death roll. Fenix grabs the ropes to break it up. He tries it again and eats a kick from Fenix. Knuckle lock by Fenix into a crucifix bomb to a Muscle Buster for three. [***] Even an injured Fenix is still exciting to watch!
Marvez talks with a working out Miro. He says that he's moved on but Kip has not. He confronts Miro about what's happened to Penelope but Miro doesn't care about anyone in the ring, but outside the ring they're friends. Kip accepts the match with the Best Friends as he walks off.
We find out next week Darby will defend the TNT Title against John Silver of the Dark Order, although -1 accepted the challenge first.
The Pinnacle comes through on their promise to take the Inner Circle's locker room by putting their sign on it.
Lights Out Match: Britt Baker vs. Thunder Rosa
Reba attacks with the crutch but Rosa chases her away. She slams a chair into Baker's back and shoves it into Reba's stomach. Shida looks on in the back. She goes to town on Baker with a series of stomps and tries to cannonball her in the chair but misses. Baker gets a two count. Jade smiling as Baker and Reba get the tables. Stomp onto Rosa's head by Baker into the steel steps. She throws chairs into the ring. Rosa showing some color as we go picture in picture. 
We're back and the ladies are up top and Baker hits a suplex onto the steel chairs. Two count by Baker. Reba's getting the ladder but Rosa bulldogs Baker onto it. Shida continues to look on. Double knee strike into the corner by Rosa! She picks up the ladder and drops it on her throat. Double stomp into the throat! Baker's seriously bleeding after that. Rosa picks up the ladder again and starts biting Baker in the head. Superkick by Baker. Faceplant by Baker onto the ladder! They go to the top and hits the Thunder Driver onto the ladder! Reba helps her wipe the blood out of the eyes and the delay gets Baker a chance to kick out at two. Rosa brags a chair and stops Baker's attempt at comeback but DDT's her on the chair and stomps her head on the chair. Rosa kicks out at two! Reba hands her the black glove and a black bag...it's thumbtacks! 
Reba comes back in with the crutch and Rosa kicks her onto the table! Powerbomb on the tacks but Baker kicks out at two. She locks on the Lockjaw! Rosa rolls her on the tacks to break it up. Superkick by Baker. Rosa counters with a Reverse Tombstone onto the table to finally get the win! [*****] The brutal nature of their feud had to cumulate with a violent finish and they executed to perfection. It lived up to the hype and had the right result.