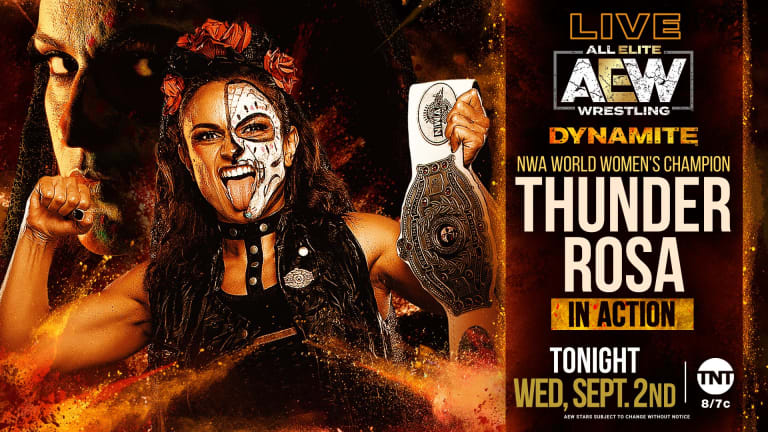 AEW Dynamite Recap & Analysis for 9/2/20
Justin Roberts is in the ring as the fans are in attendance (wearing masks and social distancing) for tonight's episode of Dynamite!
Best Friends immediately come out and attack Santana & Ortiz from behind as they make their entrance. The heels recover and Ortiz whips Chuck Taylor with his own jacket. Trent recovers and hits the crossbody from the top of the entranceway! Best Friends get a steel steps but the heels break up the attempt. Chuck gets the chairs and lays them out. Spear by Trent onto Ortiz. Santana gets up and throws a chair at Chuck. Piledriver attempt by Santana reversed by Chuck as he flips him over. However, Santana recovers and throws Chuck onto the stack of chairs. Finally the bell rings and it's Trent and Santana exchanging punches. Double knee smash by Trent followed by chops. Ortiz grabs Trent as he goes to the ropes and Santana clotheslines him. Double suplex by the heels. Gutwrench suplex by Ortiz. Tag to Santana who charges at Trent in the corner but he flips him over and hits the Tornado DDT on Ortiz. Plancha on the outside by Trent but Santana leapfrogs his charge and he hits the barricade. Chuck gets back in and hits the suicida on the heels. He throws Santana back in the ring. Eat Defeat and Falcon Arrow for the pin but Ortiz breaks it up. He avoids the charge and sunset flips Santana for two. He runs into Chuck's knee and eats a charge. Tag to Trent to gets a knee strike of his own. He goes on the apron but Ortiz holds his feet long enough for Santana to knock him into the steel steps. They go for the Streetsweeper but Chuck breaks it up. Piledriver by Trent but Santana places Ortiz' hand on the ropes. Trent goes for the piledriver but Ortiz throws him into Santana who hits Trent in the back with a bat! STREETSWEEPER!!! 1...2...3 [***] Great opener and they went all out with the type of violence that a rivalry should have. The right team won and I have a feeling that this feud will continue.
Next we see MJF talking when Lee Johnson says that Mark Sterling locked himself into his room. Sterling tries to talk himself out of fighting Jon Moxley when Wardlow breaks down the door and pulls him out. MJF kindly tells him of his options and Sterling begrudgingly accepts. 
Shoutout to SCU with the Wakanda Forever salute #RIPKing! 
The match starts with Jungle Boy and Kazarian. Magistral cradle for a two by Kaz. Tag to Marq Quen and Matt Jackson. Tie up by Matt and he stomps on Quen repeatedly. Quen into the ropes and he responds with the sky high kick. Hurricanrana into a punch by Kassidy. Matt sees a fan holding a sign that says "Hangman drink my beer" and he rips up said sign and pours the beer over the fans' head. He goes back in and slingshots Daniels into Nick's elbow. They whip Daniels into the ropes and he reverses it into a back drop. Kaz comes in and hits flying elbows to the brothers and Jungle Boy. Spot kick into the clothesline by Kaz. He hits Nick with a cutter, knocking him outside and Daniels follows up with a sunset flip on the Young Bucks. Scoop slam by Kaz onto Jungle Boy and he hits a legdrop off the ropes for a two count. He throws JB into their corner and tells Private Party to impress them. They hit a flapjack combination for a two count. Tag to Daniels and the veteran suplexes JB and then headbutts him. He throws the youngster into the corner and we go picture in picture. 
Back in and we see Jungle Boy backdrop Kassidy and he tags the big dinosaur and he cleans house with chops and kicks. He tries to toss Kassidy but eats a double dropkick by Private Party. He flips out of their attack and delivers a clothesline! He sunset flips onto SCU from the outside. Young Bucks tag in and they hit Risky Business with a flip from Jurassic Express. Kassidy avoids the superkick party and Jungle Boy blind tags into a clothesline. SCU comes in and lands some shots of their own. Double Irish Whip into a neckbreaker combination. 450 by Kassidy gets a two count! Tag to Daniels who goes for the clothesline by Matt comes in to assist and kicks Jungle Boy. Shooting star press by Quen gets a two count. Luchasaurus slams Kassidy and they get the tag. Suicida by Jungle Boy and when the dinosaur goes for the chokeslam the Young Bucks get blind tag and hits the BTE for the win. [**1/2] Solid tag team action and for storyline purposes it made sense. 
We see Jake Hager approaching Orange Cassidy's locker room. He sits on OC's leg and tells him that Chris Jericho wants him to show up for his match tonight. 
Tully Blanchard is with FTR as they get ready for their match for the AEW Tag Team Championships on Saturday. They cut an old school promo saying that they're ready to win the belts. 
Kenny Omega is in the ring with Tony Schiavone. Omega is wearing a shirt for Hana Kimura in memory. Tony asks him about the actions of Hangman Adam Page. He says that Hangman made a mistake but the focus is on FTR come All Out. One things will not change, and that is they will remain champions. Here comes FTR (who changed clothes pretty quickly) and they bring in a cooler. Dax says that they've had a great run but they're looking to having a great match Saturday night. Cash brings him some chocolate milk. The FCC censors blocks his promo and says that they might as well get it on. Here comes Hangman! Page puts the liquor down and Dax says to tell them who was responsible for all of these events. Page gets in Omega's face while FTR drops the belts. He picks up the belts and tries to hand it to Omega but he walks away. 
Marvez is in the back in Jericho. Le Champion says that fans worldwide will get to experience the Mimosa Mayhem Match. 
Orange Cassidy makes his way down the steps (while almost running into a fan who probably had to go to the restroom) while Jericho wears an OC shirt. Jericho pounds on Janela into the corner. Chops by Jericho and he clotheslines him on a charge. More pounding punches by Jericho. Back body drop by Jericho while telling Orange Cassidy to pay attention. Another back body drop by Jericho. Chants of "Joey, Joey" while Janela fights back with some haymakers and then a running shoulder tackle. The Demo God whips him into the ropes with a clothesline. Janela tries to jump from the ropes and Jericho hits the Codebreaker! Walls of Jericho finishes it. [*] SQUASH CITY
After the match he hits Janela some more and exposes the steel turnbuckle. He throws the Bad Boy into it face first. Hager tells Cassidy this will be a taste of what will happen Saturday. Cassidy comes in to attack and the heels jump him, only for Sonny Kiss to attack as well. OC tries for a superman punch and they bail while he pours a little bit of the bubbly.
Guevara and Hardy talks about the Broken Rules Match at All Out, and we get the Spanish God coming out with signs of his own while Hardy watches. 
THE MACHINE Brian Cage is coming out with Ricky Starks and Taz. The manager gets on the mic and calls out the Murderhawk as well as Jake Roberts. The Snake says that they would get destroyed if they mess with him. Eddie Kingston and the rest of the competitors for the Casino Battle Royal come into the fray, including Shawn Spears w/Tully. 
Thunder Rosa is in AEW! She's taking on Serena Deeb, best known for being part of the Straight Edge Society with CM Punk. They lock up and Deeb gets an armlock but Rosa reverses it into a leg lock. Nice rollover by Rosa but Deeb gets up and rolls her with a waistlock. Punches by Deeb and she hits back with a flurry of punches. Backslide into an arm drag by Rosa into a dropkick. She grabs Serena's hair and whips her into the ropes. Deeb with a neckbreaker. Stepover toehold and drives her knee into the mat but Rosa gets up and slams her head into the ropes. They go picture in picture. 
We're back and they're in the ring for a lockup. Charge into the corner and Rosa with the slingblade. Striking kicks by Rosa for a two count. Electricity goes out **dangit** but when it comes back on I see that Rosa won. [***] This was a wrestling clinic for the AEW Women to model.
Big Swole talking with Tony Schiavone when Reba comes out and presents a pizza to Swole. Unbeknownst to her, the dentist Britt Baker whops her from behind with a crutch and puts her in the Lockjaw. 
Moxley prays for what he's about to do to Sterling. The AEW World Champion flexes and Sterling hits the ground. Actually, Sterling is a wrestler. Moxley offers him a free shot and he obliges. Moxley shows him how to make a fist and decides to do it for him. Sterling rolls out of the ring and Wardlow tells him to get back in. Moxley allows him to get in a free shot and he charges, only for the champ to ole him out of the ropes. Moxley has had enough and chases him back into the ring. Sterling pokes him in the eye and then goes to the ropes and eats a lariat. Moxley throws him into the barricade and all around the ring area. Chairs and anything else he can get his hands on is thrown onto Sterling. They go back in the ring and Moxley offers to shake his hand and then hits him in the eye. PARADIGM SHIFT! The three count is academic. [*]
Wardlow comes in and clotheslines Moxley and then hits the F10. Here comes MJF in his walker. Another F10 and here comes the challenger. MJF delivers some right hands to Moxley as well as some stomps in the corner. He gets the diamond ring and delivers a brutal hit to Moxley. He is biting Moxley and the champ is bleeding like a stuck pig. He holds the AEW World Title up high as the show ends. 
ANALYSIS: 6.5 Not exactly an energetic go home show, but the second hour really picked up the pace. Watch for the FTR/Page & Omega promo and the Thunder Rosa match, everything else was meh. That said, by now most people have made up their minds on if they're going to order the PPV.