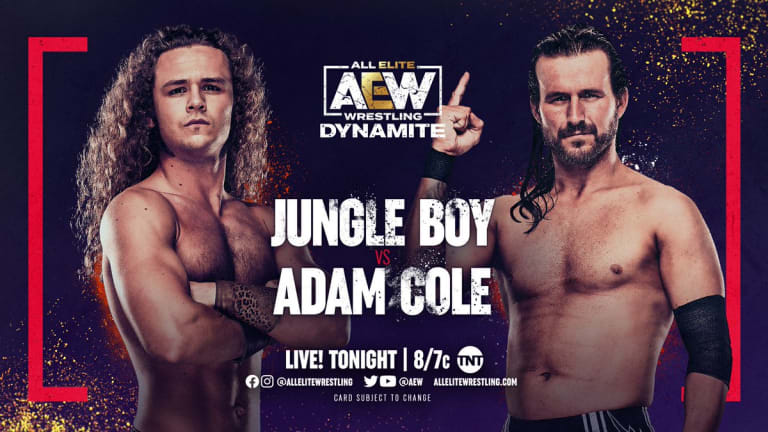 AEW Dynamite Recap & Analysis 9/29/21
It's Wednesday night, and you know what that means...AEW is LIVE from Rochester, NY!
R.I.P. Jon Huber, aka Brodie Lee
A loud "Brodie" chant starts us off from the crowd as CM Punk makes his way through the arena and to the commentary booth. 
It's all about the BOOM! 
Adam Cole vs. Jungle Boy
They lock up and Cole gets the headlock for the advantage. Already dueling chants as JB takes him down. Cole whips JB in to the corner and gets a side headlock takedown for two. They fight at the ropes as JB gets the headlock and then the shoulder tackle off the ropes. Cole gets up and boots him in the chest. Whip into the corner and JB slaps him in the chest followed by the dropkick. Cole goes outside to recover but JB chases him. Back in the ring Cole stomps him and JB falls to the outside. In pursuit, Cole slams his head on the apron and then throws him back in the ring. Neckbreaker by Cole, followed by a side headlock. He whips JB in the corner and then poses. They exchange shots but as they get in the corner and JB locks in the Tree of Woe, followed by a dropkick for two. Roll up by Cole gets two. Neckbreaker by Cole gets two. He slaps JB around until he returns the favor and hits a hurricanrana and a kick to the head for two. Back drop by JB gets two. He goes to the rope and eats a superkick from Cole. Panama Sunrise attempt is missed and JB goes for a plancha but eats another superkick. JB recovers long enough to hit a hurricanarana off the apron! Cole with another brutal superkick and PANAMA SUNRISE! 1...2....NO! Jungle Boy locks in the Snaretrap but as he tries to bring Cole back to the center of the ring Cole pushes him outside. As Cole and Jungle Boy tie up, the ref gets in the way and he donkey kicks Jungle Boy in the nads. LAST SHOT! Cole gets the 3 count. [****] This match was PPV worthy and we need another rematch. They worked slow and then picked up the pace without the indy-riffic spots that have plagued AEW matches. Cheating his way to victory protects Jungle Boy and keeps Cole strong.
The Elite come out to celebrate and we go to commercial.
We're back and Karl Anderson is on the mic touting the talent of their Superkliq. As Nakazawa grabs the mic we get a loud CM Punk chant and he hands it to Kenny Omega. The AEW World Champion talks about outlasting Bryan Danielson and here comes the American Dragon. BD asks the crowd if they want a rematch. He challenges anyone on the Elite to fight on Rampage. BD says he's not coming alone and the Jurassic Express along with Christian Cage and Kaz come out. The Elite scatter. Chants of "Kenny No Balls" echoes through the Rochester crowd. 
Tony Schiavone is with the Lucha Bros and Andrade along with Jose. They challenge them to the AAA tag titles. 
Dante Martin/Matt Sydal vs. Cody Rhodes/Lee Johnson
Cody still looks confused by the boos of the Rochester crowd. The bell rings and he starts off with Dante, much to Arn's disdain. He locks up and gets the side headlock on Dante. Tag to Lee and Sydal joins in. The veteran takes him down with a side headlock and then a kick. Lee gets some coaching from Arn. Whip into the ropes and Lee takes Dante down. Kick by Martin but Lee reverses it. A series of reverse flips and the tag partners join in as we go picture in picture. 
We're back and Sydal has Lee Johnson tied up. Lightning Spiral broken up. During the break we get Dante with a furious senton on Cody and Lee. Meanwhile, Cody hits his uppercut on Dante and a quick slam for two. They exchange punches but Cody kicks them both. Vertebreaker by Cody gets two. Dante with a missle dropkick off the top rope for two. Moonsault by Dante off the ropes for two! Cody flips Dante over. Lee tags Cody and kicks Sydal out of the ring. Kick by Lee to Dante and hits the Neckbreaker for three. [***] Great match with a lot of spots.
Afterwards Tony Schiavone comes in the ring to interview and Cody calls out Malakai Black. Arn tells him to stop talking and that he should've finished off Black last week. He says until Cody is ready to do what is necessary, he's going to not coach a loser and tells Lee to come on.
Jon Moxley, Eddie Kingston and Darby Allin vs. Bear Country/Anthony Greene
Right off the jump the buddies take out Bear Country while Darby starts off with Greene. Magistral cradle by Darby gets two. Tag to Kingston who boots Greene. Tag to Moxley and here comes Boulder. Shoulder blocks by Moxley followed by slaps to the face. Tag to Mason who hits an impressive senton for two. Kingston breaks up the vertical drop and gets the suplex on Boulder. Moxley tries to do the same thing on Mason and is unable to. Darby goes up and hits the Coffin Drop on Bear Country. Greene with a superkick, followed by a flip that Kingston and Moxley no sells. Violent Ending finishes the match. [*] SQUASH
Eddie gets a sign of Brodie Lee and then tags in Sting, who hits a Scorpion Deathdrop for good measure. Kingston lifts up the Brodie Lee sign to the crowd's delight.
Dr. Britt Baker talks about beating Ruby Soho last week.
Hardy Family Office vs. the Dark Order
Loud "Thank you Brodie" chants from the crowd as the heels jump the faces as the bell rings. Orange Cassidy kicks Private Party and everyone starts to brawl. We go to picture in picture.
We're back and TH2 is attacking Number 10 but Alex Reynolds is tagged in and clears house. Evil Uno comes in and boots Jack Evans. Angelico throws Reynolds into Uno. Tag to Cassidy, who gets the body drop for two. Meanwhile, Evil Uno walks out but he is confronted by Amanda Huber, Anna Jay, Tay Conti and -1, who THROWS THE PAPERS at Uno. They get back in the ring and chaos reigns as John Silver clotheslines Private Party. Spinebuster by 10, Orange Crush. Reynolds with the rolling Elbow. FATALITY! Silver gets the pin for the 3 count. [**1/2] The match itself wasn't much, but it was all about celebrating Brodie, and at the end of the day, that's what matters. 
LIO RUSH is back, and he talks about his business dealings. 
FTR is with Tully Blanchard. They say that they are focused on getting their tag team titles back. 
Dan Lambert is with the Men of the Year. He talks about the fall of Jericho, and then Scorpio Sky grabs the mic. He says that he has been overlooked for all too long. Ethan Page says that they roll with champions and they are the top team. 
SHIDA! She talks about her journey to 50 wins, but to get it she'll have to face Serena Deeb on Dynamite next week. 
Tay Conti/Anna Jay vs. Bunny/Penelope Ford
I was having cable issues, so we come back at the break and the faces double suplex Ford for two. Bunny breaks it up. Ford goes up and misses the moonsault. Tay Conti hits the Tay-KO on Bunny while Jay locks on the Queenslayer for the tap out. [*1/2] Decent for what we saw, at least the faces have matching outfits.
Afterwards -1 comes out to an emotional embrace, with Brodie chants by the crowd.
Friday on Rampage it will be Thunder Rosa vs. Jade Cargill vs. Nyla Rose.
MJF speaks.
He says that he wants this company to succeed as long as he gets what he wants. He puts over the young talent, from Jungle Boy to Sammy Guevara and Darby Allin, and of course himself. He says that he deserves to be the AEW World Champion. He namedrops Bruce Pritchard (?) but then Darby Allin comes out and MJF says that he will break him down mentally.
Sammy Guevara talks about his upcoming match with Miro.
TNT Championship Match: Miro vs. Sammy Guevara
Sammy lunges with the knee but Miro moves out of the way. He tries again but Miro takes him down and hits an elbow, followed by brutal stomps to the chest. Suplex by Miro. He stomps on Sammy's ankle, then he hits Sammy in the back with some elbow strikes. Sammy and Miro exchange shots but Miro elbows him for one. He takes Sammy's necklace and chokes him with it. He rips the chain off and throws it into the crowd. Sammy dives at Miro and takes him out of the ring. Outside, he throws Miro into the steel steps. They go back in the ring. Sammy goes up top for the 450 but Miro catches him and throws him across the ring. We go picture in picture. 
We're back and Miro has Sammy in a headlock but Guevara fights out of it. Miro charges and Sammy avoids it, but he catches Sammy and throws him. Clothesline to Sammy by Miro, followed by another one. He charges and Sammy hits the standing flip. Superkick by Guevara, followed by the running knee strike! He misses another one but Miro flips him over. He charges towards Sammy and misses over the turnbuckle. Guevara with an elevated senton. He throws Miro in the ring and goes up top and misses the 450. Miro catches him and hits the Sidewalk Slam for two. Miro flexes his fingers and gets up. He heads to the corner while Sammy is getting up. He missed the superkick, Sammy with the knee strike, followed by another one. He climbs up and punches Miro, but the champ gets up and tries to suplex him. Sammy fights him off. Flying cutter off the top rope by Guevara. Miro gets up and Sammy goes for the DVD and Miro hits the superkick for two. He goes for Game Over but Sammy rolls out of the ring. Miro rips up the turnbuckles. Fuego comes in and Miro hits him, Sammy comes back in and hits the knees, followed by the Spanish Fly! He goes up top...450 SPLASH! 1....2...2.72...2.95...3! Winner and NEW TNT CHAMPION! [****] An excellent match that showed a great display of contrasting styles. Despite Miro's dominance, the right person won, as Sammy becomes the next TNT original to take the title. It will be interesting to see where Miro goes from here.