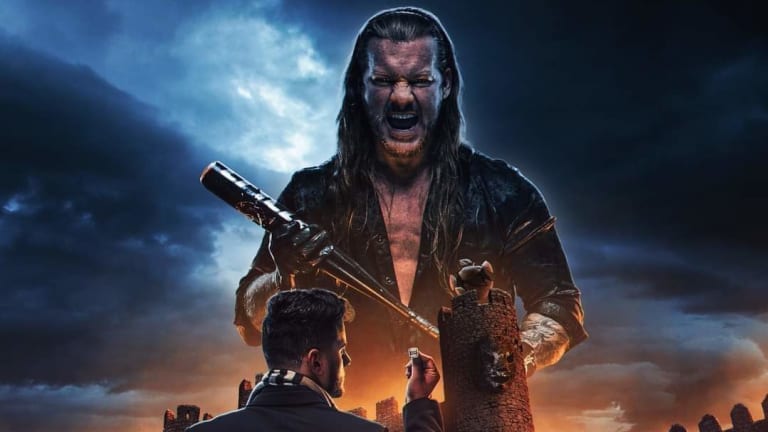 AEW Recap & Analysis 8/18/21
It's Wednesday night, and you know what that means...
We are LIVE from Houston, Texas! We see 'The Boz' Brian Bosworth in the crowd as we begin.
We start off with...a promo? Jon Moxley and Eddie Kingston walk into the ring and they're attacked by 2.0 and Daniel Garcia in the crowd. Matt Lee with the mic in hand as they enter the ring. They call out their opponents Darby Allin & Sting, and the light goes dark as snow falls from the top.
Sting/Darby Allin vs. 2.0
Allin lays out Garcia with the skateboard as the painted ones splash their opponents in the corner. This is Texas Tornado rules so all four men can go at it. They go into the Feritta Center lobby as Garcia helps 2.0 hit their finisher Two for the Show on Sting. Darby comes back in and jumps on the heels. Eddie Kingston recovers and takes out Garcia. They head back towards the ring as Darby gets the tables. Back inside he and Sting set up the table but 2.0 attacks, with Lee grabbing the skateboard, and they suplex Darby on it. 2.0 goes back in and attacks Sting. He takes shots at Lee but Harper attacks from behind. They powerbomb Sting on the table but he gets back up! Darby attacks from behind as 2.0 is shocked and Sting does a double death drop. They stack up 2.0 and Sting decides to do a double Scorpion Deathlok for the submission. [**1/2] Not much in terms of wrestling or moveset, but it had some cool visuals and never cooled down from the onset. 
They show Sammy Guevara proposing to his fiancee earlier tonight. Shawn Spears and Tully talk about their upcoming match.
Sammy Guevara vs. Shawn Spears
Spears tries to attack but the newly engaged man ain't falling for it. He hits a sick moonsault on Spears and throws him in the barricade. He poses with the locals. However Spears recovers and piledrives Sammy on the floor. The bell finally rings and referee Aubrey Edwards ejects Tully Blanchard. The match gets in the ring as Spears drops the kneepad and knees Guevara in the post. Spears looks at Sammy's fiancee, allowing Guevara to regain his energy. Rollup gets two. Powerbomb reverses into a slap by Spears as we go picture in picture. 
We're back and Spears is working Guevara in the post with a series of punches. They both jump on the ropes and Spears gives him the one finger salute, only for Guevara to hit a top rope DDT for two. Spears goes up top and hits the C4 for two. Spears grabs a railing and tries it again but Sammy reverses and hits a DVD of his own. He rolls Spears into the ring, goes up top and hits the 630 for the...NO, Spears kicks out! He gets his hometown crowd into it and takes off his kneepad to take shots at Spears with the exposed knee. GTS! That gets the three count. [***] The match had its spots at times and the commercial break hurt it, but man if this wasn't an enjoyable PPV level match.
Afterwards the engaged couple embrace as the hometown guy gets the cheers.
Tony Schiavone is with IMPACT Champion Christian Cage and Don Callis comes back to congratulate Cage. He says that he gave Cage his opportunity 25 years ago. Cage says that Kenny Omega is not in his head. 
We get a recap of Dante Martin's star making performance during last week's Dynamite. We see Martin saying he's a name everyone will know.
Schiavone is in the ring with Dan Lambert, founder of American Top Team. He starts on some MAGA stuff and insults cancel culture when Lance Archer attacked him last week. In the ring is Junior Dos Santos and Daniel Arvnoski. He challenges anyone to come out. He goes on to insult the crowd. As Archer comes out Ethan Page and Scorpio Sky jump him from behind. Lambert and his UFC cronies celebrate. 
Chris Jericho is backstage and he talks about what he has endured the last four weeks with the Labors of Jericho. Tonight, he gets the ultimate prize in facing MJF. 
AEW Tag Team Championship: Jurassic Express vs. Young Bucks
Nick boots JB as we begin. He prances around and boots JB again. Beautiful flip to avoid his charge. As he sprays himself, JB hits a crossbody. Back in the ring he gets a hiptoss into a drop kick. Tag to Luchasaurus who slams Nick and Matt after he's tagged in. Matt jumps after him but is slamed by Luchasaurus for two. Tag to JB and he hits a senton for two. Don Callis is on commentary as Nick hits a back kick. JB breaks up the Meltzer Driver and gets a hurricanrana on Nick. Matt with the crossbody to the outside by Luchasaurus as we go picture in picture.
We're back and Jungle Boy gets the hot tag to Luchasaurus who cleans house with straight right hands followed by clotheslines. Corkscrew attempt by Nick but as he goes up top he's kicked off. Jungle Boy pulls him up and hits a top rope brainbuster for two. Luchasaurus in the ring as Brandon Cutler goes up to join. He throws Matt into Cutler and avoids the superkicks. Chokeslam to Matt while JB hits Nick with a plancha outside. Nick comes back in and superkicks both members of Jurassic Express. Meltzer Driver but Jungle Boy kicks out at two! Marko Stunt gets on the ropes but is hit by the chair by Omega. The Elite interrupts but Cage goes after Omega. Jungle Boy hits a brainbuster on Matt but Nick breaks up the count. Throassic Express is broken up at two. Jungle Boy fights off the Elite and Luchasaurus hit s a beautiful senton to the outside. Meanwhile the Jackson brothers come together, hits the BTE Trigger for the victory. [****] Amazing match and it had you believe that the Express could actually pull it off. 
Afterwards the Elite beat down on Cage and the Jurassic Express. 
Schiavone is with Dr. Britt Baker and Reba. She introduces Jamie Hayter. She says that they go way back. Hayter challenges Red Velvet next week in Milwaukee. 
Matt Hardy talks about defeating Wheeler Yuta and threatens Orange Cassidy. The OC challenges him. 
Tony Schiavone talks about his friend Paul Wight and he comes out. As he gets ready to make an announcement here comes QT Marshall along with Nick Comoroto and Aaron Solow. Long story short: Wight will take on QT at All Out.
Jade Cargill announces she will face Kiera Hogan on Friday.
Tony Schiavone tells the Elite that there will be a Tag Team Eliminator Tournament, with the winner taking on the Young Bucks in a Steel Cage.
Taz in the ring with Hook as they introduce Ricky Starks. He was waiting for Brian Cage to come out but he's being attacked by Powerhouse Hobbs. Team Taz goes back to help.
Death Triangle is in the back with Schiavone. PAC accepts the match against Andrade, and here comes El Idolo with Chavo Guerrero. They have stipulations leading up to the match. 
Penelope Ford vs. Thunder Rosa
This was the result of Ford beating one of Mission Pro's wrestlers last night on Dark. Ford slaps Rosa in the face but eats a knee, followed by chops. Big back elbow by Rosa and misses the charge. Rosa throws Ford in the corner, followed by a series of boots. Ford escapes a suplex but eats a punch followed by a dropkick. Chops to the chest by Rosa as they go outside. Ford hits a cutter as we go picture in picture. 
We're back and Ford hits a charging boot but misses the second one. Clothesline by Rosa, followed by double knees in the corner. Charging dropkick by Rosa. Butterfly suplex gets two. Ford rolls her up for two. Muta lock by Ford but Rosa reverses out of it and gets a pin for two. Single leg crab is broken up by Ford. Rosa picks her up and hits the DVD for two. Ford with a backbreaker counter. Muta lock again by Ford but Rosa escapes and gets the arm lock for the win. [**] A bit sloppy at times but the right winner.
We get some recaps of Malakai Black. Tony is with Arn and Brock Anderson. Next week on Dynamite, Brock faces Malakai Black. Arn tries to prep him for it, but Brock is going for it. 
We get the lineup of Friday night's Rampage:
Jade Cargill vs. Kiera Hogan
Jon Moxley vs. Daniel Garcia
Private Party vs. Jurassic Express
Miro talks about defeating Fuego Del Sol and says that he wants to talk with Eddie Kingston...
Chris Jericho vs. MJF
MJF cheap shots Jericho as the match begins. As he goes outside, Jericho goes up top and dropkicks him off the apron as he hangs on the barricade. Chops to the chest of MJF, but he drops Jericho to the ground. He grabs the camera and flips off the crowd, only for Jericho to punch him on camera. They go back inside, and Jericho chops him in the chest as he delivers some elbows. MJF throws Jericho into the corner and kicks the arm as we go picture in picture. 
We're back and MJF whips Jericho in the ropes but he hits a clothesline. He hits MJF with a punch and a chop. Shoulder tackle by Jericho followed by a double sledgehammer off the top rope. MJF kicks him and then the judo throw in the corner. He locks in the arm of Jericho but Le Champion punches out of it. Lionsault by Jericho gets two. Jericho hits a hurricanrana for two. MJF locks in the Salt of the Earth on the injured arm but Jericho rolls out and locks in the Walls of Jericho. MJF punches out of it. They both exchange punches and head to the ropes. Heatseeker by MJF gets two. He boots Jericho in the head. Jericho locks in the sleeperhold but as MJF grabs the ref he low kicks Jericho and then locks in the Liontamer of his own. Jericho grabs the ropes to break it up. As MJF's back is turned to grab the ring Jericho grabs his bat. He boots MJF in the gut but MJF locks in the Salt of the Earth and Jericho has no other choice but to submit. [***] It was slow at times but overall it was an entertaining match. Surprised that MJF won.