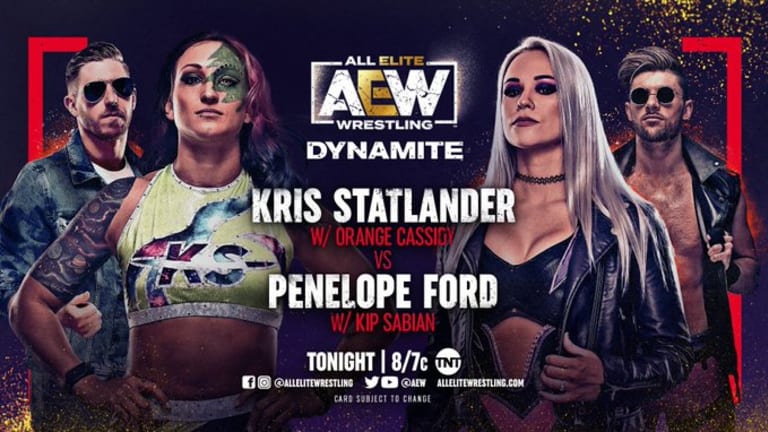 AEW Results & Analysis 4/28/21
It's Wednesday night, and you know what that means...
Brian Cage vs. Hangman Adam Page
Page gets jumped by Team Taz before the Dark Order comes out to help. Cage powerbombs Page on the steps and then throws him in the ring. As the bell rings Cage works him in the corner as Page fights back. The Machine charges in the corner with elbows and knees, ultimately hitting a nice German suplex for a two count. He takes the Hangman outside and works the back. He takes him back inside and hits a slam for two. Fall away slam by Cage but Page gets the knees up on the standing moonsault. Thrust kicks by Cage followed by a mid-rope suplex for two. He charges for Page but the Hangman ole's him and jumps off the rope with a plancha. Page goes up top and hits a standing moonsault on Cage to the outside. He throws Cage back inside and attempts the Buckshot Lariat but Cage catches him and hits an F5. Two powerbombs and a Drill Claw later and it's...over? [**] Surprising result, but Cage needed a big win in the worst way. Where both guys go from here will be interesting.
The Bullet Club are in the limo celebrating when they keep hearing a horn, but it's only Michael Nakazawa hitting the wrong button.
Young Bucks vs. The Sydal Brothers
Had technical difficulties so I joined back after the break. We see Matt and Mike Sydal laying in the ring but the ref didn't notice that the Young Bucks switched places. Matt with the package bomb for two. Whip into the ropes but Jackson catches him and the brothers try for the Meltzer driver, but Sydal hits the sliced bread combo. Double knees by the Sydal brothers gets two. Sydal with the hurricanrana. Crucifix by Sydal and he takes Jackson up top for another hurricanrana but misses. Mike Sydal comes in and throws the Jackson brothers into each other. Low blow while the ref is distracted. Double kick to Mike Sydal, followed by the BTE Trigger for the three count. [**1/2] Not a bad match. 
Afterwards the Bucks are getting sprayed when SCU comes in and Kaz says that they are challenging for the championships. 
Penta El Zero Miedo vs. Orange Cassidy
OC tries for the hand to pocket exchange but Penta's not feeling that and then strikes. He dominates the early part of the match with his elite athleticism. Cassidy tries to fight back with an elbow smash but Penta hits a sick one handed powerbomb for one. He puts OC's hand in his own pocket and steps on it. Penta hits him with a pair of superkicks. Destroyer, but then Cassidy connects with the Beach Break but Penta kicks out. Penta with the suplex but it's reversed into a stunner. Elbow from the top rope and he hits a Tornado DDT. Alex Abranthes gets on the apron with a mic and begins to berate OC who clocks Abranthes. As the ref moves Alex out of there, Trent hands the mic to OC who hits Penta with it for the three count. [***] Great match.
Tony Schiavone with Dr. Britt Baker who hugs him. She said that she was going to work her way up the rankings and she's now there. 
Blood 'N Guts Parlay: Pinnacle meets the Inner Circle
The Pinnacle has their security, but the Inner Circle's security comes in on motorcycles! Poor Tony Schiavone is in the middle explaining the rules. He is about to flip the coin when Shawn Spears smacks the coin out of his hand and he prepares to cut them down. Sammy gets in his face and says he'll fight everybody. Cash is next and says for Santana/Ortiz not to bring this version next week. Dax tells them to hold their kids before showing up. Santana says his hands are going to do the talking. MJF gets the mic and tells Jericho "Thank You," for without him AEW doesn't exist. He tells Jericho says that heavy is the head that has the crown, but not to worry, MJF will take it off his head next week. Le Champion finally talks, and says that he's wants his spot, he'll have to take it. He tells Tully not to interrupt his promo and that the Inner Circle is Blood 'N Guts. He tells MJF that he'd have to kill them to make them surrender. [****] That promo by everyone involved was amazing, and sold Blood 'N Guts. If you see one thing from this show tonight, watch this.
Unsanctioned match: Eddie Kingston vs. Michael Nakazawa. 
Kingston says that he's not fighting Nakazawa but he wants Kenny Omega for hurting his ankle. Omega comes out with Don Callis and says that's not how this works. Nakazawa hits him in the back of his head with the laptop but Eddie hits the suplex followed by the backfist. Kingston goes to Pillmanize the ankle with the chair, but Omega says to go ahead and sends out Brandon Cutler, who's crawling. Suddenly, Jon Moxley comes out and hits Omega from behind. They take the champ into the ring and about to Pillmanize his ankle. Callis says that they'll do whatever he wants if they don't hurt his ankle. They want a tag match between Omega and Nakazawa, and Callis grants it. 
Penelope Ford vs. Kris Statlander
Statlander gets the win over Ford, and hopefully we can move on from this rivalry. 
Nightmare Family vs. Nightmare Factory
Thanks to Anthony Ogogo, the Factory gets the win. Afterwards they apparently fight on the bus, where a certain executive vice president was waiting for them.
TNT Championship: Darby Allin vs. 10 of the Dark Order
Great storytelling in the main event as Darby holds on to retain his championship.