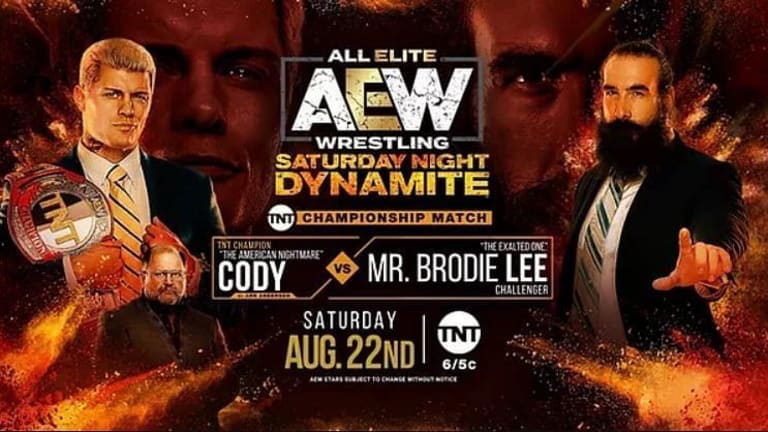 AEW Dynamite Coverage for 8/22/20
We have an exciting night of AEW Dynamite on Saturday Night! We will see who takes home the first ever Women's Tag Team Tournament Cup and Cody will take on Brodie Lee for the TNT Championship. 
We are in Jacksonville at Daily's Place and the road to All Out is in full swing. The first match is FTR vs. Private Party and they're already in the ring. Tully Blanchard is in FTR's corner (?) and he's sporting an FTR jacket (??) Cash starts off with Marq Quen with a headlock. We get picture in picture of FTR's attack on Ricky Morton last week. Quen and Isiah Cassidy delivers dropkicks to FTR and the heels scramble out to regain their senses. Back in and Dax distracts the ref allowing Cash to rake the eyes of Quen and the tag to Dax. Tag to Cash who misses the elbow and Quen gets the tag to Kassidy. Arm smash by Kassidy and he works the arm with a twist. Enzuguri by Kassidy into a stomp by Quen for a two count. Cash gets Quen into a corner and works him with a stomp. Cash goes outside and Quen chases him. Back in but he eats a double clothesline by FTR. Dax with a dropkick to Quen. Chops to the chest and Quen fights him off with a kick. As the ref is distracted again, Cash hits Quen in the back of the neck. Tandem offense by FTR. Dax with the knee drop. Quen's head is raked across the ropes. Chops in the corner to Quen's chest. Vicious elbow by Dax. Tully berates Quen while he's on the ropes. Headlock by Dax while Kassidy calls for the tag. Quen tries to get the whip but Dax locks it in. Slam attempts is missed and Quen gets a sleeper hold. Tag to Cash who sunset flips Quen for a one count. Headlock by Cash. Tag to Dax and he throws Quen out of the ring. Cash with the tag and he misses the jump. They roll back in and Quen gets the hot Kassidy, who cleans house with kicks and forearms. Springboard cutter to Dax followed by a kick to Cash. Enzuguri on the apron to Dax. Slingshot suplex misses but Kassidy gets the tag to Quen who hits the bodypress for a two count. Cash goes behind Kassidy and knocks him out from behind while Quen gets a small package for a near two count on Dax for a two. Sliding pin by Dax for two. Tag to Cash who hits the Anderson-level spinebuster but Kassidy breaks it up. Kassidy throws Dax out of the ring. Tully pulls Dax away when Kassidy attempts the plancha. Cash throws Quen into the corner. Tag to Dax...GOODNIGHT EXPRESS!!! 3 count gets the victory for FTR. [****] If you asked me to show you what tag team wrestling is supposed to look like, please watch how FTR controlled this match. It was a clinic on how they grounded the young stars from Private Party and demonstrated how pacing matters in wrestling. Absolute gem!
We get the AEW World Champion Jon Moxley who is near a fence somewhere in what appears to be a basement. He talks about the MJF campaign and says that it's fun TV. He says that if you want to talk about him, ask his wife. People who feel the need to talk about themselves all the time rubs him the wrong way. The toughest guys usually don't have to say much. He asks MJF what is he hiding. He puts over MJF being a talented star and thinks he will be the future. He says that he's not going to last another 25 years and hopes MJF to fulfill his potential and move out of his parents' basement, but it won't be on September 5th. He's going to split his skill and drop him on the top of his head. He says that the whole world will find out exactly what he's been hiding. Great promo by the champ to put over his opponent.
But first...a word from MJF, who has a neckbrace on and is in tears over what he suffered last week. Genghis Khan, Castro, Napoleon, they were all homicidal maniacs, but they all pale to Dictator Jon. Last week Moxley attacked him like a coward but is too afraid to attack him from the front. He says that his actions have consequences. He says someday he wants to have a family and says that the Paradigm Shift is an abomination. His attorney Matt Sterling says that the move is deadly. If it can end MJF, it can end Wardlow, gum guy and even Smiling Nina. A petition is out to ban it and has 5 million signatures. He says that there is a contract that says it should be banned for their match at All Out. Jon will sign it because he's a man of the people. He will fax it over to Jon and asks him to sign it. Sterling cuts a better promo than 90% of wrestlers today. 
8 Man Tag Team Match is next! Jurassic Express/Natural Nightmares vs. The Butcher/Blade & the Lucha Brothers. No time for introductions as the match starts with the competitors going at it. Hiptoss by Dustin on the Blade. Toss into the ropes and Dustin hits the Butcher. Blade distracts the ref and the heels assault The Natural on the outside. Knee to the neck of Dustin by Blade who tags in his partner. Toss into the corner by Butcher. Tag to Pentagon who kicks Dustin in his leg all across the ring.  He brings in Fenix who throws him on the ropes and works the leg while we go picture in picture. We're back and Blade tags in Pentagon while Dustin tags in Luchasaurus. He kicks the heels while Jungle Boy hits a suicida on Butcher, and another one on Fenix. Flip onto the Blade & Butcher! Chokeslam by Luchasaurus followed by his Shooting Star Press for two. Tag to Butcher who hits him with a clotheline. He blocks a spin kick and gets a kick of his own. In comes QT Marshall who gets an elbow to Blade and a cutter to Butcher. The Lucha Brothers come in and hit a slingblade kick combo. In comes Jungle Boy who gets slammed by Fenix. Dustin eats a sunset flip. He tags Blade but they're arguing about who should be coming in and they start pushing, until Fenix pushes him into Jungle Boy who rolls up Blade for a three count. [**] 
After the match the heels argue until EDDIE KINGSTON comes in to make peace. He says that they only lose when they're divided. He goes in an encourages each one putting them over and says to walk with him and everything we want will be ours. Kingston winks at the camera while everyone is in a hug moment. 
We go to Britt Baker (with REBA) and is saying why is there so much noise. She sees the engaged couple of Kip Sabian and Penelope Ford kissing. As any good doctor does, she warns them of some dentistry stuff and how kissing is potentially dangerous. She offers free dental care for a year if they take care of Big Swole. Reba will do her makeup for free. 
Tony Schiavone is in the ring with Orange Cassidy, who is joined by Best Friends. Cassidy takes in the applause over his victory last week against Chris Jericho. Before Mr. Freshly Squeezed can speak, Judas plays on the screen, and here comes the Demo God! He brings out a little bit of the bubbly. He congratulates Cassidy for the win. It's rare that he gets pinned and while he is embarrassed to lose to OC, he says that he's actually proud of him. He proved that to his haters that he has heart, desire, and courage. Le Champion wants to toast to him, but first he says that they need to have a third match. As the creator of Money in the Bank he wants to have a Mimosa Mayhem Match, where you can lose by pinfall, submission or being thrown in a vat of orange juice. Will Orange accept the terms? Cassidy puts up the thumbs and it's on at All Out. Jericho wants to toast to him but brought his friends, and here comes the Inner Circle, all with bottles of their own. They surround the ring and drink until Jericho tells them to attack. They drop the Best Friends and Hager brings down OC with a powerful slam. Santana gets the backpack and it's more of the bubbly, which they pour on Orange Cassidy. Jericho slaps him while the Inner Circle celebrates. Ortiz puts an orange in his mouth. 
Here comes Dark Order members 3,4, and 5 taking on the Elite of the Young Bucks and Kenny Omega. Nick starts off with Angels and takes him outside. Enzuguri attempt by Angels misses and Nick trips him up. Armlock by Nick. Flip by Matt who tags in and the brothers hit a drop kick. Northern Lights Suplex series by Matt until the other minions intervene. Tag to Omega and the brothers hit a double elbow drop. Kenny with the chops and the Dark Order gets a two count. Steamroller by Omega and Silver hits him off of the top rope. He is knocked outside and the Dark Order uses the chair to pummel him while the ref is distracted. Matt goes to help and Reynolds hits a twisting flip on the outside. Two count by Angels. We go to picture in picture.
Back in and Nick is kicking Reynolds off of the top rope. The heels come in for a double team and here comes Omega! Snapdragons for all. Young Bucks come in and deliver double suplexes. Silver comes in from the top rope but the Young Bucks deliver the superkick party. Slam to Reynolds, and they hit the Meltzer Driver, followed by the One Winged Angel by Omega for the three count [**] Pretty standard match by the Elite. Nothing special to see here.
After the match Omega gets the chair and to hit Reynolds some more but the Bucks pull away the chair and they begin to argue, but Omega isn't happy.
We go to Alex Marvez who is with FTR. Next week there will be a tag team gauntlet match to determine the #1 contenders. Cash says that in order to be the best we need to align the best. Tully says that they are almost there, but they need to step over the threshold to get there as the champions. He says that once they win they will win the belts on September 5th. Adam Page comes in to ask what was up with last week, and Dax says that he was just doing business. Tully tells him to Fear the Revolution.
Darby Allin  Will Hobbs.
 Immediately he kicks him out of the ring. Darby goes at him with the plancha. He throws in Hobbs and as he charges Darby catches him with the bodypress but he is tossed on his feet. Wristlock by Hobbs and he throws him into the ropes, bringing the enigma to the ground. Body slam by Hobbs and he clubs him in the corner. He drags Darby onto the ground by his feet for a two count. Darby jumps on the ropes and hits a backspring elbow, followed up by the Coffin Drop Elbow for the three count. [**] SQUASH CITY!
After the match Taz gets on the mic and says that Team Taz is expanding to another guy named Darby, but it's actually Ricky Starks wearing the face paint and bringing in a skateboard. Starks begins to mock Darby and while his back is turned, Brian Cage comes in with the FTW belt and hits him from behind. Starks comes in and splashes water on his face, choking Darby. He says life is a joke and he's the biggest joke of them all. Team Taz jumps Darby and Starks his his own version of the Coffin Drop Elbow. 
During the break we get Sammy Guevara out with the placards while we go picture in picture. He looks at the last two cards which say that he's about to be deleted, and immediately Matt Hardy comes out and attacks him with a chair from behind. Back from picture in picture and he keeps hitting Sammy with the chairs. He throws Sammy into the table and it breaks! Some refs come out to stop him, but wouldn't the Inner Circle also come out to help their boy? 
We're back and it's NWA WOMEN'S CHAMPION THUNDER ROSA who will be challenging Shida for the title at All Out! She's here to bring the Women's Division on the map. 
Veda Scott is at the announce table for the Women's Tag Team Tournament Cup. Shaul Guerrero does the ring announcement. 
Ivelisse and Diamante vs. the Nightmare Sisters
 The bell rings and it's Brandi and Ivelisse starting off. Ivelisse with the wristlock and kicks to the leg but Brandi follows up with a side headlock into a pin combo for one. Brandi poses giving Ivelisse time to get in some chops and a kick to the chest. Arm lock by Ivelisse and the tag to Diamante. They double hiptoss Brandi and Diamante with the pin for one. Tag to Allie who throws Diamante in the ropes and gets a hip toss, only for Diamante to counter with one of her own. Allie tosses her out of the ring. Ivelisse comes in while they go picture in picture. Brandi gets off a kick to the head of Diamante. 
Back to the match and Allie drives Diamante into the corner. Allie goes up top and goes for a suplex, who reverses it into a suplex of his own. Both get the tags to their parnters and Ivelisse cleans house with a clothesline. Cutter into a claw hook for a two count. Tag to Diamante and they get a double wristlock but Brandi reverses it and spears Diamante. Tag to Allie. Rabbit hole gets broken up. Kick by Ivelisse who throws Brandi out of the ring. Allie hits Diamante with an elbow and set up for a C4 but Diamante with a spinning elbow. QT Marshall gets up and distracts the ref but Brandi gets a double underhook suplex. Ivelisse tosses Brandi out of the ring. Allie is isolated and fights her way back. Stunner by Diamante into a knee smash by Ivelisse for the three count! [***] Great match that gets the extra star because the right team won. This is what AEW needs to promote new talent in their Women's Division.
The champs are given roses but they throw them down and pull out the Puerto Rican flags! BORICUAS!!
TNT Championship Title Match: Cody vs. Brodie Lee
Justin Roberts with the big time ring announcement. Cody is joined by Coach Arn. The bell rings and here we go Cody goes right after the Exalted One with a flurry of punches but Brodie with the drop kick. He throws Cody on the floor with ease. Lee goes outside and tosses Cody into the barricade. Pump kick into the face of Cody. Chops into the chest of Cody by Lee. The champ retreats as Lee pursues him. Lee goes back in and charges with an elbow into the corner. Back suplex on the mat by Lee. He tosses Cody who runs right into a series of kicks for a two count. Arn tries to encourage his tutelage as Lee is showing confidence. Powerbomb by Lee and then another one as Arn looks concerned. He picks Cody up....DISCUS PUNCH! 1...2...3. Winner and NEW TNT CHAMPION: MR. BRODIE LEE [****] Rarely does a squash end up like this in a championship match, but it's exactly what needed to happen. Lee and the Dark Order have taken a series of losses and for him to completely destroy Cody in this fashion really puts him over as a threat in AEW as its new TNT Champion. Where Cody goes from here is going to be very interesting, as they can tell the story of him having consistent title defenses took its toll on his body.
The shocked looks on the faces of everyone in the arena and at the announce table sells it even more. Tony comes in to talk with the new champion as the doctors attend to the EVP. Lee says that no one believed him and now with the title he has the power and the say so. He says that executives didn't give him a chance and when he did he knocked it out of the park. Cody does the stretcher job as Lee tells Tony to get out of his ring. As they roll Cody out, Arn tries to attack the Dark Order and Lee kicks him in the gut. Lee throws Cody off of the stretcher and chaos ensues. Lee gets a black bag of something and hits Cody in the head with it. Before he goes Lee takes the title and yells at Arn, then poses over Cody with it. They throw the rest of the Nightmare Family on there. Brandi comes out to protect her man, but he calls for Anna Jayy to attack and she puts Brandi in a headlock. The black bag contains the shards of the original title all broken up.