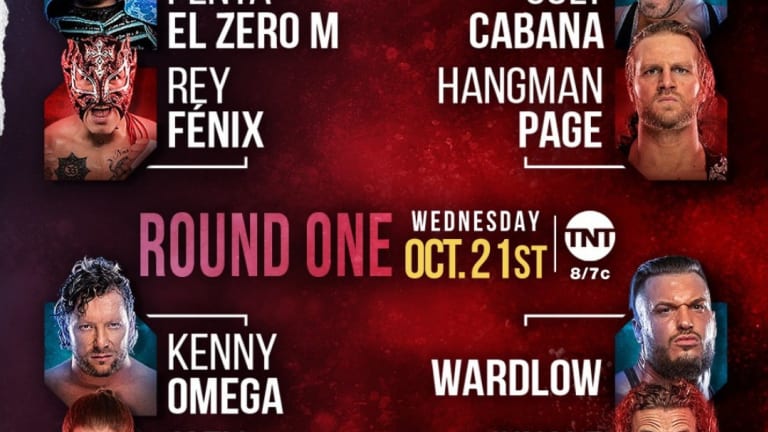 AEW Dynamite Report for 10/21/2020
*Note: This was prepared before the news that Joey Janela will not be participating due to COVID-19 precautions. It is reported that Sonny Kiss will take his place against Kenny Omega in the first round. 
Fresh off of the anniversary celebration, AEW is just a few weeks away from Full Gear, and tonight promises to be a night of incredible matches and storylines. The first round of the AEW World Title Tournament starts now!
Wardlow vs. Jungle Boy
In this David vs. Goliath matchup, Jungle Boy resorted to using his speed to attack Wardlow in the beginning with a series of kicks. However, Wardlow catches his plancha attempt and throws him into the ring post. Back in the ring the monster stomps away on Jungle Jack Perry, catching him in the hurricanrana and delivering a thunderous clothesline. He places Jungle Boy on the top rope and teases him, only for the youngster to strike back with a knee blast. Using elbows, Jungle Boy fights out of the corner and kicks him out of the ring. However, they get back in and as they go to the top rope, Jungle Boy with the impressive hurricanrana. He goes up top on the fallen Wardlow for the knee drop, but only gets two. Rolling out of the ring, he hits a pursuing Jungle Boy with the F10! Wardlow goes back in, and hits another F10 for the win! [***]  Wardlow has shown he has the big man ability to be a force in AEW, and he worked very well with Jungle Boy as they did everything they could to put on a fun big man-little man match. 
We get the unaired promo of Eddie Kingston that he cut on Jon Moxley after Dynamite ended. I believe every single word Eddie said.
The World Champ is talking about how Kingston was not the guy he grew up with, and he's not going to apologize for being successful. Moxley isn't bad on the mic, but he's nowhere near Kingston's level. Not many are. They will have an 'I Quit' Match at Full Gear. 
Sonny Kiss vs. Kenny Omega
Omega comes out to new music and Justin Roberts touts his accomplishments, apparently his Japanese is so good he translates to Michael Nakazawa. Omega is in his CLEANER gimmick, complete with dancing girls and brooms! Yet he should probably change the music, which was somehow longer than the match. Knee strike, One Winged Angel, and that's all she wrote. [**] It wasn't about the squash, it was about the change in character. Omega is really taking his theatrics to another level. 
Tony Schiavone catches up with Orange Cassidy about his 20 minute draw last week against Cody for the TNT Championship. There will be a rematch next week. When asked about his feelings on the matter, he says, "We're on to Cincinnati." 
Dasha asked Coach Arn and Cody about the rematch. The TNT Champion says that there will be a stipulation next week but it won't matter. She asks about the extra weight, Cody says that it's time to become a giant killer of sorts. He's going to do some EVP work and watch the tournament.
Eddie Kingston responds to Moxley. He says that unlike the champ, he doesn't forget his people and puts over Penta, Fenix in the next match as well as Butcher & Blade in the 4-way match for the tag team title match at Full Gear. He says that he hates who he became but he had no choice because the ends justify the means. 
Rey Fenix vs. Penta El Zero
This should be good...Cheers come up from the crowd already. Rey offers his hand and Penta obliges. They lock up and get into a series of reversals. Elevated arm drag by Penta into an ankle lock. Great counter flip by Rey. Package piledriver is reversed and Penta flips Rey over. They do another series of reversals and the crowd cheers. Duel chops by the brothers. Rey goes up and eats a superkick! They go on the apron and Penta misses the package piledriver again. Rey goes up...360 CORKSCREW! He tries to climb the ropes but Penta yanks it and brings him down. We go picture in picture. 
Back on and we see more dueling chops from the brothers, but Penta misses and his hand hits the post. They go back in and they exchange kicks, spinning slingblade by Penta for two! He runs into the ropes and eats a kick from Rey. They go up top and Rey with the quick hurricanrana. He is hurt and Referee Audrey Edwards checks on him as Penta gets the quick pin for two. Powerbomb attempt is reversed into a kick by Rey for two. He climbs the ropes, drags Penta, but his legs are kicked by Penta as they go up top. Spanish Fly by Rey but it only gets two! Fenix is frustrated. They go to the ropes but Penta with the running powerbomb. Arm lock by Penta and he releases. Rey in pain and Penta sees his little brother writhing in the ring. He says I'm sorry then runs to the ropes....REY WITH THE MEXICAN DESTROYER!! 1...2...3 [*****] That ladies and gentlemen was lucha wrestling in its glory. It was a throwback to the old WCW cruiserweight days of the late 90's. Great match by everyone involved. 
The Best Friends talk about the events that transpired when Trent was thrown into Kip Sabian's arcade game. Miro says that it's Game Over! 
Colt Cabana is with the other members of the Dark Order as they're getting ready for their matches. Cabana says he feels no pressure, and Alex Silver says there's always pressure in the Dark Order. He starts a Brodie chant as they get ready to see Colt take on Hangman Page in the World Title Tournament.
Colt Cabana vs. Hangman Page
Evil Uno walks out with Colt. They lock up and Colt takes advantage. Page hits him with the forearms and they exchange chops. Colt elbows a charging Page but eats an clothesline into a shooting star press for two. Springboard clothesline by Page into the pescado outside. They go back in the ring as we go picture in picture. We're back and Colt hits Page with a forearm shot. Page reverses and hits the fall away slam. Colt hits the elbow into an impressive head scissors. Punches by Colt and he drops the Dusty elbow. He tries to get under Page then rolls him up for a two count. Boom drop gets caught by Page but Hangman turns it into a German suplex. Colt goes outside to rest but as Page goes up he throws Page down and hits the diving splash. Throwing Page in, he misses the top rope splash. Page with the powerbomb for a two count. Page takes off the pad but Colt trips him up. They go up top and Colt goes for Chicago Sky line and Page throws him down. Superman pin gets only a two. Hangman goes to the ropes...BUCKSHOT LARIAT! 1, 2, 3 [***] Great match and both guys gave their all. 
We go to Sammy Guevara who burned Hardy's photos last week. He burns an additional photo titled 11/7/20. A match at the Compound perhaps?
Team Taz is out and Taz asks Will Hobbs to join their group. They've yet to hear their response. They say that Darby Allin getting a TNT title shot at Full Gear is not fair, and Tony Khan would've given the shot had he beaten Allin. Ricky Starks grabs the mic and says that he's not okay. He promises that he is going to beat Allin the next time they meet. 
Dinner Time: Chris Jericho and MJF.
It broke into a musical...I'll just leave it at that.
Dr. Britt Baker vs. KiLynn King
Baker takes advantage quickly with an arm drag take down but King reverses. Baker breaks out of it and hits a curb stomp. Knees by Baker and she takes down King. However, King gets the bridge for two. Flatline on the middle turnbuckle by the doctor. Boots to the face by Baker followed by a stomp on the apron. While the ref is distracted Reba throws her in. King with a roundhouse kick. Slingblade by Baker into a DDT. Front Chancery into a neckbreaker. Another curb stomp and she asks for the glove. Lockjaw and King quickly taps. [**] Baker is the most interesting woman in AEW and has shown so much growth since returning. What they do with her going forward will determine the future of the Women's Division.
Steve-O from Jackass with Darby Allin as he gets ready for his TNT Championship match. He gets into a bodybag and rolls off a slide. Okay...
Four Way Tag Team Match: Butcher/Blade, Silver/Reynolds, Private Party, and the Young Bucks. Winner gets a shot at FTR at Full Gear
FTR joins in on commentary. All four teams brought their working boots to this one, and Private Party gave the Bucks a SUPERKICK PARTY of their own. It broke into a donnybrook as all four teams get into the ring and clean house. The ref eventually gains order which allows Marq Quen to hits a series of planchas. Butcher and Blade attack from behind as we go picture in picture. Silver begins to clean house and takes down all competitors. He and Reynolds double team Quen as the Young Bucks break up the pin. Silly String by Kassidy! Nick Jackson takes out Dark Order with a series of his own kicks, followed by a sunset flip onto Butcher/Blade. Meltzer Driver combo is broken up. Kassidy almost gets the pin with a roll up on Matt Jackson. His tag attempt is tied up and as they go for the pin, Matt rolls up Kassidy at the last moment and gets the three count! [**1/2] It was a quick match but the expected result.  
Afterwards FTR comes to celebrate with a beer but the Young Bucks smack the beer out of their hands. Suddenly, the timekeeper comes in with a chair and hits Matt Jackson in the back. FTR does the chair on leg spot and it was Tully who hit Matt and the champs celebrate. 
ANALYSIS: 8. Let's get the musical part out of the way. Yes it was corny but if it leads to MJF joining the Inner Circle no one will remember it. Tonight's show featured a lot of straight up great wrestling and the build for Full Gear is well underway.