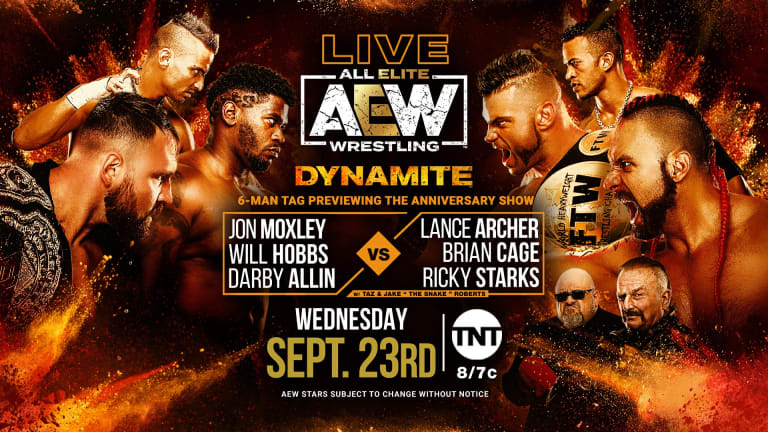 AEW Dynamite Results & Analysis 9/23/20
The show begins with a memorial to Road Warrior Animal, who passed away earlier today at the age of 60...
Time for Dynamite as the pyro lights up and starting off it's Kip Sabian along with Penelope Ford. Kip is out with a mic and he introduces MIRO who's not exactly wearing any Mickey Mouse gear this time. Their opponents are Joey Janela and Sonny Kiss, who cut a pre-match video promo. Sonny and Kip start off where they exchange arm drags until Kip tags in Miro, who makes Janela back off. Kip asks if he can take on his former rival and Miro walks back to the ropes. The faces start mixing up tags and attacking Kip while the crowd chants for Miro. Finally he gets the tag to Miro and it's a hot one. Miro slams both Janela and Kiss to the ground before walking back to tag his partner. Kip trips Janela and tags Miro who hits a vicious German Suplex. Kip is back in and he gets an arm lock to Kiss. Tag to Miro who gets a shot to the gut in the corner and tags to Kip. Inside cradle by Kiss for two! Elbow strikes by Kiss and he flips over Kip to tag Janela. As Kip tags Miro, he spills to the outside, where Miro comes up limping. The faces take advantage with a plancha on the outside. As they get back in the ring, Miro attacks from behind. Pop up into the lung blower for a two count. Miro picks up Janela and dumps him outside of the ring. Kiss's back is turned and he eats a wicked kick from Miro. MIRO CRUSH! The Camel Clutch finishes it. [**] A bit long for a debut match and perhaps it was due to the injury, but Miro did look impressive though. 
After that Eddie Kingston comes to the ring and tells the hard camera not to move. He comes in to say that he will be facing Moxley for the AEW World Championship. 18 years says that he deserves the shot. He and Moxley was cut from the same cloth, but while Mox went to the land of sports entertainment, he stayed in the gutter. He calls out Mox and the champion comes out from the back. He gets in Kingston's face and the refs break it up.
Kenny Omega is out once again on commentary as his (former?) partner Adam Page is taking on Evil Uno. Omega comes out very...plain as he joins the crew. Originally the match was supposed to be a tag match, but Omega declined, saying that it would have no impact on his singles record, which is his focus. 
The bell rings and the match starts as the competitors lock up. Uno breaks it up as the rest of the Dark Order looks on. Shoulder takedown by Uno. Page gets up quickly and kicks Uno in the chest, followed by a series of chops. Suplex by Page for one. Front body drop by Page into the fallaway slam for two. They exchange chops until Uno hits the back body drop, followed by some stomps. Page flips him over and hits the springboard clothesline, knocking Uno out of the ring. Pescado by Page! Back in the ring Uno drags the ref as a shield in front of him as a distraction. Page moves him out of the way and he hits the swinging neckbreaker. Uno starts to work on Page in the corner as we go picture in picture. 
The match is back on and Uno is knocking Page out of the ring. The rest of the Dark Order comes to attack but Uno calls them off, telling them to go to the back. Uno goes to the attack on the apron but Page drops him. He misses the body drop from the top rope but does hit the fallaway slam-shooting star press combo for a two count. Uno gets a pump kick and heads to the top rope. Senton for a two count. They collide with some clotheslines until Page hits a lariat. Uno blocks the shooting star press and almost rolls him up for two. Powerbomb by Page for two! Hangman goes on the ropes...BUCKSHOT LARIAT! 1..2..3 [***] An excellent match and Uno held his own against one of AEW's best wrestlers. Page continues to look sharp as he is in the singles division. 
Tony Schiavone is summoned by the Young Bucks to talk about what's been going on. Matt asks why he is flinching. He says that they feel bad about what they've done but that people should sympathize with their situation. They said that they will do better. Tony says that FTR is the reason for all of this. Matt asks for Tony's phone and smashes it against the wall. He puts some money in Tony's pocket and ends the interview. That was...something.
Freshly Squeezed gets his opportunity at AEW gold! One again the Dark Order escorts Mr. Brodie Lee to the ring. As Lee hands the title to the ref, he order Alex Silver to stomp on Orange Cassidy's jacket. Anna Jay comes up on the apron but Cassidy just puts the shads on the Queen Slayer. Lee takes them off and he walks up to Cassidy as the bell rings. OC puts his hands in the pockets and kicks the champion before Lee smacks him around and throws away the shades. Cassidy already got more offense in than Cody. Anyway, OC avoids the clothesline and dropkicks Lee out of the ring. The Exalted One goes over to the minions, allowing Cassidy to hit a plancha on the group. However he gets caught in mid-air, allowing Lee to hit one of his own. He takes Cassidy back in the ring and chops him. The Dark Order jumps Cassidy while Lee distracts the referee. He throws Orange Cassidy back in the ring and hits an over the top rope senton for one. Again he throws Cassidy out of the ropes. The Dark Order once again stomps on Cassidy and Silver is scolded by Lee. Back in the ring Cassidy tries for the Tornado DDT but Lee catches him in a Bossman slam as we go picture in picture. 
Back in the match and Lee hits a slingshot on the ropes, followed by a suplex. A back body drop and Cassidy is out of it. The ref goes to check on Cassidy. Lee goes for the discus punch and he keeps dropping. School boy by OC for one. He tries for a powerbomb and misses but hits an elbow suicida! OC throws Lee into the ring and hits the minions with the superman punch. He goes back in and Cassidy hits the Swinging Stunner! Up top and Cassidy gets the diving DDT on Lee! OC with the running kick to Lee's head and follows up with the Swinging DDT. Vertebreaker by Cassidy for two!!! Lee retreats to the corner. Silver comes in and eats a superman punch, giving Lee enough time to hit a powerbomb into the Discus Punch for three. [**1/2] This match really picked up after the commercial break. Cassidy showed he belonged in the ring. 
After the match the lights go dark...and it's CODY! He's sporting black hair again! He comes and cleans house, knocking out the Dark Order in quick fashion. He puts 5 in the Figure Four and the Exalted One dips out of there.
Dasha is standing by awaiting for the Dark Order. Anna Jay moves her out of the way and Brodie Lee calls out Cody for his cowardice. Lee says that sooner or later he's going to cut him down. He asks for Silver to give him a dog collar and says that Cody has one week to answer him for an old fashioned dog collar match.
Here comes Matt Hardy along with Private Party. It is apparently his birthday. He talks about what happened last week when he was attacked from behind. He says that whomever did it was wearing a dark mask and brandished a steel weapon. He blames Jake Hager and Chris Jericho. He says that he was proud of Private Party and the only reason they lost was because of the steel bat. Right on cue here comes Le Champion, along with the rest of the Inner Circle, sans Sammy Guevara (?). Jericho says no one cares about his birthday and that Sammy is out due to Matt Hardy's actions, and here he comes to a rousing ovation! Jericho says that he wouldn't hit Hardy from behind, and if he was going to take out Hardy it would be in his face. Hardy says that he's not cleared but would fight anywhere. Marq Quen takes the mic and says that he laid out Jericho last week because of what he did to his brother. Isiah Kassidy takes the mic and says that he almost beat Jericho not once but twice. He issues a one on one challenge for next week. It's great to see Private Party get some time on the mic. 
Tony is in the ring with FTR and Tully Blanchard. Tully says that thousands of fans want to see the greatest tag team in the world today. Normally 60 minutes is the limit for their matches, but Tully is changing the time to 20 minutes so fans can view them. FTR gets to pick the opponents, next week they will challenge SCU. Dax calls it "20 minutes with greatness," and if SCU doesn't win then FTR gets a check in the winner's circle. Dax says that after that they will take on the Best Friends, who won a backyard comedic battle. Trent says that last week wasn't a battle it was a war. He says that they can do the battle right now. Dax says that Trent's mommy isn't here to do their battles for them, and they call out a ref for an impromptu match. Cash says that they can't do this because Best Friends aren't 100% and they walk off. Chuck Taylor says that at least Santana and Ortiz didn't walk off. 
Thunder Rosa is wearing the Road Warriors face paint in honor of Animal. The heels attack once Shida gets in the ring and they take their turn hitting Shida with the elbow smashes in the corner. Back breaker slam by Shida. Ivelisse interrupts the knee lift but Rosa with the thrust kick to Diamante. Back in the ring Shida gets the slam and tags Rosa, and they hit a suplex combo for a two count. Arm drags by Rosa into a slam on Diamante. Sit up Senton for two. Tag to Ivelisse and the heels get a double kick combo and Ivelisse gets some right hands on Rosa. She drops Rosa on the ground with a side powerbomb for two as we go picture in picture. 
We're back and Shida gets a two count on Diamante. Knee to the midsection by Diamante and she tags Ivelisse who hits an impressive DDT for a two count. Step up enzuguri by Shida and she holds up Ivelisse for a knee smash, and Rosa hits Shida instead. Sliced Bread by Ivelisse for two as Rosa breaks it up. Diamante picks up Shida for Code Red but Thunder Rosa hits the Tiger Driver into the Falcon Arrow for the two count as Ivelisse breaks it up. Rosa and Ivelisse goes to the outside. Meanwhile Shida hits the knee smash on Diamante and they get the three count. [***] Regarding an AEW Women's Tag Match, yes it was the best one they had yet. Solid action and hopefully we'll see more of this in the future.
Dasha is standing backstage with Chris Jericho regarding Kassidy's message. Le Champion says that Isiah is showing a lot of courage, but next week is not his time. MJF comes up and says that what Kassidy did was deplorable, and Jericho agrees. They compliment one another, but they say why they call each other a loser. They said that they were calling the limo driver and Tony Schiavone a loser. They walk off. 
Time for the main event, as Eddie Kingston takes on AEW World Champion Jon Moxley. They tie up and Kingston gets the takedown only for Moxley to reverse it. They get into another lock up and Kingston brings him down. Mox with the reverse into an elbow collar lock up. They slap one another as JR brings up their history together. Moxley begins to go to work with some right chops and elbows. Enzuguri into the clothesline by Kingston. He throws Moxley out of the ring. As Kingston follows he tries to rip the earring out of the champ. Punches by Moxley but Kingston reverses it by throwing him into the scorer's table. They go picture in picture as Kingston stays on the attack. 
We're back and the combatants are back in the ring as Kingston has Moxley in an elbow lock to the head. Moxley fights out of it but Kingston gets some strikes until Moxley clotheslines him. Tope suicida by Moxley as Kingston rolls outside. He rolls Eddie back in and hits him with the pile driver. Fortunately the ropes are nearby as Eddie's foot hits the ropes at two. Clothesline in the corner by Moxley but Kingston with the powerbomb for two! Spinning back fist is avoided by Moxley but Kingston starts trading shots with him. Headbutt by the champ into a series of German suplexes by Kingston for two. Frustrated he takes Moxley into the corner and starts chopping him. Spinning back fist missed again and Moxley with the sleeper to a Bulldog choke and Kingston passes out! [***] A well paced match that showed how veterans can work when given time.
After the match the Lucha Bros come out to attack Moxley but Will Hobbs is here to help as he knocks them down but the numbers game is too much. Finally, Darby Allin's music plays and he knocks them out with his skateboard. Here's Ricky Starks with the absolute spear. Taz comes out without Brian Cage and the heels are taking advantage. Starks hits Allin with the skateboard and Kingston has Moxley in a rear naked choke. Starks with the Rochambeau to Darby as we close.
ANALYSIS: 8 This show started slow but really picked up in the second hour with a lot of storytelling. Each match was strong and it was great to see the younger stars get more time to speak.