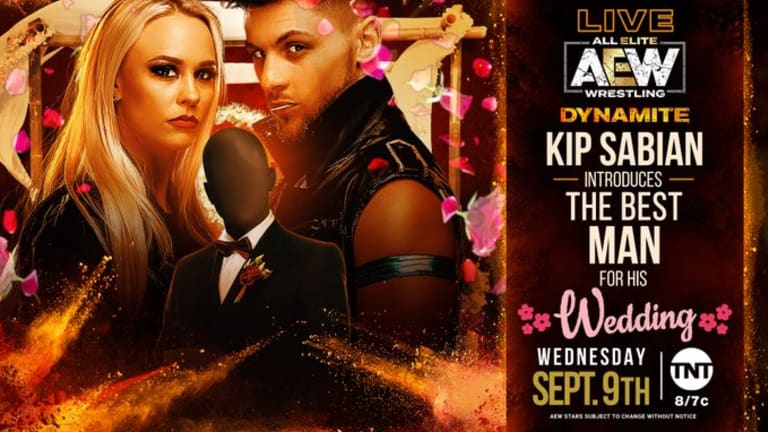 AEW Dynamite LIVE Coverage and Analysis
We start with Tony Schiavone who is outside the arena and suddenly pulls up two vehicles, and it's Jericho in one car and MJF in another. Le Champion puts MJF over in his efforts on Saturday, saying he will be champion soon. MJF says that he's disgusted how Jericho even had to touch the man who puts his hands in his pockets. They socially distance elbow one another, only to call the other one a loser when they walk away. 
Fenix and Jungle Boy starts us off. Perry gets the headlock off the tie up in the corner. Whip into the corner and an arm drag. Chops by Fenix onto JB's chest. Fenix comes off the ropes with an impressive arm drag of his own. Punches by Fenix and he tags Penta. Assisted splash by the Lucha Bros. Chops by Penta on the ropes. JB escapes the package piledriver and he tags Luchasaurus. Lateral press by the big dinosaur for two. Penta goes outside, where we see Butcher, Blade & Eddie Kingston. Back in the ring he slaps Luchasaurus, who returns with one of his own. Crossbody by Penta but Luchasaurus gets the tag to Jungle Boy who hits the crossbody of his own. Top rope suicida onto Fenix but Penta hits him with the superkick when he gets back onto the apron. Jungle Boy kicks out at two. He kicks Jungle Boy in the leg. Surfboard by Penta. Tag to Fenix who clubs Jungle Boy in the back. He ducks the clothesline attempt to get the hot tag to Luchasaurus. Kick to Penta and the slam to Fenix. They go into the corner and Luchasaurus hits the knee to Penta and then a top rope chokeslam to Fenix, throwing him all across the ring. Penta breaks up the count. Tag to Jungle Boy and the face duo whips Fenix into the ropes but he reverses it into a shoulder block to Luchasaurs. Gory bomb to Jungle Boy. Tag to Penta, who hits the slingblade on Jungle Boy. Tag to Fenix and they hit the Ciera Miedo, but Jungle Boy kicks out! Kingston is yelling at the ref. They try it again but they collide with each other and Jungle Boy rolls up Fenix for the victory. [***] An impressive match, and a surprising win for the Jurassic Express.
Afterwards the bros start shoving one another until the Butcher & Blade break it up. Kingston says that they are here, not the little British guy (PAC) or the Blade's wife (Allie). Kingston says they should be running this place and becomes a greater peacemaker than Jimmy Carter at the Middle East Summit as the hermanos shake hands and hug. Kingston says that he was never eliminated in the Battle Royal, but someone may want to show him the tape. 
We see Jake Roberts standing with Lance Archer, saying that they are here to trash cars, not flash them. He says that he's had all the time in the world to prepare for the Murderhawk Monster, but there will be nothing but despair as they get ready to battle. 
Matt Hardy comes to the ring, and receives a warm reception from the crowd. This crowd is way better than Saturday night. He talks about what took place during his match with Sammy Guevara and he's been humbled by the support he's received. He says that he is expected to make a 100% full recovery. He points to his wife Reba Sky and his child as he apologizes for what happened. The match wasn't what it it was supposed to be, but he's glad that his rivalry is over with Sammy and will return when he's healthy to chase his first AEW title. It was the right call by AEW to have him come out and speak. 
Angelico of TH2 comes out as he gets ready to face the winner of the first Mimosa Mayhem Match, Orange Cassidy. As he walks toward Jack Evans, Angelico blindsides him and then they begin exchanging wristlocks. Angelico stops him from putting his hands in his pockets and then gets the elbow lock. OC avoids the charge and hits the swinging DDT. Angelico with the Dos Mio headlock. OC grabs the ropes as they break. Angelico goes for the charge in the corner and OC avoids it. Top rope suicida by Freshly Squeezed. He goes up top and hits the crossbody. Superman punch by Orange Cassidy and he gets the win. [**] SQUASH CITY
Afterwards Santana and Ortiz attack Orange Cassidy until the Best Friends come out. Chuck Taylor gets on the mic and challenges them to a parking lot match next week. 
Alex Marvez knocks on the door of the Young Bucks, trying to get an update, and as the door opens....SUPERKICK PARTY! Matt Jackson slams the door. 
Tony Schiavone is in the ring and he is asked to leave by the happy couple. He puts over his Twitch channel and then introduces who it is. Some big guy named Puff comes out but he's not it. They try this again and this time it's Brian Pillman Jr. Kip says that they're not even friends, and that his birthday sucked. He says let's do this one more time, and it's...RUSEV!!! Actually it's Miro in his real life name. Chants of 'Miro Day' throughout the arena and he's sporting a blonde do. He grabs the mic and says that 10 years in a glass ceiling with an imaginary brass ring. He is picked because he is elite. If anything it will get people talking. 
Tony is interviewing Hangman Page, who asks him if he wants a drink. Page says that he's alright but his ribs are injured. Tony asks how he's really feeling, and Page says that for 30 minutes he couldn't hear a sound, because it was inevitable. It didn't have to happen. He takes responsibility for FTR becoming the number one contenders. He says that regarding he and Omega, they've had a lot of problems but a lot of victories. He's confident they will get through them. Someone should tell that to Mr. Clean. 
Chris Jericho and Jake Hager are in the ring as they face Sonny Kiss/Joey Janela. He starts off with a clothesline to Jericho and then the tag to Sonny. They hit the Hot Shot and then Sonny hits Hager with an elbow. Jericho takes advantage of the distraction so he places his knee on Sonny's neck. Janela breaks it up and hits Hager with a boot to the chest. He gets a chair and hits Jericho with it, since the match is no DQ. Janela then takes the chair and launches into the corner with it as we go picture in picture. 
We're back and Jericho is beating Janela in the corner. He reverses course and throws Jericho in the corner where the chair is located. Tag to Hager who runs into a series of kicks by Sonny. Roll up by Sonny for two. Another kick by Sonny for two. Jericho grabs the trash can and Sonny hits him in the chest. They go outside and Hager throws Janela onto the table but Sonny responds with the crossbody. He puts Jericho in the corner and then hits the springboard kick on Hager and then the axe kick on Jericho. Sonny goes up top for the split leg drop but Jericho uses the fire extinguisher on him. Hager with the Rock Bottom for the win. [**] It was a typical Indy match. 
Jericho says that the Inner Circle had a horrible night at All Out. They say that are going to build up their wins as they head for the tag team titles. 
We see MJF talking about his loss to Moxley. He talks about how Moxley cheated to win the title. He blames the campaign because it was supposed to bring change and says that it is over. He says that he's tired of Nina smiling and she can go too. Wardlow asks him a question and MJF reminds him who signs the checks. He says that it's time to get right back on top where they belong. 
We get the AEW World champ Jon Moxley saying that he knows that he is unstoppable, and at this point would anyone really bet against him?
FTR is in the ring with the rest of the tag team division standing on the outside. Tully Blanchard grabs the mic and puts over the new tag team champions. Despite the hot temperatures FTR overcame great opponents in Hangman Page and Kenny Omega but they became the champions. Cash grabs the mic and runs down the other teams. Dax says that they are the locker room leaders now. The top guys in AEW. Next week Jurassic Express gets the opportunity to face FTR but it's in a non-title match. Luchasaurus gets into the ring along with Marko Stunt. FTR proposes a toast but Jurassic Express is in no mood. The heels duck out of there but Marko Stunt dumped a cooler of ice on the champs. 
Ricky Starks comes out in Darby Allin facepaint and pretends that he is hurt. He says that Darby is not relentless but reckless, that's why no one wants to tag with him. 
Time for action in the Women's Division as it's Tay Conti vs. Nyla Rose. Tay has a lot of emotion on her face as she makes her Dynamite debut. Tay dropkicks Nyla and bring her to the ground. However, Nyla recovers and throws the Brazilian out of the ring. While the ref is distracted, Vickie Guerrero scratches the eyes of Tay. They go picture in picture. Back in and Nyla throws Tay Conti into the corner. She tries for a sunset flip but the Native Beast slams her into the ground. Tay Conti with the armbar on Nyla Rose but she picks her up...BEAST BOMB for 3! [**] Impressive debut for Tay but it was all for naught.
After the match Nyla starts to attack some more on Tay Conti...but here comes SHIDA with Kendo Stick. The heels walk off.
Apparently the Bucks have been fined $5000.
JR talks with Kenny Omega, he says that losing a title is part of the game. He says that despite the off-again on-again chemistry with Hangman Page, they clicked as a tag team, despite coming in as a singles wrestler. JR asks what's next for Kenny Omega and he says that it is a deep tag team division. If Page wants to get a rematch for the belts, he may need to find someone else, because he plans on going solo. 
It is announced that on the anniversary show of Dynamite on October 1, Lance Archer will take on Jon Moxley for the championship. 
Both competitors take the fight outside and Dustin slams Lee into the steel steps. He drops Alex Silver and finally the bell rings. He and Lee exchange blows as we go picture in picture. We're back and they're still throwing haymakers. Canadian Destroyer by Dustin for a two count. Slap by the Exalted One. Cross roads by Dustin for a two count! They spill onto the outside and Dustin hits him with the gut kick. Silver comes in the ring and he eats a slam. Piledriver by Dustin and Lee grabs the ropes. Lee takes off the straps and they exchange chops. Discus lariat by Dustin for two! Bossman slam into a thrust kick by Brodie Lee. Discus clothesline by Brodie Lee for the three count and he retains. [**1/2] Strong match by both competitors.
After the match the Dark Order comes out with a beaten QT Marshall. Lee orders Colt Cabana to the back, and they begin beating down Dustin with a low blow. 
BREAKING NEWS: Cody has an announcement, and it's a game show. At least they're filming it in my hometown of Macon, Georgia.