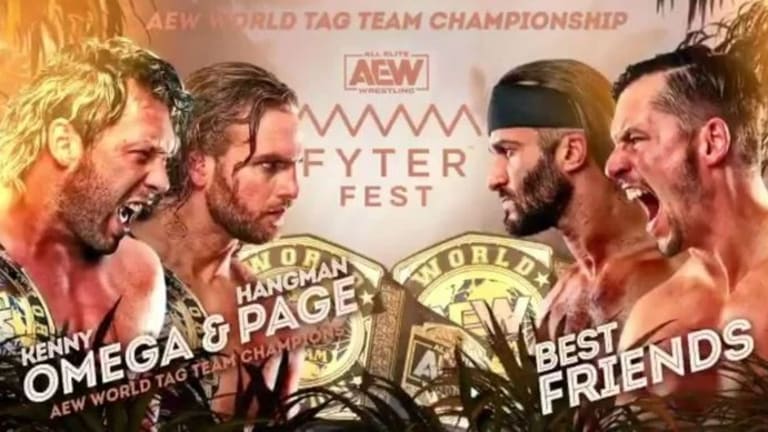 AEW Fyter Fest 2020 Night 1 Review
Fyter Fest 2020 is set to have a championship filled night, with three title matches on the card. We have the Best Friends taking on Hangman Page/Omega for the Tag Team Titles, AEW Women's Champion Hikaru Shida fighting Penelope Ford, and TNT Champion Cody going up against the Inner Circle's Jake Hager. Also, we will have the Jurassic Express continuing their feud against MJF and Wardlow. Finally, Santana and Ortiz will take on Private Party in tag team action. 
We got the pyro going and here comes Le Champion! He comes out with a maple leaf jacket representing the North. Jericho is heading towards the booth on commentary and immediately does what he does best, go after Excalibur. 
First match is MJF, wearing a very festive robe, along with Wardlow, who defeated Luchasaurus last week in a Lumberjack match. MJF gets on the stick. He says that he's got a case of deja vu and is tired of facing Jurassic Express. Nice of him to admit that they are in a ratings war, which they lost decisively last week. Jurassic Express comes out and storms the ring. JB and MJF trade blows and Jack Perry with the clothesline. Out on the apron JB tries a reverse hurricanrana but Wardlow breaks it up. MJF kicks him on the head and challenges the large dinosaur to enter in. He tags Wardlow and the giant hits a fallaway slam. Tag to MJF but JB with the throw into the corner, and he kicks Wardlow. MJF cuts off the tag attempt. He eventually tags Luchasaurus but the ref didn't see it and tells him to get back in the corner. Backdrop by MJF for a two count. Tag to Wardlow who backdrops JB. Back comes MJF and they flip over Jungle Boy who avoids their attack and finally tags in Luchasaurus, who cleans house on the heels. Spin kick to MJF and then to Wardlow. Boot to MJF and he tags in Wardlow. The two hosses pick up where they left off from last week by trading punches. Suplex by Wardlow. Backdrop by Luchasaurus. Tag to JB while Wardlow tags MJF. Jack Perry with a series of suicidas to MJF. Wardlow trips up Jungle Boy and throws him over the railing, but he counters with a kick to the head. Luchasaurus with a somersault over the ropes! Back in the ring Jurassic Express with the double team but Wardlow breaks up the two count. He reverses the hurricanrana by JB but eventually he gets it off. Clothesline by Wardlow. MJF scratches the eye of Luchasaurus and gets the boot to the face. Both teams get up and Jungle Boy with the Canadian Destroyer. Escalara attempt caught by Wardlow, and Marko Stunt jumps at Wardlow but he throws him at Jungle Boy. In the ring, MJF rolls up Luchasaurus but only gets a two count. Tag to Wardlow, who hits a moonsault for a quick two count. MJF grabs the diamond ring to hit him but misses and hits his body guard. Jungle Boy pulls MJF out of there. Kick into the shooting star press by Luchasaurus for the three count! [***1/2] That was a great opening match and it teased the eventual breakup of Wardlow and MJF. The faces needed to win this after they lost too much to these guys recently. This feud is far from over.
We're back and PUPPIES! They're going to have the AEW Puppy Battle Royale. Yeah that'll put butts in seats....
Archer is going after Joey Janela, hit opponent for next week, and Sonny Kiss breaks it up. 
Time for the Women's Championship as Hikaru Shida takes on Penelope Ford. The challenger comes out with Kip Sabian and Shida comes out with her kendo stick. Dr. Britt Baker continues to send notes to Tony at the booth. Meanwhile in the ring, Kip puts his hands on Shida and is told by the ref to leave, but he takes the kendo stick with him. The bell rings and Shida with the knee strike. Ford reverses out of the Falcon Arrow and avoids the knee for a roll up. Two count and Ford gets out of the ring but Shida kicks her in the chest. They continue battling outside and Ford throws her into the railing. Shida picks her up and drops her on the apron. Running Knee to the head of Ford. Back in the ring, Shida charges but Penelope kicks her and hits her head on the corner. Waistlock into a German Suplex for two by Ford. Mounting punches and Ford takes advantage while we go to break. 
Back from break and Ford has Shida in a camel clutch but the champ grabs the ropes. Shida with a knee to the gut but Ford with a counter for a back drop and gets a two count. Slap by Shida and they exchange slaps until Shida kicks Ford in the back of the head. Pump kick by Penelope! Springboard cutter is thwarted into a sleeper by Shida, who puts her in the backbreaker. Another back breaker attempts gets only a two. Falcon arrow but Ford reverses it into a two count! Running knee to the face of Ford. Up top, but Shida misses the dropkick, Cutter by Ford and Shida barely kicks out. Ford goes to the referee and heads out to grab the title but the ref stops him. Meanwhile, Sabian comes back and attacks with the kendo stick, but Shida kicks him and blasts him with the stick herself! Ford with the cutter but Shida gets out at two. Ford goes up top, and misses the moonsault. Running Knee by Shida and another one. Falcon Arrow again but Ford kicks out! Running knee one more time and that'll do it, as Shida retains. [****] That was the best women's match in AEW since Riho beat Nyla Rose in DC back in October. Both women came out and were furious, a series of reversals and kept the fans on the edge of their seats. 
Taz does a video on Moxley's Paradigm Shift and how his tutelage Brian Cage can avoid it in next week's match. 
The TNT Championship Match is on the line next as Jake Hager (with his wife) about to face Cody (w/Coach Arn). The bell rings and here we go! They avoid one another until the lock up occurs. The combatants lock up again and Cody hits a running forearm; he tries again until Hager throws him down. Chain wrestling by each as Cody gets the headlock. Hager tries to grab the waist. He grabs the champ and runs him into the corner. Cody, staggering, throws Hager in the corner but the MMA star reverses it and blasts him in the stomach. Leapfrog reverse into a roll up for two. Ankle lock counter by both. Arn starts yelling at Hager but he picks up to Cody's attack. Undaunted, the champ goes up top and hits Hager with a flying elbow. Cross body caught by Hager but Cody with the drop toehold. Cody goes for the Figure Four. Hager grabs the ropes. Disaster Kick by Cody, but his second attempt is caught by Hager as he bodyslams him. Hager goes outside and begins choking Arn and then suplexes Cody as they go picture in picture. 
Back in the ring and Hager has Cody in the ring and he is hitting him with punches. Cody tries to punch up but Hager isn't having it. Knee to Cody and throws him out to attack him again. Hager is about to throw him into the post but Arn stops him, allowing his tutelage to take advantage. Back in the ring, Hager gets a sleeper but Cody reverses it into a two count. Another sleeper by Hager and Cody drops him. Diamond Cutter by Cody from the top rope! Hager kicks out at two. Off with the belt and a pump kick to Hager. Punches by Hager and the uppercut. Scoop slam by Cody only gets a two count. Charge into the corner and kicks to the gut by Hager. Vader bomb gets two! He throws Cody around the ring with a toss. Cody reverses the Vader Bomb into a reverse DDT for two! Cody limping to the top rope and Hager catches him, throws him across the ring but only gets two. Ankle lock by Hager but Cody grabs the ropes. Mrs. Hager slaps him but while the ref is distracted Dustin hits Hager. Cody countered the Arm Triangle into the three count! [****] It gets the extra star for being a well paced mat training match. Great job of Cody getting the reversal for the win. Solid match by both guys. 
We get a video vignette from Darby Allin who is skating while he's waiting to be medically cleared. 
We're back and Orange Cassidy walks up the commentary booth, much to Jericho's dismay. Tag team action as Santana/Ortiz get ready to face Private Party, who are accompanied by Matt Hardy. Santana and Kassidy start off and Isiah is allowed one free shot and he takes it. Kassidy avoids the charge and a Willow in the Wind by Quen with some serious hangtime on the outside. Kassidy makes the tag to Quen, standing moonsault for a one count. PP works Santana in the corner as they hit the step up enzuguri! Santana gets Kassidy on the ropes and chops him. Tag to Ortiz who comes in with the DDT. Octopus stretch by Ortiz, and he tags Santana as we go picture in picture. 
Back in the match Ortiz has Quen in a stretch while Santana is tagged. Abdominal stretch and the OC is just chilling. Hot tag to Kassidy and he goes after both guys. Shots to Santana but avoids the double team. Spinning dive on the outside! Swanton by Kassidy onto Ortiz only gets the two count. Tag to Quen and he tries for a top rope suplex as Ortiz fights him off. Top rope powerbomb. Cannonball by PnP onto Quen but Kassidy breaks up the two count. Santana throws Kassidy into the barricade. Tag to Santana, who has the sock of baseballs but Hardy takes them away. Quen rolls up Santana for two but he kicks out and thrust kicks Quen. Tag to Ortiz for the Streetsweeper but Quen breaks it up by pulling Santana's bandanna over his eyes. In comes Kassidy to break it up, Gin and Juice connects!!! 1,2,3 [****] Great match by these young teams as they had fluid action with no shenanigans. Private Party is thriving with Hardy in tow. 
Afterwards, a frustrated Jericho throws some juice on OC and people come in to keep them apart. 
Back on and Dasha is interviewing the tag team champs. Page says that while Best Friends are great but when it comes to deserving, the term dries up. Le Champion has left the booth. 
Interesting that the tag team titles will be defended next week as well with the AEW World Championship match being moved to July 15th at Fight for the Fallen. Has to be due to Mox's COVID-19 situation. His opponent, Brian Cage, comes in with Taz to talk about the change and that they are not bothered by the change. Taz says that he talked with Tony Khan, and that Moxley is concerned about the well being of everyone there. He has been tested not once but twice according to Taz, and that at AEW they don't run a sloppy shop (IT'S A SHOOT!). He says that Mox has a case of being scared and they are ready for whenever they have to fight. 
Main event time as Best Friends are being escorted by Trent's mom in the minivan. How's that for motivation? The Champs comes out as Page gets in Trent's face. Omega starts with Taylor and they lock up. Hiptoss by Chuck and he avoids the boot. A scissors by Omega and both guys tag their teammates. Shoulder block by Page and they exchange blows. Backdrop by Trent as he tags his partner. Double shoulder block to the Hangman as Chuck gets the two count. Page drops the Best Friends and suplexes Taylor onto Trent as he tags Omega. Backbreaker to Trent. Tag to Page and they get their chops in. Omega with the Kutaro Crusher and the drop by Page. FTR walks in with beach chairs to observe. In the ring, Omega gets some hammerlocks on Trent near the corner. 
MIP as Page is throwing Trent in the corner. Clothesline by Trent and a Tornado DDT to Omega. Tag to Chuck who hits the leaping flip over the rope to the champs. The tope by Trent onto Omega right into Taylor as he tosses him over the railing. Into the ring, Chuck gets a two count on Page. Tag to Trent. Soul Food combo broken up and Page with the fallaway slam on Trent. Over the top to Chuck and a lariat onto Trent! Tag to Omega who hits the missle dropkick from the top rope. Fishermen suplex gets two! Steamroller by Omega onto a splash but Trent knees him in the gut. Tag to Chuck with the spike piledriver but only gets the two count. Knee by Chuck but Omega with the snapdragon suplex to each member of Best Friends. Tag to Page and the champs charge into the corner, hitting the Best Friends. Backdrop by Page into the powerbomb. Trent kicks out at two. Last Call Attempt broken up by Chuck. Strong Zero! Omega stops the pinfall. Knee strike by Omega. Chuck with the powerbomb. Hug by the Best Friends. Boot by Page. Page and Trent go at it in the ring. Rolling Elbow Strike by the Hangman and Trent goes for the roll up for 2 and a 1/2! Trent kicks out of the Deadeye by Page. Off comes the elbow pads, and Page with the Buckshot Lariat for the three count! [***1/2] Solid match by both teams. There seemed to be an audible call towards the end due to timeframe, but they put on an enjoyable match. 
Afterwards FTR comes in offering brewskis to Page and Omega, but Omega pours out the beer. Of course Page drinks his, but Cash isn't feeling the gesture and gets in Omega's face. The Young Bucks come out and somehow Page is on the side of FTR as we go to black.
OVERALL: 9 This is what AEW does best when they just focus on matches. Each wrestler raised their level tonight and put you on the edge of your seat. It will be interesting to see what happens next week.