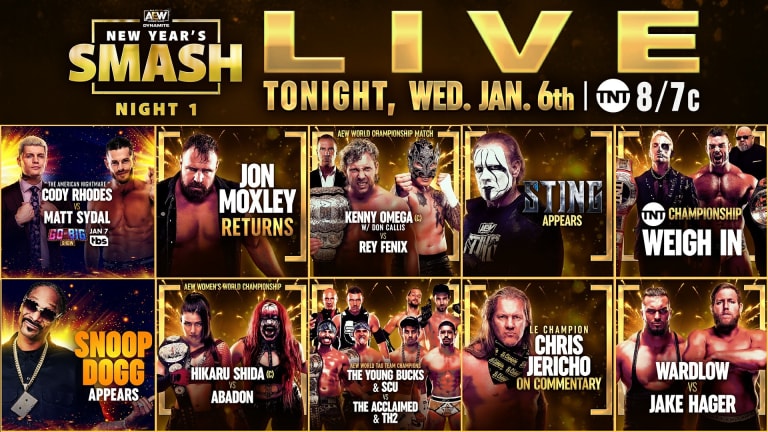 AEW New Year's Smash Night 1 Recap
Time for the first episode of Dynamite in the new year! Justin Roberts is in the ring and here we go...
YOUNG BUCKS/SCU vs. ACCLAIMED/TH2: Caster came out with the fire on the lyrics, namedropping John Cena and calling out Snoop Dogg! Immediately they all start going at each other, including a furious assault by SCU on the rapping duo. Dropkick to Angelico, and a jump onto the pile of heels by Nick Jackson. Arabian Moonsault by Daniels defended by Owens. Jack Evans iwth the twist kick to Daniels. Inside, the Acclaimed double team Daniels with an elbow. Hot tag to Kaz who drops TH2 and gets a nasty chop on Angelico. Evans misses the kick to Kaz and gets dropped with a German suplex for two. Evans with the sky twister press for two. Tag to Bowens and he hits the clothesline. Misses another and Matt Jackson gets the hot tag. He hits the drop kick and then goes wild on the heels with a series of planchas. Slam to Bowens. He goes up top and hits the splash on two guys. Nick gets up top and they hit the Risky Business for two. Buckle Bomb turned into a rear kick to Bowens. Powerbomb by Matt gets two. Double knee strike by Kaz and Nick for two. Tag to TH2 who gets a double neckbreaker. 630 by Evans misses and the Young Bucks hit the double superkick. Meltzer Driver attempt broken up by Bowens. Daniels tags in and and they attempt the Meltzer Driver but instead Nick jumps on the heels outside. Best Moonsault Ever! [**] A spot filled match but great chemistry by the teams. 
Afterwards Kaz grabs the mic and says they will be together until they lose. Daniels says they will one day challenge the Young Bucks for the titles, and the brothers agree. 
THE RETURN OF MOXLEY: The former World Champion makes his first appearance since losing his title. He grabs the mic and says that he was not going to complain about what happened and is a waste of time. All you can do is take it on the chin and don't back down an inch. His response is to attack both Kenny Omega and Don Callis but not tonight. He puts over Rey Fenix ahead of his match with Omega but vows revenge. 
Chuck Taylor and Orange Cassidy talk with Dasha. They say that Trent will be out 5 months. MIRO and Kip come out and insult the faces. Chuck challenges Miro next week and says that if he loses he will be his 'young boy.' 
WARDLOW VS. HAGER: Both of the Inner Circle henchmen come out with no support from the Inner Circle. They lock up as the group finally shows up. They strike like two bulls clotheslining each other. Wardlow with the leapfrog and they wind up on the outside of the ring as we go picture in picture. 
As we return we see Wardlow picks up Hager and then hit a series of suplexes. Standing Triangle is broken up. F10 by Wardlow gets the three count [***1/2] Great hoss match and Wardlow continues to impress as one of AEW's best big men. 
Afterwards the two henchmen dap hands and all is well with the Inner Circle.
Private Party is asking for the Gin & Juice and of course, SNOOP shows up with mind on money and money on the mind. Big Money Matt comes with contracts of his own for the tag team group and allows them to keep their third party platforms. Snoop asks to join the party. 
WEIGH-IN BRIAN CAGE VS. DARBY ALLIN: Taz objects to his tutelage getting on the scale first. Cage obliges and weighs in at 272. Darby doesn't trust Team Taz as he stares at them once he gets on the stage. He weighs in at 170 pounds. Taz grabs the mic and says that he has all of his gear on. Darby says for them to go ahead and let's get into a fight and as Team Taz prepares, here comes STING! Bat in hand the heels back off. Afterwards the legend approaches Allin and they stare at one another. 
Afterwards MJF comes to the back and tries to console Hager. He gives encouragement for his record in the Octagon. Hager gives him a pound and tell him to get out. 
We get a recap of Marko Stunt and -1 arguing on AEW Dark. The team is with Alex Marvez when FTR interrupts. Next week it's going to be Marko Stunt/Jungle Boy vs. FTR. 
CODY RHODES VS. MATT SYDAL: Snoop Dogg comes out to Cody's remixed music. No Coach Arn tonight so Snoop has the playbook. Impressive set of arm drags to being. Sydal hits a splash and almost hits the Dogg on the outside. Back in the ring Sydal throws him over the ropes and then kicks him to the barricade. Cody misses a fist strike and knocks out Serpentico. Bodycross attempt by Sydal is reversed into a Texas Cloverleaf. Sydal grabs the ropes. We go the Barbecue invested picture in picture. 
We're back and Cody hits the top rope reverse suplex for two. Cody back up top for the moonsault but Sydal throws him off the top. Knee strike by Sydal but the shooting star press is blocked. Reverse DDT gets two. Tilt a whirl into a crossface clutch. Elbows by Cody but Sydal hits an elbow. Rhodes with the Disaster Kick for two. Electic Chair is reversed by Sydal for two. Kick by Sydal into a Lightning Spiral for two. Knee strike avoided by Cody into the CROSSROADS. The EVP hits one more for three, and great analysis by Jericho to mention that he had to do it again to move him off the ropes. [**] Decent match.
Serpentico and Luther attack afterwards but Sydal helps out Cody and here comes SNOOP! He gets up top and hits the bodypress. Jimmy Snuka he's not.
ABADON VS. SHIDA, AEW WOMEN'S CHAMPIONSHIP MATCH: Starting it off like a real feud should be, both competitors going at it. Shida cracks the kendo stick but Abadon no sells it. They get int he ring and Shida throws some rights at her. Drop kick by Shida puts down the zombie. Shida takes off the straps. Abadon on the apron and Shida goes for the knee strike and Abadon bites it. She takes Shida to the barricade and knocks her down. She tries to drag Shida under the ring while the ref tries to bring them out. Abadon comes out with blood on her mouth. Shida comes out with blood on her neck. Abadon throws her back in the ring. Punches in the corner by Abadon. She goes up top, facebuster for two. She plants Shida's face to the ground while we go picture in picture. 
We're back and Abadon has Shida in the ropes. She goes up top and splashes the zombie on the outside. She slams Abadon's head into the barricade. Top rope suplex by Shida! Charging clothesline by Abadon. Sunset flip by Shida gets two. Running knee strike by Shida finishes it! [**1/2] The commercial break hurt the match but this may have benefitted if it was a no DQ. 
REY FENIX VS. KENNY OMEGA, AEW WORLD CHAMPIONSHIP MATCH: Only two sweepers out tonight for Omega. The combatants take their time to soak in the cheers and then lock up. Midsection lock up by Fenix into a single leg takedown. Omega into a stomp and then an arm lock up. Hurricanrana by Omega. Fenix gets one of his own on the outside. Back in and Omega reverses out of the Swinging DDT and hits the chop, knocking Fenix outside. They exchange chops and go into the barricade. Don Callis tells Omega to go back inside to keep the count going. He goes out and eats a couple of elbow strikes. He charges towards the champion who hits the snapdragon. They go back in and Omega with the Kutaro Crusher for two. Fenix slaps him int he chest a few times, and they exchange blows until Omega takes advantage. He hits Fenix in the back with an elbow. Back body flip is reversed and Fenix hits the flying elbow. Chops by Fenix. He climbs to the top but Omega knocks him to the ropes. Springboard dropkick by Fenix. Flying somersault that almost takes out both Omega and the Gunn Club! Back in and he hits chops in the corner. Omega going for the One Winged Angel and Fenix escapes. Double boots by Fenix into a back body drop for a two count. 
We're back and Fenix turns a suplex attempt into a thrust kick. 916 attempt blocked into a V-Trigger, but Fenix ducks and hits one of the most impressive kicks you've ever seen. Tornado bomb into a rising knee strike. Powerbomb gets two. Another V-Trigger gets two. Omega sets up and hits another V-Trigger. Reverse Hurricanarana by Fenix. He goes outside and Callis baits him. He goes back in and Omega hits another V-Trigger. Knee strike by Fenix. Swinging Cutter by Fenix off the top rope! Thunder Driver for two! Stomps by Fenix. He goes up top, shimmies like Eddie Guerrero and Omega hits the knee on the frogsplash. Kenny takes him up top but Fenix hits the knee and boots him. Omega catches him with the Tiger Driver. V-Trigger gets only two. Kenny gets him up...One Winged Angel and that's the three count. [*****] If you were to ask me for three matches in AEW to watch this would be one of them. Best match ever on Dynamite!
Callis grabs the mic and gives the belt to the champion. The music cuts and the Invisible Hand says that we've witnessed history. We go to the back and Death Triangle has been attacked by Eddie Kingston, Butcher and Blade. They go to finish off Fenix, and here comes MOXLEY! Barbed wire in hand, he strikes Omega and HERE COMES THE GOOD BROTHERS!!!!
They attack Moxley and take him down with the Magic Killer. Omega stomps on the former champ and hits him in the back with the barbed wire bat. Suddenly Pillman Jr and other AEW faces come in only to get stomped out by the Impact Tag Team Champions. Another bat shot to Moxley and Omega says, "You made me do the switch." The heels stomp him out. The Young Bucks come in and try to reason with their friends from Bullet Club. Griff Garrison and Brian Pillman tie up Omega but suddenly eat a superkick party! They are enticed to put up the Too Sweet and then...the Bucks put it up too! BULLET CLUB IS BACK IN AEW!