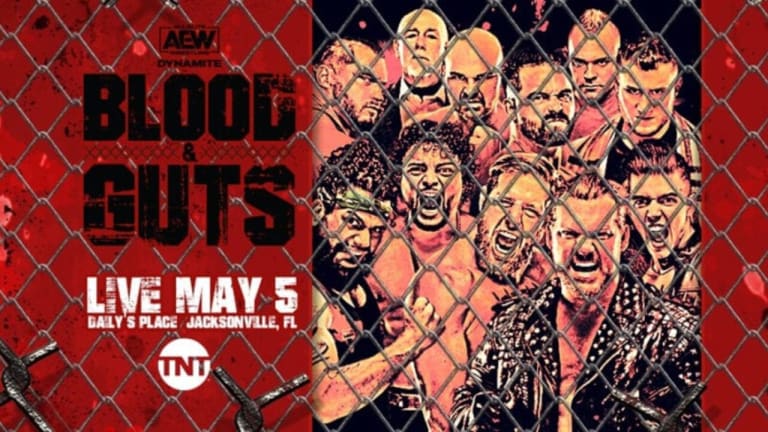 Blood & Guts Recap 5/5/21
It's Wednesday night, you know what that means...
Both rings are already set up in preparation for tonight's main event...
We start off with Michael Nakazawa and Don Callis coming to the ring, sans Kenny Omega. Callis says that MT is going to wrestle by himself as the faces come through the usual Moxley entrance. However, Omega sneaks up behind them and smacks Kingston in the head with the AEW World Championship. They go to the rings and the match begins.
Kingston is attacked early by Omega and MT. However Moxley gets in and takes advantage when they aren't looking. He hits a suicida from the ropes on the outside. Moxley slams Omega's head into the barricade as Kingston works on MT. They get back into the ring where MT gives Kingston a low blow while the ref is distracted. Omega gets a leg lock on Kingston. He drags his head along the ropes. Kick to the back by Omega, followed by the Kotaro Krusher for two. He works Kingston in the corner as Eddie no sells the chops then retaliates with some of his own. Enziguri kick by Omega followed by a steamroller. Kingston hits a flying clothesline then gets the hot tag to Moxley. He stomps MT and then clotheslines Omega. MT throws off his shirt to attack but eats a German suplex. Piledriver but Omega breaks it up. Kingston throws the champ out while Moxley applies the sleeper. Kingston is blocking Omega's entrance and he says that's enough as he walks out. The faces go for the academic half and half clothesline-suplex combo for the win. [**] More storyline than match but it served its purpose. 
Afterwards the Young Bucks, apparently coming back from their Hawaii vacation, show up, but then so do the Good Brothers to attack from behind. Magic Killer to Moxley! Superkick! Omega comes back out along with Brandon Cutler as their cameraman. One Winged Angel by Omega to Kingston! 
It was announced that on Double or Nothing it will be Hikaru Shida vs. Britt Baker. 
Cody Rhodes vs. QT Marshall: Cody doesn't mess around as they use the other ring and he goes right at QT. Front face suplex. He grabs the belt and (for once) he wants to use it, but the ref pulls it, only for QT to use one of his own. He stomps Cody in the corner but the EVP gets a roll up for two. They start exchanging chops and Cody throws him outside. Arn attacks QT and is ejected as we picture in picture.
We're back and QT has a wristlock on Cody. They collide with cross body presses. Cody grabs for QT and it's moon over Jacksonville. Senton by Cody gets two. He misses the disaster kick and QT catches him with a Crossroads of his own for the two count. Cradle by Cody is reversed into a buckle bomb. Tombstone piledriver reversed by Cody into one of his own for two. Crossroads by Cody but QT kicks out at two. He picks up QT but Marshall gives him the finger as Cody locks on the figure four for the submission. [***] It was a pretty good match but the blood was unnecessary.
Afterwards Anthony Ogogo comes in with his one punch man move.
Alex Marvez is talking with Ethan Page and Scorpio Sky, who are talking smack until Darby Allin launches into Page. The heels attack the TNT champion and throw him down the stairs. 
Dr. Britt Baker vs. Julia Hart: She boots Hart in the midsection and scratches her eyes. She whips her in the ropes and hits the slingblade. She picks Hart up and hits the crusher for the one count but has the glove on and gets in the lockjaw. Julia taps and that's all she wrote. [*] SQUASH CITY
Tag Team Elimination Match: SCU vs. Jurassic Express vs. Varsity Blonds vs. The Acclaimed: Coming back from picture in picture we see Luchasaurus chokeslamming the Varsity Blondes. He tosses Kaz around the ring, including a goozle on the Blondes. Kicks to the Acclaimed, followed by double body slams for a two count. Pillman with the flying clothesline on Jungle Boy for two. JB reverses the suplex and clotheslines Pillman. He goes up top but Daniels pushes him down. Flatliner to Luchasaurus. Kaz with the roll up for two. He clotheslines JB but is rolled up by Pillman for two. SCU catches Pillman and hits the BME for the three count. [**] Decent match that didn't get enough time for obvious reasons.
We get a video setting up Moxley's match next week against Yuji Nagata for the IWGP U.S. title. 
Tony Schiavone is with Kenny Omega. The Collector shoots down the main event and boasts about his holding championships. It was announced that PAC vs. Orange Cassidy, with the winner going to face Omega at Double or Nothing. Freshly Squeezed comes out and puts his hand on Tony's shoulder. Omega scoffs and removes his shades. They walk off.
MIRO comes out next and again the wrestler takes the mic from the announcer, I hate that. Anyway, he pulls out a signed contract to face Darby Allin for the TNT Championship. Schiavone says that he may be injured, and Miro doesn't care. 
BLOOD & GUTS
Dax Harwood will start for the Pinnacle and the Inner Circle comes out afterwards, with Santana & Ortiz wearing the Dead Presidents facepaint. Sammy Guevara will start for the IC. He gets a flipping kick on Dax. He unloads with clotheslines and a flip. Toss into the ropes but eats a sick spinebuster. Can't pin though, until everyone is in the cage. He chops Guevara in the corner, but Sammy reverses and pounds Dax's head into the steel. He takes Dax's head on the ropes and they exchange chops. Dax turned his knee and Sammy grabs his face. Face first into the cage. Both men are bleeding as Spears comes in with a chair. Facebuster by Spears. The chair has Spears' logo on it. Guevara valiantly fights off but gets blasted by Spears. Ortiz is next and he comes in with a chair of his own. Shot to Spears! Shot to Dax! Guevara and Spears get on the ropes, where Guevara gets a Spanish Fly. He falls off the ropes and Cash comes in to help his partner. Assisted Brainbuster by FTR. Spears throws Guevara in the cage as he does Ortiz. Spears gets the sharpshooter on Guevara. Gory special to Ortiz. Countdown ends and here comes Santana, who cleans house. Rock Bottom to Cash! Suplex to Dax! We go picture in picture. Wardlow is now coming in. We're back and he is tossing around the Inner Circle. Hager is coming in now and tosses around FTR. Hager bomb on Cash! Ankle lock to Spears. Wardlow and Hager square off and throw punches. Wardlow scratches Hager as MJF enters to a thunder of boos. He lays in shots on the bloodied bodies of the Inner Circle. He stomps on Hager's ankle. They jump Ortiz as the final member enters and it's Jericho. The bell rings and here we go. Each team goes to a side of the cage. It's like the scene of Endgame. They collide and just throw down. Jericho brought his bat and starts hitting like Ronald Acuna Jr. Spears is trying to get out of there but Jericho's choking his head between the cages. We go picture in picture. 
We're back and now the canvas is torn, with the wood exposed. Santana and Ortiz takes FTR and then hits the double piledriver on the wood. Spears takes the turnbuckle off and hits Jericho. Ortiz takes him down into the turnbuckle. Guevara with the RVD Coast to Coast on Spears! Take that Shane McMahon! Jericho smacks MJF with the turnbuckle post. Santana grabs a fork and goes Abdullah the Butcher on MJF. He's a stuck pig. Jericho has Wardlow in the choke with the bat. Hager is ripping Cash's face in the cage. Jericho blasts MJF in the face while Hager is holding him. Wardlow gets his second wind and tosses Hager. Chairshots by Ortiz. Guevara gets one in of his own. 
We're back and MJF is on the top of the cage and Jericho is pursuing. Tully apparently punched the ref and stole the key, allowing MJF to escape. Walls of Jericho on MJF! Low blow by MJF! Salt of the Earth on Jericho. He breaks the hold and then steps on Jericho's hand to do it again. Meanwhile, everyone is falling out due to fatigue. MJF grabs his ring and smacks Jericho right in the eyes. MJF looks over the cage then looks at Jericho. He takes Jericho and threatens for Inner Circle to quit or the throws Jericho over the rope. The Inner Circle has surrendered. MJF decides to do it anyway and tosses Jericho off the cage! Jericho falls through the plywood and we go to black. [***1/2] For a first time effort, everything leading up to the ending was great. It wasn't a wrestling match, it was a fight. 
HOWEVER, I took away a * because of the continuous commercial breaks, which hurts the flow. Also, showing Jericho obviously being conscious hurts the effectiveness of MJF's toss off the cage. That said, the right team won and it will be interesting to see where they go from here.