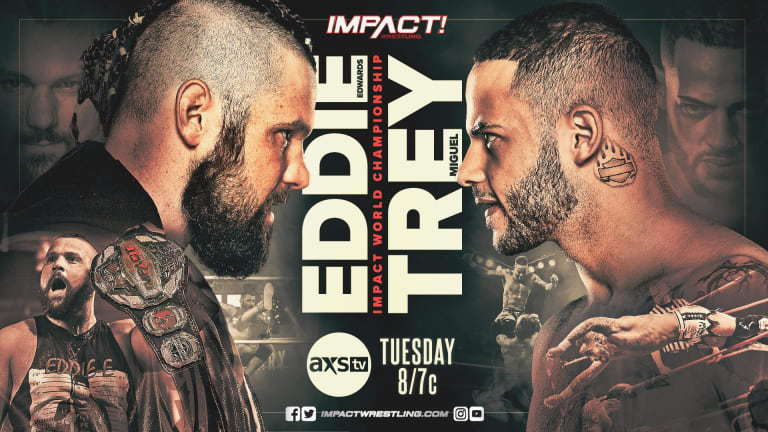 Impact Wrestling LIVE Coverage and Results(7/28/20)
Results:
Eddie Edwards vs Trey(Impact World Championship)
Winner: Eddie Edwards via Boston Knee Party 
Deonna Purrazzo vs Kimber Lee 
Winner: Deonna Purrazzo via Fujiwara Armbar 
The Good Brothers vs Reno Scum
Winners: The Good Brothers via Magic Killer
Live Coverage:
The show opens with a recap of last week.
Eddie Edwards vs Trey(Impact World Championship)
We kick off the night we the world title on the line. 
The bell rings and here we go. Both guys shake hands to shoe respect to each other. They lock up but Eddie pushes Trey into the turnbuckle and they break apart and lock up again with Eddie pushing Trey into the corner. A stalemate is forming as both guys are still locked up but Trey is able to get to the second rope and take down Eddie. Trey is able to stay in control and lock in a sideheadlock on Eddie. Trey comes off the ropes and hit a bulldog on Eddie leading to a dropkick and Eddie getting rhe shoulder up before one. Trey stays on Eddie as he comes up off the mat. Eddie gets to the ropes ans breaks the hold as Eddie hits him with a headbutt then a chop leading to Eddie hitting a belly to belly on Trey. Eddie sends Trey into the corner and hits him in the midsection multiple times. Trey is sent into the ropes but recovers and hits an enziguri to Eddie. Eddie then takes down Trey for a nearfall. Eddie puts Trey in the corner and chops him in the chest then a stomp. Eddie irish whips him into the turnbuckles and gets three nearfalls on Trey. Eddie remains in control and picks up Trey but Trey fights back with punches to the midsection but Eddie hits him with a stiff shot. Eddie pushes Trey into the corner and then irish whips him into another turnbuckle but Trey fights back with an elbow then an enziguri leading to a sunset flip then an a hurricanrana for a nearfall. Trey drags Eddie to the corner as Trey goes to the top but hits a split legged moonsault into the knees of Eddie. They meet in the center as Trey hits him with a forearm but Eddie responds with a back elbow lsading to a superkick from Trey then a chop from Eddie then Trey hits a chop of his own into a pele kick and both guys are down. 
We come back and Trey is in control hitting Eddie with a forearm but they begin to go back and forth with forearms to each other. Trey hits a big forearm that rocks Eddie but Eddie comes back with a forearm of his own into chops to the chest and back. Trey fights back with a dropkick to the back and neck area of Eddie. Trey then hits a springboard low cutter for a nearfall.
Trey goes to the top but Eddie gets back up and Trey jumps and rolls through and almost gets caught into the tiger driver but Trey rolls him up for a nearfall. Eddie then comes back with a clothesline leading into a tiger driver for a nearfall. Eddie looks for a Boston Knee Party but Trey catches him with a flying knee but Eddie comes back with the Boston Knee Party for the win. 
After the match Eric Young makes his way to the ramp as Eddie begs him to come in the ring and fight him. Eric says he does things on his time. 
Welcome to Wrestle House:
We come back as we get a video promo from Talkin' A Shop Mania.
We then go back to Wrestle House as everyone is arguing but Susie and Kylie Rae propose a truce as long as they abide by social distancing guidelines.
Tommy then tells the wrestlers that they are here to win 1 million dollars. 
He then says there are only six bedrooms and everyone runs to claim their rooms.
Acey finds the ring and looks to claim it for his bed but Steve rolls into the ring first to claim it. We then get a match where the winner sleeps in the ring and Kylie Rae is the referee.
Crazzy Steve vs Acey Romero(Winner Sleeps in the Ring):
Acey tries to stomp Steve but he moves out of the way. Acey then charges him in the corner but Steve moves out the way. Acey then tosses him halfway across the ring. Acey then runs the ropes multiple times and Steve tries to compromise with him but gets caught in a full nelson of sorts submission and wins the match and gets to sleep in the ring. 
We then see TJP and Fallah backstage and Rohit shows up but they tell him to put on a mask and stand six feet apart. Rohit then tries to talk TJP into rejoining the X-Division and TJP says sure. Rohit then runs and finds Chris Bey and tells him that TJP is coming for his belt and that he has his back. 
We come back and Ace Austin and Madman Fulton in a backstage interview. They talk about their problems with The Good Brothers and say they took a cheap shot and were just looking to make an impression. Ace says they will be paying extra close attention to their match against Reno Scum.
We then get a video package about Motor City Machine Guns run in TNA/IMPACT.
We then hear from The North on them losing the tag titles to the Motor City Machine Guns.
We then see Katie Forbes showing RVD her photos.
We come back and hear from EC3 running down his resume of everyone he has beaten for the world title in TNA. 
We then get a backstage interview with Moose who talks about his quick victory of Fallah Bahh last week. Moose says he is the most dominant champion and says he will hand out another invitation. Gia then asks about EC3 attacking him and he ignores the question. Heath then shows up and talks Moose into getting a TNA Championship match for next week. Scott D'More then tells Heath if he wins he earns a contract.
We then see Katie Forbes backstage and see bumps into Sami Callihan. She claims that he is a fan and asks for security.
Deonna Purrazzo vs Kimber Lee:
The bell rings and here we go. Lee charges at Deonna with multiple forearms and pushes Deonna to the ropes but Purrazzo shoots her off the ropes but counters with a tiltawhirl headscissors
 and sends Deonna to the floor. Deonna comes back in but gets caught and Lee takes her down for a nearfall. Kimber Lee then locks in a submission hold and turns it into a pinning situation for a one count. Deonna then gains control of the arm and stomps the elbow of Lee. Deonna then stomps the midsection of Lee sending her to the mat. Purrazzo then repeatedly stomps her in the corner before picking her up and attscking the arm of Lee. Deonna sends Lee into the corner and charges her but Lee counters with a submission in the ropes
 leading to a step up enziguri for a nearfall. Lee then trash talks Deonna but Purrazzo comes back with a forearm and back and forth they go with a chop fest. Lee then misses with a roundhouse kick and Deonna looks for the armbar but Kimber Lee moves out of the way and hits a German suplex with a bridge but Deonna escapes and takes down Deonna and snaps her arm back
 leading to the Fujiwara Armbar for the submission victory. After the match Jordynne Grace comes out to the ring. Jordynne then takes down Deonna and a brawl ensues. Deonna is able to escape as Grace stands tall in the ring. 
We come back and see a video package hyping Brian Myers coming to IMPACT.
We come back to Wrestle House and Crazzy Steve bumps into to Johnny Swinger who makes fun of Steve for losing to Acey. Swinger then offers for Steve to be his young boy and Steve accepts. We then see The Deaners who are arguing about both of them snoring leading to a match between them in the morning.
Cousin Jake vs Cody Deaner(Loser leaves the Room):
The bell rings and they trash talk and argue about who was snoring. Cody then calls a truce and Jake looks to do the same but Cody rolls him up for a nearfall. Cody then sends Jake into the turnbuckle faces first then mounts him and lays in the punches. Cody looks for an irish whip but Jake counters and takes him down. Jake then puts on Cody's hat and knocks him down with a huge short arm clothesline for a two count. 
Jake locks in a working hold and Cody fights back with a jawbreaker then multiple punches. Cody looks for a DDT but Jake counters into a Balck Hole Slam for the win.
After the match they call a truce.
Cody then finds an RV to sleep in.
We come back and Sami is trying to talk to Ken but Shamrock isn't ready to talk about Slammiversary yet. Kaite then tells RVD that Sami was the guy who was "flirting" with her.
RVD and Katie Forbes come to the ring to show the world her photos. 
Sami then hacks Katie's photos and puts his face over her face.
We then go to the treehouse and see The Rascalz wondering where Trey is. Dez says he's outside but he should be lifting his spirits up with him. Dez then says he invited a power ranger to the treehouse. Wentz says that power rangers aren't real but Dez says that Suicide is a power ranger.
We then get a medical update from Rich Swann who says that he was out for 7 months just to be taken out by Eric Young.
The Good Brothers vs Reno Scum:
The bell rings and here we go. Karl and Adam start the match. They lock up and Thornstow pushes Karl to the corner and the referee breaks them up. Karl is able to gain control and take down Adam and sends him into the corner and attscks the midsection. Thornstow tries to fight back but Karl counters and sets him up for a running pump kick. Karl tags out to Doc Gallows and sends him into the corner and lays in the rights and lefts leading to him taking him down and drops the elbow. Karl tags back in and reamins in control until Ace Austin shows up on the ramp and distracts The Good Brothers allowing Luster to tag in and take control. 
Luster attacks the head of Karl with elbows before tagging back out to Adam. Thornstow remains in control and hits a standing moonsault for a nearfall. Luster tags back in and hits a headbutt and drags Karl to his corner and tags out as Thornstow hits the ribs and locks in a sideheadlock. Anderson fights back up attacking the midsection but Thornstow remains in control and looks for an implaer DDT but Karl counters into a spinebuster and tags in Gallows who makes the hot tag and he clears the ring. Anderson tags back in and The Good Brothers hit the Magic Killer for the win. 
After the match Ace gets up on the apron allowing Reno Scum to attack but they clear the ring allowing Fulton to show up and attsck them now. Both teams fight to the back. They continue to fight in the back and they head to the outside. Karl is able to take down Ace as Fulton takes out Karl leading to Gallows taking out Fulton who bumps into the cameraman to close the show.
While you're here at Wrestling News World, why not become one of our Premium Members for exclusive backstage news? You can even start off with a 30 day free trial!