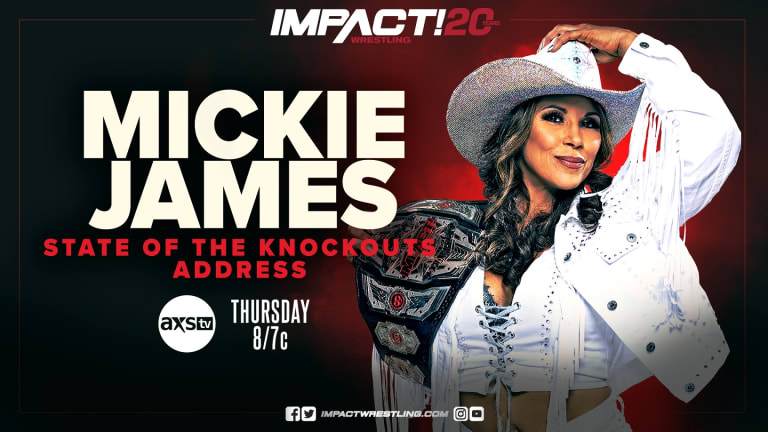 Impact Wrestling Live Coverage and Results 1.27.22
Last week's edition of Impact Wrestling saw Tasha Steelz get under the skin of Knockouts World Champion Mickie James leading to a 2 on 1 brawl and Chelsea Green making the save, the main event of next month's Impact Plus special No Surrender announced and Josh Alexander tapped out former WWE superstar Charlie Haas. 
Tonight we are full steam towards No Surrender on Saturday February 19. Tonight's show will see Knockouts World Champion Mickie James address the Knockouts division plus The IInspiration makes their in-ring return.
This page will be dedicated to live coverage and results of the final IMPACT of the month.
Here is the preview:
Full Results:
Before the Impact:
Winner: Laredo Kid vin pinfall
IMPACTonAXSTV:
Winner: W. Morrissey via BQE
Winners: The IInspiration via Roll Up
Winner: JONAH via Tsunami 
Winner: Jake Something via Into the Void 
Live Coverage: 
Cold Open:
The bell rings and we are underway. Bey comes out of the gate with a shotgun dropkick and keeps up the offense. He then gets caught by the neck from Something and throws him into the corner. Bey uses his speed to get away but Something counters with a HUGE backbody drop and follows up with a big right hand. Bey then slides out to the floor but Something follows him out. Bey then counters Somerhing with a Tiger feint kick before attempting a dive off the apron and getting caught. Chris would slip out of the grip and takes out Jake. Both guys get back in the ring as Bey tries to keep him grounded leading to barely a one count followed by a dropkick. He then leans on the back of Something's neck and pressing it against the ropes. Jake then looks to build a comeback but Bey shuts it down with a neckbreaker for a nearfall. He then kicks him in the spine for another nearfall. Jake then begins to fight back with shots to the jaw before launching him into the corner followed by a running corner splash. Bey comes back with a super kick to the face for a two count. Bey then locks in a head scissors working hold but Jake slips out by T Bey stays on top with a sideheadlock and transitions into a sleeper hold. Jake then bounces Bey into all corners then drops in the center of the ring but Bey holds on. Jake then breaks the grip and hits a belly to belly suplex. Both guys are down but beat the count. Something begins to build momentum and looks for a Powerbomb but Bey counters into a Jacknife pin for  two count. Something comes back with a HUGE powerbomb for a two count. Jake goes for the corner spear but gets caught leading to a double stomp on the spine. Bey goes for Art of Finesse but gets caught. Bey hits a back elbow but Jake takes him down and hits the spear. Jake goes for the finish but Bey slips out and hits a rear hurricanrana for a nearfall. Chris then comes at Jake with stiff kicks to the chest and Jake continues to get back up. Jake catches a kick but Bey flips back and hits a superkick. Something comes back and takes down Bey and eventually hits Into the Void for the win.
Winner: Jake Something via Into the Void
After the match Bullet Club members Guerrillas of Destiny and Jay White attack Jake Something and Mike Bailey, who was making the save. The Guerrillas then announce they are coming for The Good Brothers and the IMPACT Tag Titles.
Before going to break Honor No More makes their presence felt in the Impact Zone. We come back from break and Eddie Edwards, Rhino, Josh Alexander, Rich Swann and Chris Sabin are in the ring and looking to fight and defend Impact. Scott D'Amore comes out to announce a match between Impact and Honor No More. If Honor No More wins they get to stay if they lose they go home. 
Scott then announces PCO vs Chris Sabin as tonight's main event. 
We then see The Influence getting ready for their match before the break.
We come back from break and Scott D'Amore is showing Honor No More to their "locker room"
The bell rings and we are underway. Cassie Lee and Madison Rayne start off the match. They go for a lock up but Cassie goes behind with a waistlock but Madison escapes the hold. Cassie comes back with a backslide for a two count then hits a snapmare and gets another two count. Kaleb tags in and Kaleb gets control with a wristlock. Cassie shows off her athleticism escaping the hold. Kaleb takes down Cassie as the crowd boos leading to Jessica tagging in. The IInspiration then look to double team him as they take him down with a couple of kicks before they pose.
This leads to Kaleb using his size and strength shoving off Cassie and taking down Jessica with a superkick before doing the OG NXT Emma dance as we go to break. Back from break and Madison Rayne is in control of Jessica with a working hold in the middle of the ring. Madison then works the arm of Jessica as she wrings it and brings her down to the mat for a two count. Madison then locks in a cravat and she drives her knees into the midsection. Madison then toys with Cassie Lee who gets a blind tag as she throws Jessica into her corner and choke her with her boot before tagging in Kaleb. He continues the onslaught and hits a jawbreaker before bringing Cassie back to her corner and tags in Madison. Rayne comes in and locks in a headlock and takes hoer down as she tags out to Kaleb. He climbs to the top and takes his time allowing for Cassie to kick Kaleb in No Man's Land. Cassie then tags out giving Jessica the hot tag. She takes it to Kaleb who tags out to Rayne leading to Cassie taking out Kaleb and Jessica hitting a DDT on Rayne for a nearfall. Kaleb eventually gets a blind tag and looks to get the advantage leading to a slap from Jessica. Down the stretch Cassie Lee tags in and counters a roll up into one of her own for the win. After the match Madison is in the ring throwing a temper tantrum. 
Winners: The IInspiration via Roll Up 
We then go backstage as Jake Something is thanking Mike Bailey for the save. Ace and Fulton show up and have really stepped in it now.
The Quintessential Diva Gisele Shaw is coming soon.
We then see The Good Brothers looking to Violent By Design for help against The Bullet Club
Gail Kim introduces Knockouts World Champion Mickie James. James then praises the division and calls Deonna the THIRD greatest Knockouts Champion behind Gail and herself. Deonna is offended and walks away. Mickie then talks about the Royal Rumble this Saturday. 
Chelsea then asks for a title shot leading to a brawl between Green, James, Evans and Steelz. 
Steve Maclin and Jonathan Gresham look to run it back next week in a regular non title match.
We come back from break and see Jordynne Grace successfully defend the Digital Media Championship at Terminus from a few weeks ago. Jordynne then accepts Matt's Challenge from last week.
We then see Brian Myers recruit more members to The Learning Tree which is now a total of nine.
The bell rings and we are underway with this nine on one match. This is a glorified squash match as Morrissey cuts down all the members of The Learning Tree.
Winner: W. Morrissey via BQE
After the match Brian Myers gets in Morrissey's face but almost eats a chokeslam as Moose attacks him from behind.
Jon Skylar has stepped up to the plate to challenge Fan's new friend.
The bell rings and we are underway. Swinger looks for a single leg but JONAH knocks him off leading to the Tsunami for the win.
Winner: JONAH via Tsunami 
After the match Decay come down to ringside as they surround Johnny Swinger. We also see Black Taurus and JONAH lock eyes as he goes up the ramp. 
PCO vs Chris Sabin:
This is the main event for tonight's show. The bell rings and we are underway. They lock up as PCO pushes Sabin into the corner. We don't get a clean break but Sabin battles out of the corner. They lock up again with Sabin being pushed into the corner again. We get a clean break and PCO kicks Sabin in the midsection and continues the attack as he performs an arm wringer. PCO continues to attack the hand and arm of Sabin all over the ring. Sabin then worms his way free and looks to take down PCO with a shoulder tackles off the ropes to no avail and switches to a low dropkick. Sabin then looks for the Cradle Shock but gets shoved off. Sabin looks to come off the ropes but Honor No More trips him up. PCO then is attacked by Eddie as he leans against the ropes in front of the referee. As we go to break the referee ejects Team Impact from ringside. Back from break and Sabin is in control as he lays in shots to the head of PCO in the corner. Sabin then hits him with a back elbow in the neck and looks to dive off the middle rope but gets caught and spilled out to the floor. Back in the ring PCO clothesline both himself and Sabin to the floor. PCO follows it up with a cannonball dive onto Sabin on the floor. 
PCO then throws Sabin into the steel steps before throwing him into the ring post. PCO rolls back in the ring to break the count. He then sets up Sabin on the apron as he climbs to the top and dives right on top of him. 
Down the stretch the rest of Honor No More distracts Sabin allowing PCO to pick up the win.
Winner: PCO via pinfall
After the match a brawl ensues between Team Impact and Honor No More. Josh Alexander was able to lock in an ankle lock on Vincent but Honor No More are able to escape. 
While you're here at Wrestling News World, why not become one of our Premium Members for exclusive backstage news? You can even start off with a 30 day free trial!