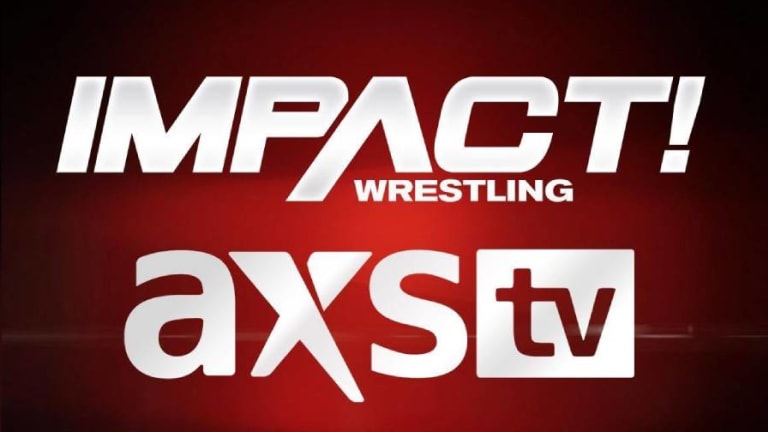 IMPACT! Wrestling Live Coverage and Results (9/1/20)
On tonight's episode of Impact! we have a stacked card highlighted by an Impact World Championship bout when Eric Young challenges the champ Eddie Edwards. Other highlighted matches include Sami Callihan vs. RVD, Ace Austin & Madman Fulton vs. The Rascalz, and Rhino vs. Reno Scum. We also have a Black Tie Affair hosted by Deonna Purrazzo and this week's episode of Wrestle House featuring a match between Rosemary and Taya. 
*LIVE COVERAGE* 
Sami Callihan vs. RVD
The show kicks off with Callihan vs. RVD. Callihan enters first and RVD is accompanied by Katie Forbes. They roll a replay of RVD losing to Eddie Edwards with the question asked "is Father Time catching up to RVD?"
Callihan gets the action started, going after RVD before he even fully got into the ring. The match begins outside of the ring with Callihan introducing RVD into the various metal barriers around the ring. After a distraction from Katie Forbes, RVD takes control and gets Callihan back into the ring for the first time this match. 
Katie Forbes distracts RVD lovingly, but it allows Callihan to recuperate and take control again. 
Forbes grabs Callihan's ankles off an Irish Whip and she hits Callihan at ringside. As the ref counts, RVD introduces Callihan into the ring post. RVD hits a spinning leg drop on Callihan as he was draped over the crowd barrier. RVD continues taking it to Callihan in the ring, but RVD goes for Rolling Thunder and Callihan gets his knees up. 
Katie Forbes distracts again allowing RVD to go for a split leg moonsault, cover, and 2-count. RVD goes up to the top route, but falters. Callihan on him instantly and hits a hangman style bulldog from the top. Forbes enter the ring to distract Callihan yet again. Callihan goes for a powerbomb, RVD counters into a pin attempt, Callihan reverses the pin and gets the 3 count! 
Winner: Sami Callihan
After the match, Forbes mouths off to Callihan and RVD attacks him from behind on the outside. RVD rolls him back into the ring, Forbes gets a steel chair. Forbes lays some boots onto Callihan as we is laying on the lower turnbuckle. RVD holds a chair against Callihan's face, Forbes runs into it with her backside. Forbes then holds it for RVD who hits a running dropkick against the chair. 
We go backstage and see Hernandez facing Fallah Bahh in arm wrestling. Hernandez wins. Reno Scum comes in to talk about their match later tonight with Rhino going solo. Hernandez says that if they take out Rhino he will give them the large wad of cash in his hand. 
Wrestle House segment. Rosemary, Taya, and John E Bravo all appear doing a confessional type segment. Rosemary and Taya have unfinished business because Bravo kept the truth from Taya. Taya feels betrayed. Bravo realizes how stupid he was trying to keep both Rosemary and Taya. 
The rest of the house is telling Johnathan to come out of a bedroom because he lost a bet to Crazzy Steve who got to dress him up. He comes out looking like a clown, carrying a horn, and wearing a Crazzy Steve shirt. 
Dreamer talks to Bravo and says Bravo will be the special guest referee for Taya and Rosemary's match
Reno Scum Vs. Rhino
Reno Scum attack Rhino on the ramp. Rhino gets them into the ring and they quickly overwhelm Rhino. We go to commercial, and once we are back, Reno Scum still has the advantage. Lester the Legend tags in Adam Thornstowe. Adam keeps the attack on Rhino, grounding the beast. Lester gets tagged in and hits a dropping headbutt on Rhino, pin attempt, 2 count. Rhino can't get any momentum going. 
Rhino finally gets some momentum sending Lester out of the ring and taking down Thornstowe. Rhino gets taken to the outside by Lester where he hits a gore. Thornstowe takes off his belt to attack Rhino, but never gets the chance. 
The cameraman puts down the camera and it is HEATH SLATER! Slater hits a Wake-Up Call signature and Rhino gets the 1-2-3. 
Winner: Rhino
Post Match: Scott D'Amore comes out with security and Slater runs out of the ring.
Video recording of EC3 talking to Moose about Moose's title that EC3 stole. Moose says there is a hostage situation because EC3 has his title. The guy he tells it to, tells Moose that EC3 is on the other side of the building. Moose leaves and the guy takes off his jacket revealing an EC3 shirt.
Come back from commercial to see the Good Brothers telling a story to some security guys listening in. The Rascalz come in, but aren't able to get in on the story telling as they want to prepare for their match coming up. 
Back to Wrestle House. John E. Bravo is shown wearing his ref shirt. Back and forth ensues and Johnny Swinger storms off. The Deaners are mad that Larry D drank their beer. A fight breaks out all over  the house between the Deaners and XXXL.  The fight ends up...in a game of ping pong. The fight continues as Acey Romero and Cody Deaner fight in a freight elevator. Deaner rides a bike into a car after missing a riding closeline. Jake Deaner takes the fight to Larry. Deaner finds a beer bottle with their name on it and fights back against Larry. 
Susie shows up and starts yelling at Jake. She leaves the room and closes the door behind her. Dreamer opens it and is shocked by what he sees, he closes the door and names Susie the winner of this impromptu "match".
Ace Austin and Madman Fulton Vs. The Rascalz
Dez and Wentz are representing the The Rascalz in this match. Madman Fulton starts against Dez. Dez tries keeping his distance from Fulton, but then Fulton slows the match down. It's Fulton's strength from Dez's speed. Dez escapes a hold to make a tag and Wentz enters. Ace Austin isn't even on the apron yet, he just keeps moving around the outside. 
Austin finally gets on the apron and gets a tag in. He goes for a lazy cover for a 2 count. Fulton distracts the ref and Austin used the Ace card to swipe the space between Wentz's fingers. Wentz tries to get some momentum against Fulton, and is able to tag in Dez, while Fulton gets to Austin. Dez hits some quick strikes on Austin, hits a dropkick to the back of Austin's head, and goes for a pin. Broken up by Fulton. Fulton charges Wentz who dodges, Fulton to the outside. Dez and Wentz take turns flying into Fulton on the outside. The Rascalz go to the top rope. Dez hits Final Flash from the top rope on Austin while Wentz flies to the outside hitting Fulton again with a moonsault this time. Dez pins Austin.
Winner: The Rascalz
After the match, the MotorCity Machine Guns come out and challenge the Rascalz to a Tag Team Championship next week. While the Rascalz consider it, Fulton and Austin attack the Rascalz from behind. MCMG chase them from the ring and come to the aid of the Rascalz. 
Deonna Purrazzo is seen backstage insulting other wrestlers for their lack of appropriate attire for her black tie affair later tonight. Moose wonders if they have seen EC3. 
After commercial, Rohit Raju is backstage with his X-division championship. TJP shows up asking for a title shot. Raju lets him know that Chris Bey is still in line for a rematch. BUT, if TJP can beat talk to Chris Bey about it or beat him, maybe he gets a match instead.  TJP vs. Chris Bey next week. 
Wrestle House Match: Taya vs. Rosemary
The match starts with a war of words and Taya starts the physical aspect of the match. She keeps hitting strikes on Rosemary in the corner while John E. Bravo is trying to maintain order. Taya taunts Bravo. Rosemary recovers and hits a fisherman suplex on Taya. Rosemary hits a spear on Taya who then hits one on Rosemary, and they both kick each other in the head. Bravo checks on them and Taya is to her feet first. Both wrestlers keep countering each other, then Taya hits Road to Valhalla, for the win.
Winner: Taya
After the match, Rosemary is down about the loss and Bravo proposes. He is still Taya's manager, but she gives her blessing. Rosemary accepts. Kylie Rae asks if they can go back to the Impact Zone. Taya agrees. Crazzy Steve is revealed as the Deaner beer stealer. The all gather into the ring, put their hands in a circle, and teleport, seemingly to the Impact Zone. 
We come back from commercial for Deonna Purrazzo's Black Tie Affair event which is being hosted by Kimber Lee. The ring is surrounded by a small group of various wrestlers. 
Purrazzo cheers' herself for being the Knockouts Champion and applauds herself being Impact's first IronWoman. Says she should be compared to Michelangelo because of the picture she has painted in Impact. Jordynne Grace's music hits. 
Grace congratulates Purrazzo for taking her to the limit at Slammiversary and Emergence, but warns her reign won't last long. Mysterious music hits. 
Tenille Dashwood Returns!
Tenille comes out thanking everyone for coming to her return party. She wants in on the title picture. Grace asks how Tenille could be in a title match when she doesn't show up and confronts Dashwood at the top of the ramp. The party is officially ruined when WrestleHouse teleports into the ring all of a sudden. Kylie Rae dodges an attack from Purrazzo, and then with the assistance of Susie, Kylie kicks Kimber Lee in the head, clearing the ring. 
We come back from commercial to an interview with Brian Myers. He discusses his match last week against Willie Mack. Next week, Myers is going to offer Mack a hand shake. Moose interrupts looking for EC3. 
Next Week, Locker Room Talk with Madison Rayne returns with Susie and Kylie Rae. 
Eric Young Vs. Eddie Edwards- Impact World Championship
The match begins with Edwards sprinting at Young and taking the action to him. They are off to a violent and quick start. They take turns controlling the action in a corner of the ring, exchanging backhand slaps across each other's chest. Commercial.
Back from commercial, and Young and Edwards are still trading shots and countering each other. The action moves to the outside and Edwards clotheslines Young to the floor. Back to the ring apron, Edwards goes for a suplex, but Young counters into a neckbreaker on the apron to Edwards. 
Back in the ring, they exchange chops and strikes, Young hits a running neckbreaker. Young begins wearing down Edwards who is laying in the corner. Young brings him out, hits another neckbreaker, goes for a pin, but gets only a 2 count. Josh Mathews and Madison Rayne on commentary note that Young is clearly working on the neck of Edwards. Edwards counters with a Blue Thunder Bomb, his first bit of offense for some time. 
The ref gets to a 7 count and the wrestlers get back to their feet. Edwards backs Young to a corner with a series of impressive and quick strikes. Young gets a boot up in time to counter a charging Edwards. Edwards hits a step up kick, then follows it with a Backpack Stunner, pin attempt, 2 count. 
Back to a corner again, Edwards places Young on the top rope. Edwards climbs up looking for a superplex. Young counters, knocks Edwards down, and Young hits an diving elbow. Cover, 2 count. 
Young looking frustrated, goes for a wheelbarrow suplex, Edwards counters and the wrestlers exchange more chops. Young goes up and over the corner ropes, Edwards flies over and it looks like Edwards banged up his knee on the dive. 
Back in the ring, Young goes for a piledriver, Edwards counters. Edwards hits a Tiger Suplex, lazy pin, 2 count and obvious pain in his knee. Runs and dives to the outside hitting Young into the barricade. 
Young has the title, ref distracted, uses his hockey mask to hit Edwards. Young hits piledriver in the middle of the ring, goes for the cover, and gets the win. New Champ
Winner: Eric Young
Post match: Young goes after Edwards knee and gets him in a knee lock. Security has to break it up. Edwards is writhing in pain and Young finally heads to the back. 
As Impact goes off the air, Moose enters a room and is clearly disturbed. He finds a detective board with strings connecting various pictures of himself. It looks like EC3 has been stalking him. Moose destroys the board, revealing a message from EC3, "You Have Been Warned".