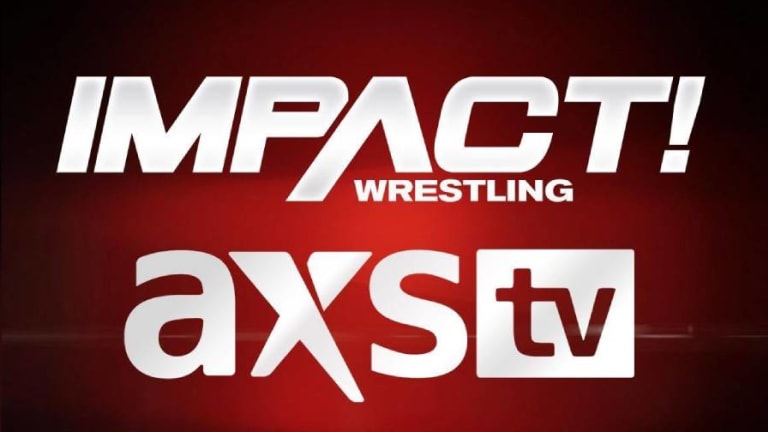 IMPACT! Wrestling LIVE Coverage and Results (9/15/20)
Tonight's episode of IMPACT looks as stacked as the episodes in the recent weeks. Rich Swann will be making an appearance to either call-out or confront Eric Young as fall-out from last week's episode. Another highlight is a huge 8-man tag between Ace Austin, Madman Fulton, and The North vs. The Rascalz and the tag champs the MotorCity Machine Guns. Other matches include TJP vs. Trey, Deonna Purrazzo and Kimber Lee vs. Kylie Rae and Susie, Taya Valkyrie takes on Kiera Hogan, and Brian Myers battles Willie Mack. 
LIVE COVERAGE: 
Deonna Purrazzo and Kimber Lee Vs. Kylie Rae and Susie
We are hitting the ground running on this episode as we start off with this tag team contest. Susie and Kylie Rae play rock-paper-scissors to see who will start the match and Rae wins. Rae starts the match against Deonna. Various working holds and reversals ensue as Purrazzo decides to tag in Lee tries to mount an offense, but Rae makes a tag to Susie. They hit some tag team moves including a double bulldog out of the corner. Pin atttempt, 1-2. 2 count. 
After the pin attempt, Susie runs against the rope for momentum and gets hit in the back with a knee from Purrazzo on the apron when the ref wasn't looking. Kimber clocks her with a foot to the chin and then starts a submission hold on Susie's calf/ankle. Tag made to Purrazzo who hits a double suplex on Susie with Lee. Susie is able to counter Purrazzo, but gets taken down. Tag in to Lee who prevents Susie from making a tag. Lee uses a working hold on Susie and gets a tag in to Purrazzo. Susie tries to fight back, but Purazzo keeps her from making a tag. Susie hits a flapjack and gets the hot tag to Rae as Purrazo tags in Lee. Rae goes for the Kylie special which gets deflected, but Rae cartwheels out and hits Lee with a rolling cannonball splash in the corner. Purrazzo breaks up the pin count, but Rae throws her out of the ring. 
Lee hits Rae with a German suplex, but Rae tags in Susie. Susie then receives a German suplex of her own from Lee and Lee goes to the top rope. Susie hits an Arachnarrana in the corner and a Panic Switch with the announcers talking about how those are Su Yung's moves. Pin attempt. 1-2-3. They then remark that Susie has that Su Yung look in her eye so she may have been morphing into her.  
Winners: Kylie Rae and Susie
Backstage segment between Trey and X-Division Champion Rohit Raju. Trey wants a title match, Raju reminds him that Chris Bey has his rematch, but TJP beat him, so he doesn't know what to tell Trey. Trey said he's going to go beat TJP and then he's coming for Raju. 
We get back from commercial and John E. Bravo is talking wedding planning. He is interrupted by Kiera Hogan and Tasha Steelz. They are asking about who his best man is. Fallah Bahh came in from a side door and since he was pressured, Bravo made Bahh his best man. 
XXXL vs. The Deaners
This is a tag match that we saw take place on the last episode of Wrestle House. Cody Deaner and Acey Romero start the match. Deaner comes out and bows to Romero asking for a truce. He is met with a swift kick to the chest and gets tossed towards the XXXL corner. Tag to Larry D and after some double team moves, pin attempt, 2-count. Larry D keeping the control on Cody Deaner with suplexes, slams, and pin attempts. Tag in to Romero who cuts off Deaner from his corner. Deaner trying to gain momentum to no avail. Quick tags here as Larry D is back in. 
Deaner gets a foot up in the corner to a charging Larry D, but is overwhelmed when Romero distracts him. Deaner sets up for a finisher, but Cody Deaner dodges it, and tags in Cousin Jake. Jake gets a lot of quick offense in and goes for a pin attempt. Chaos ensues as the pin is broken up and both Deaners and both members of XXXL get in the ring trading shots and moves. Larry D hits the best hand in the house on Cousin Jake and gets the 1-2-3. 
Winner: XXXL
Trey vs. TJP
X-Division match of the night, announcers admitting it is starting to get very muddled around the top of the division. My guess is this sets up a Fatal 4-way at Bound For Glory. 
TJP going for quick holds and pin attempts, a lot of offense matched with equal amounts of defense. The match continues with just back and forth with nobody having an upper hand. They are going move-for-move and counter-for-counter as pointed out by Madison Rayne. Fast, furious action still ensuing as Trey hits a standing moonsault and goes for a pin attempt, 2 count. TJP locks in a strange hold that is a mix of a Sharpshooter, but his hands were locked with Trey. TJP then transitioned into a sharpshooter with a bridged headlock. TJP is trying to ground Trey with some working holds on his ankle, and then sternum. Trey counters, goes to the top rope and goes for a dropkick, gets met with a dropkick from TJP. 
Trey recovers and gets his foot caught by TJP, Trey misses the Enziguri, but then spins through it and hits him with one anyway. Action moves to the outside, but back on the inside, TJP hits a superplex on Trey and then locks in an Octopus-lock submission. Trey gets to the rope. More counters ensue, and Trey is able to hit TJP with a dropkick where he winds up in the corner. TJP hits Trey with a Sliced Bread bulldog from the corner, TJP misses a splash. Trey heads to the top, connects with diving knees, pin attempt, 1-2-3. 
Winner: Trey
Commotion in the locker room. The Rascalz are getting taken out by The North and Ace Austin and Madman Fulton. Security gets them out, but the damage is already done. 
Back from commercial, a doctor says they can't clear The Rascalz to the MCMG. The Good Brothers enter and offer to take part, but the MCMG don't seem to want their help, but the Good Brothers say they are getting it anyway. 
Rich Swann to the ring. He says that he wants to give a message to the whole world. He asks Scott D'Amore to the ring. Swann says that he recently had to come to the ring and give up something he loved. Swann says it was hard being at home rehabbing and seeing Eric Young win the title. He wants to un-retire and he wants to be able to fight EY. D'Amore says that he has talked to Swann's doctors and that Swann isn't cleared. Swann says that he is the only one that has pinned EY and he wants his shot at Bound for Glory in October. D'Amore agrees Swann should be next in line, but if he puts Swann in the match with EY in his current state, he may come out of it crippled. Swann says he might be right, but he wants D'Amore to put himself in Swann's shoes. 
Swann says that if it was reversed D'Amore would want to get back in the ring and do what he does best. Swann says he doesn't care if he gets crippled, he just wants EY. He says that D'Amore may as well take him behind a barn and take him out if he won't let him fight. EY enters. EY shoves down D'Amore, and Swann goes after him. EY slides out of the ring and slinks back up the ramp yelling at Swann. D'Amore gives him the match at Bound For Glory and D'Amore tells Swann to take the piece of shit (EY) out. 
Back from commercial and Taya and Rosemary are backstage. Taya is upset Rosemary wasn't out at the ring last week for her match and Rosemary says that resurrections are tough to do. Rosemary and Bravo are going to meet Taya out at the ring for her match. 
Brian Myers vs. Willie Mack
No handshakes happening this week. Strikes are exchanged as the fight gets under way. Willie Mack hits a great dropkick off of an Irish Whip and he sends Myers to the outside. Mack launches over the ropes and lands on Myers on the outside. Myers counters and sends Mack into the ring apron and then hits a Side Russian Leg Sweep on the ramp. Ref counts to 9 as Mack rolls back in. Myers hits a suplex on Mack, pin attempt 1-2. Myers uses a submission chokehold, but Mack is fighting back. Mack tries to counter, but is stopped by Myers. Myers drops an elbow and again gets a 2-count. Myers took off the turnbuckle cover and tries to slam Mack into it. Mack counters, but Myers counters and is back to a working hold headlock on Mack. Mack finally counters with a Back Suplex and both wrestlers are down. Ref gets to a 5 count before Myers is back up. 
Mack hits a clothesline, a spinning back elbow, a slam, and a leg drop. 2-count. Mack gaining momentum, but Myers counters with a Enziguri, then hits almost a Falcon Arrow type drop. Pin attempt, 1-2. Mack counters with an Exploder Suplex. Myers gets Mack hung up on the rope, hits his signature DDT, but only for a 2-count. Myers heads to the outside, goes up to the top of the turnbuckle that didn't have the cover on it. Mack gets on him in the corner. Myers reverses and runs at Mack in the corner. Mack dodges, Myers face plants the exposed turnbuckle. Mack hits the stunner, pin attempt, 1-2-3. 
Winner: Willie Mack
Backstage, Rosemary wants to talk to Havok about the resurrection for the person that can officiate her wedding. Havok refuses and Rosemary insists. Rosemary is then thrown into the wall by Havok. 
Moose backstage talking to D'Amore complaining about EC3 and recapping the events from last week's episode. D'Amore suggests that maybe EC3 is in his head and that he is making it up. EC3 appears on a wall from a projection and tells Moose the time is running out until he destroys his title belt. Moose makes a phone call and asks for a favor about what to do when someone takes your title. Moose says he knows exactly what to do and walks off. 
Another backstage segment as Rhino sneaks Heath Slater into the building. 
3rd backstage segment with Tenille Dashwood doing a photoshoot and she is interrupted by Jordynne Grace. Grace says that next week it will be Dashwood against Grace so that Dashwood has to do her job. 
Kiera Hogan vs. Taya
No Rosemary or Bravo to start the match. Taya charges at Hogan and takes her to the corner and starts stomping her in the corner. Taya slams Hogan into the middle turnbuckle and then throws her out of the ring. Back in the ring, Taya hits Hogan with a back elbow and then also jumps on her back. Pin attempt for 2. Hogan crawls to the corner, Taya is showing frustration and charges the corner. Hogan counters and slams Taya into the turnbuckle. Hogan hits Taya with a running kick in the corner, 2-count. Taya hits a knee on Hogan that sends her back to the corner and Taya sends her back out of the ring. Back in the ring, another elbow and then Taya hits a running strike into the corner. Hogan slides out of the ring. Tasha Steelz rakes the eyes of Taya as Hogan sneaks around the ring. Hogan hits a sort of spinning/sweeping neckbreaker and gets the 1-2-3. End of the match and still no sight of Rosemary or Bravo. 
Winner: Kiera Hogan
Hernandez backstage with Rhino. Rhino is going to arm wrestler Hernandez, but refuses to have his back to the door. Slater is trying to sneak in and grab Hernandez's money. Slater ends up stealing his money and Rhino bails.
Chris Bey finds Rohit Raju backstage, and let's him know he owes him a rematch. Raju agrees he deserves it, however TJP beat him and then Trey beat TJP. Raju says there is definitely confusion and that all 3 of them should get in the ring and compete to see who is next in line for a shot. Match happens next week. 
8-man Main Event. The North & Ace Austin and Madman Fulton vs. The Motor City Machine Guns & The Good Brothers
Ace Austin and Karl Anderson get things started in the ring. This one is going to be chaotic so apologies for the fragmented incoming sentences. Anderson sends Austin into the corner and then takes him to his corner and tags in Doc Gallows. Gallows keeps the offense on Austin and keeps him in the corner. Tag back to Karl Anderson and the Good Brothers hit a double shoulder block on Austin. Anderson tags in Sabin and Austin tags Josh Alexander of The North. The MCMG trade moves over the top rope on Alexander, his teammate Ethan Page eats a double team move, and they take it to Ace Austin. Fulton comes in the ring to settle things down, but he gets tossed out of the ring. Commercial break. 
Back from break, the MCMG's Alex Shelley still has control. He goes for a move off the rope, but is interrupted by Ethan Page. Alexander brings Shelley to the corner and tags in Ethan Page. Fulton comes in off a tag, and he brings Shelley to the corner. Shelley is hitting cross chops trying to faze Fulton, but it isn't working. Fulton throws Shelley, bridges the pin, 1-2-kick out by Shelley. Austin tags in, and Fulton raises Shelley off the ground with a chokehold while Austin pelts his stomach with punches. Austin keeps Shelley in the middle of the ring, Fulton tries to tag in, but Page tags in over his hand. Alexander tags in and tees off with a right hand on Shelley. Alexander is just kicking Shelley around with his boot. Shelley counters, but Alexander is able to tag Austin before Shelley can make a tag. With Sabin's help, Shelley is able to make a tag, Ethan Page is also tagged in. 
Anderson is all offense and even thwarts an interruption by Alexander. Anderson hits a spine buster and goes for a pin. 1-2. kick out. Gallows is in and he charges a running boot into Fulton on the apron. Double team drop by the Good Brothers on Page, 2-count. Alexander breaks up the Magic Killer, Sabin blind tags and takes out the North from the top rope. Austin and Fulton in working on Sabin. Sabin gets both to the outside, and Shelley opens the red sea spreading the ropes for Sabin to dive through. 
The MCMG and The North are in the ring exchanging blows and moves. It appears Page and Sabin are legal. Everyone, but Fulton hits a a running strike on Sabin. Then Shelley, Anderson, and Gallows hit a running strike on Fulton. Chaos ensues everyone is basically battling at this point. Alexander prevails and it appears he and Sabin are legal. Austin tags himself in and Shelley is too late breaking up the tag. Austin gets the pin. 
Winner: Ace Austin/Madman Fulton and The North
End of show.