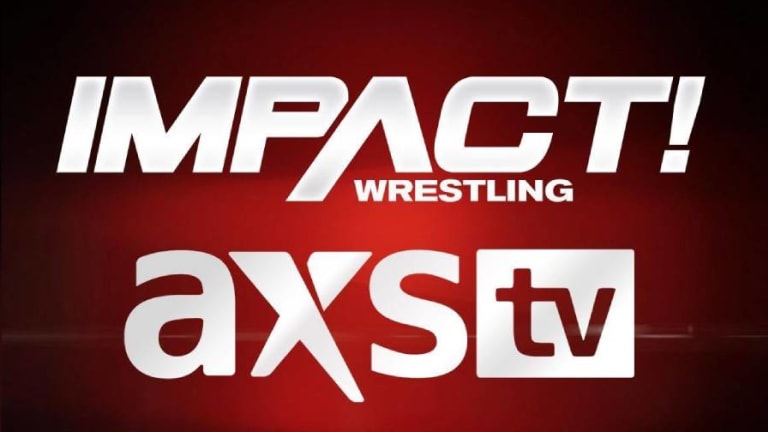 IMPACT! Wrestling LIVE Coverage and Results (9/8/20)
This week's IMPACT! begins the era with Eric Young as the new World Champion. Other highlights of tonight's card include the MotorCity Machine Guns taking on The Rascalz in a championship bout, Chris Bey taking on TJP with TJP having a shot at taking Chris Bey's X-Division #1 Contender standing, the return of Locker Room talk with guests Kylie Rae and Susie, and Moose is going to still be looking for EC3. 
**LIVE COVERAGE**:
We kick off the episode with new World Champion Eric Young heading to the ring. EY begins cutting a promo about how Swann started rolling the ball that has been EY's path of destruction. He has run over Swann and Eddie Edwards and calls his victory inevitable. 
He gets interrupted by Alisha Edwards, Eddie's wife. She says EY is a coward, a coward that came back to IMPACT to make a statement, but then has instead been focused on injuring people. She warns EY that Eddie is going to return to re-claim what is his. Alicia mentions the toll that EY has taken on her family, he says that he doesn't care and she slaps him. 
EY goes to piledrive Alisha, and gets interrupted by Tommy Dreamer with a kendo stick! Dreamer then cuts a promo about how the Edwards' and Swann are his family because when EY left, they stayed behind to build up IMPACT and created a place for EY to come back to. Dreamer challenges EY to whatever match he wants tonight and EY warns Dreamer that he has made his last mistake. 
Josh Mathews says that Moose is looking for some answers. Moose is heading into an airport and boards a plane. Commercial- 
Back from commercial, we see a newly engaged Rosemary and John E. Bravo talking to Taya about their engagement and upcoming nuptials. Taya and Bravo are going to plan the "demon" wedding. Rosemary mentions that the perfect officiate for their wedding is dead, and then teleports away. 
Chris Bey vs. TJP
The first match of the night sees Chris Bey defending his #1 contender-ship for the X-Division Championship against TJP. TJP gets into the ring and Bey is immediately on the attack. The action is fast-paced all over the ring. The momentum keeps changing as Rohit Raju makes his way to ringside to taunt both of the competitors. TJP is firmly in control and hits a nice dropkick to the outside on Bey. Back in the ring, TJP continues to be in control until Bey reverses a working hold focused on his arm. Commerical-
Back from break, Chris Bey is stomping TJP in the corner. Chris Bey hits a running arm drop on TJP and goes for a cover, 2-count. Bey taunts to the camera, flexing. Bey goes for a Widow's Peak-esque move, TJP rolls through for a pin attempt, gives it up and gets Bey in a submission hold. Bey gets out of it, reverses TJP and gives him a swift kick to the back. Bey locks in an Abdominal Stretch. TJP gets out of it, and gets a throw in on Bey.
TJP locks in an underarm lock and hits 3 suplexes on Bey. TJP goes to the air and misses. Bey jumps off the ropes and TJP reverses it into an arm lock. More counters from Bey, as her slams TJP onto the mat, pin attempt, 2-count. Bey went up to the second rope, TJP reversed, pin attempt, 3 count on the surprise roll-up! 
Winner: TJP
Locker Room Talk with Madison Rayne and co-host Johnny Swinger. They open with talking about Wrestle House. Kylie Raw and Susie are guests. Rayne asks Kylie if she was at Wrestle House so long to dodge Deonna Purrazzo or to ruin the Black Tie Affair. Rae denies it and Susie confirms that wasn't the case. On cue, Purrazzo and Kimber Lee come in to talk about how they ruined their event. They challenge Kylie Rae and Sue to a tag match, they both agree and it will be next week! 
John E. Bravo back with wedding planning. Gets interrupted by Kierra Hogan and Tasha Steelz. He mentions that Taya is in charge of planning the wedding. They suggest Bravo needs to learn how to be a man and that they will teach him. 
Brian Myers is out next, notable not in wrestling gear. He cuts a promo discussing how he and Willie Mack got off on the wrong foot. Myers starts talking about his wrestling pedigree, and talks about how he beat Mack fair and square. Myers mentions that the handshake is a time-honored tradition to show respect and he tells Mack to come out and shake his hand. Willie Mack comes to the ring, microphone in hand. Myers extends the hand, and Mack denies the handshake and says he would like to wring Myers' neck. He says that he was granted a rematch by Impact brass and that rematch is right now! A ref pops up and the match is on! 
Brian Myers vs. Willie Mack
The bell rings and Myers is trying to plead his case that he doesn't have ring gear so he can't compete. Myers fakes leaving the ring, and Mack hits him with a running shoulder block and Myers rolls out to the outside. 
Mack launches himself over the top rope and hits Myers on the outside. They go through the ring and almost repeat the spot on the other side, but Myers grabs Mack's boots and pulls him out of the ring. Once back into the ring, Myers is on the offensive with a ground and pound on Mack as he talks trash. Myers hits a suplex on Mack, pin attempt, 2-count near fall. Myers locked in a headlock working hold trying to wear down Mack. Mack escapes to the corner and Myers misses a running attack. Mack is now on the offensive with a flying elbow and a running leg drop. Pin attempt- 2. 
Mack gets Myers on his shoulder, Samoan drop. He stands up and hits a moonsault onto Myers. 2 count. Mack goes for the stunner and Myers reverses. Myers comes off the rope and Mack reverses the run into a sky high spine buster. Myers hits a low blow with the ref distracted, and hits a DDT. 1-2-3.
Winner: Brian Myers 
Jordynne Grace interview, is asked about the Black Tie Affair, but focuses on the surprise appearance by Tenille Dashwood. Grace takes the interviewer backstage looking for Dashwood, but gets blocked by Kaleb (with a K) who is the photographer for Tenille. When getting questioned, all of a sudden photographs of Tenille pop up and it is shown that she will return next week. Cut back to Grace and she isn't happy Dashwood is waiting another week. 
Hogan and Steelz are backstage again talking about Bravo. Taya interrupts telling them to mind their business and stay out of the wedding. Taya is going to face Steelz tonight. 
The Rascalz Vs. MotorCity Machine Guns
Slammiversary Rematch. The Rascalz hit the MCMG while they were on the ropes and then hit tandem suicide dives. Back in the ring, The Rascalz are taking turns going at Alex Shelley in the corner, Sabin rolls in and they turn their focus to him. 1st pin attempt, 2 count. Matthews on commentary mentions that we haven't seen The North since they lost the titles. The Rascalz still are on the attack and have the momentum. 
The MCMG manage to get a tag in and Shelley and Sabin work together to wear down Wentz of The Rascalz. Wentz is sent toward the corner by Shelley and Wentz's knee buckles before he gets to the corner. He props himself up and Shelley charges in, Wentz gets a knee up. Sabin distracts and Shelley is able to regain control focusing on the knee of Wentz. Tag in to Sabin who cuts off the ring for Wentz and continues the focus on Wentz's knee. Sabin drives Wentz to the MCMG corner, but Wentz fights back. With a MCMG hot tag, Sabin takes out Dez on the apron and the MCMG keep finding creative ways to continue the onslaught on Wentz's knee. 
Dez comes in the ring, but is stopped by Sabin. Wentz reverses the hold Shelley has on him, Dez escapes Sabin, and Dez hits a body drop on Shelley breaking up the hold on Wentz. Wentz hits an Enziguri against Shelley and gets the tag to Dez; Shelley tags Sabin. Dez flies all over the ring trading holds with Sabin and takes the offense to Sabin in the corner with rapid strikes. Surprise pin, 2-count. Shelley goes after Dez, hits a spinning fist, Wentz super kicks Shelley. Sabin takes Wentz to the top rope, Dez hits a kick to the back of Sabin's head. They hit a tag team move on Sabin from the top rope, and get a 2-count. 
Wentz is legal again, Dez hits a super kick, Wentz hits a knee. Sabin dodges a Hot Fire Flame. MCMG hit multiple tag team moves and win after driving Wentz into the mat. 
Winner: MotorCity Machine Guns
Post-Match: The North attack, the MCMG regain control. Ace Austin and Madman Fulton rush the ring. The North split up the MCMG and each teams focuses on a different MCMG member. The Good Brothers storm the ring and clear the North and Austin/Fulton out. The Rascalz roll back into the ring. Dez flies to the outside but gets caught, Wentz climbs to the top turn buckle and takes out everyone on the outside. 
RVD and Katie Forbes promo mentioning that they beat Sami Callihan last week. They have a talk show debuting next week: The Whole F'n Talk Show. 
Sami Callihan promo after the commercial break. He keeps talking about numbers and how he got screwed over by the numbers against RVD last week. He goes over people that have his number. He mentions that he will not hack the talk show, because he was other plans. Thumbs Up, Thumbs Down. 
Tasha Steelz vs. Taya Valkyrie
Tasha and Taya trade shots, Taya gets an arm drag off on Steelz and hits a snapmare out of the corner. Pin attempt, 2. Hogan distracts Taya, and Steelz takes control. Bravo is shown on the phone and Steelz taking the offense to Taya in the corner. Steelz pin attempt, 2 count. Bravo isn't paying attention even though Taya is calling for his help. Steelz goes for a move jumping off the top rope, but Taya reverses into a sit out powerbomb. Taya confirms that Bravo is on the phone about the wedding, Taya hits a big knee. Pin attempt, 2 count. Steelz takes the offense to Taya. Taya hits a spear in a counter, then hits the Road to Valhalla. 1-2-3. Bravo still on the phone, Kiera Hogan attacks from behind. Bravo gets Hogan and Steelz away from Taya. Taya seems pissed at Bravo.
Winner: Taya Valkyrie
Moose goes to see his old high school football coach. He asks if he has seen EC3, but the coach says he hasn't. The Coach then says "Control your narrative, you've been warned." This triggers Moose and he takes out two innocent on-lookers that happened to have their hoods up looking like EC3. Moose runs out of the office. 
Heath Slater is out back and Rhino meets him outside. They discuss Rhino beating Reno Scum last week with Slater's help. Slater discusses how his ads to join IMPACT cost money and he is looking to get some. Rhino says he knows where to go for some cold, hard cash. Mathews suspects that Rhino may have been referring to the wad of cash that Hernandez carries around. 
Tommy Dreamer Vs. Eric Young
Title is NOT on the line and at this point we don't know if EY has picked a special stipulation for the match. "Old School Rules" apparently was picked, anything goes. Dreamer is the first to introduce a weapon as we takes a kendo stick to EY. EY goes to the outside, hunting for his next weapon and picks a metal chain. Dreamer wraps it around the eyes of EY and applies pressure. Once he relents, EY counters Dreamer and introduces him to the steel ring post. EY removes the padding from the floor by the ring. EY goes for a piledriver, Dreamer reverses with a backdrop delivering EY to the concrete. 
Dreamer hits EY with a street sign and gets him back into the ring. In the ring are a chair, a plunger, a baking pan, and a trashcan. Dreamer takes EY to the top rope, Dreamer goes for a super plex and EY counters biting the forehead of Dreamer. EY stomps Dreamer while he is tied up in the bottom rope. Pin attempt, count of 1. Dreamer gets pelted with the baking pan and a chair. EY tries to drop a chair on Dreamer from the top rope and Dreamer gets his foot up. Dreamer hits a cutter and both men are down. 
They both get to their feet and exchange fists. Dream drops an American Dream-esque elbow and covers for a cover, 2-count. EY reverses a kendo stick swing and starts going at the ankle of Dreamer. EY has Dreamer in the ankle lock and Dreamer beats him with a kendo stick until he releases the hold. EY gets Dreamer in a corner, Dreamer reverses EY into the trash can wedhed into the corner. Goes for the pin, 2- count. Dreamer finds a table under the ring. 
Dreamer leans the table into the corner. He gets EY positioned but EY hits a low blow. He heads to the top rope, Dreamer falls into the ropes knocking down EY. EY grabs the hockey mask and crushes it over Dreamer's head. EY then hits a pile driver for the win. 1-2-3.
Winner: EY
Post Match- EY takes a kendo stick to Dreamer and he slides Dreamer's ankle into a chair and slams it with a kendo stick. Rick Swann hobbles down the ramp and hits EY with his crutches driving him out of the ring. They talk trash while EY is at the top of the ramp. Episode ends.