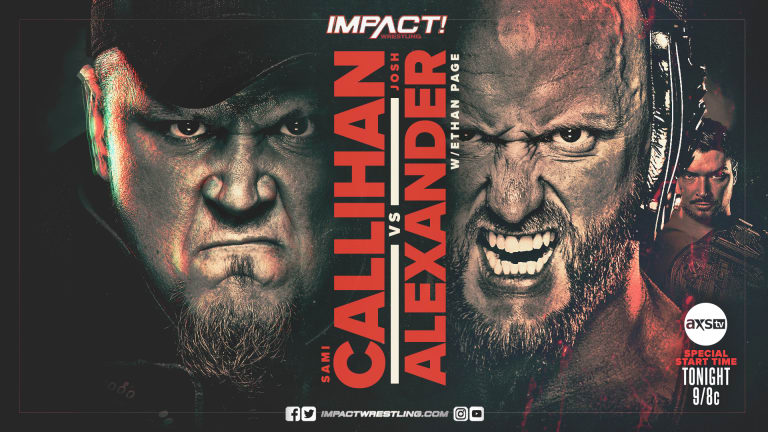 Impact Wrestling LIVE Play by Play Coverage and Results
Results:
Live Coverage:
The show opens up with a recap of everything that happened last week with The North, Sami Callihan, Ken Shamrock, Moose, Crazzy Steve, Tommy Dreamer, Madman Fulton, Ace Austin, and Trey.
Taya Valkyrie and Rosemary vs Kylie Rae and Susie:
Knockouts Tag Team action kicks us off tonight.
Rosemary and Susie start the match. Rosemary reminds Susie that they tried to save her once and get her powers back. Rosemary puts a boot to the midsection then throws her into the corner and charges her but Susie fights back and mobes out of the way leading to a monkey flip for a one count. Susie then goes for two more covers for a two near falls. Susie backs but to her corner and Kylie Rae tags in. Rae is able to trip up Rosemary leading toa slap from Susie. Rosemary tags out to Taya who trash talks Kylie. Rae is able to take down Taya and looks for a submission but Taya makes it to the ropes. Kylie stays the course and hits a dropkick on Taya. Susie tags in and both Knockouts hit a double bulldog for a two count. John E. Bravo then distracts the referee allowing for Taya to recover and get a two count. Rosemary tags in and both Taya and Rosemary hit an assisted German suplex for a two count. 
Rosemary comes back and locks in the upside down leading to a tag and a running knee from Taya for a two count. Taya comes off fhe ropes still holding on to Susie and hits a standing switch and both Knockouts come off the ropes and hit a double hairpull. Both Knockouts tag out and Kylie hits a tiltawhirl headscissors after ducking clotheslines for a two count. Kylie goes after the legs but Rosemary pushes her off. Kylie looks to go for something but gets caught by Rosemary who looks for a wheelbarrow slam but Kylie couters into a cutter. Rosemary pops back up and tags out to Taya who hits Kylie with a spear. 
Taya and Kylie then trade forearms then she hits Kylie with a Northern lights suplex for a two count. Kylie is able to recover and hit a superkick for a two count. Rosemary comes in and gets attacked by Susie with a palmstrike and Kylie knocks her out of the ring. John E. Bravo is checking on Rosemary to make sure she is ok leading to Taya getting caught in the Smile To The Finish submission for the win.
 It looks like Taya is getting jealous of the budding relationship between Rosemary and John E. Bravo.
We come back and see Swinger and Chris Bey mad about Swinger being banned from ringside at Slammiversary. Johnny Swinger says he's got the problem handled.
TJP & Fallah Bahh vs XXXL vs Reno Scum vs The Deaners:
The match breaks down in the beginning as the bell rings. Everyone is attackinh everyone. TJP and Fallah Bahh take out Reno Scum while The Deaners take out TJP and Fallah Bahh. Cody Deaner was left alone with XXXL who takes him out. Cousin Jake is able to get back in the ring and dives on everyone on the outside. 
We come back and Reno Scum is in control as Adam Thornstow is stomoing on Cody Deaner in the corner. Luster tags in and control the onslaught by boxing the ears of Cody. Adam tags back in and double stomps Cody's chest for barely a one count. The match breaks down again for a but but ordet is restored and Luster tags back in. Luster then slams Deaner to the mat and headbutts him then shoves his face into his armpit. Acey tags in the match but the referee didn't see it. Luster continues the onslaught but finally Acey legally tags in and pucks right up where Luster left off. Cody fights hack and hits a spinning neckbreaker on Acey. Larry Dean comes in and attacks Deaner but gets send to the floor by Luster as the match breaks down again and everyone is on the floor. Reno Scum is firmly in control now and look to put Deaner away but TJP tries to break it up but Luster puts a stop to it. The action splis to the floor as two teams fight to the back. The Deaners and XXXL are the only two teams left. Larry Dean and Cousin Jake are now the legal men and Dean hits a spinebuster and takes down Jake. Acey comes in and takes out Cody leading Jake with the pounce on Acey. Jake is able to hit a sidewalk slam for the pinfall victory. 
After the match both Reno Scum and TJP/Fallah Bahh continues to fight in the backstage area leading to TJP diving on everyone.
 Fallah then puts TJP in a trash can with a chair and he rolls TJP right into Reno Scum. Reno Scum is able to gain control of the brawl and buries TJP/Fallah under steel guardrails.
We come back and see Swinger hold the Super Eric gear and finds the Suicide mask amd tries to put it on.
Impact Flashback Moment of the Week:
The Beautiful People vs Angelina Love and Tara Winner Takes All at Lockdown 2010. If one of The Beautiful People pins Tara or Angelina that person becomes Knockouts Champion.
We come back and see Ken Shamrock looking for Sami who appears behind him. Ken doesn't know why he helped him but he doesn't care cause they have a chsnce to dethrone The North. Ken offers his help tonight but Sami declines the offer.
Jordynne Grace vs Kimber Lee:
The bell rings and here we go. Kimber Lee looks for a test of strength and Jordynne takes control of the wrist but Lee looks to trip her up from behind but Grace powers her down for two near falls. Lee then escapes but gets caught quickly by Grace who looks for the Grace Driver. Lee escapes by biting the finger of Jordynne. Grace remains in control and Lee gets driven into the corner leading to Grace throwing Lee i to the ropes who comes off and hits Lee with a spinebuster for a two count. 
Jordynne goes for another cover for a two count. Kimbet Lee gains control by getting the boot up and kicks Jordynne in the spine for a two count. Lee then locks in a working hold and traps the arms into a inverted butterfly full nelson.
 Jordynne then sits back and gets a near fall allowing Grace to be freed from the submission. Grace then counters Lee into a suplex followed by multiple slams into a driver for a nearfall. Jordynne stays on the attack looking for a Grace Driver but Lee hits her with multiple elbows, three kicks, and an enziguri. Lee goes to the top and hits a Swanton Bomb for a nearfall. 
Kimber Lee then goes to grab the Crown Jewels and tries to hit Grace but Jordynne blocks and hits the Grace Driver for the win. 
After the match Deonna Purrazzo's music hits and we see her on the tron. She says she didn't come to IMPACT to play games. She says that she came to become Knockouts Champion. She says Jordynne will have to wait till Slammiversary to get in the ring with her.
We then get a video package about the Slammiversary main event and breaking down the competitors in the match.
We come back and see Willie Mack talking to "Suicide" and he says that he will see him later tonight. He says that Suicide helped him against Chris Bey and Johnny Swinger that he would give him an X-Division Championship match tonight.
Locker Room Talk:
This week's guest is the Most Iconic Knockout in History and it turns out to be Madison Rayne. Madison basically interviews herself simce Swinger is not able to co-host. Rayne then announces that she is returning to the ring in the #1 Contender's Gauntlet match at Slammiversary. Kiera Hogan and Tasha Steelz interrupts the "interview" then Havok and Neveah show and it leads to a brawl between the two teams.
We come back and see Hernandez still doing arm wrestling and winning money. We then see Rhino sit down snd challenge Hernandez. The screen goes black snd says to be continued.
Willie Mack vs "Suicide"(X-Division Championship):
The bell rings and here we go. Suicide kicks the midsection of Mack and chokes him on the ropes and Willie comes back and irish whips him into the ropes and Suicide botches the spiderman in the ropes. 
Suicide then atrempts an abdominal stretch but Willie escapes leading to Suicide tripling on the top rope into a stunner for the win and retains.
We come back and get a backstage interview with Tommy Dreamer who is apologizing to Moose while taking digs at Moose still. Moose then shows up and says that Tommy's apology wasn't sincere enough. Dreamer says he talked to the TNA Championship Committee and now has a championship match against Moose at Slammiversary.
Sami Callihan vs Josh Alexander:
The bell rings and here we go. They lock up snd Sami gains control with the sideheadlock. They break up and Sami comes off the ropes ans Alexander drops down leading to a clothesline from Sami to Josh. Alexander gets back on the apron and gets caught leading to a top rope knee sending him to the floor and Sami follows. Ethan then distracts Sami allowing Josh to fight back and sends Sami into the guardrail but Sami is able to regain control and irish whips Josh into the steel guardrail followed by a big boot.
We come back snd Sami is in control stomping a mudhole in Josh in the corner. Sami irish whips him into the corner but Josh goes over onto the apron. The match spills to the floor again but Josh Alexander gets caught and hit with a driver on the floor. 
Alexander is able to fight back and hits a suplex to Sami on the apron leading Alexander sliding back in the ring for a countout victory. Sami makes it back in the ring leading to Josh to multiple stomp on Sami. Alexander picks him back up just to take him right back down. Sami tries to fight from the bottom up but to no avail. Josh remains in control leading to a two count. Josh lays in multiple forearms but Sami just takes the hits and asks for more. Josh finally puts down Sami who crawls around the mat. Josh then pucks him up and powerslams him leading to a slap to the facr from Josh. After multiple shots Josh comes off the ropes but runs into Sami but Josh comes back and boxes the ears of Callihan. Sami is then able to fight back and looks for a sunset flip but Josh counters but Sami covers too and hits a modified brainbuster for a two count.
 Sami sends Josh into the corner and Sami mounts him with multiple punches. Josh escapes and spins out Sami for a two count. Josh then locks in the Ankle lock and almost passes out but fights back and makes it to the ropes. The match spills to the apron as Alexander grinds his boot on the head of Callihan. They trade forearms leading to an eye rack from Sami then a piledriver for a nearfall. 
Page then comes in the ring and takes out the referee. Sami looks to take out Pagr but Ethan counters and looks to take out Sami but Ken Shamrock makes the save and taps out Ethan with the ankle lock. Sami then recovers and hits the piledriver for the win. After the match Sami and Ken stare each other down in the middle of the ring. 
Synergy Pro Wrestling is back! On Saturday, July 11th, Synergy and Wrestling News World join forces to present "For The First Responders", a live pro-wrestling supercard to benefit America's first responders.

WNW & Synergy will donate proceeds from this event to worthy first responders' non-profits.

Synergy is delivering a massive card for the occasion! Alex Zayne & Blake Christian continue their incredible rivalry at Synergy with a 30 Minute Iron Man main event! There's also 2 qualifiers for the 2020 Garden State Invitational. JD Drake takes on Tony Deppen, and Jordan Oliver goes one-on-one with LSG.

For The First Responders will stream live on FITE.tv on 7/11 at 7 pm EST.

While you're here at Wrestling News World, why not become one of our Premium Members for exclusive backstage news? You can even start off with a 30 day free trial!