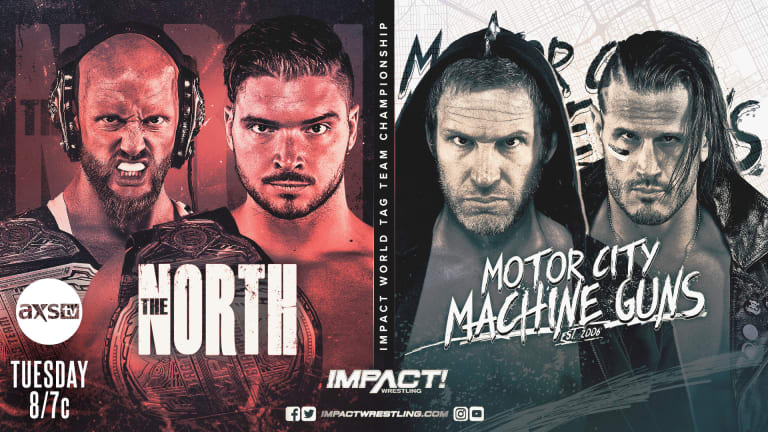 Slammiversary Fallout LIVE Coverage and Results(7/21/20)
Results:
Chris Bey vs Willie Mack(X-Division Championship)
Winner: Chris Bey via Cutter
Tasha Steelz and Kiera Hogan vs Havok and Nevaeh
Winners: Havok and Nevaeh via DQ
The North vs Motor City Machine Guns( Impact World Tag Team Championship)
Winners: Motor City Machine Guns via Roll up 
Live Coverage:
The show opens with a promo from the returning EC3 
then we get a new theme song and video package as we enter a new era in IMPACT.
Willie Mack vs Chris Bey(X-Division Championship):
The bell rings and here we go. Chris Bey comes flying in with a shotgun dropkick for a one count. Willie Mack comes back and takes down Chris Bey and begins to smother him with the ground and pound. Willie then picks him up and knocks him down with the winding punch. Bey fights back and attacks the throat of Willie. Willie goes to the floor and catches a diving Bey and slams him to the floor. 
Willie sends Bey back in the ring and slingshots back into the ring leading to an elbow from Mack. Willie sends Bey into the corner and chops his chest then looks for a running clothesline but Bey side steps and hits a hangman neckbreaker for a two count. Bey then locks in a sideheadlock and Willie looks to be fading. Mack comes back to life and elbows Bey in the midsection and shoots Bey off the ropes who chops the knee of Willie and stomps him in the back. Bey looks for a moonsault but comes up empty but eats one from Willie.
 Both guys trash talk each other leading to a lifting elbow. Mack goes to the top for the six star splash but comes up empty. Bey springboards into a cutter for the win and retains.
The Good Brothers Arrive in the IMPACT Zone:
We come back and The Good Brothers says that they are beyond excited to be in IMPACT. Karl says Luke is the best big man in the business and that he is the best wrestler in the world. Luke Gallows then plugs Talkin- A Shop and their sold out merch. 
Ace Austin and Madman Fulton come out to the ring. Ace says they owe them an apology them slaps the beer out of Karl's hand leading to a brawl and The Good Brothers clearing the ring.
We then see Heath trying to get into the building but security says his name isn't on the list. Heath tries to call Rhino but he is busy challenging Hernandez to a match as they bicker over the arm wrestling money.
We come back and see Chris Bey backstage talking to two girls and serving drinks but Rohit shows up and takes the drink. Rohit then offers uo his services to watch the back of Chris Bey. 
Kiera Hogan and Tasha Steelz vs Havok and Nevaeh:
The bell rings and here we go. Tasha and Nevaeh start off the match. Hogan and Steelz trash talks Nevaeh but Nevaeh comes in with multiple forearms then a suplex leading to a kick to the spine and a crucifix pin for a nearfall. Nevaeh then tags out to Havok who hits a backbreaker across her knee. Tasha is able to tag out but Kiera eats a big boot and is shot off the ropes into a clothesline for a nearfall.
 Nevaeh tags back in and hits a snapmare. Nevaeh is then distracted by Tasha allowing Kiera to regain control and hit a meteora in the corner. Tasha tags in and hit a forearm to the face of Nevaeh. Kiera then tags back in and gets a nearfall. Tasha tags back in but Nevaeh is fighting bsco with forearms and punches. Tasha then eats a clothesline from Nevaeh who ducks a boot. The match begins to break down as Kiera distracts the referee who doesn't see the tag from Nevaeh to Havok. Tasha then drags Nevaeh back to her corner but Nevaeh fights free and tags in Havok. Tasha tags out to Kiera who eats a boot from Havok. Havok is on a roll and takes out both Tasha and Kiera. Havok charges at Kiera who side steps ans jumps on her back for a sleeperhold. Tasha then atracks Nevaeh on the apron and grabs a chair. Havok looks for a piledriver but Tasha slides in and hits her in the back with a chair causing the DQ. Nevaeh slides back in and takes out Tasha. Havok then hits a Tombstone Piledriver.
We see Sami Callihan backstage looking for Ken Shamrock. He runs into him and blamea Ken for them losing at Slammiversary. Ken says if he wants to talk to him then it will have to be next week.
We come back and see RVD and Katie Forbes trashing their last gimmick and announcing they are back.
Hernandez vs Rhino:
The bell rings and here we go. Rhino catches Hernandez off guard and hits a gore for the win. Rhino wins all of the money from the arm wrestling match last week.
We then see The North backstage who talk about being dominant and ran through the tag division until Motor City Machine Guns returned at Slammiversary. Page then hypes up the main event for tonight and tells MCMG to take the titles from them if they want to be known as the best.
We come back and see a promo package about Brian Myers coming to IMPACT.
We then get a video package of the backstage exclusive interviews from the winners at Slammiversary.
We then get a backstage interview with the new Knockouts Champion Deonna Purrazzo. Gia Miller asks her what is her plan as champion. Deonna announces that Jordynne Grace's shoulder is separated so she has no challengers. Kylie then shows up and reminds her she is the #1 contender then Deonna locks her in the Fujiwara Armbar. 
Eddie Edwards Addresses his World Title win:
Eddies says that he was a journey of broken friendships and challenges that lead him to the title again. Eddie says the compnay has been lacking stability when it comes to the world title. Eddie says he will be a champion that we can be proud of. Eddie says the title hasn't been defended in five months so he announces he will defend the belt each and every week. 
Eric Young then shows up but Eddie interrupts him and says that Rich may nevet walk right or wrestling again. Eddie says he deserves an ass whooping. EY says that Eddie's journey and hard work means nothing to him. A brawl breaks out and the two are separated as EY leaves up the ramp. 
We then go to Moose and he is asked if he will defend his title every week like Eddie. Moose says that challengers will need an invitation to challenge him. Moose then invites Fallah Bahh to a match.
Trey challenges Eddie Edwards to a world title match next week.
Moose vs Fallah Bahh(TNA World Heavyweight Championship):
The bell rings and here we go. They lock up and end in a stalemate. Fallah then comes off and sends Moose to the corner and lights up his chest with chops. Moose is able to break free and looks for a chokeslam but Fallah breaks the hold and chops Moose's chest again. Fallah then shoots off the ropes and eats a big boot from Moose. Fallah tries to fight back but to no avail as Moose brings down Fallah and grinds his boot into the face of Fallah. Moose then chokes Fallah Bahh on the ropes and says he is the best wrestler in the world and trash talks Fallah. Moose then chops the chest of Fallah and charges him in the corner. Moose looks to run to the corner for more speed but Fallah follows him and hits him with an elbow. Moose is then able to hit the Lights Out Spear for the win. After the match EC3 shows up and drops Moose and leaves. 
We then see The Good Brothers leaving the building and run into Ace and Fulton. They are then jumped by Reno Scum but they then all hop in the car and peel off.
We come back and see Rosemary and John E. Bravo showing up to a house and looking to be alone and cook for each other. Taya then crashes the party so Rosemary brings the IMPACT roster to the house and makes it a party. Apparently this is a new reality show called "Wrestle House".
The North vs Motor City Machine Guns(Impact World Tag Team Championship):
The bell rings and here we go. Page and Shelly start the match. They lock up and Shelly gets control of the wrist and turns it into a double wrist lock but Ethan fights out with an elbow.
 Page then locks in a headlock but Shelly shoots him off then they go back and forth with Ethan ducking with a cartwheel and Shelly dodging a big boot. They tag out and Sabin locks in a headlock to Alexander. Sabin then hits Josh who begs for more and Sabin locks in the abdominal stretch but Josh break free and catches multiple armdrags from Sabin. Shelly tags in and drops on the arm of Josh Alexander. Alexander then hits a dropkick to the back of Shelly who knocks Sabin off the apron. Ethan then tags in ans trash talks Sabin but the MCMG regains control and sends Ethan to the floor as Sabin hits him with a penalty kick. We come back and MCMG are in control with Shelly hitting a top rope crossbody for a two count. Shelly then sends Page into the corner and lights him up with chops and looks for an irish whip but Ethan puts a stop to that and takes down Shelly and tags out to Josh. Alexander then sends Shelly face first into the apron. Alexander then slides back in and locks in a working hold on Shelly. Ethan then tags back in and continues the onslaught and hits a shoulder tackle to Shelly in the corner. Alexander then tags back in and looks for a suplex but Shelly counters in a wrist lock but Josh fights out and takes him down for a two count. Josh tags out and Page begins to stomp Shelly. Page then trash talks Sabin. Ethan then chops down Shelly and tags out to Josh. Alexander then continues the attack and looks for a suplex of some sort but Shelly looks to fight free but Alexander brings him to his corner and allowing Ethan to tag back in. Pag tags out to Josh as Ethan holds up Shelly in a suplex form and hand him off to Alexander who finishes the suplex. 
Josh then looks for a moonsault but comes up empty. Both guys tag out and Sabin takes down Page with a hurricanrana and lays in the puches. Sabin comes off the ropes and takes out Josh then hits a tornado DDT on Page for a two count. Page ends up in MCMG corner and eats two boots from them. Shely goes to the top for a double stomp but misses and is still able to take down Page for a two count. MCMG double team Page for a two count. Shelly then locks in a crossface that ends up in a pin but it is broken up and everyone is down. Sabin then tries to take down Alexander with a jumping knee to no avail but Shelly comes back in and helps Sabin hit a shing wizard. Alexander is able to catch Sabin and bring him to his corner allowing Ethan to tag back in. Page hits a running boot to Shelly and Alexander hits a wheelbarrow suplex for a two count. The finish sees Sabin surprise Ethan with a roll up while Shelky held down Alexander to pick up the win and win the titles.
As Impact goes off the air we see Jimmy Jacobs leave the building allowing Heath to enter the building.
While you're here at Wrestling News World, why not become one of our Premium Members for exclusive backstage news? You can even start off with a 30 day free trial!