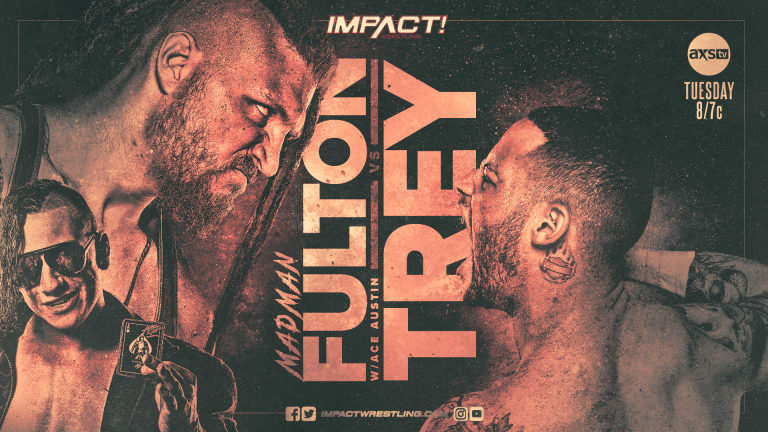 IMPACT Wrestling LIVE Coverage and Results(6/30/20)
Results:
Madman Fulton vs Trey:
Winner: Madman Fulton via DQ
Moose vs Crazzy Steve(TNA World Heavyweight Championship)
Winner: Moose via Lights Out 
Keira Hogan vs Havok
Winner: Kiera Hogan via pinfall 
Suicide vs Chris Bey(w/Johnny Swinger)
Winner: Chris Bey via pinfall 
TJP & Fallah Bahh vs Reno Scum
Winners:TJP & Fallah Bahh via Mamba Splash 
Live Coverage:
The show opens with a recap of everything that happened last week.
Josh Matthews and Madison Rayne are seen from their home with the IMPACT World Championship behind them. They announce that the new main event for Slammiversary will be Eddie Edwards vs Ace Austin vs Trey vs a Mystery Opponent for the vacated championship.
Suicide vs Chris Bey:
The bell rings and here we go. Suicide tries to sweep the legs of Bey but he moves out of the way and kicks the midsection of Suicide and lays in the boot sending him into the corner then hits him again sending him into another corner. He comes at Suicide who lifts him onto the apron. Chris Bey then counters and hits the midsection again then floats over Suicide and continues the onslaught leading to a standing moonsault but Suicide is able to take down Bey who gets right back up and Suicide hits an atomic drop and takes him down for a one count. Swinger jaw jacks with Suicide allowing Bey to take control for a second. Suicide is then able to hit a dropkick and looks for a lionsault but Bey gets the knees up and goes on the attack. Bey sends him into the corner nd lays in the punches and eventually eats a clothesline for a two count. Bey stays on him and leans Suicide on the ropes and hits him with a chop but Suicide is able to do a short arm reversal into the octopus submission for a few moments bjt Bey is able to break free and toss Suicide into the ropes and kick him in the back bringing him down for a two count. Bey then lays in the knees to Suicide and takes him down then goes to the middle rope looking for a moonsault but no water in the pool. Suicide then recovers and hits a running dropkick 
and begins to lay in the chops and ducks the clothesline hitting Bey with palmstrikes. Suicide then hits Bey with a flying forearm and again in the corner leading to a stomp for a two count. Bey is now in trouble as Suicide is stalking him Bey is able to evade him and Suicide goes spider in the ropes. Swinger gets involved but Suicide sends him to the floor and dives on both Swinger and Bey.
 Suicide brings Bey back in a hits a sunset flip for a two count. Bey then feints an injury allowing Swinger to knock him off the top rope setting him for Bey's finisher for the win.
We then get a backstage interview with Moose. They are hyping up his title match against Crazzy Steve. Moose says that Steve thinks everything is fun and games. He says that fun and games didn't get him to where he is now.
We come back and see Bey and Swinger backstage after his match and are celebrating. Swinger says that the referees are stooges and says he will pay them off at Slammiversary. One of the referees show up and says that Swinger will be banned from ringside.
Reno Scum vs TJP & Fallah Bahh:
The bell rings and here we go. Reno Scum jumped their opponents from behind during their entrance. The only guys standing after the blindside action was Bahh and Luster and they square off a bit. TJP rolls in and looks for a roll up for a one count. Fallah Bahh then comes in a do some double team moves leading to their signature backpack drop for a two count. 
Thornstow then comes back into the match and trips up TJP and slides him back in the ring allowing for Luster to puck the bones. He then takes in Thornstow and continues the onslaught and tags back in Luster who runs and takes out Fallah and lays in the boots and send TJP into their corner and tags in Thornstow who uses Luster as a battery ram. TJP is finally able to escape and tags in Fallah who goes on a tear but gets caught and distracted by Luster allowing Thornstow to take down Fallah for a two count as TJP breaks up the pin. Down the stretch TJP hits the Mamba Splash and Fallah Bahh picks up the win.
This week's guest is John E. Bravo. Swinger is upset that he is banned from ringside at Slammiversary. Madison then brings Bravo on the show. Madison then tries to get the scoop on the budding love connection between him and Rosemary. Bravo says that they are just hanging out. Madison says she has another guest to bring some clarification to the situation. She invites Rosemary on the show. Rosemary then asks Bravo to explain what's going on and Swinger says that the sexual chemistry is so thick that you can cut it with a knife edge chop. Swinger thinks Rosemary likes him which makes Bravo mad. Madison then ask if he is in love with Rosemary. Taya Valykire then crashes the show and asks Rosemary to be her tag team partner which Rosemary accepts.
We come back and get a recap of the Busted Open Radio interview with Deonna Purrazzo and her feud with Jordynne Grace.
The North makes their way to the ring and addresses their attack on Ken Shamrock last week. Page says that he has no friends and that he is crazy and needs help. 
Shamrock makes his way to the ring but the screen cuts out and Sami Callihan shows up in the ring as both Shamrock and Callihan clear the ring.
We come back and see Scott D'More talking on the phone with a couple of Good Brothers. The North shows up and complain about what just happened to them in the ring. Scott then announces Sami and Shamrock vs The North for the titles at Slammiversary.
Impact Flashback Moment of the Week: Magnus vs Eric Young for the TNA World Heavyweight Championship.
We come back and Jimmy Jacobs is outside of Trey's locker room and conducts an interview.
Moose vs Crazzy Steve(TNA World Heavyweight Championship):
The bell rings and here we go. They lock up and Moose sends Steve to the corner. Steve comes back and locks in a sideheadlock but Moose knocks him off and begins to eat chops from Steve who continues the onslaught and sends him to the floor. Steve then goes for a dive and gets caught and slammed onto the apron. Moose then rolls back into the ring to break up rhe count and he comes bsck to the outside and swings Steve into the steel steps. Moose then rolls back into the ring and the referee starts the count. Josh points out that blood is coming out of the mouth of Steve. Moose then rolls to the outside again and lays in the punches to the rivs of Steve. He brings him back in and jaw jacks Steve leading a to a suplex. Moose then draps Steve on the apron and drives an elbow into the chest of Steve. Crazzy Steve is somehow able to fight back a bit with a clubbing blow to the back of Moose. Moose is able to recover and knocks down Steve then locks in the abdominal stretch and grinds his knuckles into the ribs of Steve. Moose is then forced to break the whole and begins to jawjack with the referee then turns his attention back to Steve and sets him up on the top turnbuckle looking for a superplex but Steve counters into a sunset bomb for a one count. 
Steve then mounts a comeback leading to a roll up for a two count. Steve continues the onslaught and brings Moose down to a knee and hits a running knee. Steve then climbs up to the top and hits a dive but gets caught and hits a fallaway slam followed by a knip up followed by the Lights Out Spear to retain the championship. 
After the match Moose begins a post match beatdown. Tommy Dreamer then comes down to the ring to make the save but Moose ends up kicking Dreamer in the head.
We come back and we see Steve being helped to the back. Dreamer then grabs a mic and says that Moose was a bust in the NFL and in IMPACT. He says that he didn't win any title. He then goes to say that IMPACT made everyone feel safe during these tough times while Moose just complained. Dreamer then calls him a footnote in football and in professional wrestling.
We then see Hernandez vs The Deaners in arm wrestling which Hernandez beats both of them and wins the money.
Kiera Hogan vs Havok:
The bell rings and here we go. Hogan charges Havok and hits a running dropkick and lays in the attack on Havok sending her into tjr corner. Havok is able to recover quickly and slams Kiera into the mat. Havok is then able to lift up Hogan and hits a powerslam and rakes the eyes with her boot. Havok then gets tripped up by Tasha Steelz as she was coming off the ropes allowing Kiera to regain control and lay in the ground and pound. We come back and Kiera is in control jumping on the back of Havok. Havok then slams her into the turnbuckle but Kiera hold on but Havok is able to shake her off and charges her in the corner but Hogan moves out of the way and chokes Havok with her hair. Havok is then able to recover and toss Hogan to the other side of the ring. Havok then hits a running knee then a running boot in the corner. Havok hits another running bootand sets her up and hits a third running boot. Havok draggs her to the center of the ring snd stomps on the midsection of Hogan then screams at Tasha. Havok turns her attention back to Hogan but Tasha grabs Havok's mask to distract her. Tasha was able to throw the mask to Kiera who uses it to hit Havok with it then leads to a superkick and the win.
We then see a backstage segment with Moose who says that Dreamer doesn't know anything about him and was nothing but slander. He says that Dreamer owns him a public apology or he will sue him and IMPACT.
We come back and get a Slammiversary promo.
Josh Matthews and Madison Rayne run down the Slammiversary Card. 
Madman Fulton vs Trey:
The bell rings and here we go. Treybruns down the ramp and ducks the big boot and slides out to the apron and takes out Ace Austin.
 Fulton slides to the floor and drops Trey in the ring from the floor. They meet face to face in the ring and Trey knocks down Fulton and continues the onslaught and looks to run the ropes but gets caught and taken down by Fulton. 
Fulton picks him up and Gorilla presses him with one hand before dropping him face first to the mat. 
Trey looks to use his speed coming off the ropes for a body scissors but Fulton puts a stop to that and drops him to the mat and sends him into the corner. Trey comes out the corner with a forearm and looks to make a comeback but Fulton puts a stop to that. Fulton then stalks Trey and grabs his head and drives it into the turnbuckle multiple times then draps him over the ropes and chops the chest of Trey. Fulton then tosses Trey into the ropes but jumps off the ropes into a sleeperhold. Fulton tries to shake him off but to no avail. Fulton hits a sidewalk slam but Trey holds on for dear life and Trey gets a two count. Fulton finally gets him off him and sends him into the corner. Trey is able to fight back and take down Fulton with multiple kicks but gets caught into a northern lights suplex bridging into a pin for a two count. Fulton then hits a splash in the corner and sets him up on the top rope and elbows him in the back. Trey then grabs the magic stick from Ace and hits Fulton in the head causing the DQ. Trey then grabs a chair and begins to beat Fulton with it.
Synergy Pro Wrestling is back! On Saturday, July 11th, Synergy and Wrestling News World join forces to present "For The First Responders", a live pro-wrestling supercard to benefit America's first responders.

WNW & Synergy will donate proceeds from this event to worthy first responders' non-profits.

Synergy is delivering a massive card for the occasion! Alex Zayne & Blake Christian continue their incredible rivalry at Synergy with a 30 Minute Iron Man main event! There's also 2 qualifiers for the 2020 Garden State Invitational. JD Drake takes on Tony Deppen, and Jordan Oliver goes one-on-one with LSG.

For The First Responders will stream live on FITE.tv on 7/11 at 7 pm EST.

While you're here at Wrestling News World, why not become one of our Premium Members for exclusive backstage news? You can even start off with a 30 day free trial!