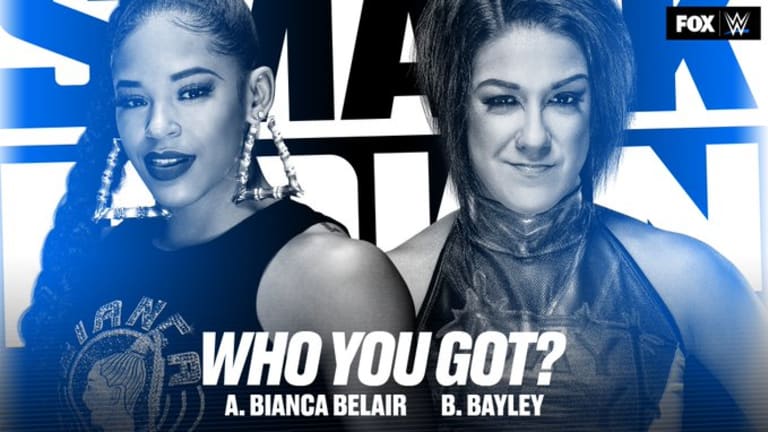 WWE Friday Night SmackDown Live Coverage (12/18/20)
Hello everybody and happy Friday! I hope everyone is safe and doing well. I Justin "Juice" Lucciano am again covering SmackDown tonight for Kevin! I am excited to watch this final SmackDown before the TLC ppv on Sunday. Tonight is a good show that includes a long awaited match between Bayley and the rising star Bianca Belair, among other things that you can read about in this preview by Ja'Von York.
So after this introduction paragraph the newest most up to date stuff will be on top matches will be highlighted. So I will highlight the match when it begins and when it ends I'll put a highlighted result line to end it. I will put the results as the last thing as part of my conclusion. Update frequently and interact with me on my twitter, @juicecannon1 or Wrestling News World's twitter @wnwnews or interact on the comment section below. Please any feedback on what I am doing or just any comments on what is happening in the episode is appreciated! It is almost time to go on this episode of SmackDown that will be on FS1 instead of FOX tonight because of a big college football game!
Thanks for joining me tonight! Talking Smack is on next, I won't be covering it but I will be watching since The Rock is confirmed to be on it. I had fun covering this episode and can't wait for TLC on Sunday. Please take this time to look at other Wrestling News World content and maybe even gain a premium membership. Have a nice weekend and tune in on Monday to join Kevin Sullivan in Live Coverage of RAW!
He's still up and somehow has a mic so now it's KO promo time again? Did Christmas come early? Oh it's only one sentence but he is still kicking what an image to close out the show!
KO's resistance did not last long and now he will get more punishment from Reigns and Jey. How many tables are they going to put poor KO through. Now he's burying Owens in table halves, full tables, chairs, and ladders. I guess burying is taking on new meaning. Now Jey and Reigns are hitting a table on top of Owens with chairs. Wouldn't it hurt more to hit him directly? 
A well placed chair is used by KO to repel Jey and now it's Reigns turn! You fool Roman you thought KO was down for the count because a couple attacks from your cousin?
It is time for more Tribal Chief as the Universal Champion Roman Reigns returns to the ring accompanied by his posse Paul Heyman and Jey Uso. Time for his final message to KO lets see what he says and how Owens will respond..
That was quicker than I wanted and hopefully we eventually get a longer rematch preferably on a ppv and I am sure we will eventually maybe Sunday since I do not believe the card is full yet. 
Bayley defeats Belair
Hey Bayley instead of mocking Belair by squatting her while her feet are on the turnbuckle you probably should have kept the offensive up. With some heel tactics by raking the eyes and getting the counter the former champion gets the win!
What a vertical suplex by Belair with a couple mini squats thrown in there to flaunt her impressive power a bit more! Belair is controlling this match so far, showcasing her talent but you can never count out Bayley.
It is finally time for Bayley versus Belair, the match we have all been waiting for! Oh wait commercial right on queue. 
Bianca Belair vs Bayley 
No sweep! Big E winning superstar of the year, what is this! Sami was robbed! Down with Big E the biggest heel in wrestling. What a scoundrel and now he is attacking Sami Zayn, what an outrage! Wait my confidant is telling me Big E is the face and Zayn the heel sorry folks my bias got in the way there.
Congrats to Sami Zayn for winning comeback of the year! Well done I think Sami might sweep the Sami awards. One can only hope that happens.
Sami hosting a show where corporate favorites won't win all the awards? Sounds great I assume Sami will win all the awards as he should and it seems we kick off the Sami Awards with a Sami Zayn tribute video with Corey Graves doing the voice over.
Sami Zayn looks quite dapper in his award host suit. He's stepping away that does not seem smart oh and there is Big E also looking dapper and with Zayn's cards in hand. Maniacal laugh that is never a good sign watch out Sami!
Otis beats Nakamura
Calling off the Caterpillar is not a good move Gable. Ok Otis actually won but he almost lost because of the tutelage of Gable. Well either way Alpha Academy gets the win.
How can Otis lose with the managing and coaching of Gable? If I am being honest he probably still will lose but we will see what the blue collar working man can do.
Otis w/Chad Gable vs Shinsuke Nakamura w/Cesaro
Another Jey attack on Owens! how brutal! Also shown before that is the announcement that tonight Sami Zayn will host the Sami Awards. Who needs the Slammy Awards when you can get the superior Sami Awards!
Carmella not a fan of that champagne and oh she takes it a step further by insulting Banks. The music has dropped and the Boss has arrived. The music took the sommelier away leaving Carmella alone in the ring. Glass to the back of Banks yet again. Banks will be in a two on one fight on Sunday with Carmella's sommelier in her corner most likely.
Last week's main event between Banks and Carmella was not for me but I'll be honest I enjoy heel Carmella, I think Carmella does her best work when she is a heel. I know every match at TLC can't be a TLC match but I think this one should be. It would fit into the storyline so much in my opinion.
Carmella now comes to the ring for a champagne toast with her trusted sommelier to celebrate her TLC SmackDown Women's Championship win. This is definitely not a jinx, just kidding it totally is. Also saying a fact can still being throwing shade Carmella.
Riott Squad defeats Kay and Tamina
Billie tagging herself in probably cost her team the match. Come on Billie you are smarter than that! Looks like it did cost her team the win, sorry Billie.
I have Riott Squad winning this match and keeping the momentum they have been building. I hope they do something with Riott Squad good soon because  I am a huge fan of Ruby Riott and Liv Morgan. Also am a fan of the hilarious Billie Kay.
Riott Squad vs Billie Kay and Tamina
Somebody needs to tell Liv Morgan Wonder Woman is not real. Riott Squad versus Billie Kay and Tamina, interesting  that Riott Squad is still feuding with Billie Kay. 
Bianca Belair is awesome and she has huge earrings. I think she will win tonight but I could see her losing to keep the feud going.
The attack by Jey Uso on Owens with the chair! Jey you have to do more than that this is Kevin Owens he's a warrior! That is just a scratch to him!
SmackDown Tag Team Champions Street Profits defeat and retain against  Ziggler and Roode 
That might of been a botch where Ziggler was supposed to put up his knees but did not in time. The deadliest move in all of wrestling the quick roll-up (WhatCulture reference) gets The Street Profits the win! 
Here comes the hot tag to a fresh Angelo Dawkins! Rolling through his two opponents for a bit before its just him and the other legal man Roode. Off comes Dawkins headband, I think that is his equivalent to Kurt Angle removing the singlet straps in his matches when he gets serious.
Part of me wants Roode and Ziggler to win too since I am a fan of both but Street Profits as champions just sound right to me and I think they will retain tonight.
A good moonsault is one of my favorite moves along with a good german suplex. Simple but pretty looking in my opinion. Roode pushing Ford off the turnbuckle to prevent the Frog Splash finisher on his partner now that is tag team wrestling!
Actor Clark Duke appearing predicting a Street Profits victory is interesting. This is the second week where a celebrity has weighed in on SmackDown, seems like it might become a trend for at least a few weeks.
Dolph Ziggler and Robert Roode vs Street Profits SmackDown Tag Team Championship
Reigns giving orders for Uso to end Owens now, that just tells me that Reigns is scared of the prizefighter!
Yea a clear trap with Reigns cousin Jey Uso who was in wait! I hope there is at least one more Reigns/Owens segment tonight but we will see. A title bout between the Street Profits and Dolph Ziggler and Robert Roode is next!
Reigns loves being acknowledged by everyone as Tribal Chief. I thought him saying Tribal Chief all the time was annoying at first but now I just see it as badass. Don't do it Kevin! I know you won't but just don't. Also going to the ring was a poor choice Kev, because obviously it's a trap.
Adam Pearce trying to convince Owens not to fight Reigns earlier than Sunday is nice but he should know it's on deaf ears. Reigns entering the ring while he knows Owens is backstage hunting him is quite the troll move. You got to love heel Reigns, I was never a fan of Reigns before but since his return at SummerSlam he has been winning me over with fantastic work.
A Kevin Owens promo to kick off the show? Uhmm yes please! He is so good and I love that he is in a title feud right now. If this feud lasts a while personally that would be fine by me. Owens focusing on Heyman on the TitanTron does not seem smart, you would think wrestlers would learn by now to pay attention to their surroundings. Owens going to search for Reigns, deja vu anyone?
Before I jump into SmackDown I want to say happy birthday to the Texas Rattlesnake Stone Cold Steve Austin! I miss you drinking beer on my television!