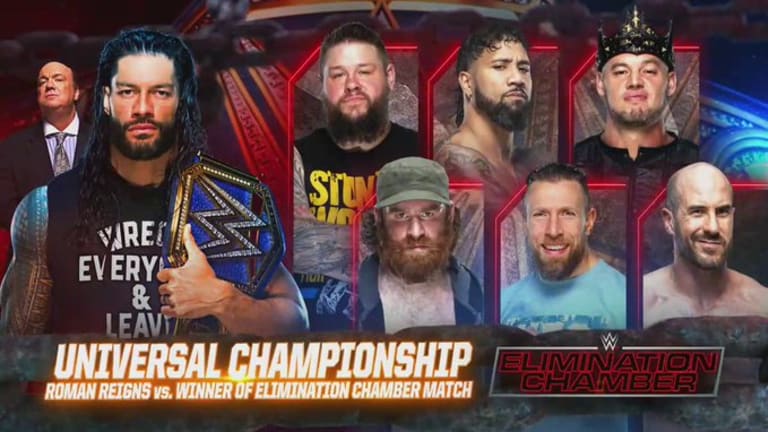 WWE Friday Night SmackDown Live Coverage (2/19/21)
Hello everyone sorry about the late start but I'll be covering SmackDown tonight! I'll put time stamps in throughout when I remember to follow easier. Reload every 5-10 minutes to stay up to date! Time to start talking about the final SmackDown before the Elimination Chamber ppv.
Edge, Roman Reigns and company, and THE Sami Zayn kicking us off tonight! Zayn thinks both men are looking past him and they are because he is going to win at Elimination Chamber! Oh there's the superkick from Jey Uso on Zayn and both Edge and Reigns aren't fazed by Zayn.
Ding Dong Hello the greatest WWE talk show is returning tonight lets gooooo! All hail Bayley. 
Apollo Crews and Shinsuke Nakamura are opening in ring action tonight and Big E is on commentary and like a few weeks ago the Intercontinental Champion has that fire setup. The sofa, the minifridge and what's he eating a Salisbury steak tv dinner?
8:20 ET
I love that Big E is singing the praises of Nakamura calling him a should be world champion. I really hope the one to dethrone Reigns is Nakamura but not at Mania.
Nakamura with the win but the new heel Crews is not happy and attacks the victor. What a sore loser, go away dude you are great but you lost get to the back of the line. 
Come on Big E don't turn your back to Crews that is just not smart. 
Rollins comparing Big E's attack to people walking away from Rollins while he was talking is hilarious. I know plenty probably miss babyface Rollins but I'm personally more of a fan of heel Rollins and we get Burn it Down as the theme song now that's perfect.
I hope Cesaro and Rollins is the feud after Elimination Chamber with a classic at Mania either ending or highlighting the feud.
Owens wearing a Bivens Enterprises shirt is gold get the underrated manager some attention!
WWE stop making the Riott Squad lose! I don't like it and don't have Tamina and Natalya do Billie like that!
8:55 ET
Nia Jax and Shayna Baszler both trying to walk through Bayley's door at the same time is more comedy gold. Bayley greater than Ellen DeGeneres.
Jax and Baszler talking some smack about Sasha Banks and Bianca Belair.
Here comes Reginald who is defending Banks for some reason. Why is he getting so obsessed with his boss Carmella's rival?
Banks and Belair then went out there. Things are getting quite crowded also people need to stop ruining Bayley's show.
Reggie, Banks and Belair versus Jax, Baszler, and Bayley interesting. Also is Reggie just not with Carmella anymore?
Belair and Banks do not want Reggie in the match though which is weird because when he faced Banks he was impressive, flipping and flopping all over the place.
9:13 ET
Reggie trying to sweep the leg of Jax but fails. She is not going anywhere. Belair and Banks then double drop kick Reggie who was in Jax's arms which leads to a pin and win for them!
Go Reggie go!
Cesaro and Edge is definitely something I'd like to see one day! I love that Edge is interacting with all or most of the Elimination Chamber SmackDown participants. 
Otis and Gable or the Alpha Academy now face Rey and Dominik Mysterio. Otis and Gable have been on a losing streak in the tag division and the Mysterios lost a tag match last week so both teams seek to regain momentum.
Otis is disqualified for not honoring the count and they attack Rey after? Gable was already kind of a heel or a heel pretending to be a face but it seems like Otis is becoming heel too.
Daniel Bryan and Cesaro do not trust Owens after getting stunned last week and Owens is known for backstabbing but he is a face now so they should not worry.
Carmella and Reggie back together. Carmella is asking Reggie where he went? Does she not check her phone or watch the show. Oh nevermind she does not he was out there. 
Main event time! Sami Zayn, Jey Uso, and King Corbin face off against Daniel Bryan, Cesaro, and Kevin Owens. How will Zayn and Jey interact though since Jey super kicked Zayn earlier in the night.
9:38 ET
Now does this match have a winner or will it end with a dq? I'm thinking dq. 
Cesaro having a showcases so far! He looks great and is commanding most of the attention so far. 
Edge and Heyman going at it on commentary is pretty great. Maybe Heyman should beat Reigns for the title and face Edge at Mania so we get those promo battles. I kid of course we can still get those promos since Heyman is the special counsel to Reigns.
Daniel Bryan delivers the YES Lock on Sami Zayn and gets the win for his team! I guess I was wrong there is no dq.
Corbin attacks the celebrating Bryan and everyone just starts delivering finishers on each other including Edge! Now Reigns, the champion ends the show on top!
Thanks for joining me in watching this episode of SmackDown and be sure to check out more material on Wrestling News World and follow along on Sunday with our live coverage of Elimination Chamber!