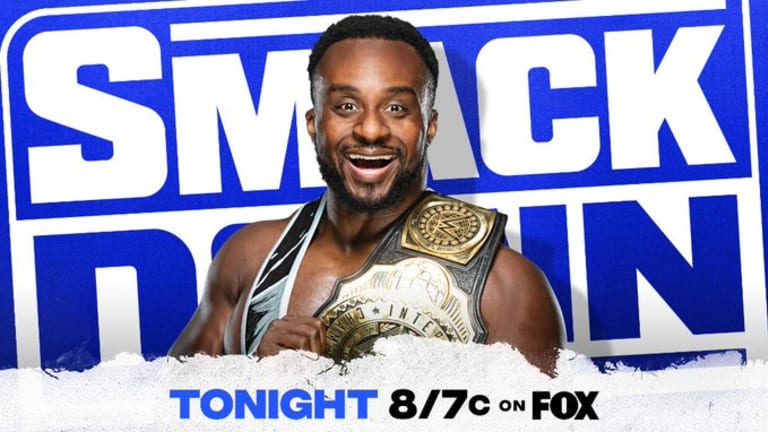 WWE Friday Night SmackDown Live Coverage (3/12/21)
Happy Friday everybody! I Juice will be covering SmackDown for you guys. Update frequently and I will put time stamps as often as I can and when I remember. PLEASE engage with me in the comments or on twitter @juicecannon1 also spread the coverage around to get more people in on the discussion. 
I'll be honest SmackDown has been starting to dip in quality the last few weeks for me personally but it's still a decent product. I'm hoping this week starts to pick up again but we will see. Apollo Crews in the past two weeks took me from not being interested in him still feuding with Big E to me being very interested on where it will all lead. Big E returns tonight and I am interested to see his response to the actions of Crews against him as well as the new REAL Crews. That is the thing I am most excited for tonight. What are you most excited for? Let me know on twitter or in the comments! I'll see you all back here at 8:00 p.m. EST.
(8:04 p.m.) Edge opening us off and he's got some things to address. Edge saying he's the carpenter of the table that Roman Reigns keeps saying he's the head of woah. 
(8:06) Now he's directing his attention to Daniel Bryan, the Rated R superstar is on another roll on the mic!
Daniel Bryan now is out here to respond and the babyface is keeping it respectful in his words toward Edge the other babyface in this triangle feud.
Some heat between the two but I don't get why Edge does not like the way Bryan got his shot. Bryan was screwed and worked hard to get back in the hunt, Edge would have done the same.
I liked that start thought they both kept me clinging on their every word even with the minor stumble by Bryan in the beginning but that is just me nitpicking. 
Now time for an eight man tag team match where the Mysterios team with the Street Profits to face the Dirty Dawgs (Dolph Ziggler and Robert Roode) and Alpha Academy (Chad Gable and Otis). The heels don't even let the faces finish their entrance they attack leaving the men hurt before the match.
(8:19) Roode and Dawkins start us off and the faces are in control despite starting off with some damage from the attack.
We are a minute in and everyone except Rey Mysterio has been tagged in geez.
Beautiful Double Underhook Suplex by Gable on Dominik. and now he lets Roode have a crack at the young Mysterio.
(8:26) Ford trying to take out the whole heel corner by himself but he's eventually overwhelmed by the legal man Ziggler.
(8:30) Double 619 onto Roode. Tag is made to Ford the Mysterios take to the outside to keep Otis and Gable down and Ford delivers the Frog Splash onto Roode and pins one half of the Smackdown Tag Team Champions.
Result: Rey Mysterio, Dominik Mysterio and The Street Profits defeat Alpha Academy and The Dirty Dawgs
Congrats to Molly Holly on being inducted into the 2021 WWE Hall of Fame class. 
Paul Heyman is not letting Jey Uso go into Reigns dressing room. The tribal chief seems to still be very unhappy about Jey losing to Bryan last week. Jey's in trouble!
(8:37) Seth Rollins is sporting a blazer that looks like a cross between a blazer and a flannel the dude always is wearing something interesting. Also is WWE going to show Cesaro swinging Rollins every week? Because I'm fine with that.
Rematch between Murphy and Cesaro seems to have the attention of Rollins let us see what the Savior of Smackdown has planned.
Nia Jax taking Reginald on a shopping spree? Uhmm ok also Shayna Baszler just looks miserable and it's great, she really does sell her badass, too cool for cool, vicious heel gimmick well. 
Ok is the Reginald and Jax relationship romantic? I think so but it also kind of seems like something else. I do not understand it is kind of creepy to be honest. That was weird also how will Reginald repay Jax?
(8:50) Cesaro is absolutely dominating Murphy in this match up. Time for a swing and Rollins does not let it last long because now he attacks Cesaro causing the match to end in a disqualification. 
Result: Cesaro wins by DQ
Rollins almost stomps on a chair with Cesaro's head caught between but the officials actually stopped him in time?! What the officials actually were able to stop a brutal attack? 
Shinsuke Nakamura and Rollins having a stare down as Rollins leave. This is getting more interesting also I guess Nakamura is no longer interested in the Intercontinental Title.
Kevin Owens saying he will think about appearing in the documentary. I kind of hope this leads to a WrestleMania match between the two. The card still has a lot to fill and a Zayn vs Owens match does not need much build to have a Mania feel and impact.
Edge has a chat with Jey Uso and his relationship with his cousin. Is this the beginning of Jey becoming his own man once again?
KO Show is back and Owens wearing a tie over a t-shirt is fantastic. I know he's done it before but I love seeing it.
Sasha Banks and Bianca Belair are going to once again face Nia Jax and Shayna Baszler for the WWE Women's Tag Team Championships at Fastlane and in my opinion I hate it. They already lost and the two should be focused on each other as opponents at Mania instead of as tag partners.
Wardrobe malfunction with Banks! The title fell. What you thought it was something dirty? Get your minds out of the gutter!
This trash talk is underwhelming to me and part of it is because they are focusing too much on the tag titles in the discussion.
Jax, Baszler and Reginald come on the scene but do not get to talk because Natalya and Tamina come out as well to face Banks and Belair in tag team action!
(9:14) The match begins both teams want to show the Women's Tag Champions what they are capable of. 
Reggie is being quite the factor and his interferences lead to Tamina pinning Belair. Ok maybe Natalya and Tamina should replace Belair and Banks at Fastlane? I like Belair and Banks a lot more but they need to focus on each other as enemies. I know I've already said but I'm saying it again.
Result: Tamina and Natalya defeat Sasha Banks and Bianca Belair
(9:24) Big E is back and the champ is wearing a neck brace and a bunch of bandages and other braces. Oh wait he is tearing all that stuff off. 
Big E with the heavy breathing of anger in the promo here. He's making a bunch of religious references, watch out everybody E is channeling preacher E! 
Wait we don't have to wait he is giving Crews a chance at the title now! Is Crews going to take it or just attack and leave.
Crews is not coming out so he is offering an open challenge and it is King Corbin who answers.
Sami Zayn interrupts Corbin and accepts before Corbin spits out the official words of I accept. 
First in the ring gets the match. Sami gets there then gets attacked by E. So are we going to have a title match or what? There was no bell and there is no referee. I'm sure it will start when the show comes back from commercial.
The match officially begins between these two that know each other so well.
(9:41) It's been a longer match than I thought and I'm surprised Corbin has not been a factor by interference or that Crews did not come out to watch or attack.
Result: Big E (c) defeats Sami Zayn
Apollo Crews does come out and attacks post match. Update he still has the accent.
 He's bringing out the steel steps yet again. Run E run!
Crews connects with the steps and sends E rolling out of the ring in pain and Crews stands tall on top of the steps in the middle of the ring.
Reggie proposing Jax to challenge Banks next week for the Smackdown Women's title. Please no.
Contract signing time to end the show lets see how this goes since these always end so well.
Reigns refuses to sign but Bryan does and spits some words to provoke Reigns. Bryan is on a roll on the microphone tonight. Bryan's mind games work and Reigns signs it! Bryan is always a great master manipulator even when a face. 
Jey Uso volunteers as special guest enforcer for the title match at Fastlane to be impartial. How are you impartial Jey? Edge comes out and challenges Jey Uso next week for the right to be the enforcer. The four men brawl and it ends with Bryan laying out Edge with the Running Knee!
I personally love this ending. Solid show it definitely kept me engaged for the most part. What did you guys think?