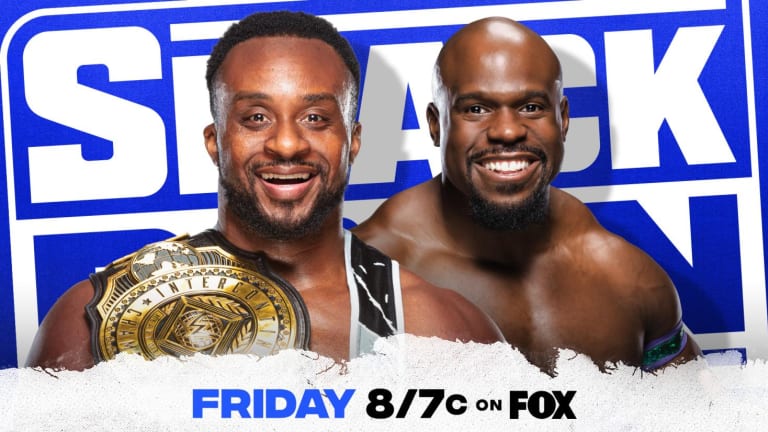 WWE SmackDown LIVE coverage and commentary (01/08/2021)
Will the second WWE SmackDown of 2021 reveal more details about this year's Royal Rumble? I don't know, I'm not Nostradamus.
(You may need to refresh the page for the latest updates)
So... anything going on in the world? I should really watch the news and keep up with things.
Yes, things seem to be going crazy in the "real world", with lunatics storming the U.S. Capitol Building and Donald Trump getting permanently banned from Twitter (which just happened as I write this). But, there's still some WWE SmackDown to watch, and, gosh darn it, I'm gonna do it! And write about it! And maybe do some interpretive dance about it! Probably not that last part, but never say never! Sometimes you've just got to boogie.
Anyhoo, I'll be covering what's happening on SmackDown tonight - AS IT HAPPENS - that's what live means, apparently, and I'll also be reading your comments in the, um, comments section and encouraging you to tweet me at @HeyImKevinSully (Sorry, Donald, I guess you'll have to email me or something). If you're reading this, please drop me a line. See? I even said please.
Before tonight's show starts, here's something WWE just threw out there:
See you all in a bit.... Oh, and read tonight's preview here.
-------------------------------
(7:05pm) Roman Reigns is here with Jey and Paul, and he's telling us he likes Kevin Owens. In fact, he likes everybody in the locker room. That's what being a leader is. Kevin Owens is hurt and he's upset that people are blaming him.
And instead he's blaming WWE Official Kevin Pearce. And he's demanding that Pearce comes to the ring.
After a delay, Adam Pearce finally makes his way to the ring. This probably isn't going to end well for the former NWA World Champion.
Like a hungover teacher, Roman Reigns has a video for us. (/r/unexpectedmulaney)
Roman giving Pearce the "what do you do here exactly?" speech, blaming him for Owens getting injured. Then chastising him for booking a gauntlet match to determine Roman's next challenger - "Like I can't pick my own challenger?!?!"
Universal Champion or not, Roman probably shouldn't put his hands on a WWE official. Aaaaaaaaand, he did it anyway.
Just as it looks like Roman is about to throttle Pearce, he stops. Then tells him that "right now", Adam Pearce is "perfectly safe."
(7:23pm) Aaaaaaaaaand, we're back. It's time for United States champion Big E vs Apollo Crews. Apollo is already in the ring, and they don't even really show E's arrival. 

Not that it matters, as Apollo explodes out of the corner and knocks the champ down! He's got the advantage! For... a few minutes and now Big E is tossing him around the ring.
Big E is a big, big beast, but Apollo isn't exactly a weakling and manages to nail a couple of German Suplexes on the champion.
Crews with a Superplex on Big E, and hooks the leg for the pin.... AND GETS THE PIN!
There seems to be some confusion, despite the fact the ref clearly counted to three and Big E didn't kick out. 
 Ohhhhhhh.... double pin!
(7:30pm) Following the ad break, the referee declares the match a draw. Big E wants a fist bump, but Crews isn't having it. 
He slaps Big E across the face and demands the match start over. And it does.
(7:34pm) After a number of near falls by Crews, the champion hits the Big Ending and gets the pin.

RESULT: Big E defeats Apollo Crews
Meanwhile, Adam Pearce is on the phone with... someone. Sonya Deville comes up to him and is apparently working with him as part of her return. And, she also seems to think that Pearce is going to be in a match later tonight. Which Pearce insists isn't going to happen.
I'm curious if you guys are actually reading these. I wonder if I just started live commenting a Golden Girls rerun if you would actually notice.
Bianca Belair is going to be in the Women's Royal Rumble match! She's being interviewed about this very thing when Bayley interrupts her.
The Street Profits are defending their SmackDown Tag Team Championships against Roode and Ziggler tonight. But... is Montez Ford able to compete after the beating on his knee the challengers inflicted upon him last week?
Dawkins and Ford make their way to the ring. Dawkins does that little hop-back-and-forth-sideways dance and Ford just... points at him enthusiastically. 
(7:49pm) Sports Illustrated has named Sasha Banks the "#1 Superstar of 2020."
Roode kicks Ford right in his injured knee, but Montez still manages to knock him out of the ring - then nails him with a dive over the ropes. We head into an ad break with Dawkins checking on his partner, who is clearly in a lot of pain. KNEE pain.
Man.... if Ziggler and Roode win the tag titles tonight, I am going to... just... type about it here, I guess.
Roode tries to attack Montez before Dawkins can tag him in, but Ford fights him off and the hot tag is made. 
(8:03pm) Even with a bad wheel, Ford is fighting off his opponents. Ziggler goes for a superkick and Ford hits one of his own! 
Ford keeps kicking out of pin attempts! Oh, wait... Roode and Ziggler hit him with the Pop-up Zig Zag and get the win.
RESULT: Bobby Roode and Dolph Ziggler defeat The Street Profits to win the WWE SmackDown Tag Team Championships
Pearce and Deville are backstage, discussing the match we just had, when Paul Heyman approaches him. He informs the official that he is a huge fan of his and holds him in the highest regard. Which is why Paul pulled some strings, and Adam Pearce is in the gauntlet match tonight. Oh snap.
Are you excited to see what is not only Adam Pearce's return to the ring after years, but his WWE debut??
The gauntlet match is on, and it's starting with Rey Mysterio and Sami Zayn. Zayn comes to the ring with his own documentary film crew, and insist there's a conspiracy against him. Zayn promises he's going to beat Rey and then go on to win the whole match.
Rey beats him with a 619 within seconds.
Shinsuke Nakamura is next.
(8:29pm) After a great match, Mysterio leaps from the top rope for a frog splash, but Nakamura lifts the knees. The King of Strong Style puts the Mystery King (Rey Mysterio) in an armbar and gets the win.
King Corbin - the next entrant in the match - dashes to the ring, attacking Dominik at ringside. Then, he dashes in and attacks both Nakamura and Mysterio.
(8:35pm) Shinsuke rebounds with an enziguri, but Corbin still manages to hang on to the upper hand.
Nakamura charges in for the Kinshasa, and Corbin grabs it and turns it into a Deep Six. Only gets a two count. Nakamura turns that kick-out into a triangle hold, and Corbin turns it into a powerbomb.
Corbin gets thrown out of the ring, and slides back in under the ropes. Nakamura charges and blasts Corbin with a Kinshasa and gets the pin!

After the break, Nakamura will continue the match against Daniel Bryan.
(8:46pm) Plenty of hard hitting back and forth, and Nakamura gets Bryan in an armbar - the same one he beat Rey with - but Bryan reverses it into the Yes Lock. Nakamura manages to break out, but he's clearly at the end of his gas tank.
Bryan charges into the corner with a flying dropkick... and a second... he goes for a third...
And Nakamura charges out with a Kinshasa! And he gets the pin!
Bryan and Nakamura share a handshake after the match. Are we getting a Nakamura face turn? FINALLY?!
Roman Reigns and his entourage come out, apparently to watch a worn out Shinsuke take on a rusty Adam Pearce.
Pearce comes down to the ring, and he looks like he'd rather be anywhere else.
Uso and Reigns beat down Nakamura before the bell can ring.
Uso superkicks Pearce and Roman demands the bell ring.
Jey pulls Adam Pearce onto Nakamura and the ref counts to three.

RESULT: Adam Pearce wins the gauntlet match.
In the immortal words of our first President, George Washington... "WHAT THE F*** WAS THAT S***?!?!?!"
Seriously, though... that was some great storytelling right there, and a great way to get a guy like Adam Pearce a chance to get in on a major main event program. 

The best compliment I can give it is that I really can't wait for next week.
So, be sure to leave your thoughts about tonight's show down below or tweet them to me at @HeyImKevinSully and I'll see you guys on Monday for Raw!

Until them... I'm outta here.