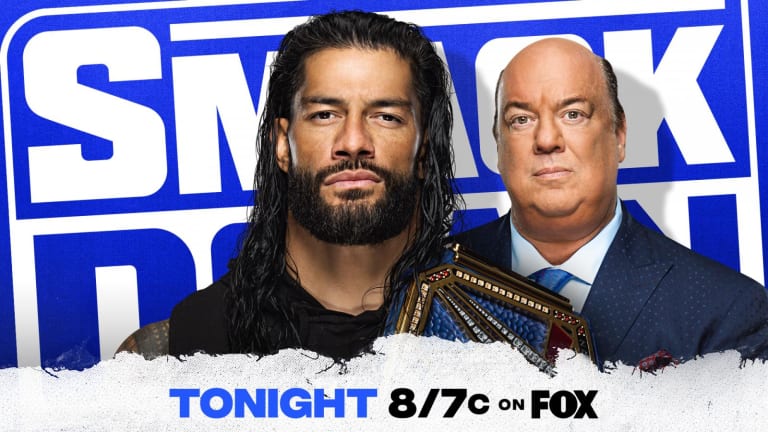 WWE SmackDown LIVE coverage and commentary (02.12.21)
What will Roman Reigns announce on WWE SmackDown tonight? What are the odds it's something stupid? Find out during WNW's LIVE coverage of the show! (or watch it, too, I guess)
(You may need to refresh the page for the latest updates)
Happy Friday, one and all, and welcome to Wrestling News World's regular LIVE coverage of WWE's SmackDown on the FOX TV Network. I'm Kevin Christopher Sullivan and as always - well... more often than not, anyway... I'll be your guide through tonight's action. I'll be reporting the high spots, the low blows, any big reveals, and all the results as they happen.

Maybe not exactly as they happen. I have to sneeze now and again like the rest of you so cut me some slack, you animals.
Not only will I be reporting on the action (and probably making stupid jokes about it), but I'll be sharing Tweets about it posted during the show. Would you like to have your Tweet featured on here? Of course, you would. Well, you can Tweet me directly at @HeyImKevinSully or just tag your tweet with #WNWSmackDown and you could see them right here up on this page that literally tens of people read every week.
So, let's get comfy and get ready for WWE SmackDown!

Let's do this.
---
What do you think Roman's announcement is going to be? Post your ideas in the comments section below!
---
---
END OF SHOW. Everybody have a great night and I will see you all on MONDAY! I had a great time tonight but until then... I'm outta here.
(8:58pm) All HECK breaks loose between everybody in the ring until Kevin Owens shows up and hits everybody with a Stunner and clears that ring OUT.
(8:56pm) Cesaro with Ziggler in the Sharpshooter and gets the win!

RESULT: Daniel Bryan and Cesaro defeat the Dirty Dawgs
(8:55pm) Cesaro's pop-up Europen Uppercut needs to be his finisher. It's such an exciting move and he can hit it anywhere.
(8:50pm) Ten minutes to go! What's going to happen? Comments section down there! Type in it! Go!
(8:47pm) Cesaro and Bryan are on the arena floor and Korbin and Zami come out to see who they're going to face in the Chamber match. And then we have a detergent commercial with old people doing.... I dunno... forget I brought it up...
(8:40pm) Roode and Ziggler vs Bryan and Cesaro in out main event is next.
(8:39pm) Sasha and Bianca drop Nia onto the ring apron on her... er... backside again, then kick Shayna really hard and then dance.
(8:35pm) Bianca comes to the ring to do the usual "nuh uh no you di'int" thing. And then Nia Jax and Shayna Baszler come to the ring. And then we get another look at Nia screaming "my hole!!" because WWE.
(8:34pm) Sasha is in the ring, talking about how she likes Bianca a lot... and she sounds... drugged? HMMMMM I WONDER
(8:29pm) As the Profits celebrate, Sasha Banks comes out as well and celebrates with them. It looks like she's in action next.
(8:28pm) We almost saw it, but Ford manages to wrangle out of it, knock Otis out of the ring and hits the frog splash for the win!

RESULT: Street Profits defeat Otis and Chad Gable.
(8:22pm) Otis and Gable are working on a new move that... actually looks like it could be awesome. I hope we see it.
(8:21pm) WWE congratulates Tom Brady and the Tampa Bay Buccaneers for wining the Super Bowl as the Street Profits are in the ring to take on Otis and Chad Gable.
(8:16pm) Talking to Daniel Bryan and Cesaro backstage and Cesaro is determined to not let Rollins's attack keep him from qualifying for the Chamber.

Daniel Bryan: "Cesaro? That dude's tough."
(8:15pm) Here's Billie Kay, trying to apologize to Ruby Riott for her goof-up last week. Ruby tosses her resumes into the ring, distracting the ref. Bayley uses the opportunity to scratch Liv in the eyes (BAD, BAYLEY! BAD!) and get the pin.

RESULT: Bayley defeats Liv Morgan.
(8:09pm) Liv Morgan is in the ring so I'll be unavailable for a few minutes. Sorry.
(8:05pm) Bayley comes down the ramp and we're getting her vs one of the Riott Squad... after these Progressive ads and anti-vaping PSAs.
(8:02pm) Rollins charges out of the ring and attacks Cesaro, screaming "you'll NEVER reach your potential without me!" Referees and Daniel Bryan race to help him and get Rollins to back off. 
(8:00pm Seth declares that he can be the leader SmackDown needs. Everyone at ringside walks out. Rollins informs us that all they have to do is "embrace the vision." Then he's shocked when everybody left. Except for Cesaro? Oh wait, never mind, he apparently forgot where he was for a moment. He's walking out.
(7:57pm) Seth Rollins, with his man-bun and incredibly shiny leather suit, is GLAD TO BE BACK! And the thing that has changed the most since he has been gone.... is him. He brings up his new baby he had with Becky Lynch. Awwww
(7:56pm) It was Corey Graves this time but I love it when it's Michael Cole thanking whoever did the theme music for whatever event was coming up because you know he has no idea who it is.
(7:55pm) Seth Rollins is BACK! And he's got his old theme music.
(7:52pm) Seth Rollins is making his return to SmackDown! And... for some reason... the whole locker room is coming to the ring for it...? I predict this will end stupidly.
(7:49pm) Shinsuke nearly connects with two Kinshasas, but Big E with a urinagee... urahnagi... urnaht gonna work here any more, anyway... Big E nearly hits the Big Ending, but Crews attacks and Big E wins by DQ.

RESULT: Big E defeats Shinsuke Nakamura via DQ
(7:48pm) Shinsuke vs Big E going full swing. Apollo Crews is at ringside, every now and then distracting Big E and cheering on Nakamura. Nakamura with a second rope knee strike but only gets a 2-count out of it.
(7:23pm) Big E puts the microphone down so we know this is serious business E tells Crews to go back to catering and calls out his next opponent.

It's Shinsuke Nakamura.
(7:42pm) Big E is in the ring and making Tom Brady and Gorilla Glue, and Apollo Crews comes out. He assumes that Big E is going to make an open challenge for the Intercontinental Championship. Big E tells him he is going to offer an open challenge to anybody... but Apollo Crews.
(7:39pm) Back from break and we get a look at what happened between Carmella, Reginald, SmackDown Women's Champion Sasha Banks, and Royal Rumble winner Bianca Belair. It didn't end well for Reginald, who got a whippin' (litterally) from Bianca.

Backstage, Reginald approaches Sasha (talking to Lince Dorado) and apologizes for his behavior, and offers her a glass of Champagne. She takes it and Reignals walks away, but looks back and laughs. I'm sure there's going to be something sneaky in that little bit of the bubbly.
(7:33pm) Deville tells them that they can earn a spot in the Chamber match if they beat the team of Cesaro and Daniel Bryan....

WAIT. CESARO AND DANIEL BRYAN?!?! COOOOOOL!

Oh, and Big E has a match after the commercial.
(7:33pm) Sonya and Pearce are discussing what just happened when the SD tag champs Dolph Ziggler and Robert Roode appear. They start with "Hello, gentlemen..." and then after calling themselves the "Dirty Dawgs" about a hundred times, suggest they each take a spot in the EC.
(7:31pm) RESULT: Zami Sayn and Cing Korbin win and qualify for Elimination Chamber.
(7:30pm) It's been mostly Dominick in this match, who has been holding his own throughout the match. Father and son with a Double 619 on King Corbin. However, Zami with an Exploder Suplex and Helluva Kick on Dominick and gets the win!
(7:25pm) Meanwhile, we're not even half an hour into the show and my wife is already asleep on the couch. I'm sure that doesn't mean an
(7:22pm) Sami Zayn (I almost typed that as Zami. I think I might do that from now on) comes out with his documentary crew with a long and hilarious rant. I can't even do it justice here. The Mysterioes have had enough and attack.
(7:19pm) Pearce is sweating bullets, trying to sort out this Elimination Chamber situation. Sonya Deville compliments him on standing up to Roman, and tells him she has an idea for a qualifying match: King Corbin teams with Sami Zayn against Dominick and Rey Mysterio, with both members of the winning team qualifying for the match.
(7:13pm) Pearce says he has some work to do to make the proper arrangements, but that some qualifying matches will need to be held. But he can think of two Superstars who don't need to qualify: Kevin Owens and Guy Who Claps His Hands Behind Roma... er... Jey Uso. *singing* Roman doesn't liiiiiiike that*
(7:08pm) Pearce is trying to get Reigns to sign the contract to defend his Universal Championship IN the Elimination Chamber. Heyman disagrees and says that instead, Reigns will defend his title immediately against the winner of the Chamber match.
(7:06pm) Roman reminds Adam Pearce that he is in charge, not Pearce. Then, he begins to talk smack about Edge who, if you recall, was on SmackDown last week. "I'll beat Edge so bad, he'll have to sign a Legends Contract."
(These times are in Central, by the way. Keep refreshing.)
(7:03pm) WWE Official Adam Pearce is in the ring holding his leather binder that he loves so much.
(7:01pm) Roman Reigns, Paul Heyman, and Smiling Guy With a Necklace Who Claps a Lot are making their way to the ring!
(7:00pm) Then. Now. Probably For a Long Time But We Can't Predict the Future.