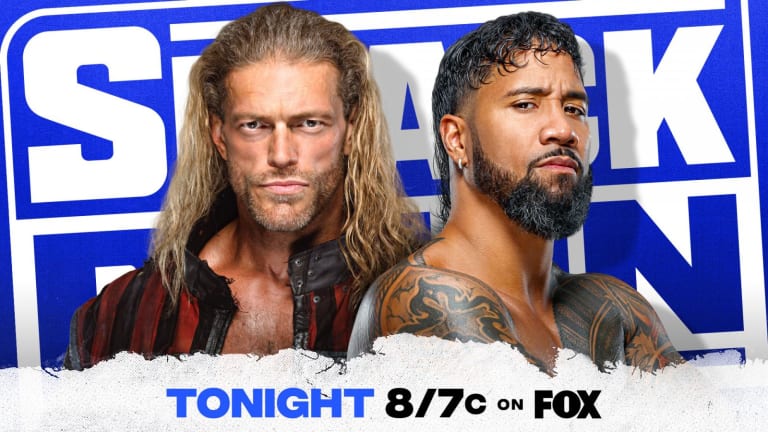 WWE SmackDown LIVE coverage and commentary w/ Kevin C Sullivan (03.19.21)
I hope you're excited for WWE FastLane because tonight is gonna be all about WWE Fastlane.
Hello and welcome to tonight's Wrestling News World coverage of WWE SmackDown. I'm Kevin Christopher Sullivan and, I'm not gonna lie to ya, I am exhausted. It's a long story that involved my five year old daughter wanting a hat that doesn't belong to her and me chasing her up and down our street until the proper owner of said hat regained possession of it. Long story short, kids are annoying.

Anyhoo, tonight is the GOOOO HOOOOOOME SHOOOOOOW before this Sunday's Fastlane and, tonight, we're going to see Batman, Wonder Woman, The Flash and other heroes attempt to step up and carry on defending Earth without the help of Superma... no, sorry, that's what I'm watching for the fourth time after SmackDown... Rather, we're going to see Jey Uso and 2021 Royal Rumble Winner/World's Scariest Canadian Since Neal Peart Died Edge in a match to determine who is going to be the MacGuffin in the Roman Reigns/Daniel Bryan match on Sunday.

So, as I type this, we have about two hours until the show starts. I normally use this time to suggest you reach out and comment on tonight's show either via the comments section below or via my Twitter account, which is at @HeyImKevinSully, but you're not going to do that so why bother?

Anywaaaaaaaaaaaay, see you guys at showtime!
(You may need to refresh the page a couple of times to get the latest updates.)
---
A couple of housekeeping things - I'm going to timestamp each entry, and it's going to be via Central (aka Chicago, for example) Time so if you have a problem with that, you need to reconsider the stuff you have a problem about because that's really stupid. Secondly, anyone who either tweets at me or posts in the comments during the show runs the risk of winning a cool, random prize. Yeah, I'm in THAT kind of mood tonight.

See you bitches in fifteen minutes.
---
(7:47pm) We're back from break and now the Mysterios have to take on Otis and Chad Gable.
RESULT: The Mysterios defeat the Street Profits
(7:40pm) We're getting Rey Mysterio and his son, Dominick, taking on the Street Profits.
(7:32pm) Rollins shouts that Cesaro will never disrespect him again - so Shinske Nakamura comes out and beats up Rollins because if there's something you don't do is f*** with Nakamura's friends.
(7:27pm) Shayna tells Nia that she's gonna get a match with Bianca to make up for kicking her in the face.

Also, Seth Rollins is wearing a suit that looks like he was standing on the side of the road, in front of a pile of grapes, and a car ran over it.
(7:20pm) Edge - who is wrestling for the first time on SmackDown in literally ten years - cuts a pretty amazing "make myself look cool while also getting my opponent over" promo.

Also, here some Seth Rollins.
RESULT: Sasha Banks defeats Nia Jax
(7:16pm) Belair and Shayna Baszler fight each other into the ring, distracting the referee. Baszler goes in to kick Banks, but she kicks Jax instead. Belair tosses Baszler out of the ring and Banks rolls up Jax for the win.
(7:12pm) Commercial time is ovah and Jax is still beating up Banks.
(7:08pm) Jax screams "it's over!" and then hits Sasha with a Samoan drop, but she still only gets a 2-count. Suddenly, Bianca's music plays and, well, you know... Bianca comes out. Commercial time.
(7:02pm) Sasha Banks and Bianca Belair are yelling at each other backstage. Also, Sasha is defending her SmackDown Women's Championship against Jia Nax.
(7:00pm) THEN. NOW. FORKS.