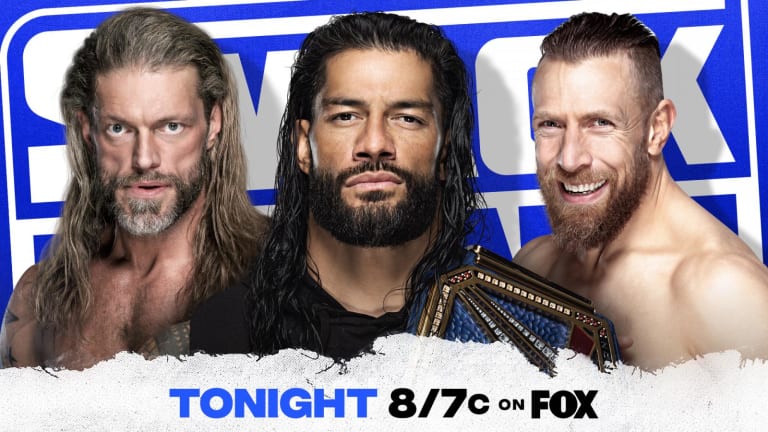 WWE SmackDown LIVE coverage and commentary  (04.02.21)
We continue to head down the road to WrestleMania. Logan Paul is along for the ride, as well, for some reason.
(Reminder: You will probably have to refresh your page more than once to get the latest show updates)
It's Friday night, which means the Fox broadcast television network presents WWE SmackDown! I'm Kevin, I'm going to be covering the show for you tonight, and then I'm going back to playing Outriders because that game is dope as hell.
We're this close to WrestleMania, which is not only, you know, WrestleMania, but also the first WWE show in... what?... a year?... that features a crowd that bought tickets. So, needless to say, they're doing their darnedest to hype this bad boy up. Especially as the WWE Network has moved to Peacock - which is a perfectly fine service and some of you people are just being babies.
We'll be starting the coverage right at 8pm/7pm Central (for timestamp purposes below, we'll be listing the events by Central time because that's where I live so deal with it, you sexy dingalings). Stay tuned!
Hello everyone Kevin lost his power so I Juice will be covering in the mean time or for this episode depending if he regains power or not. Newest information will be at the top but after the divider and I will use Eastern time for the time stamps. Ok let us begin.
---
That concludes Smackdown, thanks for joining me and follow me @juicannon1 on Twitter and check out more Wrestling News World content! Tomorrow I drop an article about my top nine Mania stages and the final nine was decided by twitter vote but see how I rank the nine finalist!
Heyman just watches in the background and the officials finally separate Bryan from Reigns! Bryan goes to the ring climbs on the turnbuckle and starts the YES chants! 
He runs to Reigns, Reigns throws the chair at Bryan, Bryan evades and attacks Reigns! Bryan uses the Yes Lock on Reigns!
(9:55pm) Yes Lock by Bryan on Jey and Bryan gets the win then runs outside and delivers a Running Knee to Edge! He keeps the attack on Edge going ramming Edge into the ring post then stares at Reigns the Universal Champion.
Edge on commentary has been enjoyable and intense and he is adding plenty of fire in this feud. I know a lot of people are upset at the Universal Championship match at Mania being a triple threat but I love it all parties are making it an exciting storyline and every week are trying to make the outcome less and less predictable.
(9:52pm) Bryan delivers a suplex outside the ring right infront of Edge on JEy then delivers chair shots on Jey while looking at Edge!
(9:45pm) Bryan is rolling now but Reigns comes out to watch with Paul Heyman on the ramp and stares down Bryan who stands above Jey with a chair!
(9:42pm) The Street Fight begins and Bryan needs to not just worry about his opponent Jey but Edge who is on commentary and Reigns who is probably lurking waiting to strike.
Edge enters the ring to join commentary ahead of our main event Street Fight between Daniel Bryan and Jey Uso.
Apollo Crews gives a promo of his own and challenges Big E to a Nigerian Drum fight at WrestleMania whatever that means. A good quick promo though the accent is still weird but I love this character from Crews to be honest. 
King Corbin addresses us and says he was not being respected on Smackdown and went on RAW to accept Bobby Lashley's offer and take out Drew McIntyre so he can earn a title match with Lashley.
RESULT: Bianca Belair defeats Carmella
(9:27pm) Belair gets the win and Banks attacks but fails and Belair then stops and says not today and points to the Mania sign.
(9:24pm) We are back from commercial and the match officially begins!
(9:19pm) Carmella attacks before the bell and cutting Belair's entrance short and causes some serious damage to the leg of Belair
Before the match Zayn attacks Owens backstage!
Carmella vs Bianca Belair is next, I doubt Belair loses because she can't or should not lose momentum heading into her WrestleMania match with Sasha Banks next weekend but we will see.
Owens comes from behind and stuns Zayn and Paul is just in the ring confused on what happened. 
(9:06pm) Owens went up to Paul before he went to the ring and it seems like Paul does not believe in the conspiracy. Poor Zayn everyone is against him.
(9:05pm) Let us see what Paul thinks.
Zayn is just staring at trash, what is happening in this trailer. This is comedy gold and this is only the trailer and I am convinced there is a conspiracy against Zayn.
I wonder if Paul is actually on the side of Zayn because I could see him turning on Zayn and joining Owens. It is official Paul will be at WrestleMania.
(9:00pm) Zayn introduces Paul to the ring so the two can watch their trailer and we all know Kevin Owens is going to crash at some point.
(8:54pm) Logan Paul is in the house and joins Sami Zayn on the red carpet to go watch the trailer for the documentary!
Carmella was then shown again and Billie Kay is back she hands tries to give Carmella the resume and at first Carmella refuses then she accepts it and reads the back! Will they now be packaged together?
Jax charges in and attacked Natalya and Tamina. Riott Squad attacks the champions now Mandy Rose and Dana Brooke come out. Naomi and Lana come out too  and the segment ends with the champions leaving and Tamina and Natalya downing Naomi and Lana.
RESULT: Natalya defeats Shayna Baszler
This result is weird both went for quick roll-ups and Natalya wins the series of roll-ups winning the match in seconds! Carmella watches from the back
Natalya taking on Baszler is up next with Tamina in the corner of Natalya and Jax on commentary. 
The WWE Women's Champions Nia Jax and Shayna Baszler are in the house with Reginald and they walk by Carmella who was not so nice to Reggie and Jax tells her that and I'm surprised she did not attack Carmella, maybe it is because she is untouchable.
(8:42pm) Rollins says he is going to end Cesaro right here and now and Cesaro reponds with "take a swing" golden go Cesaro go!!! Rollins just leaves what a coward.
(8:41pm) Rollins snaps finally and shoos Graves away and gets right in the face of Cesaro.
Corey Graves interviewing both men in the ring ahead of their WrestleMania match next week. Also Cesaro I heard you say this Saturday bud. Hopefully Cesaro wins his first WrestleMania singles match.
Seth Rollins coming to the ring in yet another wild suit. Last week he went for another swing, will it happen again next since he and Cesaro will be face to face?
RESULT: Alpha Academy and Dirty Dawgs (c) defeat The Street Profits and  The Mysterios
(8:30) Otis is tagged in jumps on to Ford from the top rope and get the pin for his team!
(8:27pm) Roode is controlling Angelo Dawkins and makes the tag to Ziggler. The show off takes Dawkins by the head and brings him to the mat shortly before standing up and bringing to the corner to tag in Otis. Otis works on the neck for a bit before Dawkins counters both men bounce on the ropes and clotheline each other. Both then tag their partners in, Gable and  Montez Ford are in.
Street Profits and the Mysterios teaming yet again to face Alpha Academy and the Smackdown tag team champions Dolph Ziggler and Robert Roode of the Dirty Dawgs. Next week on a special WrestleMania edition of Smackdown all four of these teams will battle each other for the tag titles but right now we got a four on four tag match involving the teams. Also to put my prediction down I have the Mysterios winning the tag titles next Friday. 
Alpha Academy is in the house and even though I miss Heavy Machinery I do like this duo and I like Chad Gable actually being used.
Daniel Bryan facing off against Jey Uso again but this time in a street fight seems unnecessary but should be good. 
Edge acknowledging how he went bonkers last week and finally being the Rated R-superstar again is awesome and how throughout the promo he got more and more crazy and intense in his delivery was great.
Edge is all nice and babyface again, boooo go crazy, psycho again. Just kidding any Edge is good Edge. 
(8:05pm) Edge in the ring after recaps showing his brutal attacks on Daniel Bryan and Roman Reigns last week let us see what he has to say.