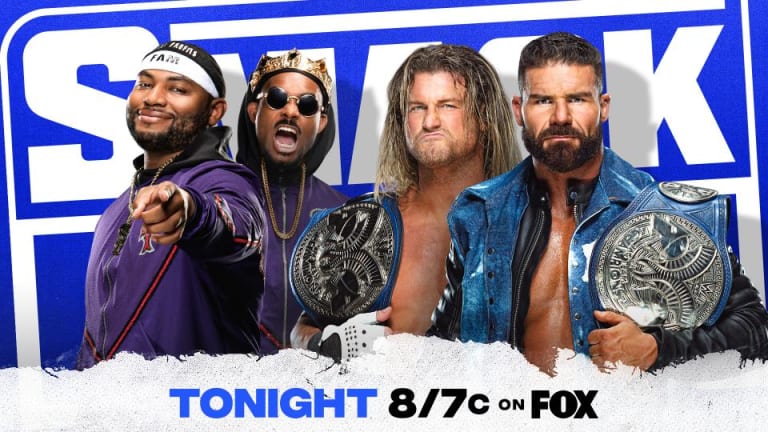 WWE SmackDown LIVE coverage and commentary (04.16.21)
It's the SmackDown after WrestleMania. Live on the FoxNetwork.
(You may have to refresh the page to get the latest updates)
Hey everybody. Kevin here. I'm running a little behind - Roman Reigns is making his way out to the ring to open the show as I write this. So, keep an eye on things below and I'll get you all caught up as quick as I can.
---
Well. That was a pretty good episode. Not really any surprises like you'd expect from a post-WrestleMania show - except for Cesaro stepping up into the main event scene. But a good show all the same.

Thanks to Juice for covering for me for a few segments and thanks to all of you for coming by and hanging out tonight. Out of all the shows I do live coverage for, SmackDown is probably my favorite to cover.

Until Monday night... I'm outta here.
(8:57pm) Cesaro has Uso in The Swing! Suddenly... Seth Rollins attacks!

RESULT: Cesaro defeats Jey Uso via DQ
(8:52pm) Every time Cesaro goes into the air with his head precariously close to the top of the ring post, I wince.
(8:45pm) Jey Uso vs Cesaro is our main event tonight!
Three of SmackDown's champions are on Talking Smack this week - Apollo Crews, Bianca Belair, and the Dirty Dawgs.
(8:37pm) Jax charges into the ring immediately after the 3-count to attack, but Tamina leaps in and nails her with a superkick.
(8:36pm) Shayna goes for her sleeper, as Nia Jax leaps to the apron. Natalya shoves Baszler off and nearly into Jax. It's enough of a distraction to roll her up for the pin.
RESULT: Natalya defeats Shayna Baszler
(8:34pm) Natalya and Shayna Baszler going on on one, with their respective tag team partners at ringside.
Ok, why do they keep showing Cesaro using the UFO on Seth Rollins on Saturday night? It's very impressive but we get it guys. Chill.
RESULT: Dirty Dawgs defeat The Street Profits to retain the Smackdown Tag Team Championships
(8:25pm) Ford does not see the tag Ziggler makes and Ziggler sneaks in lands the Zig Zag and gets the win for his team to retain the titles!
(8:24pm) Ford flips out of the ring onto both opponents. He throws Roode back in Dawkins has some offense tags Ford again. Ford uses his signature Splash seemingly has the win but Ziggler breaks it up.
(8:23pm) Ziggler and Dawkins both make tags after Dawkins throws Ziggler into the turnbuckle to buy time. Ford has the hot tag and is bringing it to Roode. 
(8:22pm) The champions the Dirty Dawgs are back in control with Roode taking it to Dawkins with a strong suplex and Roode and Ziggler are making constant tags.
(8:16pm) The Street Profits are in control and as Pat McAfee brilliantly said Smoke Season is on!
(8:12pm) Smackdown Tag Team Championship match is on and The Street Profits want to join Belair in having Championship gold.
Bayley has declared she wants a shot at the title once again and another shot at her enemy Belair.
(8:08pm) Banks is too mad to be interviewed and still has the mark from Belair's hair given to her Saturday night will she ever escape the shame?
(8:07pm) Corny, feel good promo but it is from Belair so I'll let it slide. Belair just told the Profits to drop the red cups and get after the tag titles... Is she color blind Ford was holding a blue cup.
(8:01pm) Now Ford is introducing the new Smackdown Women's Champion to the ring the EST of WWE!
(7:59pm) Street Profits are in the how and start not by trash talking their opponents Dolph Ziggler and Robert Roode but by talking about Bianca Belair's huge title win on Saturday night at WrestleMania. Which makes sense Belair is the wife of Montez Ford. 
(7:54pm) Apollo Creed is backstage with Dabo Kato - now going by the name Commander Azeez (AZZIZ, LIGHT!!).
(7:52pm) Owens isn't having it, grabs Sami and tosses him back into the ring. Stunner. Boom. Cue KO's music.
(7:51pm) Zayn on the outside and rakes Owens in the eyes, leaving him dazed enough to get counted out. 

RESULT: Kevin Owens defeats Sami Zayn
(7:42pm) Owens and Zayn with a WrestleMania rematch.
(7:36pm) Sami calls out Kevin Owens and demands....
(7:35pm) Sami Zayn is here and he is in prime form tonight.
(7:31pm) Kayla asks Paul Heyman if Roman will accept Cesaro's challenge. Heyman launches into a classic Paul Heyman promo, including using the term "kosher tookus" - and reveals that Cesaro will indeed be in the main event tonight... against Jey Uso.
(7:26pm) Ok, cool, I've got a steady feed. What did I miss? Oh, wait, that's my job.
(7:22pm) Otis is taking on Rey Mysterio in our first bout tonight - and my YouTube TV feed just went down. Bear with me, folks.
(7:18pm) SmackDown comes back from break with Adam Pearce and Sonya Deville having a totally not-pretend conversation. Cesaro interrupts, but politely in that Swiss was of his, and graciously accepts the congratulations on his WrestleMania win from the two of them.

Then, Cesaro informs them he wants a match with Roman Reigns tonight because Roman is a big, disrespectful jerk - and Roman doesn't even have to put the title on the line. Pearce seems hesitant, but Sonya tells him that he'll talk to Roman and get back to him. Cesaro seems shocked at this.
(7:15pm) I meant to write "God", genuinely, but I laughed so hard at that typo I decided to just keep it.
(7:11pm) Roman and Co. are about to head out, as Roman informs us all that there's "nobody on [his] level", but Cesaro, of all people (no offense, it's awesome), comes out to [try and] prove him wrong. Roman isn't sticking around long enough to hear what he has to say.

It's Michael Cole and Pat McAfee going it alone together on commentary for two hours tonight because there is no Dog.
(7:08pm) Roman Reigns is in the ring, and asks Paul Heyman to inform the crowd as to how WrestleMania ended this past Sunday. Pat McAfee is annoying.