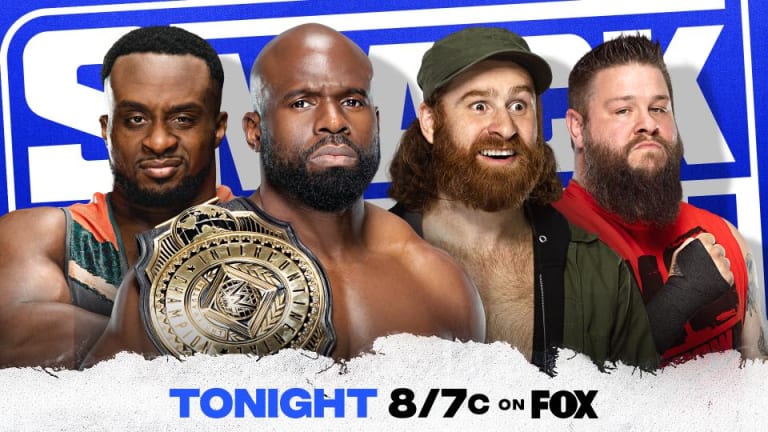 WWE SmackDown LIVE coverage and commentary (05.21.21)
Tonight, we get the backlash from WrestleMania Backlash. There's a lot of backlash happening.
(You may need to refresh this page once or twice to get the latest live updates)
Hey everybody! Kevin C. Sullivan here, and it's almost time for WWE SmackDown! Wheeee!
Following his victory this past Sunday (and the attack by Seth Rollins) against Cesaro, it looks like Universal Champion Roman Reigns might be done with the Swiss... Cyborg? Superman? What are WWE calling him this week? Anyway, looks like Cesaro won't be an issue for Reigns for the time being? So.. who will? Hopefully we'll find out tonight.
If you're following along live, make sure you refresh the page a couple of times every now and then to get the latest updates. If you're reading this after the show is over, you clearly don't need to do that and I apologize for insulting your intelligence. Please find it in your heart to forgive me.
There's also a Fatal Four way for the Intercontinental Championship and, for crying out loud, look at Sami Zayn's expression in that picture above? How can you not give him the win tonight? Priceless.
Anyway, down below you'll find coverage as it (sort of) happens, with time stamps in Central time, because that's where I live and so that's what I'm going to lose. If you have a problem with that, please write your congressman.

Enjoy SmackDown everybody!
---
Aaaaaaaaaand, that's our show, guys. All in all, a really great episode. Feels like every segment had a purpose, which is always nice to see.

I'll see you guys after the weekend for Raw. Until then... I'm outta here.
(8:57pm) Aleister Black suddenly makes his way to the ring, and nails Big E with Black Mass. Crews uses that to pin Big E and retains his title.

RESULT: Apollo Crews retains his Intercontinental Championship.
(8:56pm) Big E hits the Big Ending on Crews, but Aziz pulls E out. No DQ so it's legal. Not very ethical, but legal.
(8:46pm) Fifteen minutes left in the show, and all four of these guys have torn each other apart. This might be a dark horse Match Of The Year with the way they're going right now. Commercial break at the moment.
(8:35pm) Will Kevin Owens and Big E work together against Sami and Apollo, or will E remember that Owens tricked The New Day and attacked them, like, a year or so ago?
(8:28pm) Roman whispers something to Jey - I mean, not literally, but he might as well have been, because *I* sure couldn't hear a damn word he said - and then hugs him. 

Then we hear from the Street Profits, and they, apparently - and you're not going to believe this, you guys - they want the smoke. Can you imagine??

That's followed by a promo from Sami Zayn, who then heads to the ring, followed by Kevin Owens, which means we're heading into our main event!
(8:21pm) Right before the commercials, Jimmy finds Jey and tells him about their match against Street Profits. Jey's not happy about it and says he has to go talk to Roman.
(8:18pm) Dominick gets Roode on the second rope and goes for the 619. Ziggler jumps onto the apron to interfere, but when he jumps to the floor, Mysterio charges. Ziggler goes for a superkick, but Rey grabs the leg and slams it into the ring steps.

Meanwhile, Dom finally hits the 619, then the Frog Splash (I almost typed Frong lol) and gets the win.
RESULT: Dominick Mysterio defeats Robert Roode.
(8:15pm) The Mysterios are in the ring, celebrating their tag team championship win on Sunday. Dolph Ziggler and Robert Roode come out and say mean things them and now we have Dominick vs Roode.
(8:12pm) Rollins is backstage being interviewed, and he seems confused as to why he attacked Cesaro so muchly then Cesaro is being wheeled on a stretcher past him and Rollins is all like "WHY DO YOU DO THIS TO ME!" which is a thing, I guess.
(8:07pm) And it happens again. Stomp on Cesaro right on the steel ramp.
(8:06pm) It looks as if security has gotten Rollins to go to the back, but he comes back out charging and attacks again.
(8:04pm) Roman demands that Jimmy Uso come to the ring, but Cesaro comes out instead. And he challenges Roman to a rematch at Hell in a Cell. Before Roman can accept - or even crack a joke about it - Seth Rollins comes out to attack Cesaro.
(8:02pm) Roman asks Paul Heyman to "celebrate" him, and boy howdy, is he ever.
(7:59pm) Ten minutes later, Roman picks up a microphone.
(7:57pm) Still waiting to hear from Roman. If there were actually a live crowd there, they'd probably be getting sick of Roman's music at this point.
(7:56pm) Back from break, and Kevin Owens is backstage, cutting a typically awesome Kevin Owens promo about the Fatal Four Way match he's in tonight.
(7:52pm) Well, Roman gets a four minute entrance and then commercial time.
(7:49pm) Jimmy Uso wants The Usos vs the Street Profits, and Sonya books it for next week. Meanwhile, Roman - with his proper music - comes out in a kicky windbreaker.
(7:47pm) Deep Six by Corbin, but Nakamura kicks out! Boogz has had it and starts playing - and it's enough of a distraction for Shinsuke to roll up Corbin and get the win.

RESULT: Shinsuke Nakamura defeats King Corbin
(7:46pm) Nakamura gets prepared to his a Kinsasha, while Boogs is on the floor, getting prepared to play some sweet riffs.
(7:45pm) I want dentures that look like Nakamura's mouth guard.
(7:44pm) If they go to all this trouble to hype up Nakamura only to have him lose to Corbin tonight, well, that's just silly.
(7:38pm) Rick Boogs (Former Eric Bugenhagen.. the guy who sings the real high notes in NXT) comes out and, with his bitchin' guitar, plays Nakamura's theme song live. I friggin' love this.
Not gonna lie, though. This has been one of Corbin's better promos.
(7:35pm) We are reminded that Shinsuke Nakamura stole King Corbin's crown and reminded that Shinsuke Nakamura used to be a main event guy in WWE. Also, Corbin grabs a mic and says he wasn't going to say anything and then he broke our hearts by saying something.
(7:34pm) Black ends his video with the phrase "It's time to cull the herd" and then we cut to King Corbin coming to the ring and I can't think of a more appropriate transition.
(7:32pm) After reminding us about the whole "going back on the road" thing, we get another Aleister Black vignette and, boy, it's really creepy. He also kind of looks like the bad guy in Far Cry 5 in parts of it.
I doubt a lot of you care, but WWE's stock went up nearly ten points after announcing they're going back on the road.
(7:30pm) That first half-four kind of flew by - the sign of an engaging show. Looking forward to see what happens when Roman eventually shows up.
(7:25pm) With Bianca on the floor after Bayley breaking up a handspring moonsault attempt, Shanya puts Natalya in the Caracuna clutch and Nattie taps out.
RESULT: Shayna Baszler, Nia Jax, and Bayley defeat Natalya, Tamina, and Biance Belair.
(7:23pm) The tag champs hit Bayley into a slingshot/superkick combo, which probably would win the match, but Bayley grabs the ropes.
(7:22pm) Back from break, and the heels are working over Bianca's hurt knee. Eventually, though, she makes the hot tag to Tamina, who starts cleaning house.
(7:21pm) Meanwhile, Sasha Banks tweeted this a couple of minutes ago...
(7:18pm) Bianca is on the turnbuckles, ready to do... a move... on Shayna, but her teammates pull her out of the ring. So, instead, Bianca leaps from the same turnbuckle onto all three of them on the floor. However, as we go into another commercial break, it looks like the champ might have hurt her knee.
(7:14pm) To the shock of literally nobody, we come back from the break in media res a 6-woman tag match against everybody involved earlier.
(7:10pm) Bayley then runs down the current champ, Bianca Belair, demanding her rematch - which causes Belair to come to the ring to confront her.

Suddenly, former Women's tag champs Shayna Baszler and Niz Jax hit the ring, and all three women put the hurt on Belair. Natalya and Tamina come to the ring to even the odds... but it doesn't work. 

Commercial time.
(7:08pm) After Heyman leaves, Bayley comes to the ring to complain that she's not being recognized for her long-ass SD Women's Championship reign and then running down the champions on the stage. Except for Apollo, who she raises a fist to and says "Whazzup?" They return the gesture.
(7:07pm) Heyman calls this collection of titleholders a "parade of title holders".
Also, they played Roman's old music, for some reason? Could it be because it's Heyman? I dunno, I'm not gonna hurt my brain thinking about it.
(7:06pm) Sonya introduces Roman Reigns. Paul Heyman comes out instead.
Oh man, I nearly forgot.

WWE. THEN. NOW. FORgot to do this bit.
(7:04pm) Apollo Crews wants the mic. He and his pretend accent say that he's totally gonna win his Fatal Four Way match.
(7:01pm) All of SmackDown's champions - save for Roman - are out on the stage. And Sonya Deville is in the ring, making the announcement that WWE is hitting the road in July. She also brings out those same champions.
It's (7:00pm) and the little hand says it's time to rock.