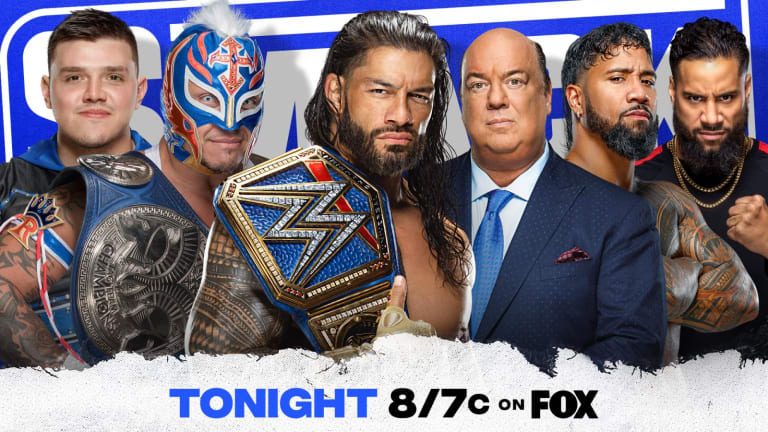 WWE SmackDown LIVE coverage and commentary (06.11.21)
What's going to happen on tonight's WWE SmackDown on Fox? No idea! That's why we're watching it *here*, you silly goose!
(You may need to refresh the page a couple of times to get the latest update - it'll always be after the intro - if you're catching the show live)
Howdy, campers! Kevin Christopher Sullivan here with you once again to run down, as it happens - or, more specifically, as YouTube TV shows it to me - WWE SmackDown on Fox (or whatever it's broadcast on where you live). I'll be pointing out the highlights, the results, the goofy stuff, the awesome stuff, things like that. It's not your typical dry commentary.
If you've been following along before and you like what we do here, please hit that Thumbs Up and Subscrib... no, wait, that's also YouTube. Please tell your friends and have them come along, as well! You can also reach me in the comments section below or on Twitter at @HeyImKevinSully (and use the hashtag #WNWSmackDown, too!).
With that out of the way, everything starts below this line I'm about to post onto the screen. Enjoy!
---
That was a really fun episode of SmackDown. We saw some character development, some really good matches, and set up what should be a banger of a match at Hell In A Cell.

That's all from me, ladies and germs. I'll see you on Monday! Until then... I'm outta here.
(8:58pm) We end the show with producers surrounding Rey and Dominick to protect him from Roman. That was an awesome set up!
(8:56pm) Just as Roman is about to reply to Rey's challenge, Rey attacks him with a kendo stick! Roman gets the upper hand, but Dominick comes out with a kendo stick of his own!
(8:55pm) Rey Mysterio recognizes Roman... as the "rat bastard" he is! Then, he challenges Roman in Hell in a Cell.
(8:54pm) Crowd: "Roman sucks! Roman sucks!"

Pat McAfee; "No he doesn't"
(8:51pm) Rey's calling out Roman... and Roman finally appears.
(8:45pm) Rey Mysterio heads to the ring. Let's do this.
(8:44pm) And now Roman is trying to convince Jimmy to get in line. Damn, he's good at this.
(8:43pm) Jey Uso has had enough and he tells both Roman and Jimmy to pound sand.
(8:36pm) Corbin has Shinsuke laid out and then sets his sights on Boogs. However, the rock and roll tandem turn the tables and hang on to Corbin's crown!

Meanwhile, Roman is leading Jey to "his" locker room.
(8:35pm) Nakamura rolls up Corbin for a surprise win!

RESULT: Shinsuke Nakamura defeats King Corbin
(8:32pm) The bell rings, and already Boogs is shredding on that axe, and it's enough to distract Corbin enough for Shinsuke to attack to start the match.
(8:31pm) King Corbin is about to take on Shinsuke Nakamura, with his personal guitarist Rick Boogs.
(8:27pm) Otis is just decimating Ford, and Dawkins comes out to... do what, exactly? Doesn't matter, as Otis takes him out, too. In fact, he hits him with - and Michael Cole announced it - a World's Strongest Slam-like move. Finally, producers from the back - including, it seems, recently rehired Shawn Daivari! - to break them up.
(8:25pm) Ford with a Frog Splash on Gable, but Gable kicks out! Doesn't matter though, as a beardless Otis heads to the ring and attacks, causing the DQ.

RESULT: Montez Ford defeats Chad Gable.
(8:23pm) Both men making each other look like a million bucks! Also, Otis just attacked Dawson backstage. Also, I think he shaved off his beard, but I was typing so I missed it.
Here's a commercial for you... FOLLOW ME ON TWITTER!
(8:19pm) And I was right. So far, this has been awesome. We head into a commercial break with both men on the arena floor following a somersault senton from Ford onto Gable.
(8:16pm) Montez Ford vs Chad Gable. This should be awesome.
(8:10pm) Rey Mysterio is being interviewed. Rey Mysterio is very angry. Rey Mysterio promises Roman Reigns that he's gonna pay for hurting his son. 

How'd that go against Brock Lesnar, Rey?
(8:06pm) With her set destroyed, Bayley now has to deal with Bianca Belair coming out on stage to laugh at her, just like Bayley was doing earlier.

That whole segment was really predictable... but I still kinda liked it.
(8:04pm) After taking a moment to watch Rollins' attack on Cesaro three weeks ago, Bayley's doorbell rings, and Seth answers it... and it's Cesaro! He beats up Seth. POW.
(7:56pm) It's time for Bayley! It's time for DING DONG, HELLO! And it's time for her to interview Seth Rollins!
Fun fact....
Carmella insists that Greg Hamilton announce that she is "STILL THE MOST BEAUTIFU..." You get it.
(7:52pm) Liv hits the Oblivion on Carmella and gets the pin!

RESULT: Liv Morgan defeats Carmella
For our older readers, I wonder if you notice the... irony? I dunno if that's the right word... but throughout tonight's show, Fox has been advertising the Westminster Dog Show which, back in the early 90s, used to pre-empt WWE programming.
(7:48pm) Liv Morgan makes her entrance and her outfit is looking "Owen Hart in the Nation of Domination"-ish, which I approve of.
Also, please don't tell Tyler Breeze I said that. Thanks.
(7:42pm) Carmella is back! And she's announced as the "most beautiful woman in ALL of WWE) - which is total BS, we all know that title goes to Tyler Breeze - but she's gonna take on Liv Morgan after these commercials.
(7:40pm) Looks like later on we're getting Montez Ford taking on Chad Gable, and both Dawkins and Otis will be barred from ringside. Meanwhile, Jey is telling Roman what Jimmy said to tell him, and then Roman tells Jey to tell Jimmy that he's coming to him and anyway, whatever.
Oh, man. It's actually Azeez. I feel like a dumb dummy now.
(7:31pm) Apollo challenges Owens and KO to a match next week, but instead of his partner being Sami, it's gonna be Commander Aziz (or however you spell it)
(7:30pm) KO manages to nail Zayn with a Stunner and gets the pin!

RESULT: Kevin Owens and Big E defeat Apollo Crews and Sami Zayn
(7:28pm) Apollo is tagged in and Owens boots him in the face and nails him with a pop-up powerbomb, but Zayn breaks up the pin attempt.
(7:27pm) Owens is on all cylinders and nails Sami with a Swanton Bomb, but is only able to get a 2-count.
(7:20pm) Now we have Big E - or, as I like to call him, Large Ettore - and Apollo Crews in the ring, E's got the offense on originally, but Crews gets the advantage and tosses E out of the ring as the production crew tosses the show to a commercial.
(7:17pm) The bell rings and Kevin Owens isn't messing around, immediately attacking the Intercontinental Champion Crews, and also focusing his violence towards his old buddy Sami, as well.
(7:15pm) Jimmy's backstage, pacing back and forth, and here comes Jey and now Jimmy's yelling at him, and Roman is being mean to him, and Jey just can't get a break. "What do you want me to do?!" Jey shouts at his brother. Jimmy tells Jey to point Roman in the direction of "their" locker room is the Tribal Chief is looking for him.
REMEMBER (or don't, it's cool) if you're following along and also Tweeting, please consider slapping on the #WNWSmackDown hashtag. Thanks!
(7:09pm) Kevin Owens is here! My fav'rit! And he's teaming with Big E! He's... a guy I enjoy watching on WWE programming, as well! They're taking on Apollo Crews and Sami Zayn, but not until WWE acknowleges some promotional consideration.
(7:07pm) Jimmy supposits that Roman got he and his brother DQ'd on purpose last week. Then he says Roman's "jealous" of him. He's not just "spittin' facts" but he's spittin' fi-ah! That's, um, that supposed to be "fire" but it's like I'm saying it like "FI-AHHH!" Yeah OK you get it.
(7:04pm) Roman is backstage watching exactly what we just watched, and he's giving Jey a really hard time, even throwing something of a "yo momma" comment. Suddenly... the Usos theme hits and Jimmy's in the ring. He looks intense.
(7:02pm) We're getting a look at what happened during last week's episode, with Roman Reigns being a dickweed. Grrr booo Roman
(7:00pm) WWE. THEN. NOW. FOR AS LONG AS UNTIL VINCE SELLS THE COMPANY!