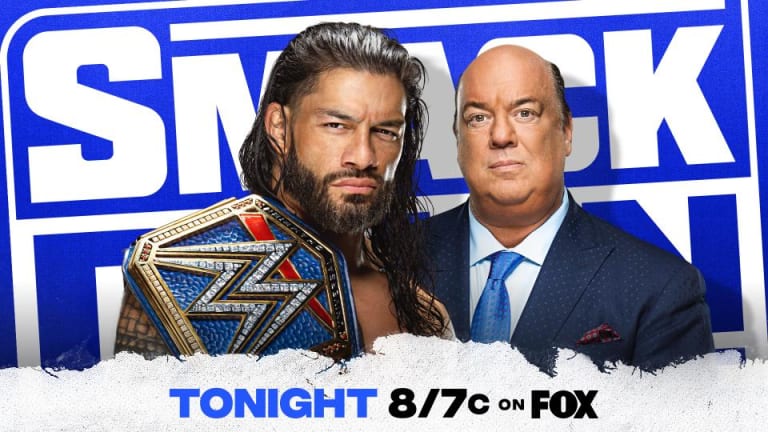 WWE SmackDown LIVE coverage and commentary (06.25.21)
Come hang out with us and watch SmackDown together as the dummy who writes this keeps tinkering with the formula
(Hi. If you're following along live, please be aware you will probably have to refresh this page once or twice to get the latest updates. These updates will be timestamped - in Central - time so you can know just how far behind we are. Seriously, I watch these shows on YouTube TV and they're always, like, a minute behind everyone else.)
Hello and hello, my friends and people who aren't my friends, and welcome to tonight's Wrestling News World coverage of WWE SmackDown. I'm Kevin Christopher Sullivan and I'll be the guy making the jokes around here.
There were a number of big releases from WWE today - mostly revolving around NXT and 205 Live, but we're not here to dwell on that. That's your job. Scroll down to the comments below and let us know how furious you are. Grrrrrr.
On a serious note, the last couple of shows I've covered, I haven't been able to finish due to sources (mostly) outside my control. I'm going to get better at that, but I apologize all the same. However, if you like what I'm doing here - or think I could be doing it better (not that the two are mutually exclusive), please let me know in the aforementioned comments section or on Twitter at @HeyImKevinSully.
OK... now that I've gotten the "please communicate with me, damn it!" pleading out of the way, let's get ready for WWE SmackDown.
---
Before we begin, I need to take a moment to inform all of you of how much of an idiot I actually am. Right before getting ready to get this coverage going, I watched the latest episode of that 50 Greatest WWE Tag Teams thing on Peacock. One of those teams were the New Age Outlaws. Which prompted me to post this moronic Tweet:
To which I was justifiably put in my place with:
And my only proper response to that could be...
So, yeah, obviously my insight and opinions on tonight's show are going to come across really well, I imagine. :D
---
Now THAT is how you end a goddamned show. Granted, you can't end every show with a surprise return from Edge. That would be ridiculous. But, that was awesome. 

Despite the recent behind-the-scenes drama, WWE has been putting on some mostly quality television and it's been nice to see.

What did you guys think? Sound off in the comments or shoot me a Tweet at @HeyImKevinSully. I'll see you all for Raw on Monday but, until then, I'm outta here.
(8:56pm) Old Man Logan is looking to nail Roman with the Con-Chair-To, but Jimmy hits the ring first and attacks Edge. Mr. Copeland tosses that dumb b**** into the stairs and security wall. 
(8:54pm) OH F***, EDGE IS BACK
(8:53pm) Heyman running down the challengers who Roman has defeated - including Braun Strowman and Daniel Bryan.
(8:43pm) Roman is watching backstage, and Jimmy comes to the back, asking Roman what he thought of his big win. Roman just smirks and makes his way to the ring for his "State of" address. Jimmy thinks he's going to go with him and Paul, but Heyman tells him to stay in the back.

That's not going to go well. I bet you fifty cents.
(8:41pm) Jimmy Uso manages to fight his way back to his feet, and eventually hits Ziggler with a superkicks and gets. the. WIN.

RESULT: Jimmy Uso defeats Dolph Ziggler.
(8:36pm) Uso leaps through the ropes... but crashes into Roode instead of Ziggler, sending Roode flying over the announce table. Meanwhile, Ziggler uses the distraction to send Uso flying into the ring steps with a Zig Zag.
(8:31pm) Love the way the announce team is really building up Ziggler's credentials. Making him sound like more of a threat than they have in years. Roode's out with him, too.
(8:26pm) We're heading into tonight's Jimmy Uso/Dolph Ziggler match... NEXT ON SMACKDOWN AFTER THESE COMMERCIALS.
(8:24pm) After a surprisingly intense five minute match, Liv rolls Carmella up for the win!

RESULT: Liv Morgan defeats Carmella

But, is it enough to get her into the MITB match?
(8:18pm) Liv Morgan can earn herself a MITB spot if she beats Carmella tonight (Carmella gets to stay in the match either way).
(8:14pm) Sonya Deville announces that the first woman from SmackDown to be in the women's MITB match will be "two time Money in the Bank winner" Carmella. She comes out wearing a cow print bikini thing. OK.
(8:12pm) Jimmy Uso is going to prove himself a winner to gain Roman's favor by wrestling Dolph Ziggler tonight.

Also, the MITB qualifying match between Sami Zayn and Kevin Owens next week is going to be a Last Man Standing match.
(8:05pm) Azeez attacks E after E tosses Apollo back into the ring - but the ref sees it. Sort of. Ref sends Azeez to the back, and E hits the Big Ending on Apollo and gets the win. He's going to Money in the Bank!

RESULT: Big E defeats Apollo Crews
(8:00pm) Apollo takes a few seconds to mock Big E, which only ticks the guy off. He blocks a B2B suplex attempt and tosses the IC champion over his head instead. Still, Apollo manages to get the advantage once again, with a trio of German Suplexes.
(7:53pm) Big E and Apollo Crews meet in the ring once again to qualify for a spot in the Money in the Bank ladder match at the PPV of the same name.
(7:50pm) Did Seth say "My time is now" or "time is money"?
(7:45pm) Seth Rollins is backstage with Adam Pearce and Sonya Deville (the best "authority figures" on WWE TV in freakin' years), trying to convince them that he deserves to be the next challenger to Roman Reigns' Universal Championship. We'll see. We'll probably see a little later tonight, actually.
(7:40pm) Rick Boogs introduces the new King of WWE. How great is Rick Boogs? Super great, that's how great. Don't argue with me.

Shinsuke comes to the ring, decked in all white, and looking awesome, and sits in the throne. Pat McAfee sounds like he's gonna... well... he sounds particularly happy that Shinsuke is the new king, let's leave it at that.

Meanwhile, Corbin is backstage and he's simply... depressed.
(7:38pm) We're about to get the "coronation" of the new "King of WWE", Shinsuke Nakamura, but first, Jimmy is conferring with Paul Heyman as to what Roman means by "prove it." Paul tells him that he needs to win a match - and he can arrange one for him. But then implies that if he loses, there's gonna be trouble.
(7:33pm) There's chaos in the ring, and Bianca gets hit in the head by a stumbling Seth Rollins and knocked to the mat. Bayley charges in with a running knee and gets the pin.

RESULT: Seth Rollins and Bayley defeat Bianca Belair and Cesaro
(7:24pm) Bayley tosses Bianca into some steps, hurting her arm, as Cesaro and Rollins are laid out on the floor, and we go to another set of commercials.
(7:15pm) Bayley and Bianca start fighting, Cesaro comes down to even the odds, and it's the prelude before the commercial for their mixed tag match,
(7:13pm) Rollins wants a high five from Bianca. Belair asks Seth, isn't he teaming with Bayley tonight? Seth replies that, yes he is, and she's about to come out there and beat Bianca up and they won't be able to high five after that.
(7:10pm) Bianca giving a very inspirational speech - including some Wizard of Oz references - about bullying and persevering (it sounds like I'm being a sarcastic prick, but it actually was really good) when Seth Rollins comes out to the ring, acting like the two are friends (now, there's a sarcastic prick.)
Or she's just cutting a promo and that match is later. I dunno. Whatever.
(7:06pm) Meanwhile, SD Women's champ Bianca Belair is in the ring, as she's teaming with Cesaro against Bayley and Seth Rollins.
(7:04pm) Jimmy Uso comes into Roman's locker room to let him know that Jey isn't joining them tonight. Reigns starts doing his usual verbal gymnastics to manipulate his cousin, telling Jimmy if he thinks he can do his brother's job, he needs to "prove it."
(7:02pm) Roman Reigns has a "State of the Universal Championship Address" to give, which I'm sure will go smoothly and no one will interrupt it.
(7:01pm) WWE. THEN. NOW. FOREVER. OR AT LEAST UNTIL YOU GET RELEASED.