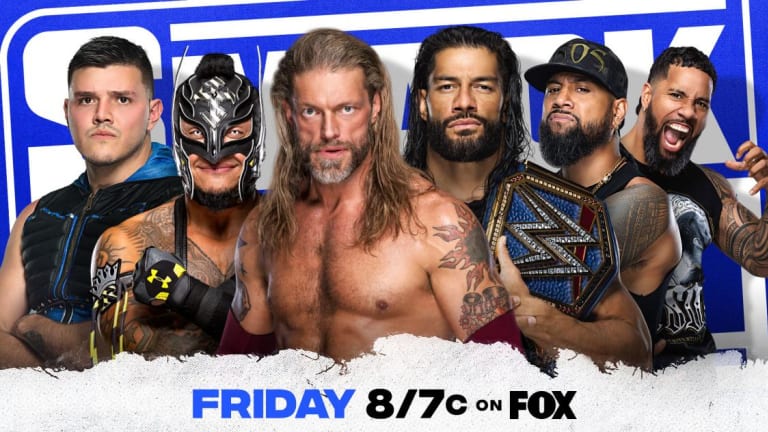 ---
(Once the show starts, if you are following along live, you may have to reload the page once or twice to get the latest updates. Each update will be timestamped (in Central time) - except for the occasional comment. Opinions expressed here are those of Kevin Christopher Sullivan as well as the creators of any social media posts shared here - they do not necessarily reflect those of Wrestling News World and its employees.)
---
Hello, and welcome! The night is finally here - the crowds will be back at a WWE show. In full capacity, anyway. We got a taste of that at WrestleMania earlier, but this is the real deal, baby! Woo hoo! *swings t-shirt over head, chugs beer, wave American flag*
The Superstars of WWE have finally left the state of Florida and have journeyed to the friendly confines of Houston, TX. We're also two nights away from Money In The Bank, which will take just a few hours away in Dallas. Well, Ft. Worth, technically, but WHO CARES! Live crowd at a PPV! Woo hoo, indeed! *dances a jog, eats some cake, watches an episode of The People's Court*
If you're looking to join in on the conversation, we've got three ways for you to do that - one of which is brand new:
* Twitter: Send your comments, GIFs, jokes, lasagna recipes, pictures of your favorite cheese, etc., to me at @HeyImKevinSully and/or using the hashtag #WNWSmackDown.

* The comments section: It's at the bottom of the page. You should be able to figure it out.

* Chat room: Yep! Come on in and chat with us! It requires no registration, just type in a name and come on in! You can come and hang out starting NOW here.
We'll be getting coverage 30 minutes before showtime, but feel free to pop into the chat and hang out. Otherwise... see you in a bit!
---
Don't forget about the chat room for tonight's show! Come on in so we can say stuff like "A/S/L" and "Press 1 if u luv Jon Cena" and stuff. 

---
THAT'S OUR SHOW! Wow, how great was it to hear a real live crowd again? I'm definitely stoked for Money in the Bank on Sunday.

In fact... I'll be here covering it, as well. Please feel free to come on by, join us in the chat room, and more! It's going to be a fun time.

Until then, however... I'm outta here.
(8:56pm) Nakamura on the announce table and Seth is climbing the ladder to do some damage. Owens pulls him down and nails him with a flying elbow!

Meanwhile Rollins has Big E in the ring and nails him with a Stomp onto a ladder and gets the win!
RESULT: Seth Rollins wins the Fatal Four Way
(8:45pm) RICK BOOGS IS HERE! THE SHOW IS SAVED!!
(8:43pm) Big E starts to make his way for (Probably Not) Fatal Four Way - after the break!
(8:39pm) Baron Corbin asks Kevin for money. Kevin gives him a stunner.
(8:37pm) Corbin has started a crowdfunding site to help pay his bills.

Kevin Owens is out here. That can't be good news for Corbin.
(8:35pm) Just how did Baron Corbin lose all his money just because he lost to Shinsuke Nakamura?

Now he's saying he might lose his house and have to move in with his in-laws.
(8:29pm) Oh... here comes Broke Baron Corbin to the ring.
(8:27pm) Sorry, I was wrong. It's not everything. Big E interrupting him is.
(8:27pm) Kayla is interview Paul Heyman, who keeps saying "Edge" with a tone of disgust and it's just everything.
(8:25pm) Cesaro has Gable in the swing, but Otis runs right through him and nails him with a Vader Bomb.
(8:23pm) Well that was fast (and dumb). Chad Gable sneaks up behind Cesaro and hits him with a German Suplex and gets Otis DQ's.

RESULT: Cesaro defeats Otis
(8:22pm) Cesaro comes to the ring holding his stomach. Awwww, he must be hungry. Cesaro, you need to eat so you have energy, you silly goose!
(8:21pm) A little video montage of Otis destroying people as he heads to the ring with Chad Gable.
(8:20pm) Toni Storm is debuting on SmackDown next week! *dance*
(8:16pm) Otis beats up Cesaro. They have a match later.
(8:14pm) Bianca with a reverse Falcon Arrow and gets the pin!

RESULT: Bianca Belair defeats Carmella
Oh.... here we go.
(8:12pm) Carmella with that front chokehold, and Belair looks like she's fading but Bianca pulls her up and turns it into a vertical suplex! That was damn impressive. I gotta find a GIF Tweet with that...
(8:10pm) Michael Cole saying that Bayley gave Carmella some pointers on facing Bailey kind of reminds me of back in the 1980s when all the bad guys were friends with each other (except Bad News Brown, everyone hated him)(personally, not as a wrestler) 
(8:05pm) Carmella has Bianca on the floor after tossing her directly onto the ring steps. Ouch.
(8:02pm) Oh, s***, it's for the title. Dope!
(8:00pm) It's the top of the hour and we've got Carmella vs SmackDown Women's Champion Bianca Belair. LEARN HOW TO MAKE A SHOPPING LIST BIANCA I;m just kidding Biance *whispers* Call me.
(7:56pm) Liv and Vega are still figting and then Liv gets the upper hand and stands in the ring victorious as we go to commercial (but not before watching Bianca Belair walking backstage) and I spelled "fighting" wrong, whoopsie!
(7:55pm) Liv and Zelina have had enough of each other's smack talk (ha ha see what I did there? Ok, I'll stop) and start fighting, which is enough for Tegan to roll up Natalya and get the win.

RESULT: Shotzi and Nox defeat Natalya and Tamina
(7:49pm) Tamina and Natalya are their opponents, so if Nox and Shotzi win, they get the opportunity for a title match and THEY HAVE TO BEAT THEM AGAIN? What a load of crap.

Oh, and Zelina Vega and Liv Morgan are on commentary with Pat and Michael.
(7:46pm) Bianca... WHO MAKES A SHOPPING LIST LIKE THAT?!?!
(7:44pm) Shotzi and Nox, who beat the women's tag team champions last week in a non-title match, are in the ring for a "Contender's Match".

And I think I'm gonna shut down this chat room if you people don't get in there.
I mean... we kinda knew he was coming back, but it's still cool to see.
(7:40pm) Sami Zayn makes his way to the ring, giving one of his usual speeches when he's interrupted by FINN BALOR! He's back! Finn doesn't say anything just beats the crap out of Sami and leaves.
(7:34pm) Edge and the Mysterios are walking backstage, when Kayla Braxton asks Edge about his match at Money In The Bank. Edge 
(7:28pm) Roman looks like he's gonna do that thing where he breaks a part off a steel chair and puts in someone's mouth and pulls it back really hard.... but Edge spears him and then does that to Roman. Wow, that was confusing to type.
(7:26pm) Jey attacks Rey from behind, Dominick tries to help, then Edge comes in with a chair. Roman with a Superman Punch on Edge!
(7:25pm) Jey rolls up Rey, grabs a handful of tights, and gets the win for his team.

RESULT: Roman Reigns and the Usos defeat The Mysterios and Edge
(7:24pm) Rey goes for a pin on Jey (or Jimmy, I dunno) but the Jimmy (or Jey, I dunno) breaks it up.
(7:24pm) Dominick makes the hot tag and now Edge is cleaning house!
(7:20pm) Right before the next ad break, Roman powerbombs Dominick right onto the announce table. That... probably didn't feel nice.
(7:16pm) Why did they start playing Roman Reigns's theme music all of a sudd... never mind, Jey Uso just attacked Edge from behind.
(7:11pm) And here's the Hall of famer Edge... soaking in the real cheers.
(7:09pm) The Usos and Paul Heyman are in the ring, as well. Looks like we're getting that six-man tag match right off the bat, as Dominck and Rey Mysterio make their way out next.
(7:06pm) He says "Where the hell were you?" and walks back. HAHAHAHAHA OK then. In the meantime, here comes Universal Champion Roman Reigns.
(7:04pm) Vincent Kennedy McMahon comes out to a huge ovation.
Come to our chat room.
(7:02pm) A very cool montage of WWE moments, focused on the crowd reactions.
(7:00pm) WWE. THEN. NOW. FOR THE FANS!
(6:59pm) Just full disclosure - my YouTube TV feed is a bit behind. Not much, but.... yeah....
(6:54pm) About five minutes away.... ARE. YOU. READY??
(6:46pm) That's Davey Boy Smith Jr., btw.
(6:45pm) Well... look who's back!