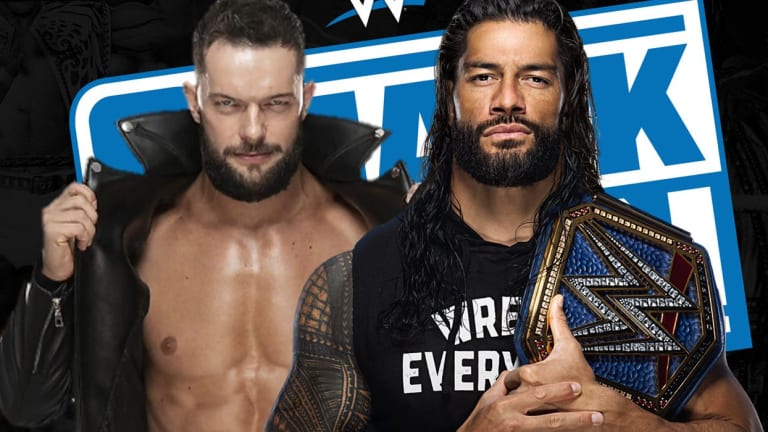 WWE SmackDown LIVE! coverage and commentary (07.30.21)
We say goodbye to July, and we cap off the month by making the Roman Reigns/Finn Balor SummerSlam match official. Well, we won't. The WWE will. We'll just be watching.
(Welcome to our live coverage! If you are following along live, you may need to refresh the page once or twice for the latest updates. Updates will regularly be tagged with a timestamp [in Central time]. If you have any questions or comments, we'll be very surprised. All opinions are those of either Kevin Christopher Sullivan or the authors of any social media posts shared here, and not necessarily those of Wrestling News World or its staff. Be sure to check the date on your yogurt before consumption.)
---
Hey there! Welcome to tonight's coverage of WWE SmackDown here at Wrestling News World. I'm Kevin Christopher Sullivan, and I'm the guy typing the words that will show up on this page during the show. Hi. If we havrn't met before, mice to neet ya. Hope you're having a great day.
So, who else thinks Daniel Bryan or CM Punk are gonna show up and return tonight? There's a rumor going around that they both were seen in Pittsburgh today. Granted, not only is SmackDown being held in Minneapolis tonight, but they probably aren't even in Pittsburgh - that's just something I made up. 
Anyway, no chat room tonight. I would give you some kind of technical reason or something, but the fact it, you jackwagons never use it and I just don't have the energy. Still, if you wanna chat with me during the show, you can Tweet me at @HeyImKevinSully, or use the comments below. I check the comments section during every commercial break and if I see any down there, I'll respond to each of them. Unless there's, like, a hundred of them. Like that'll happen.

Well... let's get this show on the road. Time for an RC Cola and a Moon Pie and enjoy WWE SmackDown from the city my sister was born in, Minneapolis, MN! 
---
---
Well... that's our show. Did you like it? I did.

Anyhoo, see you guys on Monday. I'm outta here.
(8:56pm) Backstabber on Bianca and then proceeds to beat the living snot out of her. Sasha with the Banks Statement and Bianca is tapping and going for the ropes which is funny. OH SHE DOES IT TWICE! THIS WOMAN IS CAAAAARAYZEEEEE
(8:55pm) Called it.
(8:54pm) Sasha with a Backstabber on Carmella, turned into a Banks Statement and Carmella taps out.

RESULT: Bianca and Sasha defeat Carmella and Zelina
(8:42pm) Finn Balor vs Baron Corbin is set for next week. Hopefully someone can lend Corbin a clean shirt.
I'm kidding. I neither have a garage nor do I know any karate.
(8:39pm) Carmella/Zelina vs Sasha/Belair is next after these commercial messages. I'll let you know if anything interesting happens. I'm gonna go in my garage and do some karate for a bit.
(8:36pm) Crowd chanting "We want Becky!" while Seth is talking, which is very rude.
(8:33pm) Oh wow. Seth Rollins gave Edge a serious beatdown during the commercial. He even hit him with a TV camera. Ouch! Now, Rollins is yelling on a microphone.
(8:28pm) EDGE IS HERE! I'M MARKING OUT, BRO!
(8:26pm) Nakamura-san with Kinshasa on Apollo and the win.

RESULT: Big E, Shinsuke Nakamura and Cesaro defeat Apollo Crews and the Dirty Dawgs.
(8:25pm) Boogs begins to shred on his axe to distract Apollo, but Commander Azeez Light attacks him. Cesaro ain't having it and hit Azeez LIGHT! with a You're A Peein' Uppercut. Dolph hits him with a superkick and nobody knows what the heck is going on anymore.
Not gonna lie - it's pretty cool to see Cesaro and Nakamura-san teaming again.
(8:18pm) Six man tag team action with Cesaro, Big E, and the greatest of all the times, SHINSUKE NAKAMURA will go against Apollo Crew and the Dirty Dawgs.
(8:17pm) ... and Adam Pearce and Sonya DeVille agree with me and tell Paul Heyman that the match at SummerSlam will go on with Reigns vs Cena.
(8:16pm) By the way, before you complain, there's precedent for that whole contract thing....
(8:11pm) Before Finn can sign, Baron Corbin attacks and tosses Balor out of the ring and attempts to sign the contract himself. 

Cena rushes in and beats up Baron, and then SIGNS THE CONTRACT HIMSELF BECAUSE THAT'S HOW CONTRACTS WORK YOU GUYS.
(8:10pm) Balor tells Reigns that it'll be his "pleasure" to "return to NXT" with the Universal Championship. Wait... what?
(8:09pm) Roman signs the contract.
(8:07pm) Reigns ask Finn if he heard what Cena said earlier in the show, and says he respects him more than Cena, but that he's going to smash Finn at SummerSlam.
(8:06pm) Roman wants to sit at the head of the table because, well, you get it.
(8:01pm) Roman Reigns comes out next.... big whoop
Oops, I forgot... (8:00pm)
I love it when wrestlers choreograph moves to their entrance music. Oh, speaking of which, here somes Finn.
(7:56pm) While the contract signing is next, we learn that tonight's main event is Carmella and Zelina Vega vs Bianca Belair and Sasha Banks. I STILL THINK SHE'S UP TO SOMETHING, YOU GUYS. I DUNNNOOOOO.
(7:54pm) Reggie hits the flying butt splash and Otis attacks him and Chad loses by DQ.

RESULT: Reggie defeats Chad Gable.
(7:52pm) Well, Otis just said it's not him, it's Chad, and then shoulder blocks him and this match is on.
(7:50pm) Chad Gable and Otis come out... I'm guessing it's Otis?
(7:49pm) I think Reginald's promo went over time longer than the first time I did open mic stand-up comedy.

Oh. And he's just "Reggie" now.
(7:47pm) Reginald is defending his 24/ Championship in an actual match against a mystery opponent.
(7:44pm) Sasha raises her hand and dances with her and she is up to something, I just know it.
(7:42pm) Sasha clears out the ring, helps Bianca up, and then ATTACKS HER WITH... oh, wait, it's a big hu
(7:40pm) Belair accepts the challenge, but then Carmella attacks her from behind, and the two start beating her up. SUDDENLY, HERE COMES SASHA BANKS TO SAVE THE DAY!
(7:38pm) Bianca Belair has held the SmackDown Women's Championship for 110 days. So, she's talking to Kayla Braxton about it and Carmella comes out and she wants a rematch. And then Zelina Vega comes out and is like "nah, dawg, I should get it."
(7:30pm) Rey reverses a potential Samoan Drop into a Crucifix pin and Dom leaps up and pushes Rey forward with his feet and Rey gets the pin. The cheater.

RESULT: Rey Cheat-sterio defeats Jimmy Uso.
All of these baseball references just remind me how back in the 1990s, Vince McMahon would force current news references into the commentary he's record over pre-taped footage to make it seem like it was live.
Hey. Comments section. Down there. Go type something in it so I can read it. 
(7:22pm) It just dawned on me that Rey Mysterio is the last person who should be telling anybody to "keep an eye" on anything.
(7:16pm) Rey Mysterio is taking on Jimmy Uso and he's warming up backstage. Dominick comes up to him, dressed like he's from Seatle in the 1990s. Rey tells Dom that he's pretty good in the ring, but he certainly could suck less so to watch him and learn some tricks. That was kind of a dick thing to say, Rey. Ha ha that rhymed.
(7:14pm) Cena says he will give Corbin something - something he desperately needs: an Attitude Adjustment and WAIT THAT'S THE NAME OF JOHN CENA'S MOVE AND OH SNAP HE DID THAT MOVE WHO SAW THAT COMING!?
(7:11pm) Corbin getting hit in the cajones last week pretty much led to his wife leaving him, and he's desperate and asks John for help. Is this real life John who's nice, or the WWE John Cena who is kind of a dick?
(7:10pm) Baron Corbin comes out to chants of "You suck!" "The crowd is chanting 'You suck' but honestly, I have no idea who you are."
(7:09pm) Before Cena goes through the list of why Roman Reigns sucks, he acknowledges (see what I did there? OK, it wasn't that funny) the the crowd is pretty much going to chant "What?!".
(7:08pm) "That's not who those guys are. They know it. You know it. DOGS KNOW IT!" That last part was just a Kids In The Hall reference.
(7:04pm) I can't make fun of Paul Heyman's rendition of John Cena's theme from last week, since that's pretty much how I sing it, too. And so do you, be honest.
(7:01pm) I did kinda miss that whole John Cena Talks To The Cameraman thing, not gonna lie.
(7:01pm) John Cena kicks the show off and what is this, 2012?
(7:00pm) WWE. THEN. NOW. FOREVER. TOGETHER. RICK ASTLEY REFERENCE.
I'm really glad that SmackDown in on Fox, mostly because it means I don't have to catch the tail end of a depressing Dick Wolf show before it comes on.