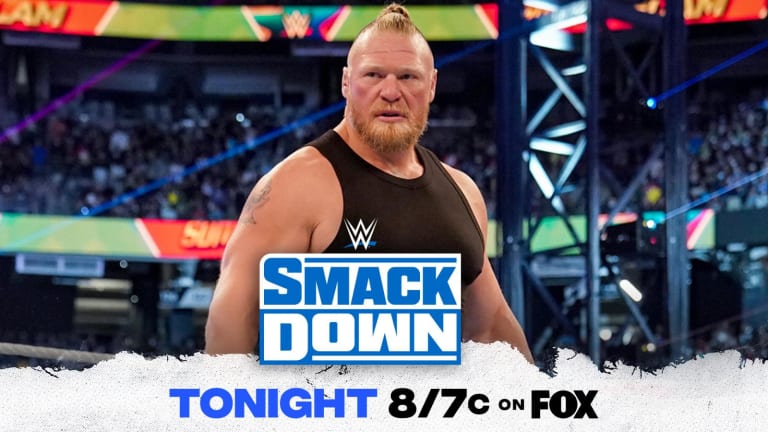 WWE SmackDown LIVE coverage and commentary (09.10.21)
What's less likely to happen? Finn Balor not doing anything with his Demon persona tonight? Or WWE making only minimal references to 9/11?
Welcome to our LIVE (at the time) coverage of WWE SmackDown! If you are reading this and following along live during the show's airing, you will need to refresh the page once or twice to get the latest updates. We'll be providing time codes on the majority of the posts so you can keep up with them (they will be in Central time but that doesn't make us racist, so shut up!) What are time codes, you ask? Um... look, just because I don't know what they are, doesn't mean I'm lying. Now, take off, eh?!
---
Hello there, my sexy friends, and welcome to Wrestling News World's live coverage of tonight's WWE Friday Night SmackDown. I'm your host Kevin Christopher Sullivan - I'm a regular live coverage contributor and sometimes editorialist here at the site, as well as a writer and editor over at Sportskeeda Wrestling. Thanks for hanging out with me tonight.
Before we begin our intro, check out this Tweet from WrestleVotes - an account that has frequently and reliably broken major wrestling news stories in the past - regarding tonight's show. (At least we're assuming it's about tonight's show. He might just like this GIF a lot).
For a look at what's planned for tonight, check out this preview by our own Ja'Von York before the show starts. You can also leave your thoughts in the comments section down below OR if you feel like you do a particularly witty Twitter live stream of the show, let me know about it at @HeyImKevinSully and if you're not full of hot garbage, I may just share your Tweets right here for all six of my other readers to see.
Of course, we can't go on without mentioning that tomorrow will be the 20th anniversary of the 9/11 attacks on New York City and Washington, D.C. WWE actually has a pretty decent mini-doc on the first SmackDown to air after those events and while there's still plenty of WWE tooting their own horn as usual,  it's also very well made and some pretty interesting info in it, as well. At the very least, it's completely non-offensive and worth a look. It's smack (ha ha) dab on their main page at WWE.com.
Of course, in all seriousness, our thoughts are on - and with - everyone who is still affected by the attacks, even to this day. In less seriousness, our thoughts are with everyone who goes into work tomorrow and gets a bunch of grief from a super-patriotic co-worker because they didn't wear anything with an American flag on it. I know that sounds really oddly specific, but that actually happened to me once.
Anyway, enjoy the show.
---
Well... that was a hell of a show. Interesting what a little competition can do for WWE sometimes, isn't it? 

Coming next week, a new episode of Monday Night Raw followed by the debut of NXT 2.0 - as they're calling it - on Tuesday. I'll be back here for both Raw and SD, so let me know what you thought of tonight's coverage and I'll make the dietary adjustments. 

Until then.... I'm outta here.
(8:59pm) After choking out Montez Ford, Reigns grabs a mic and addresses Lesnar's challenge, saying he'll take out The Beast once he finishes with Finn Balor.

That's when the lights go and the fog fills the entrance ramp - well, OK, we kind of saw the fog filling up way earlier than that. Anyway, the Demon is here! And SmackDown goes off the air with the two staring each other down.
(8:56pm) Ford with a Frog Splash, but Reigns leaps into the ring to break up the pin and gets the Usos DQ'd.

RESULT: Street Profits defeat The Usos (DQ)
Wait... not one women's match tonight? What the crap, WWE? That 10-man tag match couldn't have been a dark match?
(8:46pm) OK, quick update - Usos are sprawled out on the arena floor, and Roman Reigns is making his way to the ring.
(8:45pm) We'll post an update once the match ends - as well as anything that happens afterward. Keep an eye out.
(8:31pm) As the ambulance drives away, MacKenzie (that's her name, right?) asks Rollins how he feels about what happened, and Rollins seems dazed, not sure how to answer. 

After another break, we're getting the Usos vs Street Profits for the SmackDown Tag Team Championships. Once again, Roman wants to know why Paul Heyman didn't tell him about Brock Lesnar at SummerSlam. Hooo boy.
(8:29pm) Back from the break, we see Edge wheeled to an ambulance, with Sonya Deville, Adam Pearce, and Rey Mysterio for some reason, accompanying him. 
(8:25pm) After the pinfall, the medical team and backstage officials rush to the ring to secure Edge onto a gurney as Rollins looks on with... concern? Well, whatever it is, it's the last thing we see before the commercial break.
(8:24pm) Seth hits a trio of superkicks, and Edge gets up each time. Rollins screams "why won't you die?!" and then hits the Stomp and gets the pin.

RESULT: Seth Rollins defeats Edge
(8:21pm) Rollins lifts Edge off the top turnbuckle and nails him with a Buckle Bomb! He then goes for The Stomp, but Edge counters it with a Spear! And, yet, only gets a two count!
(8:10pm) Rollins hits Edge with the Glam Slam. Cold.
(8:09pm) Also, Rollins is giving Edge a serious beating.
(8:08pm) Right before we return from break, we discover that the Bobby Lashley vs Randy Orton WWE Championship match will take place... next Monday? 
(7:51pm) I would appear that we're going to kick off hour number two with Edge vs Seth Rollins and I'm so happy.
(7:48pm) When the crowd starts to turn on her, Becky rightfully points out that this same crowd had been chanting "We want Becky" for months "and now this is how you treat me?" Then, she mentions that she left her daughter at home to appear for the crowd. Eventually, she signs the contract and disgustedly throws it at Belair and leaves.
(7:45pm) Becky asks what happens if she doesn't sign the contract - which is actually a pretty good question.
(7:43pm) Oh, wait, never mind, there she is. And in a red fur coat, at that.

WAIT. IS THAT RED PANDA FUR!? IT HAD BETTER NOT BE! NOT COOL, BECKY!
(7:41pm) Bianca is in the ring, there to sign, but Becky isn't anywhere to be seen. 
(7:34pm) Big E cuts a pretty intense promo regarding his Money in the Bank contract, we're reminded that Edge and Seth Rollins will have a rematch tonight, and then Bianca Belair comes to the ring for the contract signing of her rematch against Becky Lynch for the SmackDown Women's Championship.
(7:31pm) Trae Young starts to choke Rey Mysterio on the ropes, but the ref catches it and sends him to the back, much to the amusement of this New York crowd. I'm pretty sure I heard the "Nah nah Naaaaah nah goodbye" chant.

Then Rey and Dominick hit Sami with the double 619 and get the win.

RESULT: The good guys beat the bad guys.
(7:24pm) Boogs and Nakamura are making their typically amazing entrance when Sami Zayn - decked out in New York regalia (Knicks jersey, boxer shorts pajama pants with "I ❤️ NY") and introduces his team's cornerman, someone who "knows about winning at Madison Square Garden", and out walks Trae Young of the Knicks' NBA rival the Atlanta Hawks.
5-Hour Energy running ads during WWE programming gives me Stacker 2 flashbacks.
(7:15pm) Reigns storms out of the ring, and Heyman tries to moll Brock by doing his usual "My name is..." spiel. Lesnar chuckles, then turns serious and demands that "before Roman Reigns fires you" to accept Lesnar's title challenge. 

Heyman stutters and - in what was probably a smart move - doesn't do that, causing Lesnar to pick him up for an F5. Reigns hits the ring again and nails him with a Superman Punch. Eventually, the Usos hit the ring and while Roman hightails it out of there, Lesnar nails the two with a double clothesline.

Commercial time as Lesnar's music plays.
(7:12pm) Heyman timidly asks Paul why his former advocate didn't let Roman know he was going to be at SummerSlam. The crowd chants something that causes the production truck to cut the audio.
(7:10pm) Brock Lesnar comes to the ring looking like a lumberjack that really likes 90s grunge music and is also probably in a biker gang.
(7:09pm) The Tribal Chief asks Paul Heyman to confirm that, when it comes to Sports Entertainment, WWE runs New York City. And because, as Heyman also confirms, Roman Reigns runs WWE, he also runs New York City and, therefore Madison Square Garden and insists the crowd as MSG acknowledge him. And they do, it seems.
(7:06pm) Roman Reigns is a.) the Head of the Table and b.) making his way to the ring.
(7:04pm) What did Pat McAfee call the 9/11 terrorists?

I'm not offended, I genuinely didn't hear what he said.

Also, PAT MCAFEE IS BACK! WOOT!
(7:01pm) Opening the show with a tribute to... well... you remember. You said you would, anyway.
(7:00pm) WWE. Then. Now. Also Now. Five Minutes From Now.