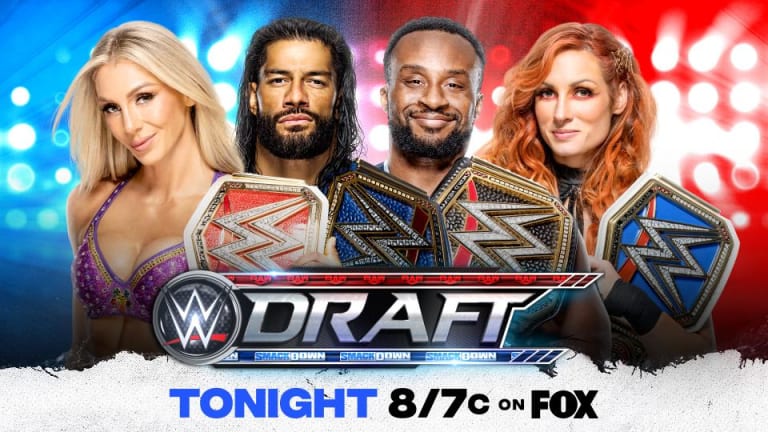 WWE SmackDown LIVE coverage and commentary - DRAFT EDITION - (10.01.21)
The WWE Draft begins tonight! Oh boy, I hope I get drafted to NXT UK!
Hello and welcome to tonight's LIVE coverage of WWE SmackDown here at Wrestling News World. Tonight, WWE presents night one of the Draft- which means any number of things. Tag teams could get broken up. Champions could switch brands. NXT 2.0 talent could end up on either Raw or SmackDown. Other things like that!
I had the privilege of attending the first night of the Draft a couple of years ago when it was held in Las Vegas, and it was a pretty fun night all around. This time, however, I'm sitting in my home, watching it on my TV and eating pizza rolls, so how the times have changed, it seems.
I'm Kevin Christopher Sullivan, writer and editor for Sportskeeda Wrestling and special contributor to Wrestling News World, and I'll be keeping you up to date (or, at the very least, attempting to) as to the goings-on and happenings during tonight's show. I'll be timestamping (Central time) each update so you can keep up with where I am, and you will probably have to refresh the page to get the latest updates. However, I'll be posting the latest update first, so you won't have to scroll all the way down to see them.
And with that, let's get settled in! I'll be starting as soon as the THEN. NOW. FOREVER. signature pops on my TV. If you want yo talk about the show, feel free to Tweet me at @HeyImKevinSully or use the comments down below!

Let's get to it.
---
(8:35pm) Brock Lesnar interrupts a Jeff Hardy promo (which Hardy wisely concedes to the Beast with no issues) and thanks his "good friend" Paul Heyman for helping make him a "free agent".
(8:30pm) Fourth round pick time
SmackDown picks: Naomi (Sonya is grumpy)
Raw picks: Rey and Dominik Mysterio
SmackDown picks: Jeff Hardy
Raw: Austin Theory from NXT
(8:23pm) Xavier Woods with a top rope stomp on Robert Roode and the good guys get the win.

RESULT: New Day and Street Profits defeat Dirty Dawgs and Alpha Academy.
(8:09pm) The New Day and The Street Profits comes to the ring together, as they're facing the Dirty Dawgs and Alpha Academy following the break.
(8:07pm) Third round picks:
SmackDown selects: Happy Corbin (w/ Madcap Moss)
Raw selects: Rhea Ripley and Nikki A.S.H. - WWE Women's Tag Team Champions
SmackDown selects: HIT ROW FROM NXT 2.0!
Raw selects: Keith Lee
(8:05pm) Carmella doesn't want Liv to hurt her face, so she has some assistants put a mask on her. Apparently, it's made of steel or something? Because Liv gets knocked out before the match can start.
(8:01pm) Meanwhile, we're getting Liv Morgan vs Carmella after these commercial messages.
(7:59pm) Rollins is wandering around Edge's home, saying some mean stuff. Edge gets his wife - WWE Hall of Famer Beth Phoenix - on the phone and, thankfully, she and their kids aren't home. Edge tells her to stay away and he's gonna have some dudes or something go over there.
(7:55pm) Edge is in the ring in Baltimore but Seth... well, he's at Edge's house in what I'm assuming is North Carolina. 
(7:45pm) Drew McIntyre talking to Kayla (hey Kayla *blush*), says he's aiming for the Universal Championship (get in line, pal) and now Edge is coming out!
(7:44pm) Looks like they're splitting up Big E and the New Day again.
(7:41pm) Second round picks:
SmackDown picks: Drew McIntyre
Raw picks: RK-Bro
SmackDown picks: The New Day
Raw picks: Edge
(7:37pm) King of the Ring and Queen of the Ring (now called Queen's Crown" tournaments start next week on SmackDown.
](7:34pm) Moss distracts Owens outside of the ring, letting Corbin to hit him with the End of Days on the floor. After throwing him back in the ring, he hits him with it again, and gets the pin.

RESULT: Happy Corbin defeats Kevin Owens
(7:26pm) Owens has a match with Happy Corbin instead of, you know, waiting for a PPV or something. While the ref is distracted by Corbin, his buddy Riddick Moss knocks Owens off the ring apron.
(7:24pm) After a mostly pointless interview with Charlotte Flair, Kevin Owens comes out so YAY!
(7:18pm) Roman won't get back in the ring to face Lesnar, so Brock just F5s the Usos to make a point.
(7:18pm) The Usos hit the ring, but they get their butts kicked.
(7:16pm) I once took acid and the entire trip I kept shouting "Something's got to give!" over and over and my friends still won't let me forget it and then Michael Cole just said it and now I want to punch one of my friends.

Speaking of punching, Lesnar gets in the ring and Reigns immediately punches him.
(7:14pm) Paul Heyman informs us that Crown Jewel will NOT be taking place in Suplex City because it's in Saudi Arabia, duh. No, that's not what he says exactly, but there's a lot of wordplay. Also, Brock Lesnar comes out wearing one of his new lumberjack shirts.
(7:07pm) Roman Reigns comes to the ring, as Michael Cole comments that he's been Universal Champion for nearly 400 days. We also get a look at what happened at Extreme Rules on Sunday as, hopefully, we get an explanation.

I'm not holding my breath.
(7:04pm) As suspected, Raw selects their own current World Champion, Big E. SmackDown selects Raw's Women's Champion, Charlotte Champion, while Raw selects Bianca Belair. 

So things are already getting interesting.
(7:03pm) SmackDown selects Universal Champion Roman Reigns. Pat McAfee is losing his mind with joy over the choice.
(7:02pm) In our main event, Bianca Belair will take on Sasha Banks.

Also, all the draft picks won't take effect until the night after Crown Jewel.
(7:01pm) SmackDown comes to you live from Baltimore, MD.
(7:00pm) WWE! THEN. NOW. FOR THE HORDE!
---