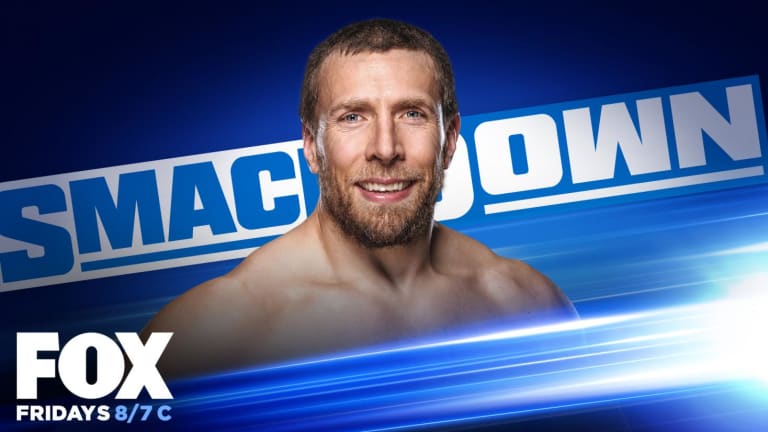 WWE SmackDown on Fox, LIVE coverage and results! (10/16/20)
For those of you in a hurry:

Roman Reigns defeated Braun Strowman
The Street Profits defeated Dolph Ziggler and Robert Roode
The New Day defeated Sheamus, Cesaro, and Shinsuke Nakamura
Lars Sullivan defeated Jeff Hardy
Hey everyone! I am SO running late. So, let's just get things rolling, shall we?
Let's get you all caught up - Triple H and Stephanie come to the ring as the current SmackDown roster stands on the entrance ramp in the same way they do if someone has retired or died or something.
We've got Braun Strowman taking on Roman Reigns for Roman's Universal Championship, as well as Jeff Hardy vs Lars Sullivan (no relation) and many more bouts set up for tonight's season premiere of SmackDown Live!
Hardy vs Sullivan kicks us off following the first ad break of the night, as we also see another Jeff - Jeff Jarrett - in the virtual ThunderDome crowd. Hardy starts off quick, dropkicks to Sullivan's knees, things like that, but Lars finally gets control.
Hardy nails Lars with the Twist of Fate and heads to the top rope for the Swanton. Sullivan is back on his feet, grabs Hardy by the throat, and then nails him with the Freak Accident for the win.

RESULT: Lars Sullivan defeats Jeff Hardy
While Daniel Bryan returns to SmackDown tonight, we're about to get the New Day's final match as a trio - for the time being.
The New Day are in the ring and are having a hard time keeping it together as they recollect their six years as a tandem together. For those unaware, Kofi and Xavier are heading to Raw, and Big E will be staying on SmackDown.

If you're a fan of these guys, this is really bittersweet.
Well... Fox has their NFL guys giving their picks for the Reigns/Strowman match.
We're back from break and The New Day are in six-man tag team action against Cesaro, Sheamus, and Shinsuke Nakamura. 
Sheamus and Cesaro nail Kingston with a double clothesline and throw out a fun callback to their days as The Bar. Kofi manages to fight back, but the heels manage to keep the pressure on.
Kofi gets chucked from the ring as SmackDown heads into an ad break.
We're back and finally Kofi gets a tag to Big E. And he starts doing what Big E does.
The announce teams have really been pushing how Big E could very well be a world champion someday. Just as Cesaro nails him with a gutwrench suplex.
Also, Xavier has a move called "Morning Woods." That's... wha?
Kofi and Sheamus alone in the ring. Sheamus starts to yell, but Kofi nails him with a headbutt. BOOM. New Day regroup and hit Sheamus with The Midnight Hour and get the win.

Result: The New Day defeat Sheamus, Cesaro, and Shinsuke Nakam
They gave those six guys a heck of a lot of time... we're already heading into hour number two.
Otis and Sami Zayn have a confrontation backstage, and Daniel Bryan heads to the ring as SmackDown goes to commercial.
Daniel Bryan hasn't been on TV in four months. Holy Moses.
Bryan is excited about the "new mix" of Superstars on SmackDown following the latest draft.

And Seth Rollins comes out to chime in.
If anyone is going to lead anything into The Future, it's gonna be Kushida, dang it!
After we get NFL on Fox's Jay Glazer's take on tonight's episode of SmackDown, the new SmackDown Tag Team champions The Street Profits come to the ring to defend said titles against Dolph Ziggler and Robert Roode.
Speaking of The Nature Boy, he is also in the virtual ThunderDome crowd, as this tag team title match gets going.
RESULT: The Street Profits defeat Ziggler/Roode via DQ
Sasha Banks is in the ring, ready to sign her contract for her HIAC match against Bayley at... um... HIAC
Adam Pearce is the one conducting the contract signing.
This is the best feud in WWE right now. Sasha even makes reference to how Bayley was still in NXT when Sasha and the other Horsewomen moved to the main roster.
Bayley leaves the ring without signing the contract.
Bayley.... left the ring... without signing the contract... she left the ring without... CAN SHE DO THAT??
Actually, I'm just confused that a contract signing ended without someone getting the table thrown at them.
We get some celebrity well wishes (and also one from George Kittle) for SmackDown's season premiere, as Braun Strowman hits the ring for his title match with The Tribal Chief, Roman Reigns.
Reigns heads to the ring, as well, with Paul Heyman in tow.
Greg Hamilton taking great pains to list the accomplishments of both men. I feel like this might be a short match.

IF they hadn't just gone to commercial. Now, I have no idea.
I never liked the term "big fight feel" in pro wrestling. To me, it sounds like they're saying "it FEELS like a big fight... but it's not really..."
Now that we're all done being excited at the idea that famous people know how to use a webcam, we can start the match.
Reigns knocks Strowman out of the ring with a punch. He's plowing on the offense against his opponent, but Strowman aggressively kicks out of two different pin attempts.
Strowman tosses Reigns into the announce table and then with a nearly-Keith-Lee-style shoulder block sending the champion flying over the security wall.
Strowman with a clubbing forearm to Reigns and a pin attempt (2 count) as Goldberg of all people watches on.
Strowman with a nice "I'm not finished with you" and a pin... Reigns kicks out and it looks like Strowman got hit with a low blow. Reigns with a spear, but doesn't get the pinfall.
Reigns goes for another spear, Strowman tosses him away.... a few more counters and now Reigns has a guillotine headlock on him.... and Strowman has to tap out.

RESULT: Roman Reigns defeats Braun Strowman.
Jay Uso is now out on the entrance ramp, staring down his cousin. So, Roman is going to use Strowman to send a message. 

I bet Strowman wishes Jey had just stayed backstage.
"If I can do this to him, imagine what I can do to you," Reigns says
And officials have to hit the ring to pull Reigns away from hitting Strowman with a chair. They don't do a good job.
Reigns wants Uso to hit Strowman with the chair.
With Roman's back turned, Uso can't hit Strowman and tosses the chair down.
Reigns turns to attack Uso, but Jey nails him with the chair. Reigns manages to get Uso knocked to the mat. That's our show.
Thanks for following along with me tonight, folks. Thanks for bearing with me and I will see you all on Monday!