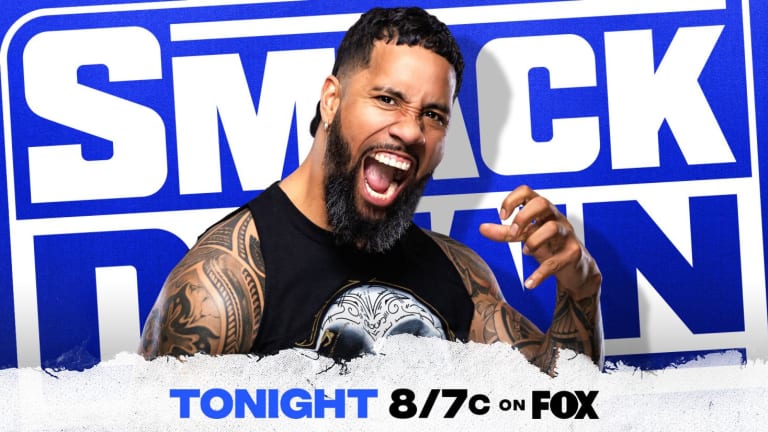 WWE SmackDown! LIVE coverage and commentary (10/30/2020)
TONIGHT... Jey Uso finds out what the consequences are for saying "I Quit" at Hell In A Cell. And Kevin will probably go on a bit about the new WATCH_DOGS game (not really).
You may have to hit refresh to get the latest updates.
Hey everyone. After a pretty damn intense Hell In A Cell PPV - especially that opening match - we're now going to see the fallout of what happened in the ThunderDome this past Sunday. 

Keep it right here, keep refreshing the page, and shoot me your comments and questions via Twitter to @HeyImKevinSully (and make sure you follow the WNW Twitter account while you're at it). I'll be back in a bit with tonight's preview.
For those of you in a hurry:

RESULTS:
Jey Uso defeated Daniel Bryan
The Street Profits defeats Cesaro and Shinsuke Nakamura
Bianca Belair defeated Natalya and Billie Kay
Kevin Owens defeated Dolph Ziggler
In the meantime, here's WNW's preview (it's way more in-depth than mine will be).
Coming up tonight: that Jey Uso thing we mentioned plus... two Survivor Series team qualifying matches, with Kevin Owens vs Dolph Ziggler and Daniel Bryan vs... oh, lookie here... Jey Uso. That will probably be a thing tonight. 
It's about time for the show... I believe in some circles, that is known as "showtime."
And we begin with the current reigning, defendi... I don't want to type all of that... it's the WWE Universal Champion Roman Reigns, along with his short, bald friend, Paul Heyman.'
After a really great video package recap of their match at HIAC, Jey waits in the ring for Roman to confront him. Jey grabs the mic from Heyman and, voice cracking, tells Roman "you didn't beat me." Roman tells him that Jey quit, and to fall in line.
Roman tells Jey that he knew exactly what he was doing when he choked out Jimmy, but if he doesn't fall in line, he's out of the family.
Jey: "I hate you, man!" Roman: "I'm sure you do... right now. But, I love you."
Roman: "By the end of the night, you will fall in line."
And now it's time for a commercial. Owens vs Ziggler is next.
Quick note to my fellow Texas residents: today's the last day for early voting.

That's all. Carry on.
Ad break's over, time to fight!
And here comes Kevin Owens.
Ziggler has Robert Roode in his corner. They're both wearing super cool leather jackets and Dolph is wearing a baseball cap but it's backwards so you know he's a rebel.
Ziggler tries to distract the ref long enough for Roode to get some punishment on Owens. The ref catches a glimpse of it and sends Roode to the back.
Are you on Twitter? Me too. Tell me what you think of the show so far. @HeyImKevinSully.
Owens fights out of Ziggler's bombardment of offense, but his knee is still giving him a lot of trouble. 
Kevin goes for a top rope senton, but Dolph kind of sort of gets his knees up. 
Ziggler starts stomping his foot for a superkick, but Owens kicks him first. Then, Owens goes for a pop-up powerbomb, but Dolph turns it into a Famouser. Only a 2.
Owens nails Ziggler with a Stunner and The Prizefighter is heading to Survivor Series.
RESULT: Kevin Owens defeats Dolph Ziggler.
Billie Kay, Bianca Belair and Natalya are backstage, trying to convince Adam Pearce that they should all be Survivor Series team captain.
Pearce tells them that the winner of a match between the three of them will get to be on the team.
Corey Graves is interviewing Lars Sullivan and they seem to be doing a "Frankenstein's Monster" thing with him and it's... not going well.
I'd just like to point out that Lars Sullivan isn't his real name and he is not related to me. That I know of. Ugh. How has he lasted longer in WWE than Ludvig Borga did?
Wait... did Michael Cole just called the WWE ThunderDome "award winning"?
Murphy plans on going out to the ring later and publically apologize to Rey and Dominick Mysterio for what he's done to the Mysterio family while following Seth Rollins.
Until then, it's that Triple Threat ladies match.
Natalya slaps the Sharpshooter on Bianca Belair... and Billie Kay slides in and puts a submission lock around Bianca's neck, as well! 
Neither get the submission, in case you were wondering.
Natalya has the Sharpshooter or Kay, but Bianca breaks it up.

And Biance hits Billie with... the "K-O-tye?"

RESULT: Bianca Belair defeats Natalya and Billie Kay
Murphy comes out with Rey Mysterio's daughter, as he wants to apologize to Alliyah's father and brother. Before he can say anything more, Seth Rollins comes out to be... well... you know... Seth Rollins...
Dominick hits the ring and attacks Seth. Then, Dom and Murphy get into it, with Murphy wanting to defuse the situation. But, Dom isn't having it and he and Murphy fight. Then, Rey comes to the ring and the two of them are about to 619 Murphy, but Alliyah stops him... and tells her father she loves Murphy.
As my wife put it, "TELENOVELA!"
In the meantime, the SmackDown tag champions the Street Profits are coming up next after these commercial messages.
Looks like we're getting Profits vs Cesaro and Shinsuke Nakamura.
Cesaro just tossed Montez Ford single-handedly into the air and out into where the crowd would actually be. Dang.
Cesaro and Nakamura nearly get the pin on Dawkins, but Ford breaks it up.
Profits with a Power & Glory (superplex followed by a flying splash) on Nakamura and the Profits get the win.
RESULT: The Street Profits defeat Cesaro and Shinsuke Nakamura
Sami Zayn, YOUR WWE Intercontinental Champion explains to us all why he is the CHAMPION OF THE PEOPLE and BELOVED ALL OVER THE WORLD and how his cred will carry him through his match against United States champion Bobby Lashley at Survivor Series.
New SmackDown Women's Champion heads to the ring with her new belt and a sassy all-white outfit and that chair Bayley has been carrying around.
OK, my bad, I guess that outfit also has yellow in it.
Sasha smack talks (ha ha unintended pun) Bayley and then claims she's going to beat Asuka. Bayley comes out and points out that Sasha has never defended a singles belt successfully, then challenges her for the belt next week.
Is Daniel Bryan about to wrestle next?
YES
YES
YES
YES
We have twenty minutes left in the show and it looks like Daniel Bryan vs Jey Uso is wrapping up the show.
Bryan did a really good job at selling Uso's recent aggression and how he's looking forward to an intense match. Meanwhile, we're still left with the opening segment between Uso and Roman Reigns in the back of our minds.

We've got a really well paced SmackDown tonight.
Bayley vs Sasha is official for next week.
Match is on and Jey has control and is really aggressive to start with.
And Roman Reigns makes his way to the ring as we head to what is probably our last ad break of the night.
Bryan going with his corner-to-corner charges but Uso nails him with a superkick. Uso Splash and.... USO wins!

RESULT: Jey Uso defeats Daniel Bryan
Uso tells Roman "I'm with you. You're the head of the table" then attacks Daniel Bryan.
Roman: (pointing at Bryan) "Make him understand how much you love me."
Uso with a splash from the top rope onto the announce table.
And that's our show.
Like all good episodes of a pro wrestling TV show, we're left with more questions than answers. What changed Jey's mind? How will Bryan respond? What will happen during the Sasha/Bayley rematch next week? And more.
I hope YOU all enjoyed the show as much as I did and I hope you enjoyed my coverage, too. If you have any comments or questions, send them to me personally on Twitter to @HeyImKevinSully and also don't forget to follow Wrestling News World on that same social media platform at @WNWNews.